When it comes to the LSU-Auburn rivalry, if a game doesn't have or isn't worthy of a nickname it must not have been that great. The issue with this series is not to find five memorable games, but which thrilling games to leave out. These five made our list. Do they make yours?
Oct. 8, 1988 — LSU 7, Auburn 6: "The Earthquake Game." With LSU trailing 6-0 and less than two minutes remaining, Tommy Hodson hits Eddie Fuller with an 11-yard touchdown pass on fourth-and-10 in the back of Tiger Stadium's north end zone. The score sets off a celebration that famously registers across campus on the Geology Department's seismograph. LSU and Auburn go on to share the SEC regular season championship.
Sept. 17, 1994 — Auburn 30, LSU 26: "The Interception Game." Auburn returns three Jamie Howard interceptions for touchdowns in the fourth quarter and recovers a fumble in the end zone for an earlier score. LSU loses despite outgaining Auburn 407-165 and holding the home team to 16 yards and one first down in the second half. A year later in Tiger Stadium, LSU upsets No. 5 Auburn 12-6. Howard is lifted on his teammates' shoulders and is carried from the field.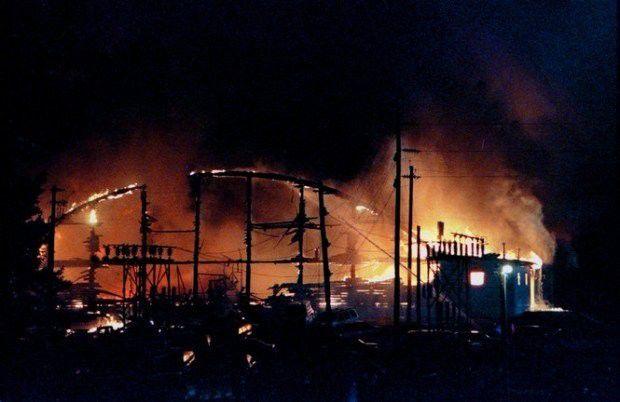 Sept. 21, 1996 — LSU 19, Auburn 15: "The Night the Barn Burned." During the first half, the old Auburn Sports Arena adjacent to Jordan-Hare Stadium burns to the ground, with flames shooting hundreds of feet into the air. "It looked like a major, major disaster was going on," then Auburn coach Terry Bowden said. With the fire under control by halftime, attention returns to the game. An Auburn touchdown makes it 17-15 with 38 seconds left, but Raion Hill intercepts Jon Cooley's two-point pass and returns it for two LSU points, sealing the win.
Oct. 20, 2007 — LSU 30, Auburn 24: "Seconds count." Trailing Auburn 24-23 in the final moments, it looks like LSU is moving into position for a winning field goal. Not so fast. LSU receiver Demetrius Byrd signals to offensive coordinator Gary Crowton in the press box that a pass called "144 Go" is open. Matt Flynn finds Byrd in the end zone with Auburn's Jerraud Powers draped on him. Byrd tumbles to the turf with :01 remaining to complete a stunning 22-yard touchdown pass.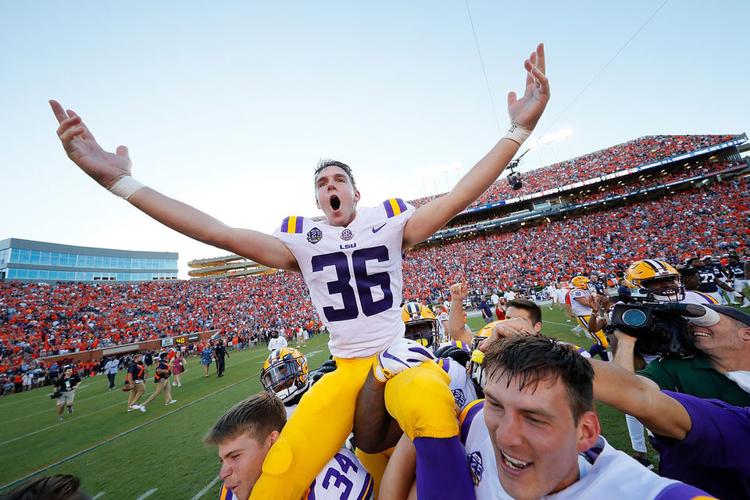 Sept. 15, 2018 — LSU 22, Auburn 21: "The Clutch Cole Kick." After beating No. 8 Miami in Arlington, Texas, to start the season, LSU finds itself in another top-10 showdown at No. 7 Auburn. LSU trails 21-13 with just over eight minutes left when Joe Burrow connects with Derrick Dillon on a 71-yard touchdown pass to make it 21-19 (a two-point attempt fails). LSU gets a stop and gets the ball back with 5:38 left, moving into position for a game-winning 42-yard Cole Tracy field goal as time expires. The win makes LSU the first team to beat two Associated Press top-10 teams in the first three weeks of a season since Missouri in 1976.