PHILADELPHIA — George and Jamal don't watch football games together.
They can't. They're too competitive.
They can't duel in a PlayStation game without someone — the loser, of course — angrily storming out of the bedroom. They can't bowl — the family's longtime passion — without one of them sulking.
"I can tell you that they're both sore losers," said Michelle Adams, George's wife and Jamal's mother. "You don't want to be in the house with them. If one loses, the other one's pouting."
There was the time when Jamal bowled a 299 — that's one short of a perfect score, if you didn't know — and his mother framed the scorecard. George saw the frame, got so upset that he left the house and headed to the bowling alley for practice.
There was the time — or times — Jamal beat his father in a PlayStation football game. George spent much of the next day in the back room practicing at the video game.
"Those two are something else," said John Battle, Jamal's teammate and fellow safety for the previous three years at LSU. "You can't tell they're son and dad, the way they interact with each other. They're like brothers.
"Dad still thinks he's got it. Jamal's like, 'Come on, Pops. Sit down.' "
Thursday night, here on Philadelphia's famed "Rocky steps," is their next competition. It's much bigger than any PlayStation match or bowling game.
It's the NFL draft.
By Friday morning, the Adams family will likely be in exclusive company. Two of its members will have been selected in the first round of the draft — something only seven other father-son duos can claim.
George Adams, once a hard-nosed running back from Kentucky, was the 19th overall pick of the 1985 draft. Jamal Adams, an aggressive, speedy safety who grew up in Texas, is expected to be selected by the time the 10th pick arrives.
The two have a friendly $40,000 wager on whether Jamal will be picked higher than his father — because, of course they do.
"The competitiveness in both of them is crazy," Michelle said.
Can't see the video below? Click here. 
Jamal is the odds-on favorite to win that cash from Dad. He's projected as high as No. 3 to the Bears. He has created buzz for much of the pre-draft process.
Jamal finished his college career by helping LSU's defense shut down Heisman Trophy-winning quarterback Lamar Jackson, making a handful of snazzy plays against the dual-threat player.
He wowed NFL personnel at the combine — more so with his intelligence and than anything else. He stunned the same personnel at LSU's pro day by running a 4.33-second 40-yard dash.
He's fast. He's physical. He's smart.
"Right after Jamal measured in at the combine, he direct messaged me," said Matt Miller, draft analyst for Bleacher Report. " 'Am I too small? That going to hurt me?' "
Miller laughs about that now.
"He's so hyper-focused on doing everything right," he said.
That's his father in him, a guy from the "projects" of Lexington, Kentucky, who rose to stardom for the Wildcats before a horrific injury severely crippled a once-promising career.
"My career didn't go the way that I wanted it to go," George said, "but I thank God I was able to play."
'You'll never play football again'
George Adams keeps drinking straws in his vehicle at all times.
He doesn't use them for drinking.
"I bite on them for pain," he said. "That may sound crazy."
George Adams can't run. He can't jog.
It's painful to drive, and even laying in bed hurts. In reality, he needs a cane to walk, but he hides that from others, only using it in the privacy of his home.
"You know," he says, "the macho man deal."
A titanium rod serves as George's femur, the upper leg bone running from the knee and connecting at the hip. George's femur died long ago. It dried up and cracked, depleted of nutrients.
The blood vessels meant to deliver those nutrients were ripped from the femur during a collision at the start of George's second year as a pro. His femur ball, of the ball-and-socket joint in the hip, was yanked from its socket — a similar injury, but less publicized, to the one Bo Jackson suffered in 1991. It was so similar that Jackson's agent phoned George's agent for advice, George said.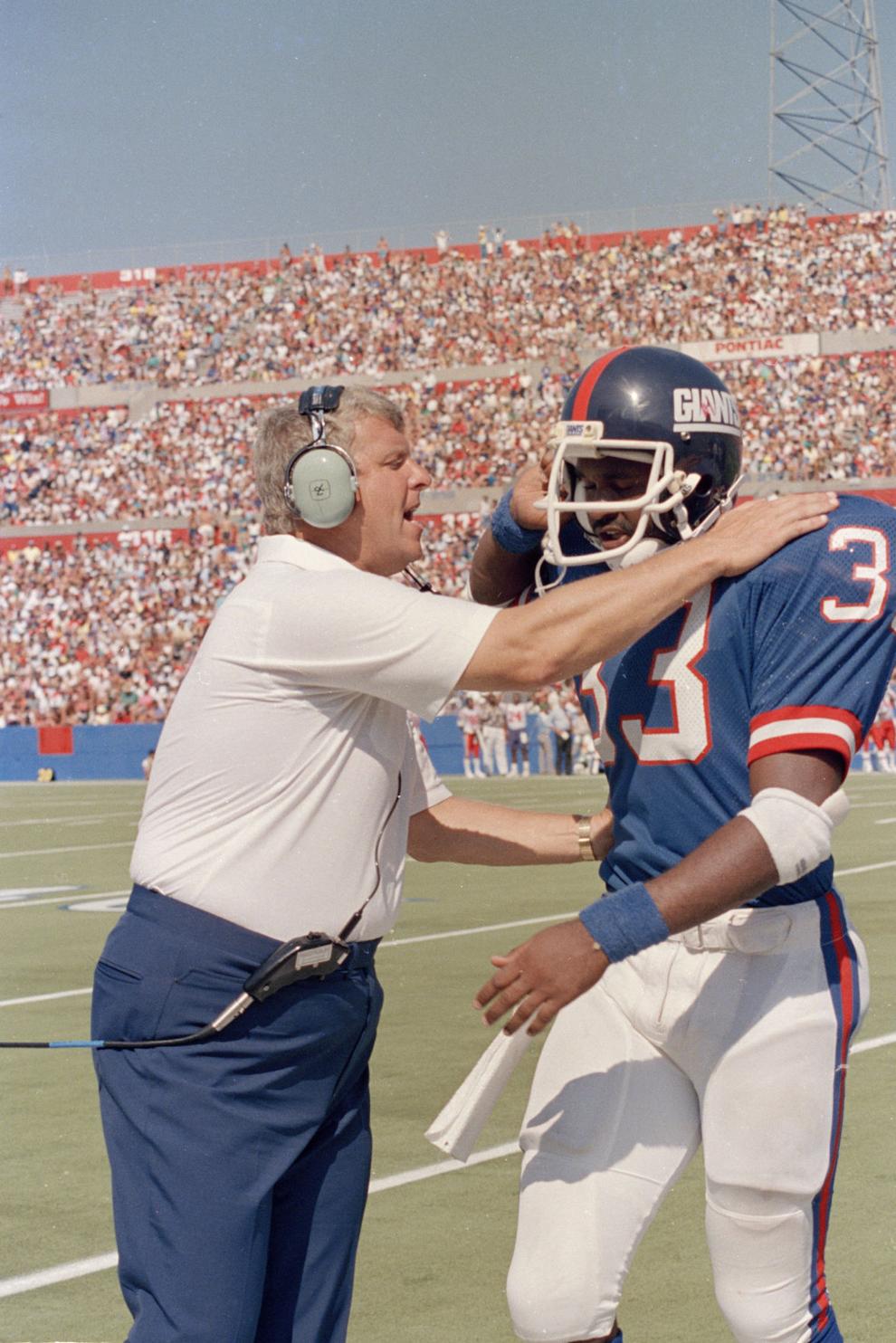 At first, the Giants treated it as a hip flexor injury before sending George to a doctor in California.
"He looked me in my eyes and told me, 'You'll never play football again,' " George said. "I looked at him and said, 'You're crazy.' I walked out."
He played for four more years, training in swimming pools to strengthen the leg and hip connection. He barely passed team physicals and fought through the pain for a half-decade. The worst of it was during his last full year as a pro. He'd return home from a day of practice or game aching so badly that he could not walk up the stairs.
He had to crawl. Michelle would help him into a hot tub and give him pain pills.
"I'd be ready to go the next day," he said. "If I had to do it all over again, I'd do the same thing because I love the game."
Michelle, a native of Yonkers, New York, who modeled as a young woman, recalls: "There were times after ballgames where he was in so much pain. I'd ask him, 'Why are you doing this?' "
It's left him a whisper of his former self.
His two post-career surgeries "didn't take," he said. His left leg is 3 inches shorter than his right leg. He's got back problems because of this, in addition to the hip pain that has lingered for nearly three decades.
He finished his stint with the Giants in 1989 and played his final full year with the Patriots. His rookie year was his best, never eclipsing rushing marks for yards (498), touchdowns (2) and carries (128).
"Of course I know about it," Jamal said of his father's medical history, "but we don't really talk about his injury." 
He hasn't forgotten how that injury happened.
"We were running a 9-on-7," George said. "It wasn't tackle. Just thudding. I run through the line full speed and a D-lineman — caught him out of corner of my eye — dove and tripped me up. My leg was straight and (the) hip popped out. He wasn't supposed to be diving."
PHILADELPHIA — Maybe Tashawn Bower is the difference-maker.
Little 'J'
Michael Irvin, the former Dallas Cowboys star, belted out one of his loud, patented screams.
It reverberated across this youth football camp in Dallas. The reason for it: an 8-year-old kid named Jamal Adams.
"J hit somebody," said George, using his nickname for his son. "I mean laid the wood, and Michael just started screaming, 'Oh my God!' He said, 'George, you've got you one there.' "
George always played his son one or two age levels up. When Jamal was 6, he played with the 8-year-olds. When Jamal was 9, he played with the 10-year-olds.
It helped prepare Jamal for high school and eventually resulted in him starting as a freshman.
"Pops threw me in. At first, it was fast and everybody was knocking me out," Jamal said. "I caught up to it, caught up to the speed."
Jamal competed in a youth football organization that George and Michelle started, aptly named the Giants — still George's favorite pro team. Jamal played quarterback, running back and defensive back at a young age. He dropped quarterback by middle school and had a decision to make: running back or safety?
"I didn't really want him to play that side of the ball after I got beat up the way I did," George said. "I wanted him to inflict the hits."
Soon enough, he was known for just that. He emerged from Dallas-based Hebron High as Scout.com's top-ranked safety in the nation, but not every outlet agreed. Some ranked Hootie Jones, a Monroe native, above him. LSU heavily recruited both prospects.
The Tigers took Adams after Jones picked Alabama. Many felt that LSU lost out in this battle, especially given Jones' in-state ties. 
On the day Adams signed with the Tigers, then-LSU recruiting coordinator Frank Wilson leaned over to a reporter after a news conference.
"We got the better one," he whispered.
'Perfect storm'
Former Saints defensive coordinator Gregg Williams spoke in 2010 at the New Orleans Touchdowns Club.
Mike Detillier, an NFL draft analyst for WWL-AM, was in the audience.
"One of the things he said that night was significant," Detillier recalls. "He says, 'I really believe very quickly the game is going to dramatically change. I see it in the colleges and it's going to trickle down to these three-receiver sets, and receivers are going to turn into tight ends, and these big linebackers aren't going to be able to cover them.' "
Detillier laughs while telling the tale now.
"Damn if he wasn't right," he said.
The spread offense of college football has seeped to the next level. Teams are employing three- to four- to five-receiver sets. Wideouts line up at tight end and in the slot, exploiting mismatches with inside and outside linebackers.
Defenses have started answering, using a strategy that Williams predicted seven years ago: the use of three-safety sets.
"It's become a space game," Detillier said. "You can't have a linebacker covering these guys. The safety becomes a hybrid player  part cornerback, part safety, part linebacker.
"It's the perfect storm for a guy like Jamal."
Jamal understands the game of football has changed, and he claims to be a perfect fit for the new brand.
Experts agree.
His thinking is so quick, they say. He's a physically aggressive player, issuing crushing hits, while also able to cover deep downfield and play close to the line like a linebacker. He played all of those roles in his three years in Baton Rouge — the final 2½ as a starter.
"Jamal is your total package," said Ike Taylor, a New Orleans Native and two-time Super Bowl champion cornerback for the Steelers who now works as an analyst for NFL Network. "He's a leader. Ask around the locker room. They say in 20 years he's probably been the best leader that walked through that locker room.
"You pop in the tape, he bates quarterbacks into throwing the ball. Can play out of the box, inside the box. He's a sure tackler," Taylor said. "You can blitz him. Sure tackler. Those guys come every blue moon. Your LaRon Landrys, your Sean Taylors, your Jamal Adams."
His versatility is his strength.
ESPN's "SportScience," a television series that explores science and physics in sports, earlier this week featured Adams' many attributes.
They examined his closing speed. His 1.10-second mark over the final 10 yards of a 20-yard dash is better than any defensive back in last year's draft, the show revealed.
They analyzed his footwork, too. He can change direction in 0.38 seconds, on par with NFL All-Pro Landon Collins, said John Brenkus, the show's host.
Finally, they evaluated his power in a tackling drill against a moving dummy. Within three strides, Adams reached 70 percent of his top speed, unloading more than 1,700 pounds of force on the dummy.
"We think he could have an impact similar to Earl Thomas," Brenkus said on the show.
Projectionists agree.
He's the first safety picked in many mock drafts, and some prognosticators say he could be the highest-drafted safety in more than two decades. In the previous 25 drafts, three safeties were picked in the top 5.
The Browns picked UCLA's Eric Turner with the second pick in 1991.
"What Gregg Williams told me in 2010 has come to fruition," Detillier said. "Safeties are at a premium today."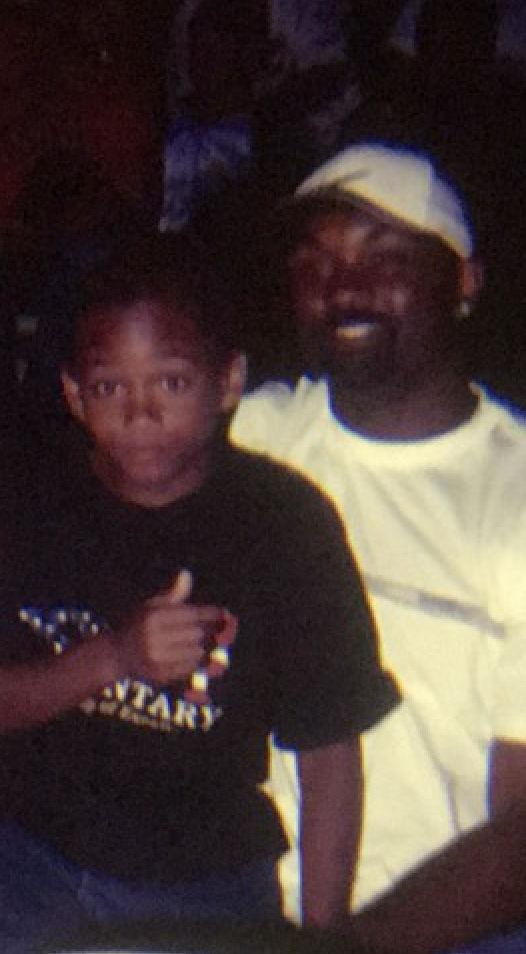 'This is Jamal's time'
Do not go bowling with Jamal Adams, his mother warns.
"He's really good," Michelle says.
Jamal began bowling around the same time he started football — age 3. His parents and their now-25-year-old daughter Janelle were avid bowlers. As a baby, Jamal used to curl up inside his parents' bowling ball bags for a nap while they hit spares and roll strikes. 
Each year, the family spent a few days in Las Vegas for a bowling tournament.
"I won eight tournaments. George only won five," Michelle laughs.
Oh yes, the competitiveness is strong in the Adams family, especially with father and son.
The squabbles between "J" and "Pops" are rooted in love, of course.
George is a boy from the projects of Lexington, where his truck-driving father wasn't often around. He grew up near a seedy park playing football and basketball and declining countless invitations to sell drugs.
George used to tell those boys, "One day, I'm going to be somebody."
" 'You ain't going to be nobody,' " George said they told him. " 'You in the projects.' I said, 'You wait and see.' "
George, then 6-foot-1, 225 pounds, averaged 4.3 yards a carry over four years at Kentucky. He accounted for more than 1,400 yards from scrimmage as a senior, propelling him into the opening round of the 1985 draft in New York.
According to a story that ran in the New York Times the day after the draft, then-Giants coach Bill Parcells described George as "big, strong and durable, and he can run quite a bit, block and catch the ball." Parcells and George still talk monthly to this day.
In fact, Parcells has helped in spreading the word to NFL personnel about Jamal's abilities.
Jamal has the energy and leadership ability of his father, Michelle says. She sees it. She's watched it for years, especially last season. Jamal was the passionate, loud leader of a defense that allowed the fewest touchdowns of any unit in the nation.
And, yes, she says, in many ways, George is living through Jamal, hoping his career stretches much deeper than his own. In fact, it became almost impossible to sit through one of Jamal's games with George.
In the middle of the LSU parents seating section, a screaming George tried his best to be his son's coach.
"He's doing the signs and stuff," said Michelle, who missed just one of Jamal's 37 college games. "George thinks Jamal is looking at him. I tell him, 'You can put up your gear. You're done playing. This is Jamal's time.' "
His time was almost exactly 32 years ago.
It was Parcells who called George when they picked him at No. 19. 
"He said, 'Do you want to play for the Giants?' " George was quoted in the New York Times, "I said, 'Yes, sir.' "
His son will get the call Thursday night — likely a lot earlier.
"Momma has already started crying," Jamal said on the eve of the draft Wednesday afternoon in Philadelphia. "Pops is going to have on glasses. He says he's not going to cry. He's going to cry. I'm going to cry. It's a dream come true. It's so real. I'm about to be a professional football player."
---
FATHER-SON FIRST-ROUNDERS
There have been seven combinations of father and sons selected in the first round of the NFL draft. Jamal and George Adams are set to be the eighth.
The Winslows
Kellen Winslow: 13th pick (1979)
Kellen Winslow II: 6th (2004)
The Mannings
Archie Manning: 2nd (1971)
Peyton Manning: 1st (1998)
Eli Manning: 1st (2004)
The Matthews
Bruce Matthews: 9th (1983)
Jake Matthews: 6th (2014)
The Matthews
Clay Matthews Jr.: 12th (1978)
Clay Matthews III: 26th (2009)
The Heywards
Craig Heward: 24th (1988)
Cameron Heyward: 31st (2011)
The Ingrams
Mark Ingram Sr.: 28th (1987)
Mark Ingram Jr.: 28th (2011)
---
EXCLUSIVE COMPANY
Jamal Adams and/or Leonard Fournette could join exclusive company as top 5 picks at LSU. The Tigers have had 10 of them.
 Player

 Draft  year

 Overall
pick

 Team

 CB Patrick Peterson

 2011

 5th

 Cardinals

 DE Tyson Jackson

 2009

 3rd

 Chiefs

 DT Glenn Dorsey

 2008

 5th

 Chiefs

 QB JaMarcus Russell

 2007

 1st

 Raiders

 QB Bert Jones

 1973

 2nd

 Ravens

 HB Jerry Stovall

 1963

 2nd

 Rams

 HB Billy Cannon

 1960

 1st

 Rams

 HB Johnny Robinson

 1960

 3rd

 Lions

 QB Y.A. Tittle

 1951

 3rd

 49ers

 HB Steve Van Buren

 1944

 5th

 Eagles
---
SAFETY … FIRST
Jamal Adams could be the fourth safety selected in the top 5 of the draft in the last 25 drafts. He may be the highest-drafted safety since Eric Turner in 1991.
| | | | | |
| --- | --- | --- | --- | --- |
|  Player |  College |  Year |  Overall pick |  Team |
|  Eric Berry |  Tennessee |  2010 |  5th |  Chiefs |
|  Sean Taylor |  Miami |  2004 |  5th |  Redskins |
|  Eric Turner |  UCLA |  1991 |  2nd |  Browns |