Ed Orgeron has a closer connection to Texas A&M quarterback Nick Starkel than you might think.
The LSU coach has hosted a much younger Starkel at his Mandeville home.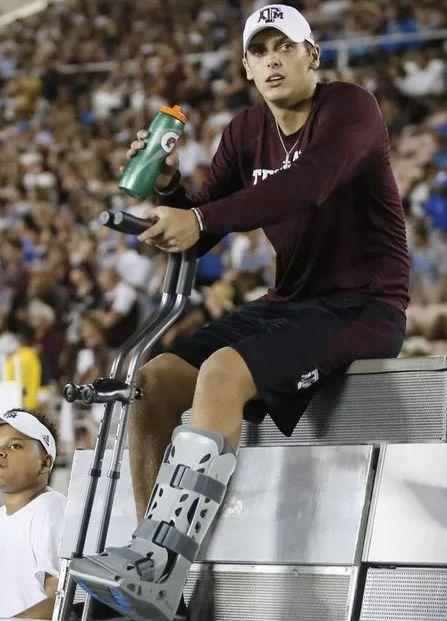 "Believe it or not," Orgeron said Monday, "Nick Starkel, grew up with my kids, Parker and Cody, playing football in Mandeville and been to my house several times as a young man."
Starkel is the Aggies "new" starting quarterback as they prepare to meet No. 19 LSU (8-3, 5-2 Southeastern Conference) on Saturday night in Tiger Stadium. Starkel, who won the starting job in camp, broke his ankle in A&M's season-opening loss at UCLA.
He missed about six weeks before easing back into throwing. Two weeks ago, he replaced struggling freshman Kellen Mond as the starter after recovering from the injury quicker than many anticipated.
"So proud to see him grow up," Orgeron said of Starkel, who moved to Texas later in life. "He's a tremendous quarterback. Proud for him and his family."
Starkel is a 6-foot-3, 215-pound pro-style passer who redshirted last season. His stat line since returning as a starter against New Mexico and Ole Miss is impressive: 40 of 62 for 688 yards, five touchdowns and an interception.
Orgeron used the word "explosive" to describe A&M's offense three separate times during his news conference Monday. The Aggies (7-4, 4-3) are 15th nationally in plays of 40 or more yards this season, half of those on the ground.
Starkel is not a runner like Mond, the dual-threat true freshman who started for much of the year. Starkel's arm concerns Orgeron against a group of defensive backs who struggled in man-to-man coverage against Alabama and Tennessee last week.
"I think you're going to see a fired-up Corey Raymond this week," Orgeron said of his secondary coach, "and a defensive backfield that's going to be working hard on the things that they messed up."
Orgeron's connection goes beyond A&M's starting quarterback.
Aggies offensive coordinator Noel Mazzone served as the coach's offensive coordinator in his final season as head coach at Ole Miss in 2005.
"I know Noel Mazzone very well," Orgeron said. "He's had a tremendous career. He's a good coach and a good man."
Foster Moreau recalls the time he first heard of the man named Johnny Manziel.
Sack competition
LSU defensive end Rashard Lawrence is very aware of the statistic.
The Tigers have 33 sacks this season, only second in the Southeastern Conference to one other team: Texas A&M and its 36.
"We want to finish No. 1," Lawrence said. "(Our) offensive line has to protect against them, and we have to get after the quarterback."
LSU is 10th nationally in sacks and is on pace to have its most in a single season since 2011 (39). The Tigers have already eclipsed single-season sack marks in four of the past 10 years (2014, 2013, 2009 and 2008).
A&M has allowed 25 sacks, 85th nationally and just behind the Tigers (24 at 80th).
Two in the fourth
LSU has allowed only two touchdowns in the fourth quarters of its seven SEC games.
Only Mississippi State and Ole Miss have scored in the final quarter against defensive coordinator Dave Aranda's group. Overall, LSU has given up only 18 fourth-quarter points in league games (Mississippi State seven, Ole Miss eight, Alabama three).
LSU plans to honor 20 seniors before Saturday's game against Texas A&M, but one of them is expected to return for another year.