As if one of the most turbulent years in recent memory hasn't slung enough already, the sixth gulf storm to take aim at Louisiana could disrupt LSU's third football game of the 2020 season.
Update: Sources say LSU's game vs. Missouri has moved to Columbia, Missouri, ahead of Hurricane Delta.
Hurricane Delta has strengthened to a Category 2 storm, and it is expected to reach Category 4 by the time it reaches the gulf. Weather projections forecast the storm is expected to make landfall in southeast Louisiana on Friday night or Saturday morning.
An LSU official told The Advocate on Tuesday morning that there are no updates as of yet regarding the Tigers' home game Saturday against Missouri, which is scheduled to begin 8 p.m. in Tiger Stadium.
In an official statement, the LSU athletic department said they "are closely monitoring Hurricane Delta" and "are in close communication" with Southeastern Conference and Missouri officials "on contingency plans should they become necessary."
"At this time, it is too early to make a determination on any impact the storm may have on Saturday's football game against Missouri," the statement continued. "The game remains scheduled for 8 p.m. CT on Saturday in Tiger Stadium. We will continue to update our fans throughout the week as more information becomes available."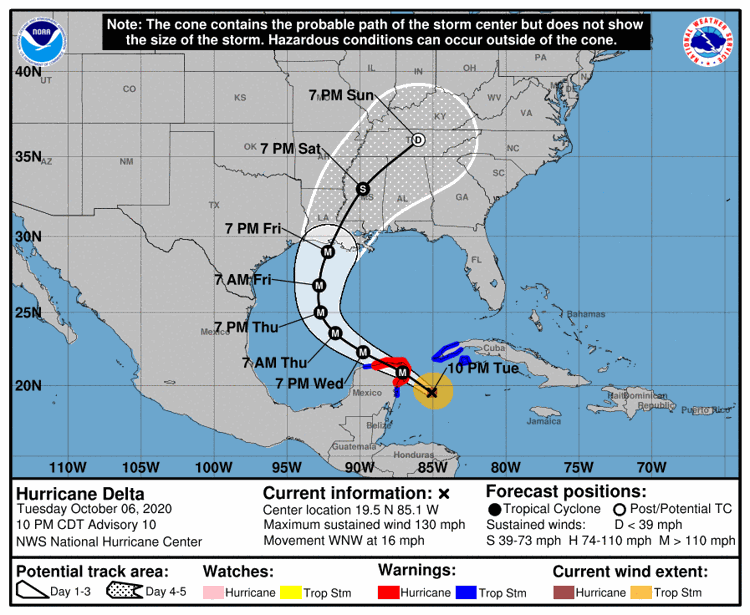 Discussions have begun between the schools, according to PowerMizzou.com, about potentially moving the game to Columbia, Missouri, because of the storm. A decision, the report says, would have to be made by Thursday.
The SEC released a statement Tuesday morning that said the league "is monitoring weather activity in the Gulf of Mexico and will remain in contact with member schools in preparation for athletics events this week."
KOMU-TV, an NBC affiliate in Columbia, reported LSU had secured a block of hotel rooms in Columbia. The move appears the school keeping its options open, as the station also reported a Mizzou spokesperson told the station the school is preparing to host while also keeping their rooms booked in Baton Rouge.
The Athletic reported an announcement about the game's time and location should be made by 9 a.m. Wednesday, citing a Mizzou athletics spokesperson.
The @SEC is monitoring weather activity in the Gulf of Mexico and will remain in contact with member schools in preparation for athletics events this week.

— Southeastern Conference (@SEC) October 6, 2020
There is no certainty that LSU-Missouri will be played in Missouri, but, if it happens, it would be LSU's first trip to Columbia in school history.
The teams have only played twice, once before in conference play. LSU beat Missouri 42-7 in Tiger Stadium in 2016, and Missouri beat LSU 20-15 in the 1978 Liberty Bowl.
A shift in homefield advantage isn't as large a factor this year. Every SEC team has decreased their stadium capacities significantly to fall in line with local health and safety guidelines. Missouri's Faurot Field's capacity is estimated to be in the range of 20% to 25%.
LSU's football season has already been shortened to a 10-game, league-only campaign due to the coronavirus pandemic, and the program had to delay the beginning of its June workouts because of Tropical Storm Cristobal.
Weather has disrupted other LSU games in recent history.
In 2017, Hurricane Harvey forced the LSU-BYU season-opener to relocate from Houston's NRG Stadium to the Mercedes-Benz Superdome in New Orleans. LSU won 27-0.
The year before, Hurricane Matthew postponed LSU's game against Florida in Gainesville on Oct. 8, 2016. The game was played on Nov. 19 in Tiger Stadium, and Florida won 16-10. LSU then played back-to-back games in Gainesville in 2018 and 2019, and the teams split wins in each year.
In 2015, extensive flooding from Hurricane Joaquin in Columbia, South Carolina, forced the LSU-South Carolina game to relocate to Baton Rouge. LSU, which won 45-24, raised South Carolina's state flag inside Tiger Stadium, and the place cards in the press box read: "Welcome to Williams-Brice Stadium (Tiger Stadium Edition)."
The place cards in the press box for today's game. #LSU. #USC pic.twitter.com/gcbgx5nc35

— Scott Rabalais (@RabalaisAdv) October 10, 2015