Leonard Fournette's college career is over.
LSU's star junior running back will not play in the Citrus Bowl against Louisville on Dec. 31, he announced Friday at a news conference. Fournette previously announced his plans to leave school early for the NFL draft, but he and coach Ed Orgeron had said the running back would try to play in the bowl.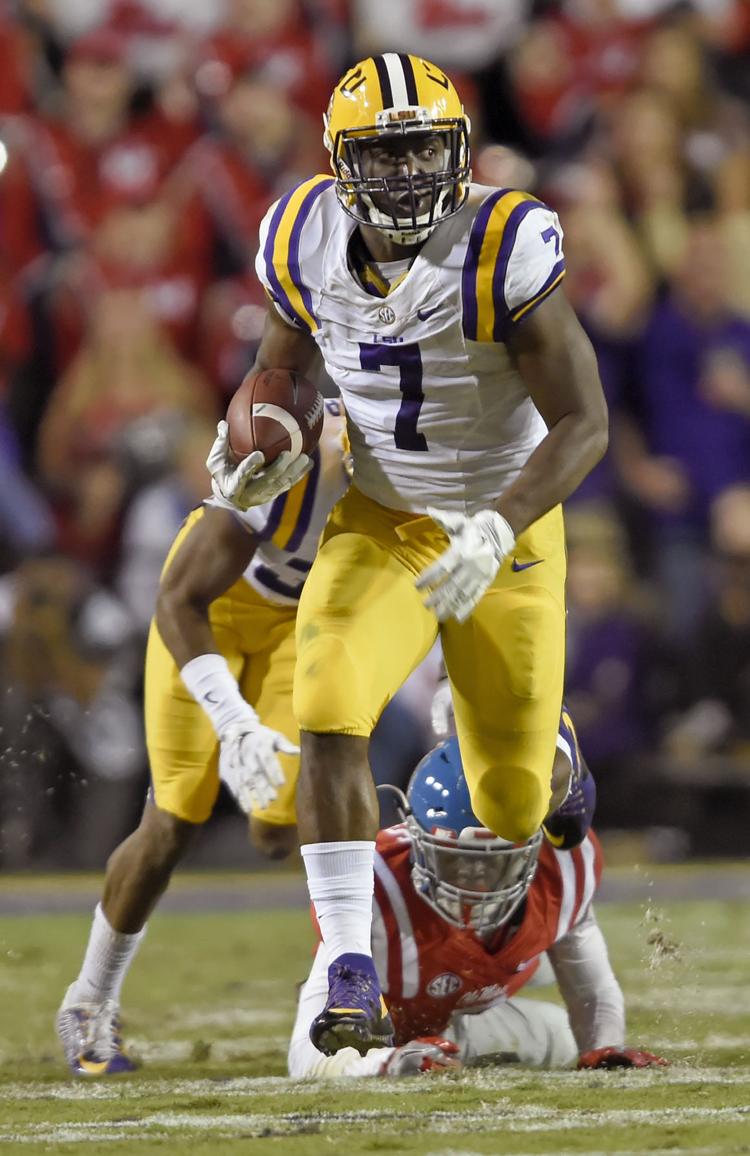 Fournette is still nursing a left ankle injury that has lingered throughout the season — a reason for the decision, he said. The ankle forced him to miss four games this season.
"I want to thank Coach O and LSU for the decision, not letting me play," Fournette said. "It's best for my future. I want to thank LSU overall for the best experience I've had. It's a hurtful feeling we had the season that we had. I didn't get the opportunity to play to my full potential."
Fournette clarified that he and Orgeron came to the decision for him not to play. He will travel with the team to Orlando, Florida, for the game, he said.
"He has a bright future," Orgeron said. "He'll always be an LSU Tiger."
Projected as a top-10 draft pick, Fournette now focuses on healing the ankle, which he sprained in two places during the first week of preseason camp in August. The 6-foot-1, 235-pounder will continue his rehabilitation. 
The ankle is "85 to 90" percent, he said Friday. Fournette will compete in LSU's pro day this spring in preparation for the draft, and he does not need a procedure or surgery, he said.
"It's getting better over time," he said.
Fournette's absence is a blow to the Citrus Bowl, where officials expected to get the preseason Heisman Trophy favorite, Fournette, and the eventual Heisman winner, Louisville quarterback Lamar Jackson. 
Fournette's backup, sophomore Derrius Guice, is expected to get the bulk of the carries against the No. 15 Cardinals (9-3). Guice has run for 1,249 yards, scored 14 touchdowns and is averaging 8 yards per carry for the No. 19 Tigers (7-4).
"We'll be all right," center Ethan Pocic said. "Guice is rolling. He's moving. I'm confident in all of our backs."
LSU running back Leonard Fournette announced Friday that he won't play in the Citrus Bowl, e…
Guice is emerging as a Heisman candidate for 2017. This season, he flashed his athleticism and shifty speed as a kick returner and at tailback. He broke Fournette's single-game rushing record, set against Ole Miss this year, by going for 285 yards at Texas A&M.
Fournette, the top recruit in the nation in the Class of 2014, leaves LSU with a slew of school records. He easily set career marks for yards per carry and rushing yards per game. Fournette has averaged 6.19 yards per rush, well ahead of Charles Scott's record of 5.46, and he has averaged more than 119 rushing yards per game, easily outpacing Kevin Faulk's 111.2-yard average. He's third in total touchdowns at 40, six behind Faulk's mark.
Most expected him to eclipse the total rushing yards during what was set to be a Heisman-worthy 2016 season, but the injury during the second week of preseason camp sent his year into a tailspin. He suffered a bone bruise and high and low sprains to his left ankle during a collision with linebacker Donnie Alexander.
It never fully healed, Fournette said, and he reinjured the ankle in the season opener against Wisconsin, at Auburn, at Arkansas and against Florida. He finished with 843 yards this year and eight touchdowns.
"I'm not going to put it all on the coaches. I wanted to play," Fournette said. "I could have rested for a couple of games, and it probably would have healed by now. That's just not me. I'm not built like that."
"He had a promising season. He fought through a lot when he could," receiver D.J. Chark said. "A lot of guys probably wouldn't have been able to do it. To see him come out and do it, with his circumstances, being one of the best in the nation, a lot of guys might have sat out. He still tried even in the Florida game. That's all you can really ask for as a teammate."
Christian LaCouture is coming back.
Fournette finishes his career with the fourth-most rushing yards at LSU — 3,830 yards, which is 727 behind record-holder Kevin Faulk. 
Fournette went 0-3 against Alabama, his team didn't win a Southeastern Conference division or conference championship and he did not claim college football's top individual prize, the Heisman.
He came the closest to the Heisman last year, leading the nation in rushing yards per game (162.8), but he was not a finalist after a late-season slide. He did set a host of single-season rushing marks, blowing through Charles Alexander's yardage record (1,953), topping LaBrandon Toefield's touchdowns mark (22) and becoming the first player in school history to have three consecutive 200-yard games.
Fournette is ranked by many as the top running back in the draft. In WalterFootball.com's latest mock draft, he was slotted in the No. 5 overall spot. The draft is April 27-29 in Philadelphia.
"He possesses the combo of size, speed and power that the NFL hasn't seen in a draft since Adrian Peterson," said Rob Rang, NFL draft analyst for CBSSports.com. "He's my personal top-rated offensive player."
To LSU fans, he'll be remembered most for his brutal body blows and stunning breakaway dashes. Fournette called his 228-yard outing against Auburn last year his most memorable performance — and the one he rewatches with his daughter, Lyric. He flashed his physicality, bowling over linebackers and out-running defensive backs on the way to a performance that made him the Heisman favorite a month into the season.
He set the single-game record this season against Ole Miss, blowing through Alley Broussard's 250-yard mark and finishing with 284.
"We're grateful for all of the years Leonard has given us, all the great memories, all the great games," Orgeron said. "One of the most dominant performances I've ever seen as a coach against Auburn and Ole Miss."