Neil Broussard learned the truth later.
Well after Isaiah Buggs signed with a school other than LSU, the hulking, athletic defensive lineman revealed to Broussard, his former position coach, that on Thanksgiving week of last year, Buggs had planned to verbally pledge to the Tigers and coach Ed Orgeron.
"He was about to commit and everything," Broussard said this week. "Orgeron thought it was a done deal."
So did many others.
All signs pointed to Buggs signing with LSU during the junior college signing period last December. For one, he was from Louisiana, and his connection with LSU's staff ran deep. In many ways, the Ruston native was a silent commitment to the Tigers. He was a beast of a man who would give this defensive front immediate help.
After all, in two seasons at Mississippi Gulf Coast Community College, Buggs went from a 230-pound high school player with no major offers to a 6-foot-5, 290-pounder ranked the No. 1 junior college player in the country.
He seemed destined to return to Louisiana, bound for the flagship school of his home state.
He signed with Alabama.
"Listen, I was recruiting Isaiah Buggs. I was recruiting Raekwon Davis," Orgeron said earlier this week, referring to another Bama defensive lineman who spurned the Tigers for the Crimson Tide. "They beat us on those guys. Those are the guys that we need to get. We need to beat them in recruiting."
The real battle between Alabama and LSU is not on any football field.
It's fought at the dinner table of 17-year-old kids, on Momma's front porch and in Daddy's work truck. It's waged in high school locker rooms, in long telephone conversations and text-message exchanges.
Buggs is just the most recent example of what's become an unsettling trend for LSU in the war between these two SEC West powers: Alabama is signing the most highly ranked linemen, developing them into All-American types and then using them to extend the longest winning streak in this series since the 1980s.
The gap between the programs on the offensive and defensive lines shows in the stats of their past six meetings, all Bama wins. Look no further than four categories that the Tide has dominated: average offensive yards (359.8 to 229.5), average rushing yards (180.1 to 81.8), yards per carry (4.5 to 2.2) and total sacks (20 to 9).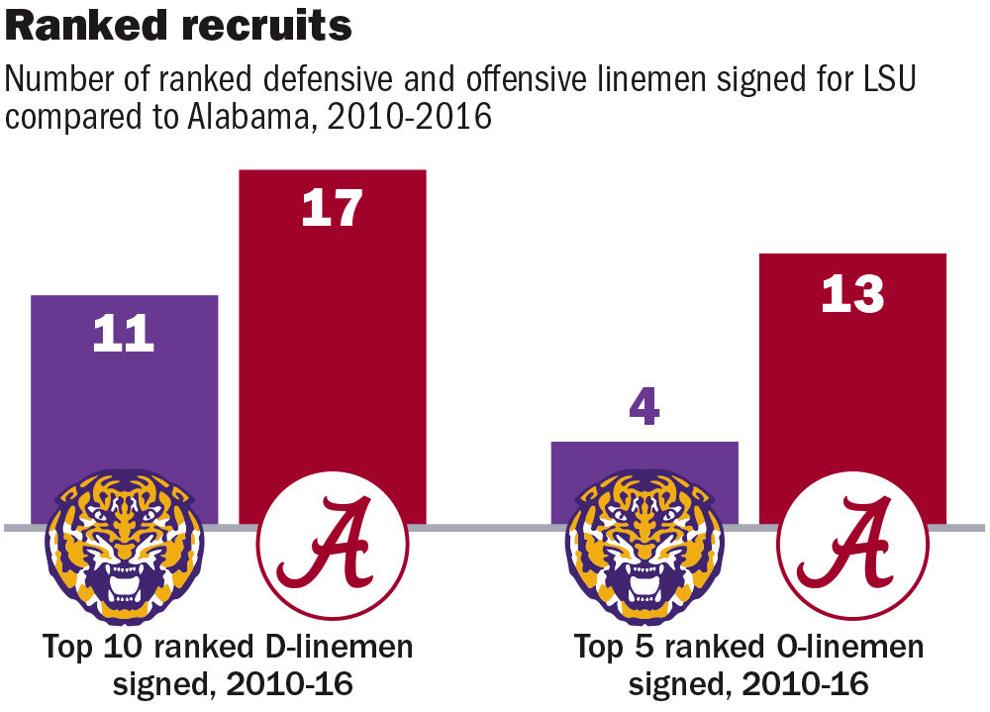 This trench war is one-sided. This big man's game, as Orgeron referred to it this week, is unequal.
"Year in and year out, it's kind of a trenches game," LSU defensive end Christian LaCouture said. "Every game is usually won in the trenches, but for this game especially. They want to run the ball, and we want to stop the run. We want to run the ball, and they want to stop the run."
Top-ranked Alabama (8-0, 5-0 SEC) can win a seventh straight game over No. 19 LSU (6-2, 3-1) on Saturday at Bryant-Denny Stadium.
Just 10 years ago, LSU scored 41 points against Alabama in Tuscaloosa for its fifth consecutive victory in the series. The Tigers haven't scored more than 21 points since.
How the chasm got so wide so quickly is not so easy to explain.
Former coaches, ex-players and recruiting experts hold different views in explaining the change. Some point to production at the quarterback position. Others lean toward the depth and talent on the lines. They all agree on one thing: Alabama coach Nick Saban is out-recruiting LSU, just like he's out-recruiting every other college program.
"It's pretty simple," former LSU coach Les Miles said. "Great job recruiting. They are a recruiting organization. Everything they do is based on serving the player and is a recruiting tool."
The Advocate examined the defensive and offensive line signees of LSU and Alabama over a seven-class period, 2010-2016. The numbers show a striking disparity between the two programs in linemen signed — in both the sheer number and in caliber of the signees.
During those seven years, Alabama has signed more defensive linemen (33 to 29) and offensive linemen (30 to 27) than LSU.
The more glaring numbers are the talent levels.
The Tide has signed 13 offensive linemen ranked in the top five at their position. LSU has signed four. Bama has signed 17 defensive linemen ranked in the top 10 at their position. LSU has signed 11.
"It's not just LSU," said Booger McFarland, an ESPN analyst and former LSU defensive lineman. "You can substitute 129 other schools. Bama gets 5-star and 4-star O-linemen and D-linemen and develops them."
Danny Etling is battling the normal ails that come with being quarterback of a football team…
Not all of LSU's recruiting losses on the line came to Bama.
In fact, of the 119 linemen the two schools have signed in 2010-16, only about 40 of them were seriously considering both schools to the end of their recruitment, according to recruiting databases and recruiting reporters. The schools basically split those prospects.
What gives LSU the black eye are the ones the Tigers are supposed to get, said Mike Scarborough, publisher at Rivals' TigerBait.com.
They included Louisiana guys like offensive tackle Cam Robinson and defensive end Tim Williams, both critical players during the Tide's championship runs. Another miss was longtime LSU commitment Matt Womack, who's starting at right tackle for Alabama and, of course, Buggs, who led Bama in tackles in two games this year as a rotational player.
"Losing Buggs was a backbreaker," Scarborough said.
Including Buggs, Alabama has signed five players from north Louisiana since 2012 who ranked in the top 20 in the state in their class. LSU has signed seven. Most recently, the Tigers lost out on Neville defensive tackle Phidarian Mathis in February.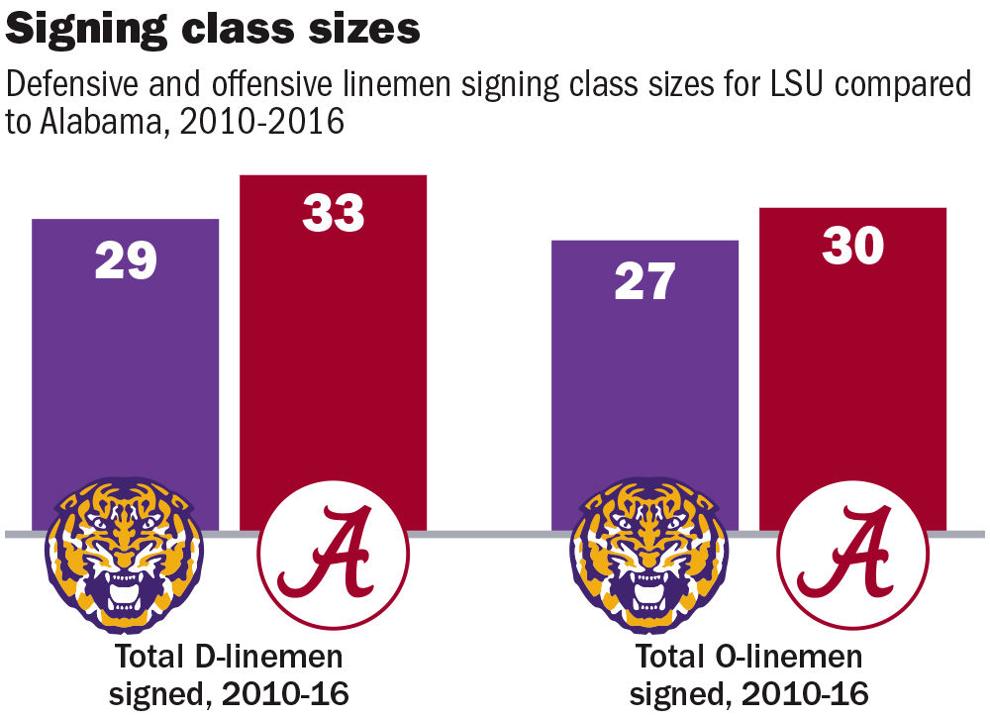 Saban's surge into the north part of the state — something Orgeron is very much aware of — began in 2012. LSU got 13 of 14 top 20 north Louisiana recruits from 2008-11.
"We beat them on a couple guys. They've beaten us," Orgeron said. "Remember, this is his 11th year (at Alabama). This is my first, OK?"
They almost got Buggs.
He was prepared to commit to the Tigers around the same time that Orgeron was named permanent coach. Buggs then accepted in-home visits from Alabama coaches just days after Orgeron's promotion — and the firing of assistant Bradley Dale Peveto, Buggs' primary recruiter.
A week later, Buggs visited Alabama, then committed on Twitter citing LSU's coaching staff instability. He ended the post with "Geaux Tigers."
In a Twitter message on Wednesday, Buggs revealed that he woke up to "horrible messages" from "Louisiana fans."
This will only improve his performance Saturday in a game against his home state team, said Broussard, now the defensive coordinator at St. Martin High in Ocean Springs, Mississippi.
"He's probably going to ball out," he said. "It doesn't take much to get him fired up."
Buggs is one of about 10 defensive linemen that Alabama regularly rotates at its three D-line spots and the edge-rushing position Saban calls "Jack." LSU rotates, at most, seven players at four similar positions — the result of injuries, ineligibility and, of course, some recruiting hiccups.
That's another gap between the two programs: number of available bodies.
It's confounding to someone like Cole Cubelic, a former Auburn center who's a sideline analyst for SEC Network.
"It doesn't feel real to be honest with you," he said. "I feel like defensive linemen grow on trees in that state. The first thing LSU can do is build the numbers on both sides of the ball. It gives you options, competition and gives you the chance to hit home runs. For Orgeron, that's his baby. That's his position. He understands its importance."
The exchange unfolded in July from the main ballroom at Southeastern Conference media days.
It's not just on defense. Alabama has 17 scholarship offensive linemen. LSU has 11, in part because of five offseason transfers.
"Got to keep building depth. Can't be thin in the SEC," center Will Clapp said. "Got to recruit the right guys. Get guys to buy in and stay around. You have a bunch of guys transfer, it's hard to be deep at a position."
All programs have what many refer to as recruiting "busts," highly ranked players who rarely played or eventually left the program. Many of LSU's busts have come in a critical area: defensive tackle.
The Tigers signed just six players from 2010-15 designated as defensive tackles by recruiting services — Alabama signed 18. And four of LSU's six DTs never started a game in their careers: Travonte Valentine, Trey Lealaimatafao, Mickey Johnson and Maquedius Bain.
"Lealaimatafao is the poster boy of the difference between LSU and Bama when it comes to linemen recruiting," Scarborough said of the 2014 signee who pleaded no contest to robbery charges earlier this year in California. "I'm not saying that because he's in prison. I'm saying that because you miss out on the top guys and you take a guy nobody else offers in your peer group."
Orgeron is aware of the need for space-eating yet athletic defensive tackles. He signed five in the past two classes — nearly the same number LSU signed in the six previous classes.
Still, the coach says LSU is "a little ways away." He cited true freshmen offensive linemen Ed Ingram, Saahdiq Charles, nose tackle Tyler Shelvin and Texas Tech transfer Breiden Fehoko as the kind of players who can close the gap between the Tigers and the Tide.
"I love all our guys, OK? But those are physical guys, have the physical stature that it takes to be able to block these guys," he said of Ingram and Charles. "Are they ready to block these guys as freshmen? It's pretty hard. … We need to continue to recruit better, get bigger and faster on the line of scrimmage. This is a big man's game. This is where the game is won."
Quarterbacks, defensive and offensive linemen are the toughest positions to recruit, said Tommy Tuberville, the former Auburn coach who's an analyst for ESPN. O-Line and D-Line recruiting is made more difficult as more and more high school teams move to up-tempo, spread offenses.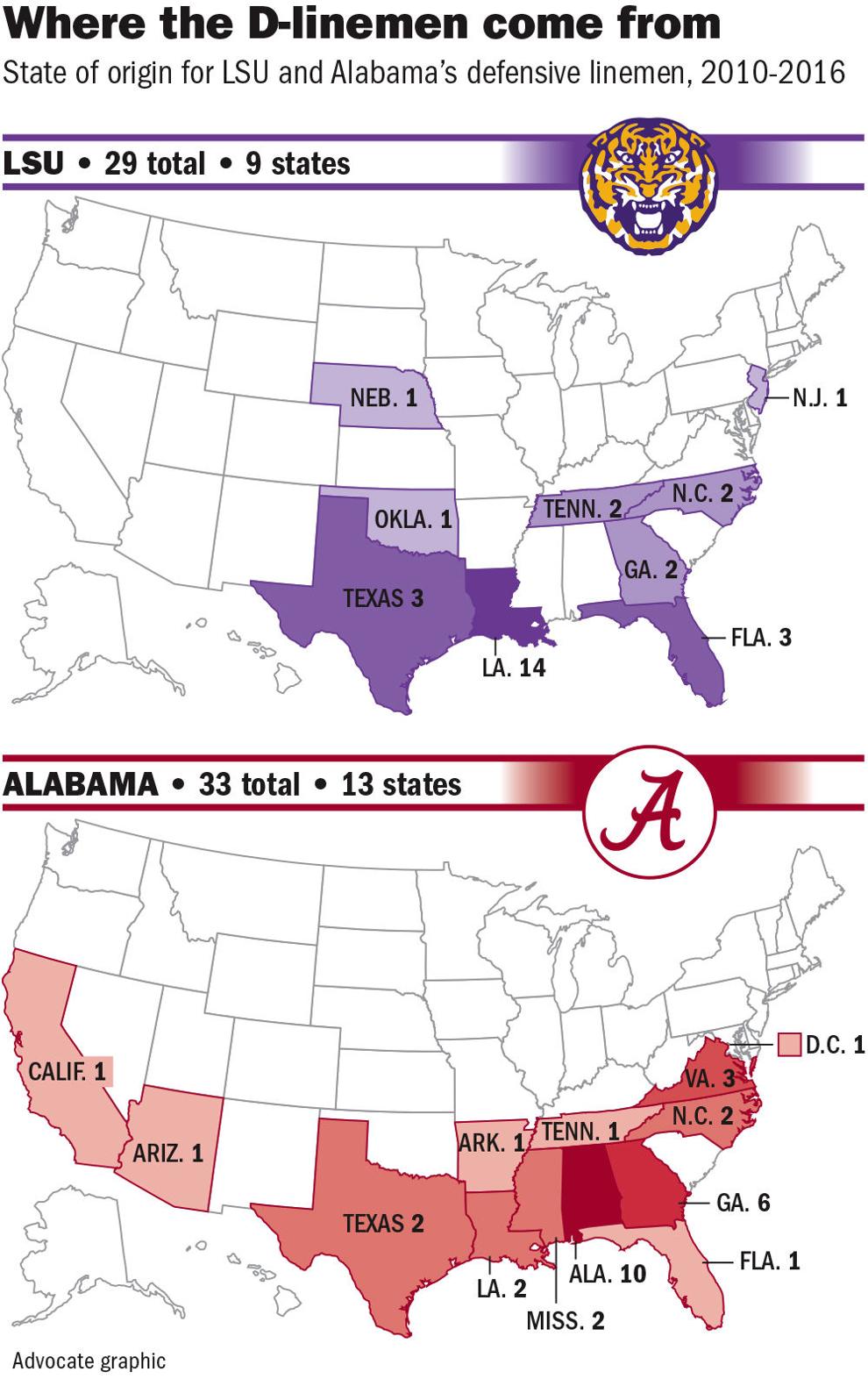 Defenses counter with leaner, quicker units. There's something else, too, Tuberville said.
"A lot of them don't play football anymore," he said of linemen in general. "They play video games. They don't want to get knocked around."
LSU's recruitment of linemen nationally pales in comparison to Alabama in those 2010-16 classes. The Tide signed offensive linemen from 15 states to LSU's eight. Saban inked D-linemen from 13 states to LSU's nine.
Recruiting reporters like Scarborough and 247Sports.com's Sonny Shipp wonder whether LSU is too reliant on in-state linemen. Thirty of the Tigers' 56 lineman signees came from Louisiana.
"That's the question," Scarborough said. "Has LSU boxed themselves into being only as good as what Louisiana gives them?"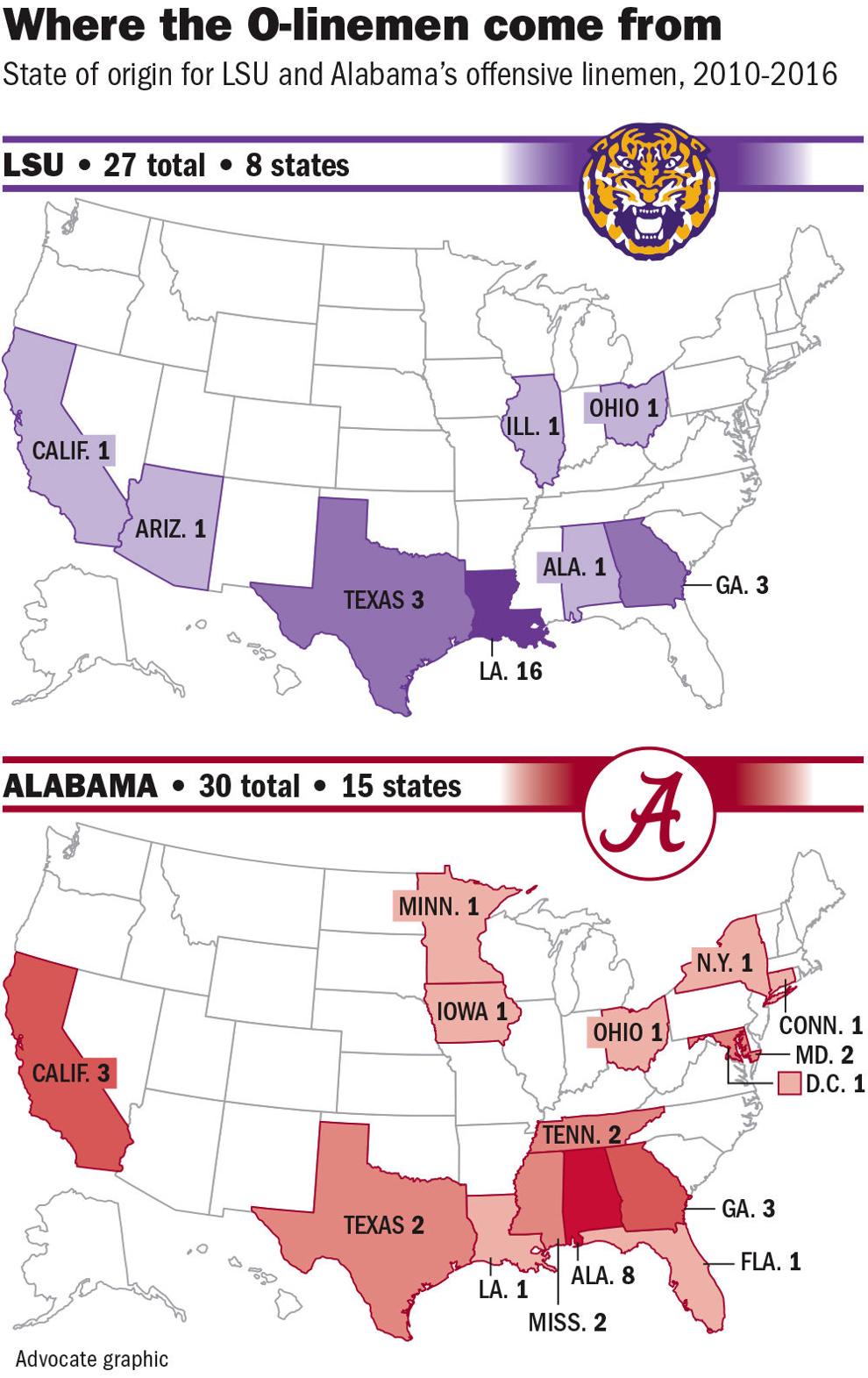 The Tide relies on Georgia for linemen like LSU relies on Texas, but Saban has gone west to California and Arizona (five lineman signees there to LSU's two) and up the Eastern shore and Midwest (14 to LSU's 6).
Said Shipp: "If you don't have kids in your own backyard, you've got to go out and find them yourself."
Miles, now a TV analyst who hopes to land a head coaching job next season, said this week there's more to Alabama's winning streak against LSU than simply line play.
Bama has "had some superior offensive and defensive lines," Miles acknowledged, but he insisted that several key plays — not from linemen — have contributed.
"We had the lead on the last drive in our stadium twice," he said of the 2012 and 2014 games. "If we could have got a tackle, just a tackle, on their quarterback one time, we win the game."
In the 2013 game, he cited a first-quarter fumble on the goal line from fullback J.C. Copeland. In 2014, defensive back Jalen Mills, Miles said, blew a coverage on Alabama's eventual game-winning touchdown in overtime.
"That," he said, "is not offensive and defensive lines."
The current coach disagrees. Orgeron has preached his team's line woes for nearly a year. He says he's working to fix it.
LSU's current recruiting class includes nine linemen. Couple that with the eight linemen signed last season, and the Tigers could have their most trench guys (17) since 2013-14. Five ranked in the top 10 at their position.
Signing them is one thing, but developing them is another. That's the key, said Tuberville.
"It's a process. It's like growing a tree," Tuberville said. "A lot of water and sunshine. You won't see it growing, but it'll get there."
Orgeron's job is not on the line Saturday night. A loss is expected, even one by a large margin (LSU is a 21-1/2 point underdog).
However, Orgeron's job is on the line Dec. 20, the first day of the early signing day period, and Feb. 7, the traditional national signing day, when most of the action — the surprising flips and televised commitments — still will unfold.
"You can look at the gap between anybody and Alabama, and it's one thing: They win signing day," McFarland said. "Clemson started beating them on signing day and look what happened. Win in February to win in November.
"If he doesn't, Ed won't be there long. That's one of the things (LSU athletic director) Joe Alleva and everybody expect."