To Ty Detmer, the age thing is overblown.
He hears it all the time. He hears it now that he's offensive coordinator at BYU, and he heard it back when he quarterbacked the team.
It's an unfair advantage, critics say, that BYU players are older, on average, than the rest of those in college football. As recently as last month, LSU coach Ed Orgeron even mentioned the "24- to 26-year-old guys" on the Cougars, jesting that they might have "4-year-old sons" at games.
Advantage? No, no, Detmer said.
"We've got some 20-year-old freshmen. They're freshmen and play like freshmen," Detmer said. "It's overblown. Guys still have to go out and play. Maturity level is a little better on some things, but it still takes them two to three years to learn the game coming into school."
Can't see video below? Click here.
Advantage or not, BYU is a different breed of program than most that LSU normally clashes with on the gridiron. The private institution in Utah is operated by The Church of Jesus Christ of Latter-day Saints, and a large portion of BYU students participate in two-year mission trips during their time at the university.
This leads to the age disparity between the Cougars and everyone else in college football — a topic that sometimes irks BYU fans. The issue is significant enough that BYU, in its weekly game notes, releases the team's average age — 21.4 years old — just so folks won't think players are all 25 and up. Thirty-two BYU players are married, the university said.
LSU's average age, by the way, is 19.8 years old. 
"I'm 24 and you're 19; I'm going to have a maturity over you," said Norm Chow, who served as an assistant at BYU for more than two decades. "It's a unique place. They play with 25-, 26-year-old kids, mature guys that never have issues off the field."
How was it coaching them?
"It was easy," he said. "You didn't have to harp, 'Stay off the beer! Stay off the marijuana! Go home and go to bed!' "
KJ Malone can speak to that. LSU's starting left tackle grew up in Salt Lake City until age 10 while his father, Karl, starred for the Utah Jazz. He was raised as a University of Utah fan, schooled from a young age to hate archrival BYU, located 45 miles away in Provo.
The difference between the schools, Malone said, is massive. Mormons live by a health code that eschews alcoholic beverages, tobacco, coffee and tea. 
"I don't know how to describe it," he said. "BYU is more ... of like a private-school atmosphere. Utah is more, like ... fun."
Toby Weathersby gassed up his truck Sunday night and all but pointed it down I-10 toward Hou…
Malone family members are Utah Utes or LSU Tigers, he said. He's more "fired up" for this game, he said, than most on the team. After all, he's playing the program he learned to hate as a child.
But he has warned his teammates: BYU is no joke.
The Cougars, independent since 2011, have won at least eight games in 10 of the past 11 seasons. They claimed the 1984 national championship under legendary coach LaVell Edwards. That came amid a run in which BYU won 10 or more games six of seven years.
"It's not going to be easy," Chow said. "They gear up for these games. They went independent, so they have to make a mark against the LSUs of the world."
They're independent; you shouldn't overlook them; and, oh yes, they're old. LSU players will remind you. Multiple players this week used "grown men" to describe the Cougars.
LSU players were kept in the dark, much like everyone else.
BYU's missionary work is one of the more recognized characteristics of the school. About 64 percent of the football team has served on a two-year mission, the school said, and about 30 members of the current team (signees included) are currently serving.
The church operates missionaries in 150 nations, and more than 70,000 missionaries are serving around the world, many of them young men between 18 and 26. Missionaries work long hours — seven days a week for two years — teaching the Gospels and participating in community service.
You don't have to tell any of this to Detmer, the 1990 Heisman Trophy winner who quarterbacked BYU from 1989-91. He went through it himself nearly three decades ago, and now he's dealing with it as a coach.
As much as half of a freshman signing class will immediately begin in the missionary field, not arriving to campus until they're 20 or older. The first touchdown of BYU's season was scored last week by a 21-year-old true freshman in a 20-6 win against Portland State.
Others will attend school for maybe a year and then spend the next two years in Mexico, Peru or Chile. Some return out of shape or without a desire to play football any longer, Detmer said. He has seen offensive linemen sign at 280 pounds and return from a mission at 230.
"They go to third-world countries," he said. "They're not out there working and training. They're out there with limited resources. Some come back with injuries and bad backs because they've been sleeping on floors."
So maybe it's not such an advantage.
But maybe it is.
LSU defensive lineman Christian LaCouture watches film of BYU and sees a mature team, one that's "polished and well-trained," he said.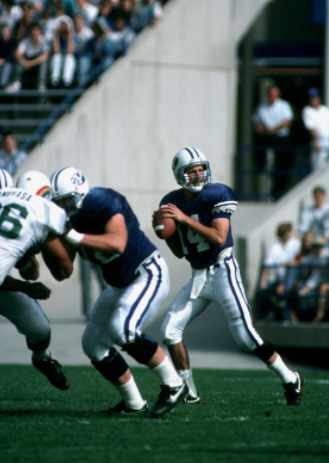 Orgeron has been witness to a more mature BYU team overcoming the athleticism of an opponent. While on staff at Miami in 1990, the Hurricanes, ranked preseason No. 1 and the reigning national champions, opened the season in Provo. The Cougars beat two-touchdown favorite Miami 28-21 in one of the wildest upsets in a wild college football season.
"Wasn't a good outcome for the Hurricanes," Orgeron said.
"Miami was talented but basic," Detmer said. "We were experienced and felt good about what we were going to see. Whether we could handle the speed was the big question."
That's a question this week, too, when LSU's athleticism is put up against BYU's old, mature guys. "Speed matchup," Detmer said.
Detmer expects more wrinkles from LSU defensive coordinator Dave Aranda than he saw that night in 1990. (Miami played two pass coverages, he said.) Several members of the BYU staff know Aranda well, and Orgeron even compared BYU's defensive scheme to Aranda's.
That game in 1990 was ages ago anyhow, Detmer said. His players are old, sure, but they're not that old.
"None of our players," he laughed, "were born yet."
If you have tickets to LSU's season opener against BYU, which was originally scheduled to be…