NASHVILLE, Tenn. — Welcome to Film Room, where we'll break down significant portions from LSU's last football game.
(Click to enlarge photos)
LSU 41, Vanderbilt 7
How It Happened
Making adjustments: LSU coach Ed Orgeron and defensive coordinator Bo Pelini both caught criticism in Week 1 for sticking with a mostly tight, man coverage game plan while Mississippi State's Air Raid set an SEC-record with 623 passing yards against a limited LSU secondary.
Orgeron said afterward that, in hindsight, the Tigers should have made more adjustments in the second half. The fifth-year coach lauded his staff after LSU's 41-7 thrashing of Vanderbilt on Saturday, when the Tigers defense held Vanderbilt to 266 total offensive yards and recorded eight tackles for loss, three sacks and two interceptions.
Orgeron said LSU made adjustments to stop Vanderbilt's rushing attack, which, at halftime, had 105 rushing yards and was averaging 4.6 yards per carry. The Tigers only allowed 56 more rushing yards in the second half.
What was the problem, and what were the adjustments?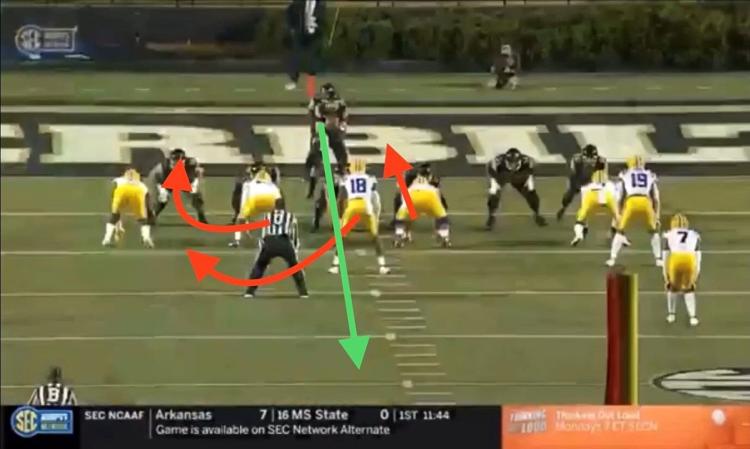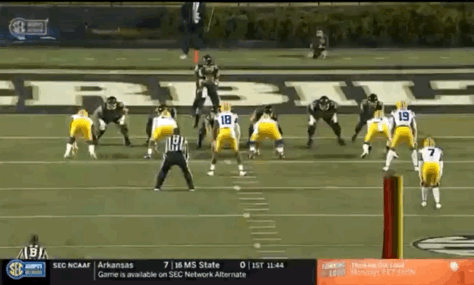 Orgeron said defenders weren't sticking with their gap responsibilities. "We had guys getting cut out of the gap," he said. "Guys jumping inside." Players found themselves out of position, and Vanderbilt running backs often found wide running lanes in the first half. In the first quarter, on first-and-10 at the Vanderbilt 8 (see example on the right), the Commodores offensive line seems to create a lane by using a standard zone blocking scheme. It's a widely-used scheme in which offensive linemen are assigned a gap, and they block defenders that are in those gaps. Blockers can also be very mobile. The line drifts right, and linebacker Damone Clark (red arrow middle) follows the progress of the center. Vandy center Grant Miller aids in a double team of LSU defensive tackle Neil Farrell, and, since Clark has drifted, has a great angle to wall him off from the middle of the field. A hole has emerged in the middle, and backside defensive tackle Apu Ika is shoved down behind the play. Linebacker Jabril Cox is walled off by the left guard, and Vandy running back Ja'Veon Marlow finds the hole for a 22-yard gain. It's well-executed blocking by the Commodores, which had several similar plays like this in the first half.
Orgeron said the LSU coaching staff challenged its defenders "just to settle down and just do their job" at halftime. They made adjustments to blitz less, put more defenders in the box and let the Tigers read and react and make plays from their base 4-3. This was the most we've seen LSU play out of its base defense this year, since Vanderbilt offensive coordinator Todd Fitch's pro spread didn't have the same 80% pass commitment Mike Leach had. In fact, out of the game film we studied, LSU only went with a three-man front once against Vanderbilt: a third-and-8 play in the early second quarter in which defensive ends Ali Gaye and Andre Anthony and defensive tackle Joseph Evans provided the pass rush that forced a completion short of the first down.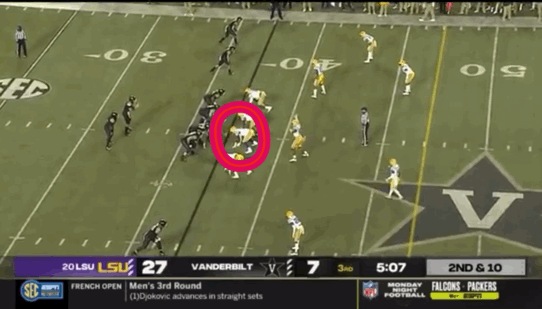 The adjustments asked LSU's defenders to win their matchups. The Tigers played their second game without starting defensive tackle Glen Logan, whom Orgeron said will return against Missouri, and that meant true freshman Jaquelin Roy got his most playing time yet. Roy had an impressive game, especially in the second half, and his ability to push into the backfield represents part of why LSU was able to shut down Vanderbilt's run game. Here on second-and-10 at the Vandy 37 (see example on right), Roy (circled red) throws off the right guard and stuffs the run for a two-yard gain. Gaye also aids in the tackle after watching the quarterback on the zone read. Roy's tackle set up a third-and-8 — the sort of situation Pelini says is where LSU earns the right to rush the passer. Quarterback Ken Seals throws an incompletion on the next play, and Vanderbilt punts.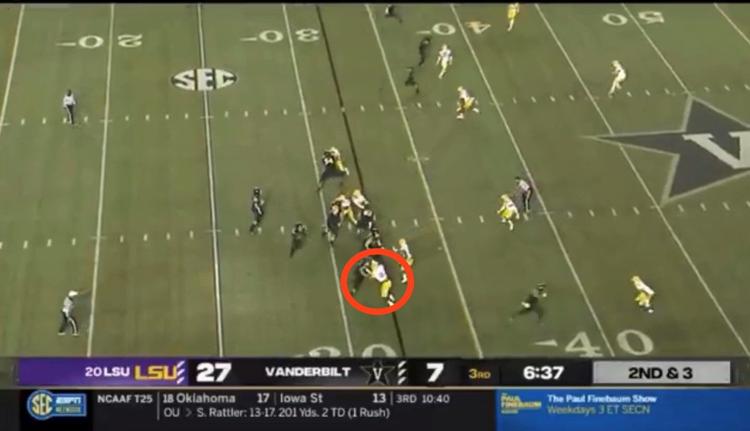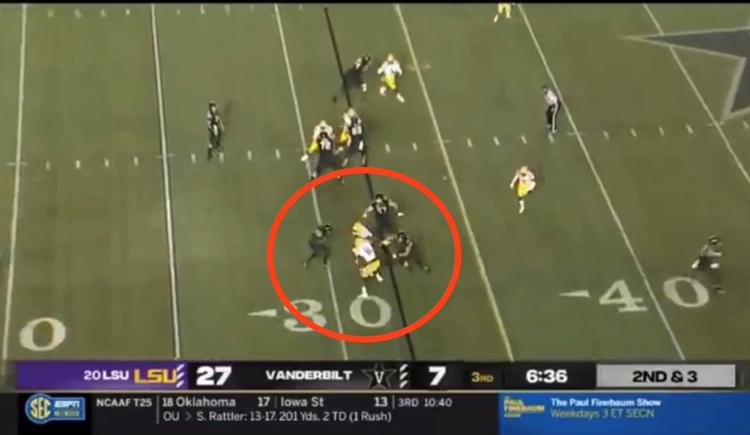 Gaye had another remarkable performance. Two games in, and the 6-foot-6, 262-pound JUCO transfer has already established himself as one of the most talented defensive ends in recent memory. Again, staying in more base defense means requiring players to win their blocks. Here on second-and-3 in the third quarter, Gaye (bottom red arrow) takes on right tackle Connor Mignone, throws him to the side, and traps Marlow on the edge. Gaye and Cox stop Marlow for a loss of two. Two plays later, Vanderbilt converts on a fake punt; but in similar short-yardage runs, Gaye is proving to be a valuable edge setter in this defense.
Pass rush piles on: Orgeron now has the kind of attacking pass rush he's always wanted at LSU, and pressuring the quarterback has been the most consistent piece of the defense so far this year. The defensive linemen Orgeron thinks are the best pass rushers have become clear: Gaye, Evans, Anthony and BJ Ojulari.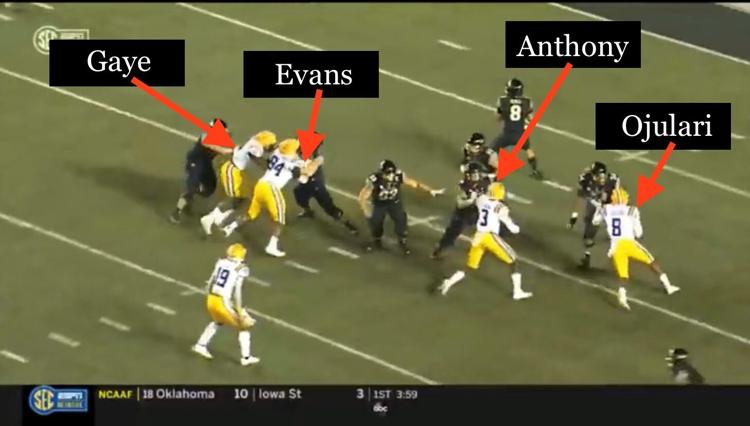 We know this because of LSU's third-down package. Orgeron has called it "Cheetah," and it's basically designed to unleash LSU's best pass rushers during obvious passing situations. The package was deployed here at the start of the second quarter on a third-and-12 at the Vanderbilt 13 (pictured right). The four linemen each fight into their blockers, and Anthony broke free and rushed Seals into an incomplete pass. The Commodores punted, and LSU, with good field position, scored a touchdown on its next drive to go up 14-0 with 12:28 left in the first half.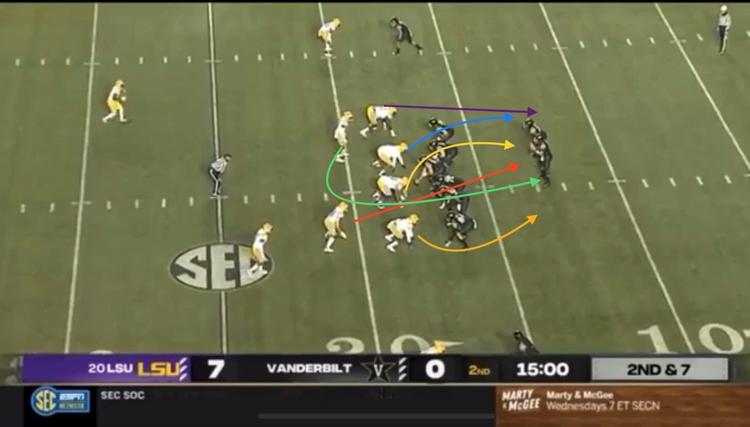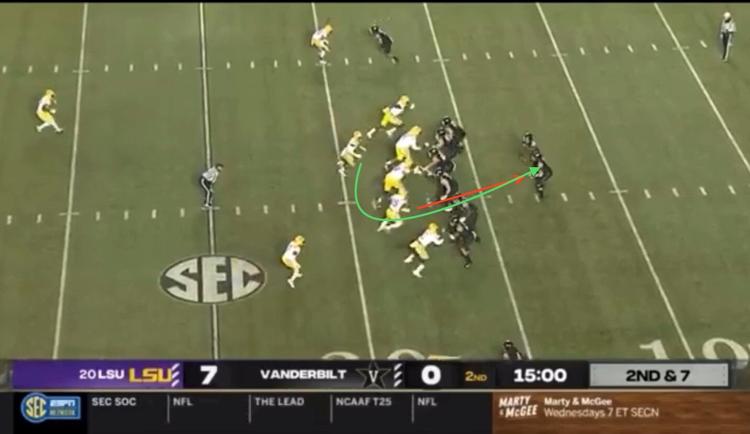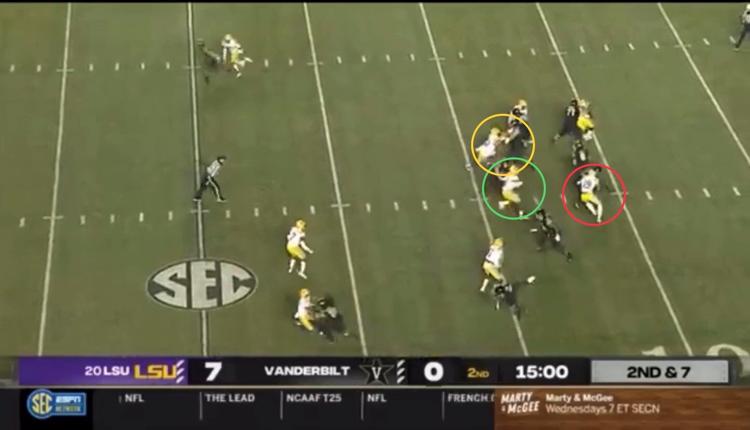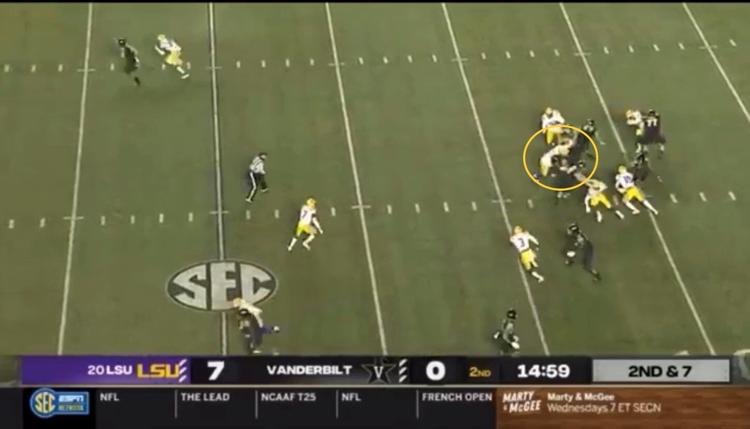 Many GIFs could be spent zeroing in on the times Gaye pressured Seals on the first drive, Roy flushed Seals out of the pocket by shoving a blocker with on arm in the first quarter, Travez Moore sweeping off the left edge for a sack, Ojulari hitting Seals and forcing a goal line interception. You get the drill. LSU's pass rush was potent once again, and much of it had to do with the aforementioned rushers beating their blockers. But let's hone in on one play that highlights the collective. In this play (sequence shown right), Vanderbilt is going to pick up the LSU rush with extra pass protection, but the Tigers still overwhelm their blockers into a sack. It's the start of the second quarter. LSU only has a 7-0 lead at this point, and Vanderbilt is facing second-and-7 at its own 18 . The Tigers are about to rush six defenders against seven blockers: each defensive lineman; both inside linebackers. The three defensive backs — Derek Stingley, Elias Ricks, Cordale Flott — are each matched up on the outside with Vanderbilt's three wide receivers, and safety Mo Hampton is covering up top. All three can play corner for LSU, and Pelini expects to trust them to lock down their receivers one-on-one, which allows him to bring extra heat on a play like this. Stingley's return was essential in this game, because, as seen in Week 1, the depth is not yet there for the Tigers to match up that many receivers one-for-one. Cox (red arrow) and Clark (green arrow) both rush through the left-side B gap (between the left guard and left tackle) — an apparent double blitz that leaves most of the rushers with one-on-one opportunities. Ika (yellow arrow) is line up on the inside shoulder of the left guard, but he stunts toward the center, which draws the left guard his way. The B gap is open. Cox gets through easy, but he's picked up by the running back. The left guard picks up Clark, but the pocket has been squeezed by the linebacker rushes. Seals has to step up. Ika (yellow circle) gets separation on the center and swallows Seals for a five-yard sack. All of this happens in about 2.3 seconds — not near enough time for the downfield routes Vanderbilt is attempting here.
Those rascals in the flats: LSU's defensive effort wasn't perfect. There are still moments when the Tigers struggle to pick up running backs and receivers with routes in the flats. It's becoming a trending weakness. Mississippi State exploited it with a swing pass to uncovered running back Kylin Hill, who scampered for a 75-yard touchdown. Players and coaches in years past have noted that football is a copycat league, and it appears Vanderbilt added exploitive plays into their game plan.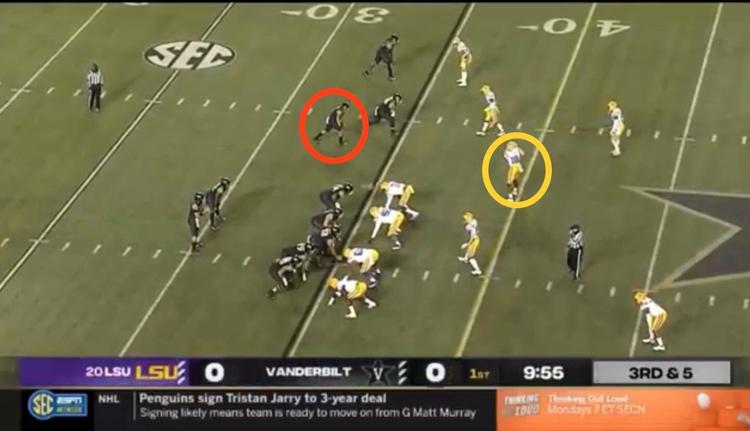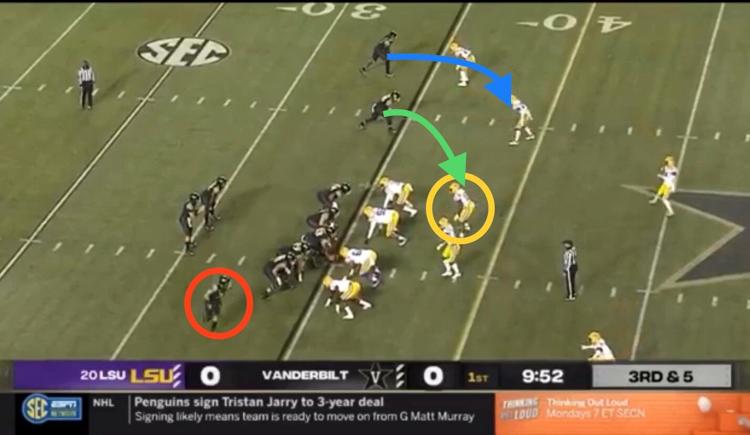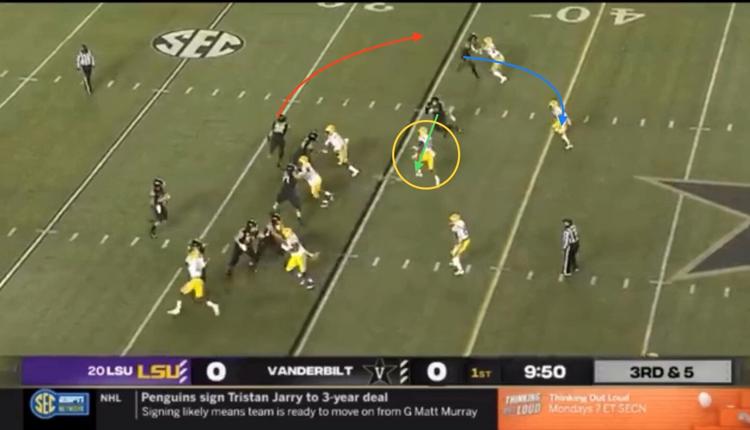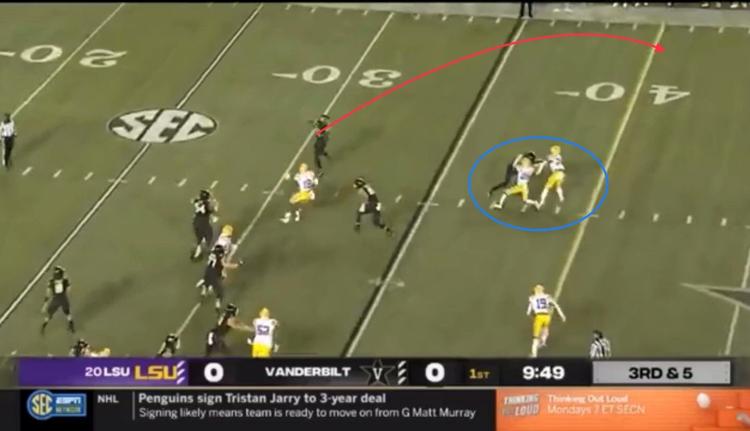 This is a well-designed play by Vanderbilt's Fitch here on a third-and-5 on the team's third drive of the game (sequence pictured right). The Commodores start with three receivers to the left, which means Clark (circled yellow) is splitting the distance between the left tackle and the nearest inside receiver, Cam Johnson (circled red). Seals motions Johnson to the right side of the field, which returns Clark to his standard positioning over the B gap. This creates a better angle for tight end Bren Breshnahan (green arrow) to pick Clark on an inside route. Rub routes, intended to knock defenders off course, gave LSU fits against Mississippi State, and Vanderbilt runs two of them here. Chris Pierce (blue arrow) — a 6-foot-4, 231-pound receiver — is essentially another lead blocker on this play. Stingley is playing tight man coverage, which, on this play, actually works against the defense. Stingley makes the first contact, so Pierce somewhat guides Stingley straight into nickel safety Flott (blue circle) and he's essentially blocked two defenders. Running back Jamauri Wakefield has space in the flat and turns a short toss into a first down.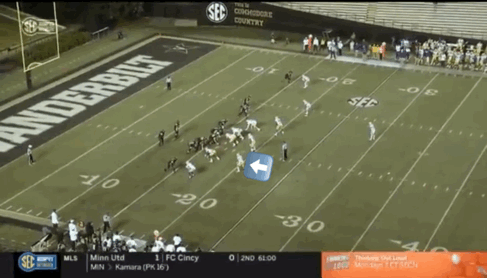 LSU, leading 21-7 at the start of the second half, catches a break here on a third-and-6 (pictured right) when Vanderbilt misses on a touchdown opportunity. Safety JaCoby Stevens (arrow) walks up in an apparent blitz attempt off the left edge. He recovers once he reads pass, but by then it's too late. Marlow is wide open on a wheel route down the right sideline. Stevens is walled off by a rub route from inside receiver Amir Abdur-Rahman and can only watch as Marlow drops what most likely would have been a touchdown, if not an extremely long gain.
Such plays in the flats can extend crucial drives and break games open, and sometimes a well-timed, well-designed play in the flat is going to catch a defense off guard. LSU has work to do in defending these plays, and it's not hard to imagine opposing coaches drawing up similar plays for future games — especially No. 4 Florida (2-0), a team with a tight end, Kyle Pitts, leading in receiving and a head coach, Dan Mullen, known for his chess-match preparation on the offensive end.