For 10 years, Rick Jones was wrong.
The former Tulane coach thought Jake Gautreau had given the now-famous speech after the Green Wave's 13-inning, one-run loss in Game 1 of the NCAA super regional against LSU in 2001.
It was Gautreau, the All-American third baseman, right? Jones always thought it was Gautreau. It had to be Gautreau.
Moments after the game, Gautreau is the one who slipped down the tunnel of the losing dugout, while Jones, standing there alone, mulled his thoughts, preparing for a postgame speech he was dreading.
"He looked at me and I said, 'Give me a second,' " Jones said. "He said, 'I got 'em.' "
It was Gautreau who marched the team down the right-field line to the outfield, forming a players-only huddle, as coaches looked on from about 40 feet away.
It was Gautreau who began talking, right? He was sure it was Gautreau who delivered that motivational pick-me-up speech, the one that preceded Tulane's consecutive victories in that super regional to topple LSU.
Ten years after that speech, Jones learned, from Gautreau, that it was not Gautreau after all.
"Coach, I've got to tell you something," Jones said Gautreau told him in 2011. "I didn't say anything that night. Andy did the talking."
Andy Cannizaro, the speedy shortstop and future big-leaguer, revved up his Tulane teammates that Friday night at Zephyr Field. The Green Wave responded with a 9-4 win Saturday and a 7-1 win Sunday, clinching its first trip to the College World Series, ending LSU coach Skip Bertman's career.
The two most important chapters of Alex Lange's life are as distinct as his two primary pitches.
Cannizaro is back in a super regional against the Tigers — this time in the dugout as head coach. His Mississippi State Bulldogs (40-25) meet national No. 4 seed LSU (45-17) in a best-of-three series starting at 8 p.m. Saturday.
This is a tough ticket to get. The series sold out within 30 minutes Friday morning.
Some expect the environment to rival the rowdy, overflowing crowd in Metairie 16 years ago. Others believe this one is dripping with just as much drama, too.
Two of college baseball's superpowers clash in a meeting that pits Cannizaro, the Tigers' assistant the previous two years, against his old team — and before that, his old rival.
Cannizaro grew up swaddled in green and white — not purple and gold, like many Louisiana babies. His father was an assistant at Tulane, and he sometimes traveled on road trips with the team. In the summers, he lingered around the park.
He was Tulane all the way.
Even at his introductory news conference at LSU in 2014, Cannizaro admitted that his most defining moment in his baseball career — one that included a brief stint in the major leagues — was beating LSU in that super regional.
Inside his office earlier this week in Starkville, Mississippi, Cannizaro smiles when asked about that series, with another one against LSU around the corner.
"I guess, just from competing against them for those four years and then being in the dugout with them the two years I was there, you have to play great to beat them," he said of the Tigers. "No LSU team is ever going to beat itself. They're always extremely well-coached with extremely talented players. If you're going to beat them, you're going to have to bring the game to them.
"There's 30 years of tradition of winning and that's instilled in them from the very first day they walked on campus," Cannizaro continued. "There's a tremendous amount of pride in all of those players and what they represent over at LSU. And if you're going to beat them, better bring your 'A' game. They're not going to give you the game."
Cannizaro beat them.
He finished his four-year career 7-4 against the Tigers. And he's happy to reaffirm that from his desk on a sun-splashed Wednesday afternoon, calculating the year-by-year record aloud.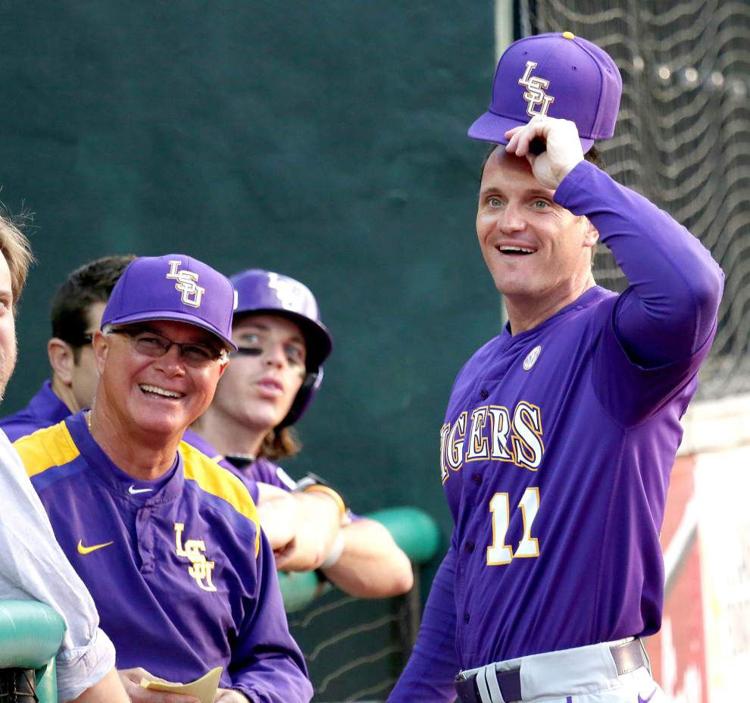 "Seven and four," he said, "including a super regional win."
It's tough to compare that super regional to this one.
That series set the attendance record for an NCAA super regional at more than 35,000. Tickets went for four and five times their face value, and a suite at Zephyr Field went for $25,000 for the weekend.
The tailgating was so thick that law enforcement needed to cut a swath in the crowd just to get the team buses close enough to the park.
"We turned back into the NCAA the most money turned back to the NCAA at a super regional," Jones said.
The number: $503,000.
"And that was after expenses," he said.
Game 1 drew the largest crowd for an outdoor baseball game in Louisiana history, at 11,719. They watched the Tigers win 4-3 on a sacrifice fly in the 13th inning.
It was an upset. Tulane was the national No. 5 seed in that NCAA field and led the nation in wins. Cannizaro, in that postgame speech, reminded his teammates of that.
"I wasn't a real vocal guy at all," Cannizaro said. "Wasn't a rah-rah guy. It was really the first time I had stepped up and spoke to our team the whole year.
"I told our team we were the better team in this super regional, and I felt like they played their greatest game of the year. They threw their ace (Lane Mestepey). I remember telling the guys, 'We took their best punch. They threw their only bullet and it took them extra innings to beat us when we didn't play well.' "
Said Jones: "Andy didn't talk much. When he talked, they listened."
The Green Wave's first four hitters began Game 2 by collectively hitting for the cycle: Jon Kaplan homered, Cannizaro doubled, Gautreau singled and James Jurries tripled.
On Sunday, Tulane put up a six-spot in the fourth inning. It included three stolen bases and a two-run single from Cannizaro.
In that three-game series, he finished 8 for 15 with four RBIs.
Videos of the postgame scene showed a Tulane jazz band blaring away in the stands, Green Wave players kissing their girlfriends through the net behind home plate and players hoisting each other on their shoulders.
Bertman spoke to the Tulane team afterward, mostly preparing them for their first trip to the College World Series. Jones' squad won one game there.
Cannizaro can get there with two wins this weekend. It won't be easy, of course. LSU is heavily favored, and the Tigers already swept the regular-season series between the two teams less than a month ago in Starkville, Mississippi.
Jones will watch from his beach house on the North Carolina coast. He and Cannizaro remain close. In fact, he was one of two people Cannizaro called to "bless" his decision to begin in the coaching industry with LSU, Jones said.
"I said, 'Andy this is about your future and family. You've got to do this,' " Jones said.
And now maroon can be found in the Jones home.
"I've got an 85-year-old mom," he said, "who's the biggest Mississippi State fan. It's all because of Andy."