By time Rashard Lawrence recognized the play, it was far too late.
"Screeeeeeen!" LSU players and coaches yelled from the sideline.
"Screeeeeeen!" fans in the stands shouted toward the field.
It didn't help. It was too late.
Lawrence's man, Arkansas guard Zach Rogers, let the LSU defensive end slip by him 2 seconds after the snap. That's an obvious sign of a screen play, but Lawrence (red arrow) found himself out of position, stuck behind offensive linemen, as Arkansas quarterback Austin Allen lofted a pass to tight end Will Gragg.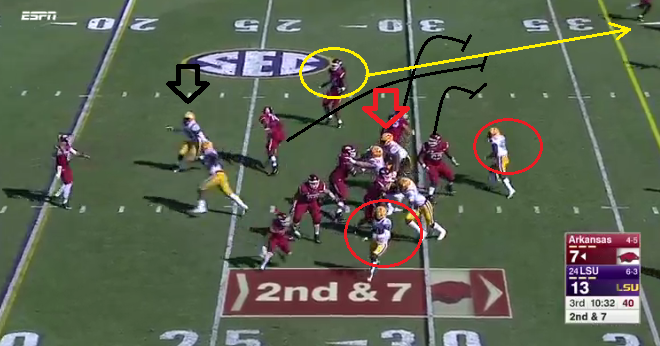 Linebackers Donnie Alexander and Devin White (red circles) found themselves out of position, too, having chased the play-action fake to the running back to the opposite side of the field. Meanwhile, outside linebacker Corey Thompson (black arrow) raced into the backfield on a blitz, leaving open the screen side of the field.
Thompson, Lawrence and Alexander – and LSU, of course – were victims, yet again, of the screen play. This specific screen pass gained 33 yards and set up Arkansas' field goal early in the third quarter. The Razorbacks ran another in the game for another chunk of yards.
Auburn set up a touchdown on a 52-yard receiver screen pass earlier this season, and multiple other teams have run successful screens against LSU's fiery, pass-rushing front.
The Tigers' opponent Saturday, Tennessee, is a "big screen team," Lawrence said earlier this week.
"That's a play we struggled with a little bit last week again, something we've got to clean up," he said. "Got to be ready for screens."
How does one get ready for a screen? And why has LSU struggled with them so much?
Danny Etling was all alone.
The Tigers' focus is on reaching the quarterback – a staple for a defensive line under coach Ed Orgeron. They are a fairly heavy blitzing team, and their D-line is so focused on penetrating the backfield that it gets exposed with screen plays.
Lawrence and the D-line take some of the blame for not recognizing screens quick enough, but screen plays are often the responsibility of linebackers.
"As D-linemen, we can do a better job of reading the guards getting out early," he said. "The way Arkansas ran it, they kept their guards in a couple of extra seconds. It's something we've got to really rally to the ball. (It) puts the DBs and linebackers in one on one situations, but as D-linemen we've really got to help with that."
All of these things helped the Razorbacks' screen to Gragg. Thompson came on the blitz, Alexander moved a step away from the play-side toward the fake to the running back and Lawrence didn't recognize the screen quick enough.
Well down the field, a third issue popped up: Freshman safety Grant Delpit missed a tackle, turning a 15-yard gain into 33.
In the days before Alabama hosted Tennessee this year in the renewal of their yearly rivalry series, reporters in Tuscaloosa heard a tune blar…