Welcome to Film Room, our weekly analysis of LSU's last football game.
Have a seat. No talking. No tweeting. No texting. Pay attention.
(Editor's note: Click the images to enlarge)
How They Happened (big-play analysis)
Fooled you: On second-and-4 in the first quarter, QB Danny Etling fires a 36-yard pass to wide open receiver Drake Davis for a touchdown.
The key to this play is getting Davis (red circle) in a one-on-one match with the cornerback. LSU does this by forcing Chattanooga's deep safety (black circle) to creep up. He bites on the fake end-around to WR DJ Chark (other black circle), which came after a fake dive run to RB Derrius Guice (yellow). 
Davis is one of the more athletic players on LSU's team, so having him matched up against a cornerback from a Football Championship Subdivision team is a huge win for the Tigers. He runs a simple post route, flying by the cornerback, playing off man coverage, with ease.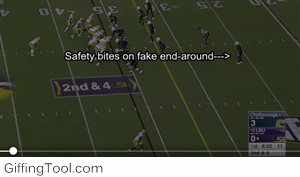 Etling's two run fakes on the play are essential. He hides the ball well after the second play-action to Chark, tucking in into his own belly before ripping the pass. LSU's linemen even sell the fake well, taking a small step at the snap as they would a run to the left. Through all this, though, don't forget about Davis' job, coach Ed Orgeron reminded reporters Saturday: "Our receivers are running a lot better routes this year. They worked on their feet all summer with (WRs coach) Mickey (Joseph). They're very precise in their routes and are catching the ball. I think the receivers are the most improved unit on our football team right now and it's because of their coaching."
---
Four-man sack: On second-and-8, LSU's defense gets a sack - one of five on the night - on Mocs QB Nick Tiano despite only rushing four players. 
This is a great example of how the big inside defensive tackles help out the outside guys, in this case Corey Thompson. Greg Gilmore (yellow circle) and Christian LaCouture (black circle) draw double teams, leaving Thompson (red) in a one-on-one matchup with the left tackle. He wins that matchup.
LSU is in its pass-rushing package, Cheetah, but the Tigers only bring four rushers to the Mocs' five protectors. It's pick your poison for Chattanooga. The Mocs choose to move their running back to the right side of the line for possible double teams with LaCouture and freshman K'Lavon Chaisson.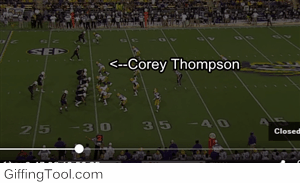 This shows you that teams aren't aware yet that Thompson is a real pass-rushing threat. They decide to spend their protectors on Chaisson, a noted pass rusher despite his age, and fifth-year seniors like LaCouture and Gilmore. It frees up Thompson to make one of his 3.5 sacks so far on the season.
---
To the house: Late in the second quarter, LSU receiver DJ Chark returns a punt 65 yards for a touchdown. 
This play is set up by four key blocks. They open a massive running lane for Chark, as you can see from the red lines. The four blocks are made by five players: Layton Garnette and Michael Divinity (red), Jontre Kirklin (yellow), Devin Voorhies (black) and Justin Jones (blue). 
Two of those five blockers are walk-ons, continuing a tradition at LSU of walk-on players making splashes on special teams. Garnett is a reserve linebacker from Monroe, and Jones is a reserve running back from Dallas. A third of those five guys is a true freshman in Kirklin. Todd Harris, another true freshman, makes a late block on the play to spring Chark for the score.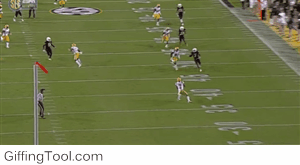 Chark returned kicks in high school. In fact, his high school coach said he rolled up more than 1,500 return yards as a senior at Alexandria High. So he knows how this is done, and he makes a nasty move late. "There were some big holes there, but he has great vision," Orgeron said.
---
POSITION ANALYSIS
(Editor's note: Our analysis ended after LSU's touchdown to make it 41-3, as the Tigers, from that point, played backups. The offensive analysis is from LSU's first eight offensive drives and, below that, the defensive analysis is from the first nine defensive drives.)
Big Ugly Blips And Booms (OL analysis) 
The competition between true freshmen Ed Ingram and Saahdiq Charles at right guard continued Saturday. This time, Ingram got the start, not Charles. Ingram played in five drives over the first eight. Charles played the other three.
They both made their share of key blocks on significant rushing plays. For Ingram, that included the play to above, in which he was one of three rookies to make substantial blocks during Guice's long run in the third quarter. FB Tory Carter (red circle) and WR JaCoby Stevens (black circle) walled off the edge on the running play, and Ingram (yellow) pulled through the hole, leading Guice (blue) down the field.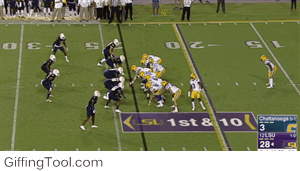 It's unclear how deep this rotation between Ingram and Charles will go into the season. Charles started against BYU and played six of the 10 significant drives in that game. Ingram played four.
Remember last week when LSU played with an unbalanced line (two tackles on one side of center) about 10 times against BYU? Get used to it. They did it at least nine times through the first eight drives against UT-Chattanooga.
There seemed to be only one real significant pass-rushing miscue from the group. The pressure on the play came from the right side of the line, near RT Toby Weathersby. Because we don't necessarily know the blocking assignments, it's tough to point fingers, but one pass-blocking miscue in about 17 dropbacks is solid for the group - as you'd expect against an FCS foe.
If you were wondering about why LSU aired it out deep so much, just look to the stacked box. Chattanooga loaded the box against the Tigers in an effort to stop the run. The Mocs had at least eight men in the box on about 24 of LSU's first 46 plays.
Chattanooga's game plan was obvious early on. Check out what the Mocs did on LSU's very first offensive play (photo to above): They put eight in the box and had a safety come crashing into the area at the snap.
Monday Morning Quarterback (QB analysis)
You already know the good. You saw Etling hit four of his first five passes and perfectly place a handful of deep balls on his receivers. We took a look back at his six incompletions and why they fell incomplete.
| | | | |
| --- | --- | --- | --- |
|  Down |  Intended receiver |  Route |  Why missed |
|  1st-10 |  Derrick Dillon |  Out |  Led him too far with a wide throw |
|  3rd-21 |  DJ Chark |  Post/deep cross |  Threw high under pressure |
|  2nd-6 |  DJ Chark |  Out |  Low/thrown too early |
|  3rd-6 |  DJ Chark |  Post/deep cross |  Threw high under pressure |
|  1st-10 |  Derrius Guice |  Out/swing |  Threw high under pressure |
|  3rd-3 |  David Ducre |  Deep out |  Didn't throw soon enough (threw away) |
During his postgame news conference, Orgeron pointed to 2-3 red zone plays from Etling as the QB's only real negatives. What were these? They came on a drive early in the second quarter. On a second-and-9, Etling was hoping, we think, to throw a jump ball to 6-foot-6 receiver Stephen Sullivan. Because of coverage, Etling tucked for a 1-yard run. On the next play, Etling took a sack while under pressure from, as previously mentioned, the only real pass-blocking mistake of the first eight drives.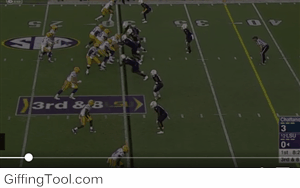 One of the more positive plays from Etling wasn't a pass. It was his 17-yard scramble in the first quarter (to the right). The scramble is something he might not have been capable of last season during his back issues. Check out his quote after the game: "I feel really good. Even taking off and running and sliding was a good feeling, to get down like that and not have to get up and limp. It felt good. I felt, not fast, but felt I could move around a little bit."
Back It Up (RB analysis)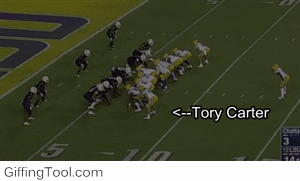 Let's talk about the new guy in the mix. That'd be Tory Carter, who got at least six snaps over the first eight drives - the first snaps of his career. Signed as a fullback, Carter is playing the F-back position. He rotated at that spot with David Ducre. Those players appear to be the immediate backups to starter JD Moore. 
Carter's father is a former fullback at Georgia Southern. He raised a hard-nosed son who immediately made his impact felt on the field. Above to the left is the second snap of his career. He lowers his shoulder in turning the edge, creating a hole for Guice's TD run.
(Editor's note: Our analysis ended after LSU's touchdown to make it 41-3, as the Tigers, from that point, played backups. Much of the below is from the first nine drives for the defense of the game/also 46 defensive plays.)
D-line/Linebackers
We spent time last week on LSU's new pass-rushing package, Cheetah. This week, we give you .... Base! DC Dave Aranda ran his base defense against shotgun/four-receiver sets Saturday. That's something we didn't see last season, and it's another example of the coordinator using what he termed his "strength" this season: outside linebackers.
Last year, with LSU's strength at defensive back and defensive line, Aranda yanked F-outside linebacker Michael Divinity or Tashawn Bower and replaced him with a nickel cornerback. This year, he's leaving Corey Thompson (red circle) out there, as shown in the photo above. Aranda is letting Thompson and K'Lavon Chaisson (black circle) drop into pass coverage, while LB Devin White (yellow) rushes.
This same personnel, minus a defensive lineman, makes up the Cheetah package. You see what's happening here? Aranda has enough trust in his outside linebackers (Chaisson and Thompson, specifically) to leave them in against a spread look for potential pass coverage but also leave them on the field for his Cheetah third-down package.
Speaking of that, you'll see the Cheetah package to the left. Notice that Chaisson (red) has his hand on the ground in a three-point stance, something we saw more Saturday than last week against BYU. That screen shot is what you might call the "base" Cheetah rush attack. Thompson (yellow) and Chaisson wheel around the outside and two defensive linemen rush inside. Meanwhile, an inside linebacker straddles the line (Donnie Alexander circled in black), faking a rush before dropping into coverage.
To the right, you'll see another version of the Cheetah, this time with Aranda bringing LSU's two inside linebackers, Devin White (yellow) and Donnie Alexander (red), while dropping K'Lavon Chaisson (blue) into coverage. So who's in black? That's Corey Thompson. He wheels around the defensive lineman rushing in a more inside attack.
Let's talk about Devin White. Coaches raved for much of the offseason about White's maturity and leadership. He showed that on at least two plays Saturday. We've run these two plays full size. The first is White realigning nose tackle Greg Gilmore with a friendly butt slap. Gilmore, on the same play, goes on to make the tackle. The second is White, a second-year player, shoving Donnie Alexander, a fourth-year player, into the correct position.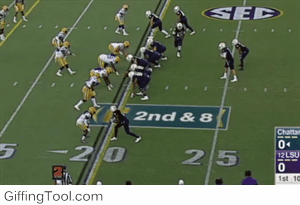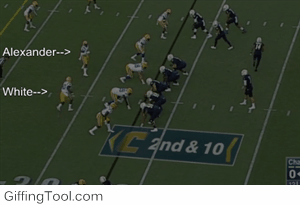 Devin White, by the way, continues to be a player who Dave Aranda likes to blitz. He came about four times in those first nine drives, twice on a delay blitz. He did not have as much success in getting pressure as he did against BYU. K'Lavon Chaisson led LSU in QB pressures, with four. 
Several linebacker spots continue to see a pretty significant rotation. Ray Thornton played in four of those first nine defensive drives, rotating with Chaisson. Glen Logan and Neil Farrell rotated nearly evenly, with Logan getting five drives and Farrell with four. Jacob Phillips and Tyler Taylor each saw two drives in those first nine, and Jonathan Rucker saw a series too.
Break It Up (DB analysis)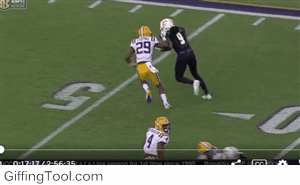 Greedy Williams continues to excel out wide at cornerback. He's just got an eye for the football. He had another interception Saturday but nearly had a third in the end zone. A GIF of that is to the left. It's unclear if Kevin Toliver can work his way back into the starting rotation. Remember, Toliver missed the season opener, not traveling with the team for a presumed suspension. Toliver participated in at least two drives of the first nine on Saturday.
As for the safeties, Grant Delpit and Ed Paris continue their rotation. Delpit started for a second straight game, but they nearly played the same amount of drives (Paris 5 and Delpit 6). They were both in the game at the same time on two of those nine drives, as coaches rested John Battle.
Speaking of John Battle, we saw him delay-blitz from his high safety spot this Saturday, something we didn't necessarily see last week against BYU. Be on the look out for more safety blitzing from Battle. He got a sack on one of them Saturday.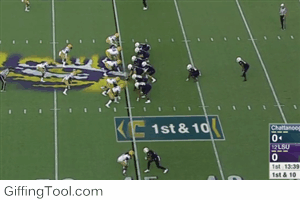 All photos courtesy of ESPN.