Welcome to Film Room, our weekly analysis of LSU's last football game. Have a seat. No talking. No tweeting. No texting. Pay attention.
How They Happened (big-play analysis)
He's not blocking: Wisconsin TE Troy Fumagalli caught seven passes for 100 yards on Saturday. This was his longest, a 27-yard reception in the third quarter.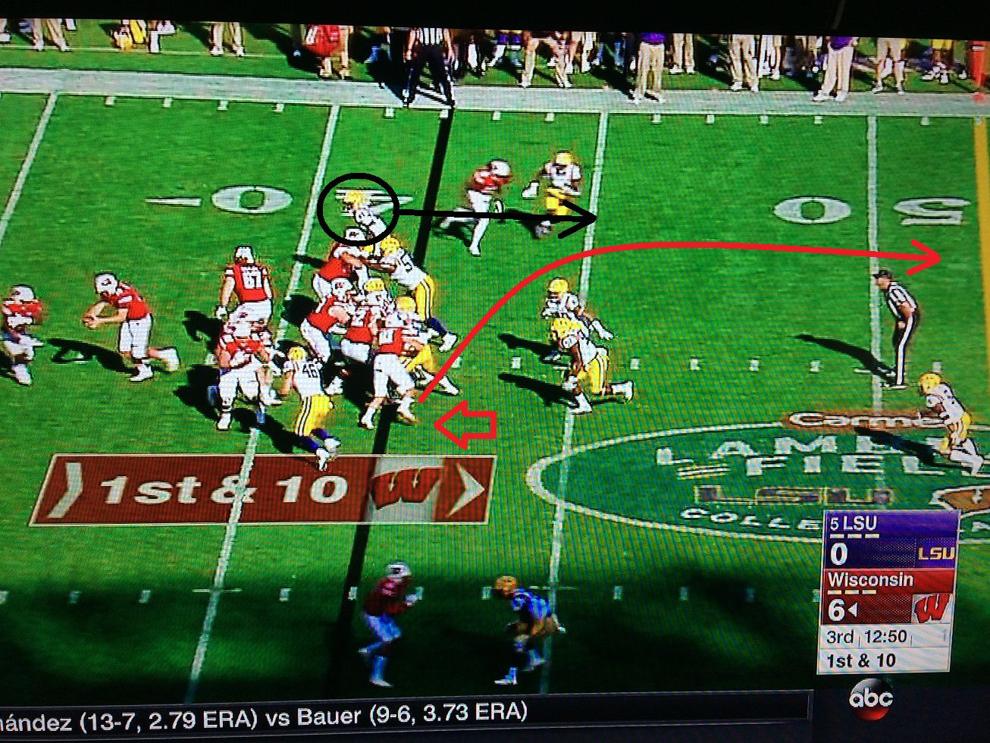 On first-and-10 from the UW 42, the Badgers began their first drive of the third quarter with what was likely a scripted play coming out of halftime. The play took advantage of a guy like OLB/DE Arden Key dropping back into coverage. Remember, Key is in his first game playing in new DC Dave Aranda's 3-4 scheme. Wisconsin, Aranda's former place of work, knows this.
Fumagalli fires off the line acting as if he's blocking (red arrow). He even chip blocks, briefly, on LSU DE Lewis Neal. It fools Key (black circle) just enough. The sophomore is likely responsible for zone coverage to the short portion of the field in that shot. Key steps toward the quarterback, giving Fumagalli the edge.
This is one of the biggest busts by any defender in Aranda's new system, but it is, somewhat, expected. Key is in a new position in a new defense. It might take a few games for everyone to gel. 
Fumagalli with one of his seven catches. #LSU OLB Arden Key drops into coverage here. pic.twitter.com/dDWGkFckod

— Ross Dellenger (@RossDellenger) September 4, 2016
Shoot'n the A gap: UW LB Jack Cichy races unblocked into the backfield for a significant sack on QB Brandon Harris, forcing the Tigers into a third-and-long.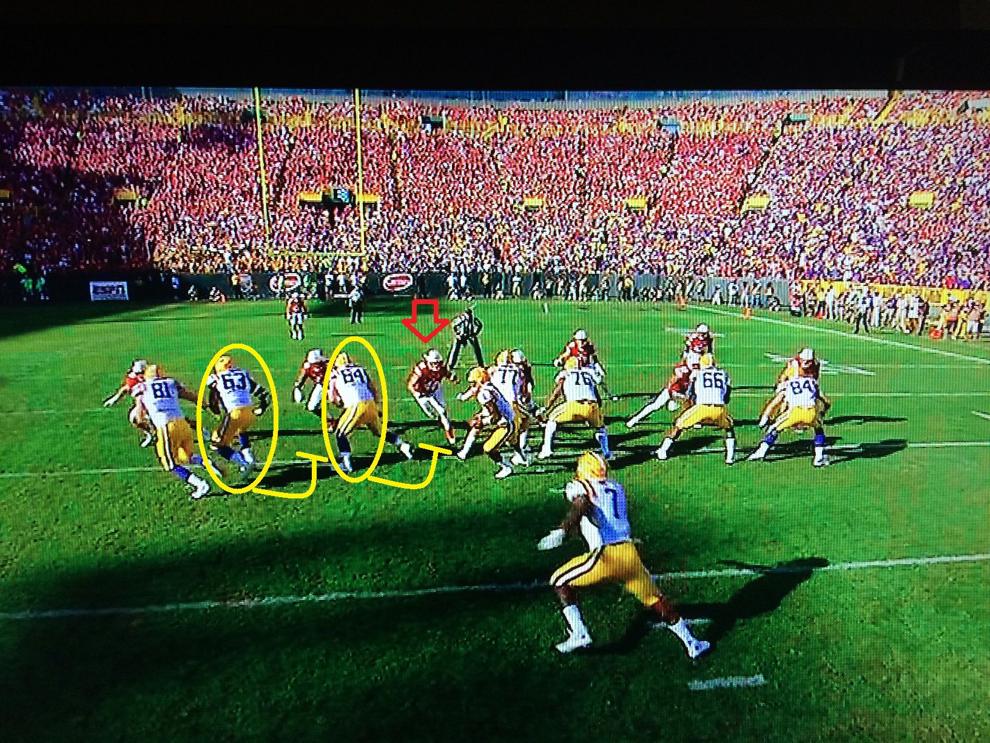 This is well-time and well-executed by Wisconsin, but it could have been prevented in two ways. We'll get to that later, but, first, you should know what Cichy does here. Cichy (red arrow) shoots the "A gap" after timing the snap count perfectly. The A gap is the gap between both guards and the center. He chooses the left side of LSU's line, splitting C Ethan Pocic and LG Will Clapp.
Cichy, just before the snap, takes a few steps in showing blitz. At that point, Harris might have called an audible if he recognized the blitz. That's the first way this could have potentially been prevented.
The second: Clapp and Malone (yellow circles) switch their assignments, sliding down a gap, as noted by the yellow blocking symbols. This miscue is one in a long list of them by an LSU offensive line that really struggled and a similar issue unfolds on the game's final play.
A significant play in the game. UW LB Jack Cichy shoots the A gap (he'll do it again later too). #LSU pic.twitter.com/wxceUfxPJA

— Ross Dellenger (@RossDellenger) September 4, 2016
Wheels are turning: Running the ole wheel route out of the backfield, Leonard Fournette catches a 31-yard pass from Brandon Harris to set up the Tigers' only offensive score.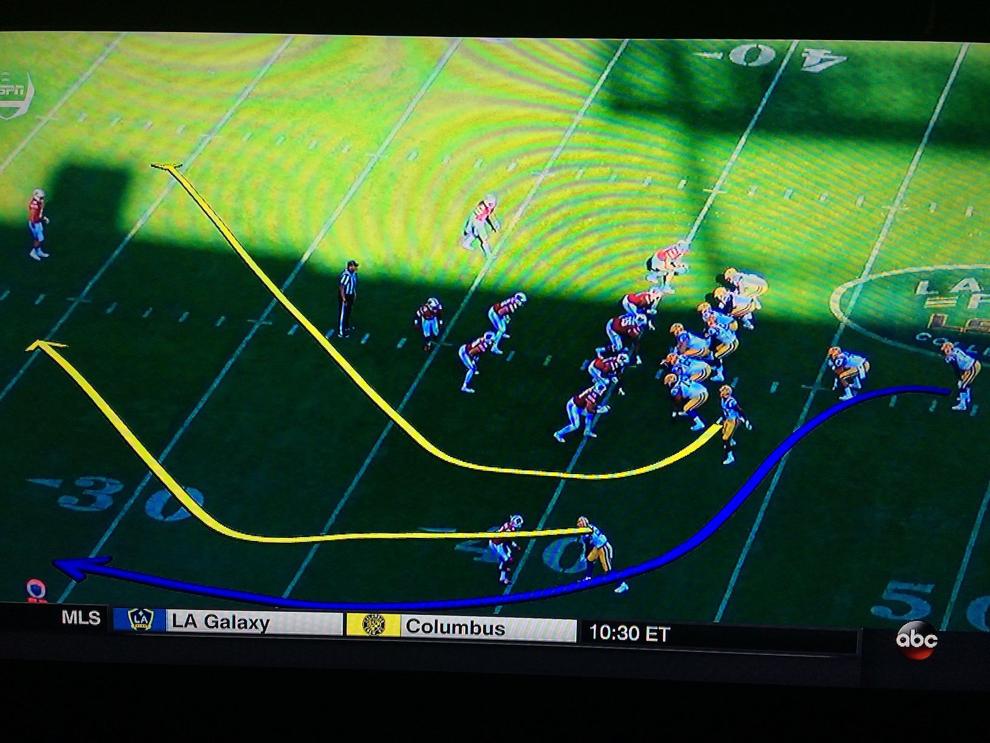 Play-by-play man Bob Griese does the work for us here. Harris fakes to Fournette and then lofts a pass downfield for the open running back, running a wheel route (blue arrow). Travin Dural and Malachi Dupre (yellow arrows) are the two receivers who, Griese says, "clear out" that side of the field, taking the safeties with them on deep routes. 
Fournette is fast, as you know. He out-runs a linebacker assigned to cover him on this play. Griese is hard on Harris during this entire game. He subtly criticizes the quarterback on this play. "That ball is in the air for a looooong time."
The last straw: LSU's final offensive play of the game unfolded from Wisconsin's 35-yard line on first-and-15 with about 1 minute left on the clock. Harris, under immediate pressure, threw an interception.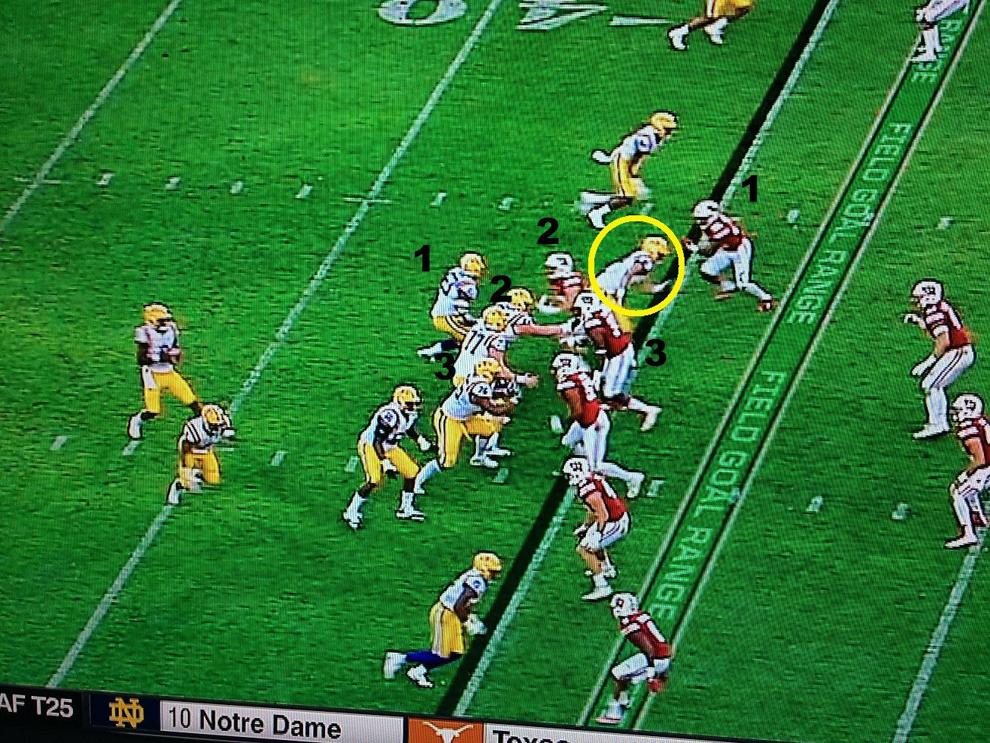 This play is bad for two reasons. First, Harris makes a poor decision. LSU is nearly in field goal range and has a timeout. It is first down. Two, LSU's offensive line has another breakdown, again allowing a Wisconsin linebacker to come untouched into the backfield. The Badgers had, at least, eight pressures on Harris in his 23 dropbacks. That's one-third of the time.
First off, TE Colin Jeter (yellow circle) heads out for a pass. That leaves three offensive linemen to block three Wisconsin defenders. We've numbered the matchups: K.J. Malone vs. CB Derrick Tindal (1 vs. 1), Will Clapp vs. OLB Vince Biegel (2 vs. 2) and C Ethan Pocic vs. DE Chikwe Obasih (3 vs. 3). The issue: Tindal creeps in at the last minute coming on a corner blitz. Malone shifts from covering Biegel to covering Tindal, but Clapp doesn't recognize that, and he takes Obasih along with Pocic. It leaves Biegel free.
#LSU's final offensive play. pic.twitter.com/VBDowrhYyl

— Ross Dellenger (@RossDellenger) September 5, 2016
POSITION ANALYSIS
Big Ugly Blips and Booms (O-line analysis)
Of all the position groups, none performed quite as poorly as LSU's offensive line. It was a bad day for coach Jeff Grimes' unit. Even his most veteran linemen - LG Will Clapp and C Ethan Pocic - had their Blips. But the real struggles came on the outside, at the two tackle positions held, mostly, by first-year starters in RT Toby Weathersby and LT K.J. Malone.
As a unit, the O-line accounted for eight pass-protection Blips. Remember, a Blip is a missed block/assignment that results in a negative play (a QB pressure or sack or, in a running play, a loss of yards of a short gain). QB Brandon Harris dropped back to pass 24 times. So, on one-third of his dropbacks, Harris felt pressure. There was an offensive line pass-pro breakdown on Harris' final three pass attempts during that last drive.
So why was the pass protection so bad? For one, Wisconsin's defense. Sure, Dave Aranda left, but the Badgers front still clearly possesses one of Aranda's defensive philosophies: confuse the offensive line, by shifting, rotating, etc. They did that. Combine that with a unit that started three new players, including both tackles, and you get this.
The woes weren't relegated to pass protection alone. The line recorded at least eight Blips on running plays. Two linemen were credited with Blips on some single plays, run or pass. Since we don't know the protection calls, there's really no way of knowing who was responsible. 
Left tackle K.J. Malone finished with the most Blips on the team at six. Center Ethan Pocic had five, and K.J. Malone had four. Malone and Weathersby started the game at tackles for LSU, entering the season opener having combined for one career start. You knew communication would be an issue. As you've read already in the Big Play Breakdowns section, it was. 
Some of it wasn't miscommunication at all. Exhibit A:
OL trouble not just relegated to pass blocking. Tackles, where Tigers have 2 new starters, struggled. #LSU pic.twitter.com/LXUCgOqou9

— Ross Dellenger (@RossDellenger) September 4, 2016
First year starter Malone having issues on back to back plays here. #LSU pic.twitter.com/47JKY3O7nT

— Ross Dellenger (@RossDellenger) September 5, 2016
And it wasn't just Malone and Weathersby, the two new guys. Pocic had his trouble, and, as you saw in Big Play Breakdowns, so did Clapp.
This could have been large. Third down. Screen to Fournette. Blocking doesn't pan out. #LSU pic.twitter.com/eF3zNV9hzM

— Ross Dellenger (@RossDellenger) September 5, 2016
Maea Teuhema, the No. 1 left tackle after spring practice, played, we believe, two series of the game - both at right tackle, replacing Weathersby. He played one series in the first half and once in the second. He recorded one pass-pro Blip during his brief stay in the game. 
LSU's offensive line is headed for change. How they'll change we don't know, but the starting unit is sure to look different this weekend for two reasons: One, the struggles at tackle last week will incite adjustments, and, two, Josh Boutte - who had one of the better games of any offensive lineman Saturday - could miss the Jacksonville State game. Boutte was ejected for the personal foul below, and the play is being reviewed by the SEC.
Boutte's hit. He was ejected and the play is under review with the SEC. #LSU pic.twitter.com/Idv3PpUi5h

— Ross Dellenger (@RossDellenger) September 5, 2016
Let's put a bow on this. LSU rotating Teuhema at tackle and playing an unbalanced line several times (see below) screams problems. We know that Pocic could play tackle, and several players can play center, including Malone and Clapp. Garrett Brumfield might see time at guard if Boutte is out, and Donavaughn Campbell, a freshman, pushed for time during camp.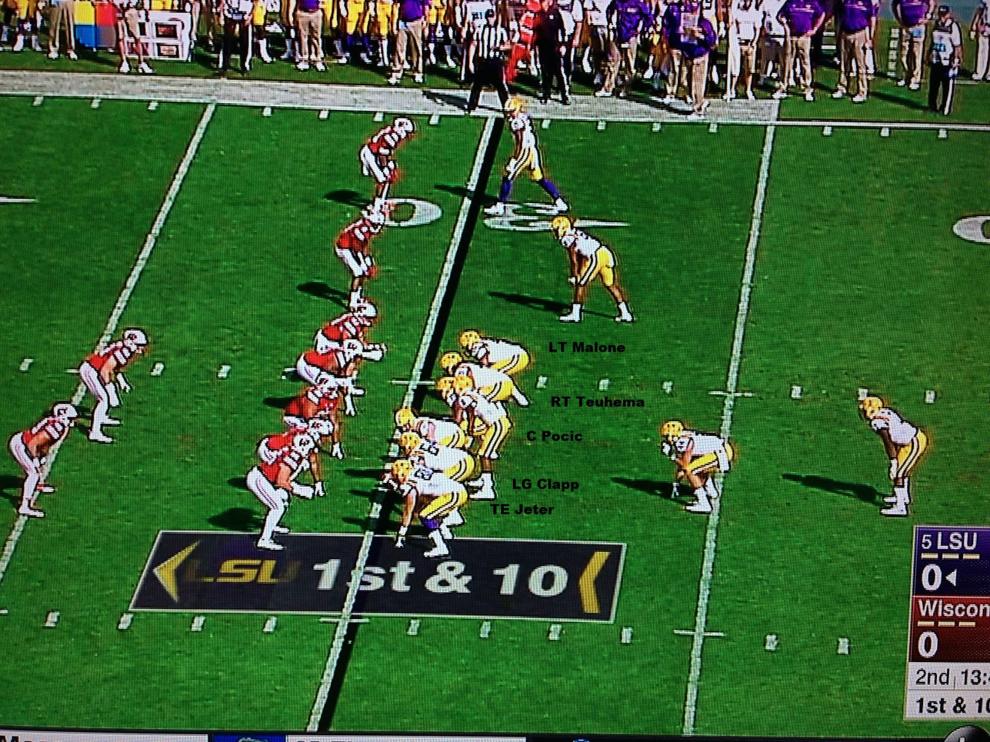 Monday Morning Quarterback (QB analysis)
This was not Brandon Harris' best game, but I'm not sure if it was his worst. But it wasn't good. Here are some numbers:
Dropbacks: 24
Attempts: 21
Completions: 12
Poor passes: 5
Drops: 3
Five misfires out of 21 attempts is not good, but some of Harris' incompletions to Dupre were debatable. Was it a drop by the receiver? Or a poor pass by Harris? The QB targeted Dupre 10 times, completing three of those. That leaves seven incompletions. Of those seven, about five were similar. They were each high passes, but Dupre got his mitts on them. Exhibit A and B.
Harris' first three passes, all on one series. Heavily pressured (first of many) on the last. #LSU pic.twitter.com/jUT3kQ5Odl

— Ross Dellenger (@RossDellenger) September 4, 2016
There were about 5 of these between Harris and Dupre on Saturday. #LSU pic.twitter.com/8ip93CdoVP

— Ross Dellenger (@RossDellenger) September 5, 2016
Harris' struggles on Saturday go beyond accuracy. A handful of times, the junior could have audibled at the line of scrimmage if he were to have recognized a blitz and a couple of times he showed little poise in the pocket. Harris escapes from a comfy pocket in the video below. ABC play-by-play man Brian Griese says after the play regarding Wisconsin's front seven movement: "They're confusing Brandon Harris."
Griese: "They're confusing Brandon Harris." #LSU pic.twitter.com/Q7dDrvaeW5

— Ross Dellenger (@RossDellenger) September 4, 2016
GREEN BAY, Wis. — Confident thoughts ran through Lewis Neal's mind.
Backing It Up (RB/FB analysis)
There's not much to say here. Leonard Fournette got 23 of the 26 rushing plays called. The Badgers stuffed Harris for no gain on a third-and-3 on LSU's first series, as the Tigers chose to rush the QB instead of their Heisman Trophy favorite. Derrius Guice received the other two rushes, one in which he fumbled. The other went for 3 yards. 
We're not convinced that Leonard Fournette entered the game Saturday at 100 percent health. He missed a week of camp because of a sprained left ankle, and, on the second-to-last play Saturday, Fournette re-injured the ankle. The New Orleans native missed the final play of the game with the ankle issue, but he was ready to return to the playing field, according to a sideline shot of him. Here's him re-injuring the ankle:
Fournette's injury. #LSU pic.twitter.com/EFZsA4e62J

— Ross Dellenger (@RossDellenger) September 5, 2016
Finally, let's get to formations. Well, one formation. We recorded each time LSU aligned in the I-formation: QB-FB-RB. The Tigers ran 50 offensive plays and lined up in the I on 24 of them.
And, lastly, let's get to what everybody always likes to know: Did the Badgers load the box against Fournette? The answer: of course. And they brought down a safety, at times, to get as many as nine in the seven-yard area around the football. Here's the breakdown:
Fournette carries: 23
Average Wisconsin defenders in the box: 8.08
Carries with at least 8 in the box: 19 
Carries with 9-10 in the box: 6 (for 19 yards)
Carries with 7 or fewer in the box: 4 (for 22 yards)
Five-yard Out (WR analysis)
We discussed much on this subject above when writing about Dupre and Harris' 3-for-10 connection Saturday. But there is something else...
LSU entered the game with a decided height advantage over Wisconsin's defensive backs. That didn't seem to matter, even with the vertical of 6-foot-3 Dupre. Wisconsin's smaller cornerbacks played physical with the Tigers, especially against Dupre, who had all three of LSU's drops. UW defensive backs coach Jim Leonhard told the ABC broadcasting crew earlier in the week LSU's receivers "don't play to their size," Griese said. Basically, he was saying that they don't use their height to snatch high passes - something Dupre struggled with several times Saturday.
GREEN BAY, Wis. — They are who LSU players thought they were.
Front Seven (D-line/LB analysis)
Not 10 minutes into the game, Griese blurted this out: "Wisconsin is getting some push!" The Badgers controlled the line of scrimmage for much of the first half and then in spurts in the second half. That's concerning moving forward for an LSU front with such high expectations. 
LSU DE Lewis Neal said the D made adjustments for the second half. More so, they tackled. LSU's defense missed 10 tackles in the first half and just three in the second. 
Travonte Valentine. The 360-pounder played early and often. In fact, Valentine, we now know, played about 34 plays in the game. That's about half of Wisconsin's 73 plays. He made his presence felt, specifically, in the first quarter, when the big guy was fresh.
Brian Griese on Valentine: "Excellent run defender." #LSU pic.twitter.com/TSjYr8eHHN

— Ross Dellenger (@RossDellenger) September 4, 2016
Valentine had a strong first quarter. #LSU pic.twitter.com/yQWAVdil0t

— Ross Dellenger (@RossDellenger) September 4, 2016
#LSU Film Room: Valentine's impressive first quarter continues. pic.twitter.com/F8nho0X6No

— Ross Dellenger (@RossDellenger) September 4, 2016
Valentine got long stretches of rest, specifically starting at halftime and running through the first half of the third quarter. Greg Gilmore played during those stretches, and Davon Godchaux and, even, Tashawn Bower played the spot during different pass-rush packages. Gilmore's size and the push he gets is nothing compared to Valentine, though. An interesting nugget: Coaches replaced Gilmore with Valentine after the first few plays of Wisconsin's go-ahead field goal drive in the fourth quarter, the most critical time in the game.
Let's get to the young guys. LSU relied heavily on true freshman Michael Divinity, who played more than anyone might have thought possible. He took about 30 snaps at the F-linebacker position, entering the game, normally, in replacement of Tashawn Bower. Bower, a times, would slide from F-LB to DE, leaving F-LB for Divinity to man. Divinity found himself around the ball a lot.
Rashard Lawrence played around 10 snaps. We recorded him for exactly six, but it's possible we missed him a few times. He played defensive end, manning the spot when Godchaux shifted inside or came out.
"We haven't said Kendell Beckwith's name much today," Griese said late in the game. Beckwith then made back-to-back tackles, one a tackle for losses on a sweep he sniffed out. Still, Griese was right. Beckwith and the Tigers' other inside linebacker, Duke Riley, found themselves blocked out of many plays, lost in traffic. Devin White did not see the field, and Donnie Alexander got just one series in the game. Here's a good example of linebackers getting lost in traffic and blocked out of plays:
#LSU LBs caught in traffic. Big first down on UW's final drive. pic.twitter.com/V7JFYZG0D6

— Ross Dellenger (@RossDellenger) September 5, 2016
Break It Up (DB analysis)
This group did force a turnover (Donte Jackson force fumble), intercepted a pass in the end zone (Rickey Jefferson) and intercepted a pass and returned it for a touchdown (Tre'Davious White). They were, by far, the best position group on the field for LSU Saturday. That doesn't mean they didn't make some mistakes, of course.
Wisconsin receivers caught key or long passes against the following DBs: Donte Jackson (2 times), Tre White (2), Kevin Toliver and Jamal Adams. Toliver and Adams slipped down while on coverage on their plays. There did not appear to be a single busted coverage, outside of the one we highlighted already in Big Play Breakdowns.
We did not record snap counts, but the DB pecking order is pretty obvious: Tre White, Jamal Adams, Rickey Jefferson, Kevin Toliver and Donte Jackson. Dwayne Thomas and John Battle. Toliver and Jackson rotated at cornerback out wide in LSU's base defense, which they actually played a lot of against old-school Wisconsin. Toliver or Jackson serves as LSU's fifth defensive back in the five-DB nickel. Thomas appears to be the dimeback, entering in the six-DB package, and Battle is the seventh guy. 
Remember when reporters filmed Rickey Jefferson running through drills with outside linebacker during the first week of camp? He didn't move positions, but he is playing a lot closer to the line of scrimmage than he has in the past. It's something Aranda brought to LSU's defense, Battle said during camp. He's giving the safeties more freedom. They're more "off the leash," Battle said. Jefferson nestled next to inside and outside linebackers during some plays Saturday.