This was the worst road trip of Kramer Robertson's life.
He banged his hands on his Range Rover's steering wheel for much of the seven-hour drive from Baton Rouge to his hometown of Waco, Texas. He yelled at himself in the car. He screamed. He even cried, maybe.
He only stopped for gas — nothing else.
He was a wreck. He was a mess. His mind went dark. In his own words, he was having an "emotional breakdown" on this day — June 8, 2015.
Oh, he'll never forget the date. He'll never forget "every detail" about it, he says — from the time LSU coach Paul Mainieri informed him that he was, in fact, not traveling with the team to Omaha, Nebraska, for the College World Series, to shortstop Alex Bregman's draft watch party to the beginning of that road trip from hell, that lonesome, awful seven-hour drive back to central Texas.
"I was in a dark place," Robertson said. "I was in a really dark place at that time."
Two years later — almost to the day — Kramer Robertson is in the brightest place possible.
Can't see video below? Click here.
He has finally secured his trip to Omaha. His long-lost journey to college baseball's promised land is complete. And the senior had so much to do with it, too — three hits and two RBIs in a 14-4 drubbing of Mississippi State, sweeping the rival Bulldogs in this NCAA super regional.
He celebrated it at 1:36 a.m., in front of an estimated 5,000 fans at Alex Box Stadium — purple-and-gold clad people who, despite two rain delays and a weather postponed start, stuck around.
The delays forced Robertson to wait longer, too.
"I told coach, 'Not like I haven't waited long enough for this,'" Robertson joked. "I've waited my entire life to experience that dog pile. I could wait through a couple of rain delays."
LSU is accepting ticket requests for all potential games the Tigers may play during the 2017…
And now here he is, the unquestioned leader of the national No. 4 seed Tigers, a squad that's won 16 straight heading into a first-round game next weekend against Florida State at the CWS. Robertson is the key cog. He's the defensive guru (his nine errors equal Bregman's nine in 2015), and he's a stable leadoff man at the plate who's on a hot streak (he's batting .438 over the previous 13 games).
At 1:30 a.m. Monday, just before the bottom of the ninth inning unfolded, Mainieri purposely substituted his four veteran defensive starters so they could receive recognition from the home crowd: catcher Michael Papierski, second baseman Cole Freeman, left fielder Greg Deichmann and Robertson.
Freeman, Deichmann and Robertson walked off the field, their arms wrapped around the other as the crowd roared in an early-morning standing ovation that sent chills down their spines.
On the walk in, they turned to each other and shared three words: "We did it," Deichmann said afterward.
"You know, we did it!" Freeman said. "This is exactly why we came back."
"I was overcome with emotions," Robertson said. "Couldn't help but think back."
Think back? To that drive, that dark place? To those tough times as a freshman and sophomore?
All of it, yes.
After sweeping Mississippi State in the Baton Rouge super regional, what's next for the LSU …
Robertson spent much of 2014 and 2015 in and out of the starting lineup, struggling with his swing and making blunders, at times, in the field. He pushed back against Mainieri's hard coaching, and rumblings swirled that LSU's coach disliked the son of the famed Baylor women's basketball coach, Kim Mulkey.
"A lot of people thought Kramer was going to transfer and I didn't like him," Mainieri said during an interview inside his office in the wee hours of Monday morning. "It was never the case that I didn't like him. What I saw in him was a lot of potential and I was trying to get it to come out. My techniques for doing that were different than any coach he has ever dealt with because he's always been the best player wherever he is.
"He kind of didn't accept that very well," Mainieri continued. "I kept trying to get it out of him and so people thought I didn't like him, but the opposite was true. The reason I was doing it is because I saw the potential in him, so I was tough on him. But I think Kramer realized that, too, and when he came back for his junior year, it's been a coach's dream to coach him."
Robertson admits being "a little bit bitter" with his head coach those first two years, especially when he was left off that Omaha trip. Schools are restricted to a travel limit, and Robertson had spent the previous six weeks rehabbing from an elbow injury. Doctors cleared him to play in the CWS.
Mainieri instead took Grayson Byrd to Omaha. Byrd transferred out of the program after that season. From his office at 3 a.m. Monday, Mainieri said he regretted the decision in leaving out Robertson.
"If I had to go back and do it all over again, I wish I would have taken him," he said. "The other kid isn't even here anymore, but if I would have known that that kid was thinking about leaving, I would have clearly taken Kramer instead."
Good thing he didn't.
"I used it more about motivation," Robertson said. "I used it more in a good way than just being mad at coach."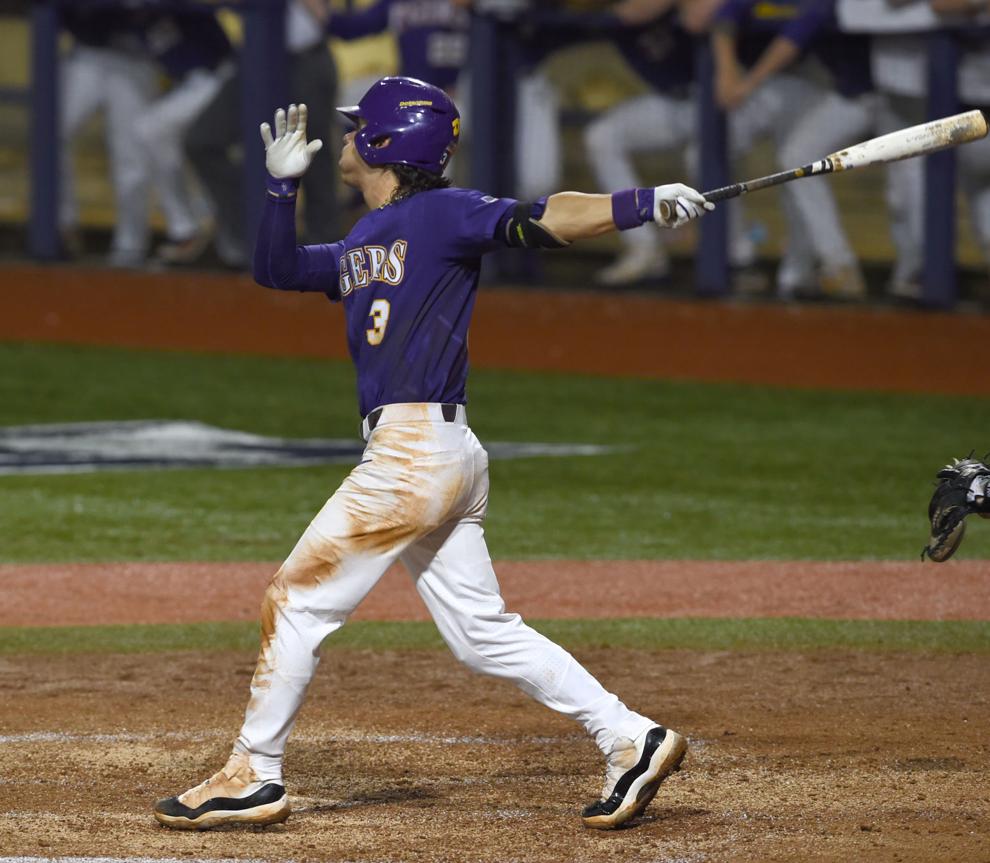 So that drive happened, that long, lonely drive. He then sat at his Waco home for a week before summer ball began, watching LSU go 1-2 in Omaha. Mulkey witnessed her son during the toughest stretch of his career.
"It was awful," she said in an interview with a reporter at 3:30 a.m. Monday. "He could have quit."
He didn't, of course. Mother's advice had its effect.
Are you good enough to play at LSU, she asked her son? If you're not good enough, own up to that fact and transfer. If you're good enough, stay the course, she told him.
"Felt like a failure. Felt like I had failed myself, failed LSU, failed my family, everybody who believed in me and worked so hard to get to this point," Robertson said. "I felt like I had let all of them down. I knew if I had transferred, I was proving everybody right that said I couldn't do it. I knew I could do it."
He never wanted to quit the game completely — oh no, never — but he did seriously think about leaving LSU. And he questioned his own ability. Fans got into his head, he admits.
"I thought I was good enough, but you look in the mirror and be like, 'But am I good enough? Am I really good enough?' " he said. "Everyone else is telling you you're not. Everything you read tells you you're not. You're a joke on the field. People are making jokes about you — your batting average or being too small."
No one's saying that any longer.
"And we're not done yet," Robertson smiled. "This is not the end."
LSU pitcher Alex Lange's story is unlike many others.
The two most important chapters of Alex Lange's life are as distinct as his two primary pitches.