Dave Aranda is not bringing his new bag of tricks with him Saturday to Tiger Stadium, linebacker Devin White said.
The 10-plus new calls that LSU's defensive coordinator has installed over spring will remain secret, of course. What coach reveals new schemes during a nationally televised glorified scrimmage in April?
"It's expanded a lot," White said of Aranda's defense. "A lot of stuff we won't run in the spring game. We'll keep it simple. When we come to September, when we play Miami, we'll pull stuff out the hat that nobody has seen."
So, no, Aranda's new defensive schemes won't be on display Saturday, but here's a list of five other things to watch…
Quarterbacks
The three-man competition for LSU's starting quarterback job enters the spring game in a similar position as it started spring March 11. No starter has been selected, and many believe that sophomore Myles Brennan is the favorite. However, it is clear that redshirt freshman Lowell Narcisse and redshirt junior Justin McMillan are giving push. The Tigers, in fact, are running a zone-read, QB-run offense with Narcisse behind center, and it appears to be, at times, flourishing. Will we see that Saturday? Either way, purely from a passing standpoint, Brennan seems to be the man.
Can't see video below? Click here.
Clyde Edwards-Helaire
The former Catholic High running back starred this spring, according to coach Ed Orgeron and players. The most impressive characteristic he showed: nifty cuts and slices while running at high speeds. Sound familiar? Former Catholic standout and LSU running back Derrius Guice, a man Edwards-Helaire will be replacing, had a knack for those high-speed movements with his feet. Edwards-Helaire might be short (listed at 5-foot-8), but that only gives him an advantage when weaving between would-be tacklers. Outside of the QBs, he might enter the spring game with the most hype.
Cornerback
This is a talked-about position all spring after LSU missed on signing Florida cornerback Patrick Surtain. The Tigers practiced in the spring with four eligible cornerbacks, excluding Kristian Fulton (not eligible) and including Mannie Netherly, a receiver moved to corner for depth. Stanford transfer Terrence Alexander and freshman Kelvin Joseph will give push to the starting corner spot opposite Greedy Williams and the nickel position. We'll know more about those two spots based on who mans them Saturday — likely Jontre Kirklin, Kary Vincent, Todd Harris and Eric Monroe.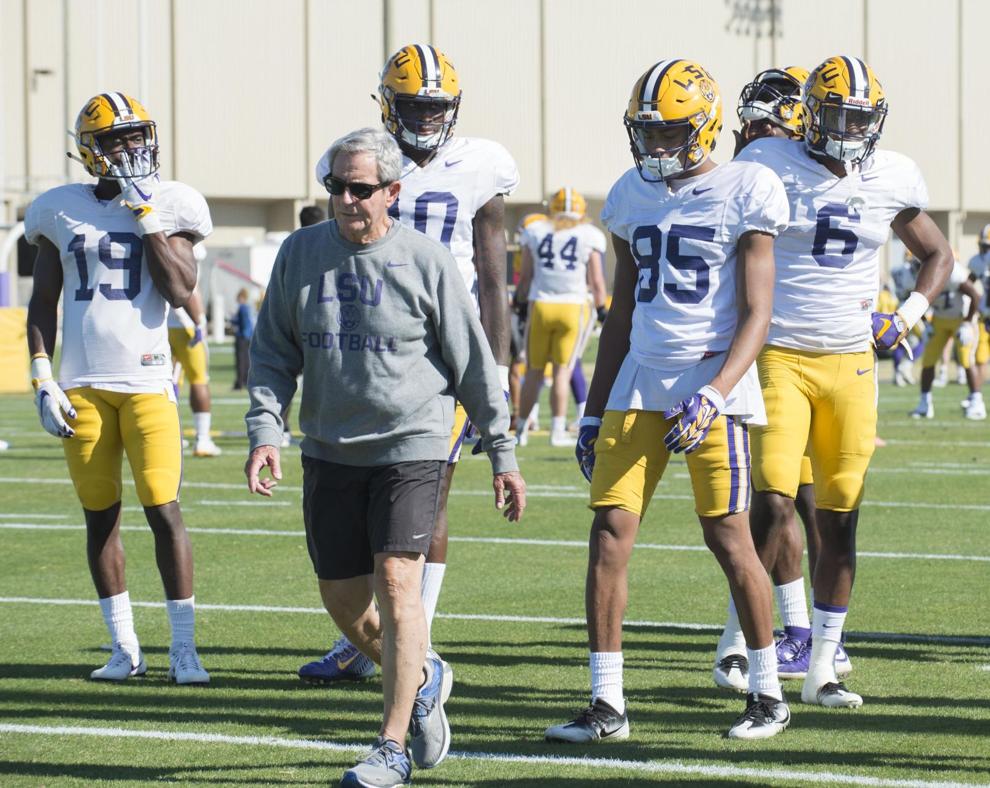 Pass catchers
Spring practice has not passed without several drops. Scrimmages are closed, but those who have attended them say drops are regular among the Tigers receivers. Jonthan Giles and Justin Jefferson seemed to have separated themselves on the depth chart, but sophomore Racey McMath made a move up this spring, and Derrick Dillon is there too. But where are the tall, athletic receivers who have been around for two-plus years? Stephen Sullivan, Dee Anderson and Drake Davis are behind all others in the pecking order, it seems.
New faces on the front
We might not get to see the new schemes Aranda has installed, but we will get to see the new faces across the front. LSU lost four of its starting front seven from last season. Here are the new names with their predecessor in parentheses: DE Breiden Fehoko (Christian LaCouture), NGs Ed Alexander and Tyler Shelvin (Greg Gilmore), B-OLBs K'Lavon Chaisson, Andre Anthony and Travez Moore (Arden Key) and ILBs Jacob Phillips and Tyler Taylor (Donnie Alexander).
Mike Gegenheimer contributed to this report.
Justin Jefferson is not like any other LSU freshman.
BIRMINGHAM, Ala. — The NCAA this week is likely to abolish long-standing legislation outlawing alcohol sales at its championship events.