JACKSON, Miss. — Arden Key's return brought back the "juice" to the LSU football team, coach Ed Orgeron said, but the All-American's health is now the next obstacle.
Key, the Tigers' star edge rusher who set the school record for sacks last year, could miss most of the summer while recovering from shoulder surgery he underwent last week. His status for preseason camp is unclear, too, Orgeron said Tuesday from a Tiger Tour stop at the Jackson Country Club.
Asked if Key would be healthy enough to return for camp in late July or early August, Orgeron said: "We don't know that. It's going to take a while to heal."
Key's shoulder surgery last Wednesday followed his four-month leave of absence from the team for what the school termed "personal reasons." Orgeron and Key's family has asked for privacy on that matter.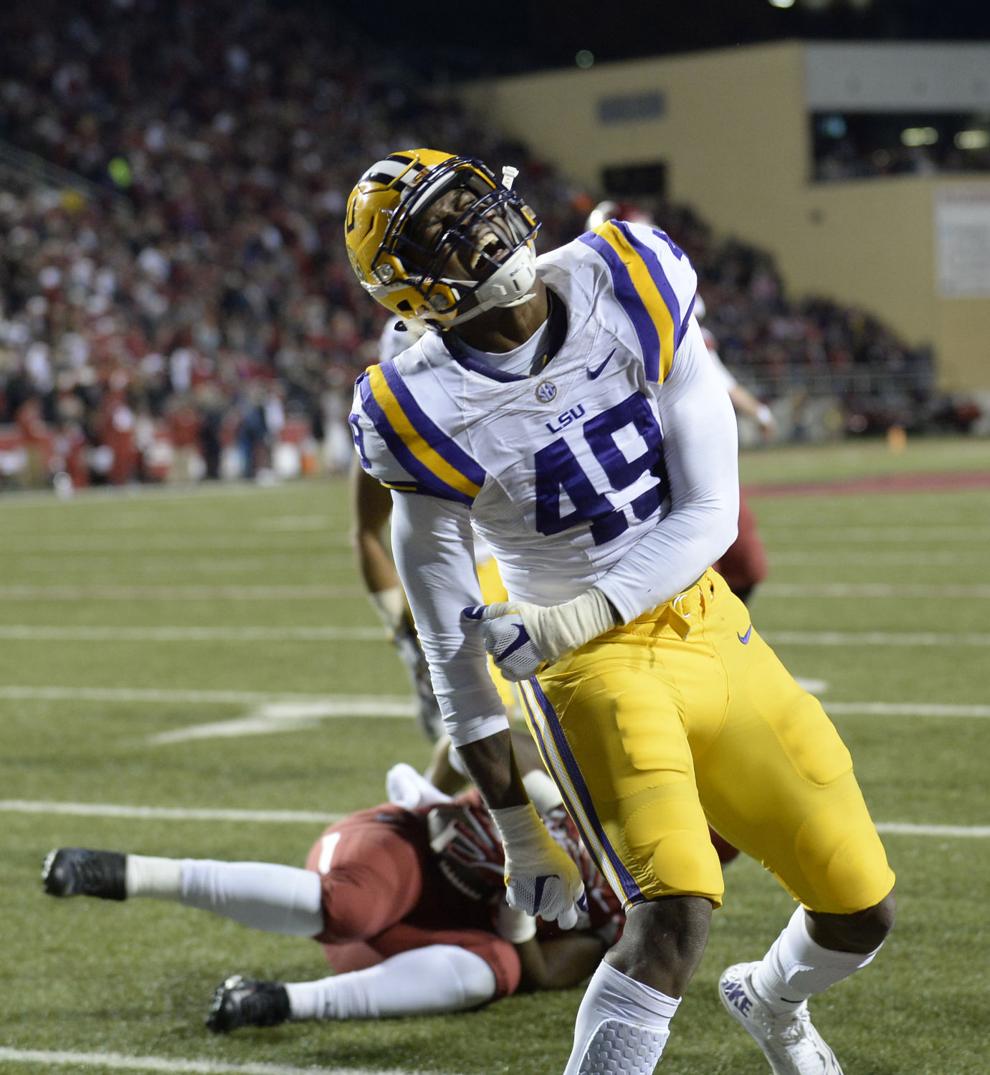 Key returned to the program Monday, appearing at his first team meeting since February, Orgeron said.
"Brings back the juice when you see Arden," Orgeron said. "He's not working out because of the shoulder, but he's around. Yesterday, we had a team meeting. Good to see him in there. Gives the team confidence."
Key played with an injured shoulder, Orgeron said, for much of last season. It progressively got worse. He appeared to aggravate it in the home loss at Florida and wore a protective brace around the left shoulder in the win over Louisville in the Citrus Bowl.
"It's something that bothered him the whole time," Orgeron said Tuesday. "Never something definite that he had to get operated on. Finally went to see a physician. Decision was made to open it up and see what's going on. They fixed what needed to be fixed."
Filling needs
Orgeron hit the transfer market hard this year to replenish lost talent, he said Tuesday.
The first-year coach brought in three major college transfers at what he called positions of need entering next season: defensive line, tight end and receiver. Defensive lineman Breiden Fehoko and receiver Jonathan Giles, both from Texas Tech, and tight end Thaddeus Moss from N.C. State enrolled at LSU earlier this week.
"All three of those guys fit specific needs that we have," Orgeron said. "We're going to treat them as players, put them in the fire and see what they can do."
The three players must sit out this season. Giles and Fehoko will have two year of eligibility starting in 2018. Moss will have three years.
The trio can practice this fall, though.
"We're losing a lot of defensive linemen next year," Orgeron said. "It's good to have Breiden in our program. He gets to work with Pete (Jenkins), work with me, work with Tommy (Moffitt). In the spring, (we) should have a seasoned vet coming back.
"Moss is a very athletic tight end," Orgeron continued. "Got to gain some weight, get into the weight room, learn the offense.
"Jonathan Giles, 60-something receptions last year, somebody that gives us more receivers. Need some receivers."
Arden Key will return to the LSU football team Monday after taking a leave for personal reas…
OL Adrian Magee rejoins team
Offensive lineman Adrian Magee has rejoined the LSU football team, Orgeron said, after a six-week suspension. 
Magee, a reserve in his first two seasons, was suspended indefinitely after his arrest April 26 for simple burglary of an inhabited dwelling, a felony.
A court date for his arraignment has not been set, but Magee is a first-time offender, his attorney Brent Stockstill said, potentially meaning he could be offered a pre-trial diversion.
Magee is accused of breaking open the door to the apartment and stealing an Xbox, six Xbox games, $1,200 in cash, Gucci flip flops and a Bluetooth speaker. Magee returned some of the missing items and confessed to the burglary, the police report said.
A third offensive lineman is transferring from the LSU football program.