Matt Canada planned his opening act for a month.
You remember that eight-man, pre-snap shift LSU unfurled ahead of the first play of its 2017 season last week, right? The one in which four offensive linemen, two running backs, a tight end and an F-back rearranged themselves as the Mercedes-Benz Superdome crowd, mostly clad in purple and gold, gasped.
This is how the Canada era of LSU's offense began. It was Chapter 1, the opening act of what fans hope is a scheme that yanks the Tigers out of a recent funk.
The Tigers practiced this shift-heavy introduction for four weeks, learning the planned maneuver on Day 1 of preseason camp, July 31. After all, moving four 300-pound offensive linemen — at the same time — is not always easy. On the first attempt that July day, a few linemen tripped over one another while jostling from one side of the line to the other.
Nevertheless, the shift accomplished its goal.
"It was like a magic trick," tackle Toby Weathersby said. "It was funny to see the whole stadium have the same reaction when we did that."
"We all noticed it," tight end Foster Moreau said. "We all laughed about it, too, when we got to the sideline. We were like, 'Wow, they really liked that whole move-everyone thing.' "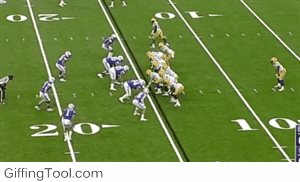 What transpired last week in a 27-0 win over BYU was, indeed, the beginning of an era, a striking change from a decade-plus of I-formation, old-school offensive schemes. The result and statistics didn't change: The Tigers ran the ball 57 times and threw it 18, numbers dictated by BYU's "soft" approach to run defense, keeping safeties deep and "daring" LSU to run, quarterback Danny Etling said.
Woven between all of those runs were signs of a changed offense, one built on using versatile athletes and a variety of option-based plays to stump defenders.
There were noticeable ones, obvious to the 50,000-plus inside the Dome.
Everyone saw Canada's patented jet sweep motions. How could you miss them? There were 32 receiver sweeps, to be exact, and just six actual handoffs. (They gained 46 yards for a 7.1-yard average.)
There were unbalanced lines. Surely you didn't miss one of the 12 plays in which LSU's two 315-pound tackles stood side by side.
You caught the fluctuating tempo, too, right? Etling snapped about 13 of the 75 plays out of the no-huddle, many of them coming after a long first-down gain — part of Canada's system that players call "fastballs."
It's a feeling Devin White gets.
Some things weren't so noticeable.
The Tigers quietly spread it around. LSU had seven players catch at least one pass and rush at least once for the first time since 1977.
Did you catch that shovel-pass option play LSU ran in the second half? Probably not, because pressure negated the shovel pass from being thrown. But it was there. So were run-pass options for Etling, and multiple running back and receiver screen passes on the same play.
They were all there, for use potentially down the road when LSU is ready to completely pull that shroud off Canada's sparkling new attack. Don't expect that to happen during Saturday's home opener against Chattanooga, though.
For now, you'll have to settle for the noticeable tweaks and obvious alterations — like the shifts.
In 75 plays, LSU players shifted before the snap 92 times. All but 18 plays included at least one shift. Some plays included five pre-snap motions, and several included two shifts by the same player.
Before one snap, Moreau and F-back JD Moore shifted from one side of center to the other. Receiver DJ Chark then raced from his wide receiver spot to behind center, faking the jet sweep and then settling at the slot position before retracing his steps the way he came.
No wonder some players found it troublesome learning this offense. A few of the receivers still haven't overcome the mental hurdles, most of them hung up on the shifting.
"It was very challenging to our guys in spring," coach Ed Orgeron said. "They had run the same offense here for years. The guys were studying early, had the iPads, working on their notebooks at night. It was hard for the freshmen to come in and learn it."
The veterans shifted more than anyone else. Senior receiver Russell Gage led the group (18 pre-snap movements), followed by Moore (17), Chark (12) and Moreau (10). But shifting isn't relegated to the skill positions.
Tackles Toby Weathersby and KJ Malone each shifted five times, jogging from one side of center to the other, sometimes squeezing between the other tackle and, usually, a tight end. It's a tight fit, and it's all happening so quickly for a big man not accustomed to that sort of thing.
"I don't know about the guards but, from a tackle standpoint, we shift back and forth like the receivers," Weathersby said, his eyes rolling as if he were there now, in the middle of a drive and jogging from the right side to the left for what seems like an unnecessary move.
Saturday was supposed to be the big reveal of LSU's new offense.
All this moving is a Canada staple. Weathersby said he saw the advantages last week while next to his big tackle brother Malone.
"Sometimes (the defense) can't line up right to it," he said. "That's the advantage for us."
It took time for players to command the shifting. Orgeron finally noticed things "settling down" a week before the game.
"It wasn't until the third week of preseason, to be honest with you," he said.
Receivers like Drake Davis and Stephen Sullivan said they're still having trouble. Neither wideout plays the F receiver position, the one with the most pre-snap moves.
Gage appears firmly in that F receiver role. He ran more jet sweep motions than any other player (17) and received more jet sweep handoffs (three for 24 yards) than any other guy.
Moore and Moreau aren't far behind, but their moves are shorter, often just a 6-yard slide down the line — not a 25-yard hike from one side of the field to the other.
The tackle shifts are similar in length to those made by Moore and Moreau, but don't tell Weathersby it's just a stroll, especially during one of those nine-play, 6-minute drives.
"Sometimes at practice, you might want to stay after to do some sprints so you can be conditioned for that," he said.
Arden Key is not ready to play, LSU coach Ed Orgeron said Wednesday night, but that could ch…
The game-opening, eight-man shift was the toughest to learn. The difficult part is the footing for the big men. Four of them are moving at the same time in very close quarters. Garrett Brumfield and Malone are moving from the right side to their true starting spots on the left. Weathersby and Saahdiq Charles are moving from the left side to their real spots on the right.
Meanwhile, Moore and Moreau are flipping across the center, too, and running backs Derrius Guice and Darrel Williams are trading positions as well.
"We didn't know who should go on top and who should go underneath," Moreau said. "Coach Canada cleared that up from the first snap when we were kind of running into each other."
Chark watched all this unfold, out on his island during a rare play in which he wasn't the one moving.
"Those big guys were trying to get to that other side, and they were all tripping over each other and stuff," he said, smiling. "I had the privilege of just staying on the line (of scrimmage) and watching them. I didn't have to go anywhere, so that was pretty funny that first day."
Sheldon Mickles contributed to this report.
---
DOWN, SET, SHIFT!
LSU players shifted or motioned before the snap 92 times in 75 plays last week, with 14 players shifting at least once. The Tigers shifted at least once on 57 of those 75 plays.
| | |
| --- | --- |
|  Player |  Pre-snap movements |
|  WR Russell Gage |  18 |
|  FB JD Moore |  17 |
|  WR DJ Chark |  12 |
|  TE Foster Moreau |  10 |
|  RB Darrel Williams |  8 |
|  T Toby Weathersby |  5 |
|  T KJ Malone |  5 |
|  Seven players |  4 or fewer |