Soon, a guy in Oxford, Mississippi, will hit the "send" button on an email with more recipients than there are people in Baton Rouge.
The email is shipped to the inboxes of more than 250,000 Southeastern Conference football season ticketholders. The focus of the email: getting more of them into the seats of SEC football stadiums.
The responses to this emailed survey are significant. They could lead to a new video board at South Carolina, a new field-level club section at LSU, renovated bathrooms and concessions at Georgia or a new plaza level at Arkansas.
"I'm reading over it right now," Ole Miss associate athletic director Michael Thompson, the sender of the survey, said during an interview Wednesday from his office.
Each December for the past seven years, Thompson has created and then disseminated a 15-minute survey to season ticketholders of each of the 14 SEC schools, gauging their responses to 56 items about their team's game day experience. The responses are aggregated into a ranking system, giving each program a database of their fans' likes and gripes.
This is part of Thompson's job as research head of the SEC's fan experience working group.
The working group's existence, and this yearly survey, are the most striking testament to the current situation in sports, even in the football-crazed SEC: Fans aren't coming to games like they used to.

"It's not a ticket sales issue," Thompson said. "It's the tickets just go unused."
LSU is not immune to this trend.
University officials estimate that Tiger Stadium is, on average, about 80 percent full over the course of a season, and the same goes for the student section, said Brian Broussard, the school's assistant athletic director in charge of tickets.
Broussard said the school does not keep a record of actual attendance, something different than its paid and announced attendance numbers.
LSU's season ticket sales have dropped from a record high of 74,350 in 2015 to 71,800 this past season, but that doesn't necessarily explain the swaths of empty seats in the 102,321-seat stadium — one that was increased in size by 10 percent just three years ago.
"If you look throughout the landscape of college football ... totally across the landscape, the number of people attending games is going down," LSU athletic director Joe Alleva said in October during a speaking engagement in New Orleans. "Attendance is going down. We have to do a better job of making fan experience at games more friendly so they want to come and stay."
That SEC-wide survey is assisting administrators throughout the conference in trying to buck this national trend.
While Congress sets its focus on overhauling the nation's tax code, one provision of plans introduced in both the U.S. House and Senate could …
For years, attendance at college football games has dwindled, a movement that has coincided with the growth in options that fans have to watch games outside of a stadium: 70-inch flatscreen televisions, personal computers, digital tablets, smartphones and more.
Why fight traffic and parking issues, pay $5 for a hot dog, stand in line for 20 minutes for the restroom or spend four-plus hours in a cramped seat?
This isn't just a sports problem, said Wright Waters, the executive of the Football Bowl Association and the former commissioner of the Sun Belt Conference.
"Look at concerts and other live events. It's more than a football issue," Waters said. "The competition in many cases is on a very comfortable couch and on a 75-inch TV, clean restroom and cold beer steps away. It's very easy to not leave the house."
Many people are taking notice of the issue — not just administrators.
Professional and college players, college recruiting prospects and even fans on all levels have publicly acknowledged the declining attendance at various events — from NBA games to college football showdowns, from NFL match-ups to outdoor concerts.
The emptiness at stadiums has even led to the creation of a popular Twitter profile, @EmptySeatPics, a page that retweets photos of sparsely filled venues sent in from fans around the world.
One of the most recent photos highlights a swath of empty seats at Thursday night's NFL game between the Cowboys and Redskins at AT&T Stadium in Arlington, Texas — a rivalry duel in America's most popular professional sport, played in one of the country's most plush stadiums.
"This is an issue not specific to one school or conference or sport. Everyone is dealing with this," said Mike Hill, the University of Florida's executive associate athletic director for external affairs. "It's a different day and a different age."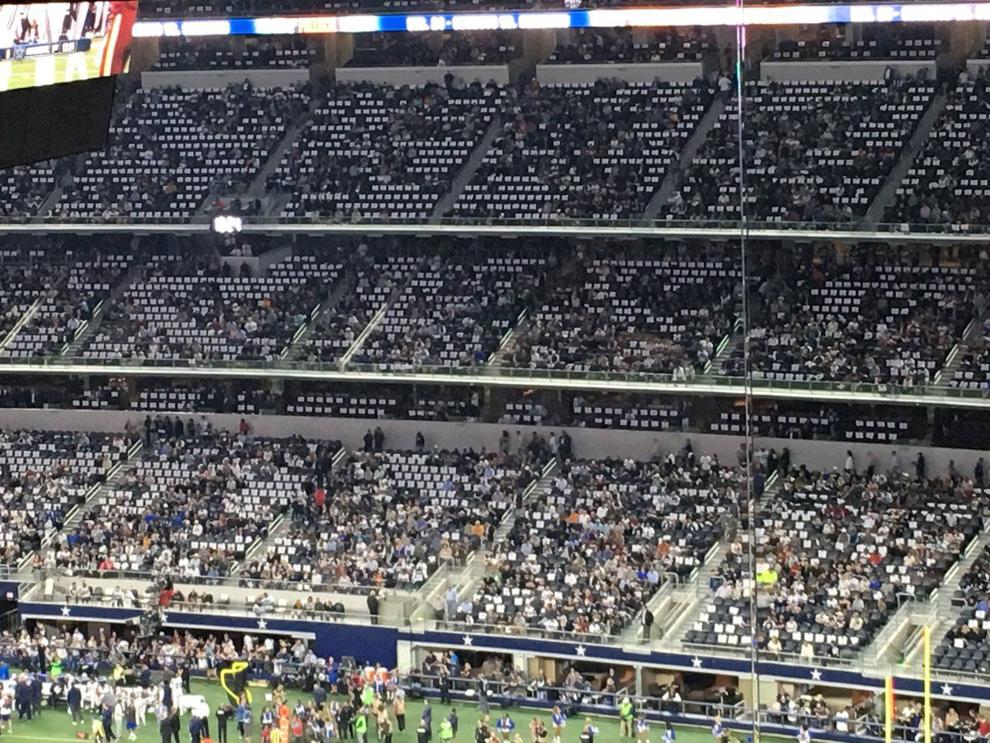 At LSU, everybody is beginning to notice, including coach Ed Orgeron and LSU recruits.
Orgeron has twice this season used his platform during weekly news conferences to will fans to day games, half-jokingly suggesting they splash some booze in their coffee.
One LSU prospect, Southern Lab guard Kardell Thomas, recently called LSU fans "wishy washy" in reference to them leaving early or not showing up.
"I'm always going to go to games, but it has the last few years not felt like the Tiger Stadium we know it is," said John Guyote, an LSU season ticketholder and managing editor of a fan-run website that covers LSU athletics, AndTheValleyShook.com.
"Every year someone has to write a piece about fans showing up and making Tiger Stadium be like Tiger Stadium," he continued. "There is a problem."
What's the problem? It is plural, LSU administrators say: problems.
The SEC-wide survey produces different results, of course, at each school. At Florida, it is seat comfort, Hill said. At Ole Miss, it's concession and restroom wait time, Thompson said.
At LSU, there are two complaints yearly.
"Parking and traffic," said Matt Shanklin, LSU's assistant athletic director for marketing. "Those are (Nos.) 1 and 2 every year. It's getting in and out. We can't move the river, can't move the campus to get it closer to the interstate."
LSU has "ample" parking compared to other SEC schools, Broussard said. It's the traffic congestion that is tough to fix.
They are trying. Broussard said the university has a quasi-partnership with Waze, a free community-based navigation app, to help with congestion around Tiger Stadium. Officials also plan to implement a scanning system for tracking parking. Downtown shuttles are eventually a possibility as well.
The fear of postgame congestion drives fans to leave early, something that's become oh-so obvious over the past several years.
"The third-quarter exodus," Broussard said, "is what we fight."
LSU ticket prices are "in line with the top 6-7 schools" in the SEC, he said. Lowering prices is a possibility in the future, something Alleva has suggested.
"I'm not going to say we'll lower prices, but down the road it may have to be done," Alleva said in October.
Home opponents are also an issue, Guyote said.
LSU's marquee non-conference games since 2010 have mostly kicked off at a neutral site. Excluding 2017, in the previous eight seasons, LSU has hosted 22 nonconference opponents. Two of them were from the Power 5 conferences in football: West Virginia in 2010 and Washington in 2012. LSU has won those 22 games by an average of about 32 points — lopsided affairs that keep fans home or chase them out of Tiger Stadium in the third quarter. 
"The home slate has been awful," Guyote said. "I know they get big payouts to play (neutral-site games) in Houston and Dallas. Well, I don't live in Houston and Dallas to catch the good out-of-conference games."
The school will soon host some marquee nonconference matchups, though: Texas in 2020, Arizona State in 2023 and UCLA in 2024.
LSU rounded out its 2019 football schedule with Utah State and canceled a scheduled meeting with Idaho in 2020.
As for Tiger Stadium, LSU beautified and illuminated the exterior of the 94-year-old venue years ago. The school recently renovated and expanded restrooms and concessions, cleared out abandoned dormitories behind the south end zone, and added a premium area atop the south end zone club level — the Skyline Club.
The school turned a 1,500-seat general admission area — with bleacher seating — into a designated premium space. The Skyline Club is another example of a school moving toward what many believe is the future of the stadium experience, a way to draw fans to games: a more relaxed, social environment where alcohol is sold.
The Skyline Club was a test missile. It hit, LSU officials said. The club averaged about 1,000 ticket sales per game, or two-thirds of the space, with a high of about 1,300 for the Auburn game and a low of 700 for Syracuse, Broussard said.
Discussions are ongoing on expanding on the model elsewhere in the stadium, but that may be contingent on the SEC changing the policy of not allowing alcohol sales across general seating areas of a stadium. The policy can be altered only by a majority vote of the 14 SEC school presidents.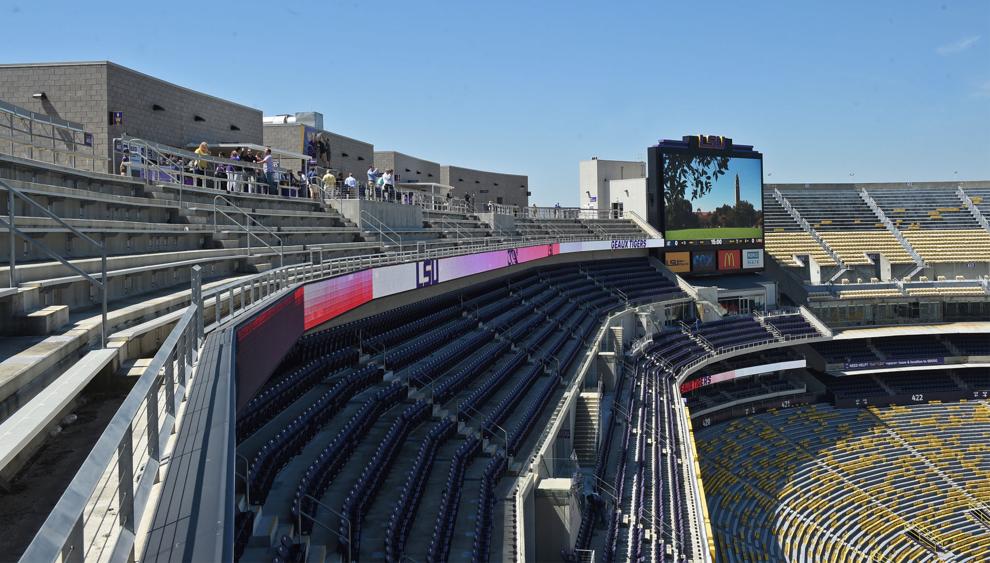 Alleva has said he believes venue-wide sale of beer could help attendance, and there are "a significant number of presidents that think that needs to be done."
The sale of beer and wine is spreading quickly throughout college football. About 40 schools offered beer, at least, to the general public in 2016, and the NCAA even allowed beer sales at the College World Series last summer.
Joe Alleva is urging fans to be "patient" with LSU coach Ed Orgeron to solve "recruiting gaps" left by the previous coaching staff, and he's h…
SEC schools are getting around their league's policy by adding premium seating.
Nearly every SEC school over the past few years has improved its stadium with upgrades and renovations — from restrooms and concession stands to the addition of premium seating areas, from new video boards to expanded seating spaces.
In total, SEC schools have spent or plan to spend about $1.5 billion on upgrades, adding a combined 50,000 seats — none more than Texas A&M's $485 million rebuild of Kyle Field, which included a 20,000-seat addition completed last year.
"Ten to 15 years ago, it was about how many seats can we have to say we have the largest in the SEC," Hill said. "We probably need to be looking to the NFL. They have smaller stadiums than we have in the SEC."
Meanwhile, Alabama in 2010 increased its capacity by 9,000, adding 72 skyboxes, and Auburn is in the process of turning its press box into a club area. The school already plopped down $14 million to install what it calls the biggest video board in college football, 190 feet long.
Ole Miss and Mississippi State have combined to spend more than $100 million in renovations, recently adding a combined 12,000 seats, new video boards, club levels and the ever-popular field-level premium seating.
Missouri is spending $98 million on a new south end zone complex that will include 16 new suites, a 750-person field-level club and a 1,254-seat indoor club area. Tennessee announced plans for a $340 million project at Neyland Stadium to, for one, renovate restrooms and concessions and incorporate more premium seating.
Arkansas is in the process of completing $160 million in renovations to Razorback Stadium with "seating types and amenities that fit what the fans are asking for," the school said in a release this spring. Translation: roomy premium areas with alcohol available.
Meanwhile, Kentucky's Commonwealth Stadium underwent a $110 million renovation in 2015 that actually decreased the capacity of the place by 1,000 seats. Why? Because renovations included replacing general seating with club levels and suites.
This is the future.
Beer and wine are coming to the top reaches of Tiger Stadium.
"If you were to build a stadium now from scratch, there would be fewer seats and more levels of premium club seating," said Thompson, the Ole Miss administrator and research head for the SEC game day experience working group.
"Bigger seats. Less people. It's making that experience way more unique and way more memorable with the amenities we talk about. You're trying to create unique experiences people will remember."
Waters, the bowl association executive, believes Atlanta's new $1.6 billion Mercedes Benz Stadium is the standard bearer of stadiums. The arena provides roomy general seats, large premium areas and discounted concession prices.
"They've figured it out," Waters said. "It used to be, 'Get the fans in and squeeze every (dime) out of them.' They've gotten where it's better to get people in the house rather than sell a $10 Pepsi."
The NCAA conducted a survey of college football fans recently, Waters said. Results included gripes about kickoff times. Older fans want afternoon times, younger fans want night games, and no one wants morning kickoffs, he said.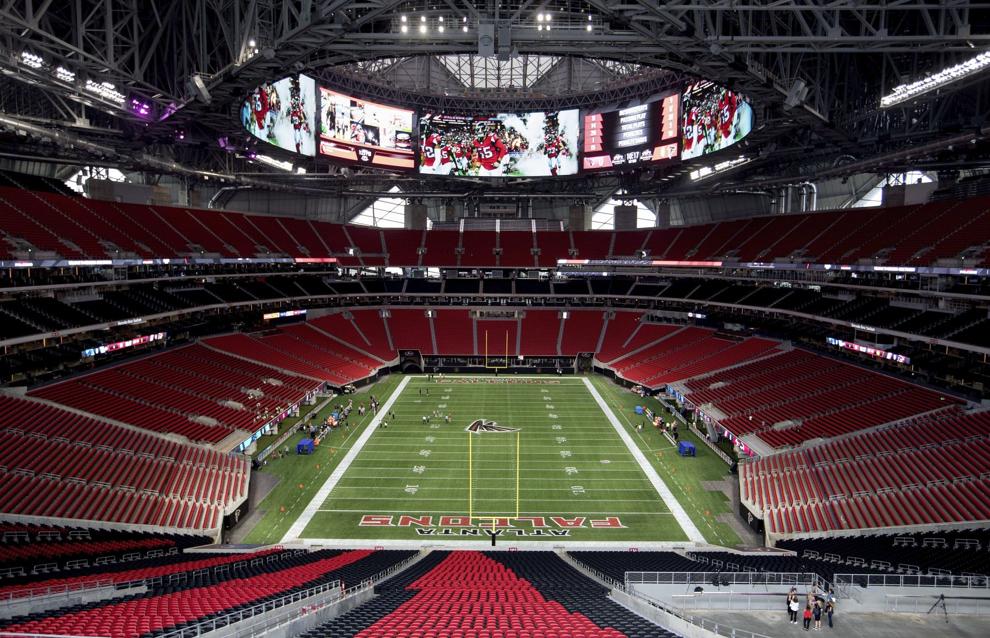 "Something did surprise me in there," he said. "People aren't concerned about the length of games. People are concerned about the intervals and stoppages in the game — TV timeouts, instant replay. Those are the things that bothered them more than the length of the game."
There's no "silver bullet," Thompson said, to fixing the attendance issue. While administrators are steadily working on the problem, schools continue to rake in cash from ticket sales, though thousands go unused. 
In 2015, for instance, SEC schools made more than $334 million in football ticket sales. That was 35 percent of the league's total football revenue of $948 million. The SEC set a conference record nationally in 2015 for paid home attendance with an average of 78,630, about 2,500 higher than its 2007 average.
Paid or announced home attendance in college football has decreased nationwide, though, dropping from an average of 46,328 in 2007 to 43,070 last year. Bowl games have taken the hardest hit. Their average attendance has dropped by about 12,000, slipping last year to 41,718.
One reason, Waters said, is the addition of bowl games played in small venues. "We've got stadiums that's been added the last few years that don't even have 47,000 seats," he said.
Traveling fan attendance has slipped, too, said Broussard. LSU used to offer visiting SEC fans 7,000 tickets. The school now offers 6,000, a number reciprocated when the Tigers travel to other league stadiums.
Student attendance is a concern throughout the conference. More than a decade ago, LSU began a points-based incentive program for students to attend athletic events. It still exists, with prizes and such for those who attend games regularly.
At Alabama, empty seats in the student section were such a common sight that coach Nick Saban chided students after one game. The Alabama Student Government Association began a "Stay For Sixty (minutes)" campaign.
In an interview with The Tuscaloosa News earlier this year, new Bama athletic director Greg Byrne said he plans a "deep dive" into the program with regard to game-day experience. He admitted that some Alabama fans are not using their tickets for games.
The Crimson Tide won four of the past eight national championships.
"We actually sold more tickets to Alabama football games this year than maybe any time in our history. We can track what percentage gets used, though, and we're down right now," Byrne said. "They're sold, but we're down from where we were. Since 2010, when Bryant-Denny (Stadium) was last expanded, the percentage of seats that are being actually used is down, so we need to pay attention to that."
All around the league — and the nation — they are doing just that.
If you build it, will they come? Not necessarily.
"It's challenging and a struggle. You're trying to invest into the stadiums and arenas. You can do all of that, but it's still not enough," Thompson said. "You can build a brand-new building with every amenity possible and you still might not be able to fill it.
"We aren't necessarily losing fans," he continued. "They're just consuming our content in different ways, ways that we've promoted for them to consume our content. We're encouraging them to consume it outside of our stadiums — TV, mobile devices, etc. Inside the stadium, we're got to find ways to create unique experiences that they can't get outside of the stadium."
---
BY THE NUMBERS
College football ticket sales are still high, but attendance is waning. Fans are not using tickets sold in this digital age, reverting instead to watching games on TV or mobile devices. The numbers below are paid attendance, but not necessarily actual attendance. These are tickets sold.
Football Bowl Subdivision home game attendance
| | |
| --- | --- |
| Year | Average |
| 2016 | 43,070 |
| 2015 | 43,496 |
| 2014 | 44,190 |
| 2013 | 45,192 |
| 2012 | 44,970 |
| 2011 | 45,498 |
| 2010 | 45,912 |
| 2009 | 45,545 |
| 2008 | 46,456 |
| 2007 | 46,328 |
LSU home game attendance
| | | |
| --- | --- | --- |
| Year | Average | National rank |
| 2016 | 101,231 | 5th |
| 2015 | 102,004 | 4th |
| 2014 | 101,723 | 4th |
| 2013 | 91,418* | 8th |
| 2012 | 92,626 | 7th |
| 2011 | 92,868 | 7th |
| 2010 | 92,718 | 8th |
| 2009 | 92,489 | 7th |
| 2008 | 92,383 | 7th |
| 2007 | 92,619 | 6th |
*last year before south end zone expansion opened
SEC home game attendance
| | |
| --- | --- |
| Year | Average |
| 2016 | 77,507 |
| 2015 | 78,630* |
| 2014 | 77,694 |
| 2013 | 75,674 |
| 2012 | 75,538 |
| 2011 | 75,832 |
| 2010 | 76,719 |
| 2009 | 76,288 |
| 2008 | 76,844 |
| 2007 | 75,139 |
*record for any conference
SEC football ticket sales in 2015-16 academic year
| | |
| --- | --- |
| 1 Texas A&M | $41,710,523 |
| 2 LSU | $38,865,803 |
| 3 Alabama | $37,314,723 |
| 4 Tennessee | $30,290,392 |
| 5 Auburn | $29,827,136 |
| 6 Arkansas | $28,790,304 |
| 7 Georgia | $26,012,262 |
| 8 Florida | $24,477,140 |
| 9 Ole Miss | $17,965,264 |
| 10 South Carolina | $16,620,221 |
| 11 Kentucky | $16,364,847 |
| 12 Missouri | $13,283,209 |
| 13 Mississippi St. | $13,084,880 |
---
The Southeastern Conference's football media days, the unofficial kickoff to football season, is leaving Hoover, Alabama, for Atlanta in 2018,…