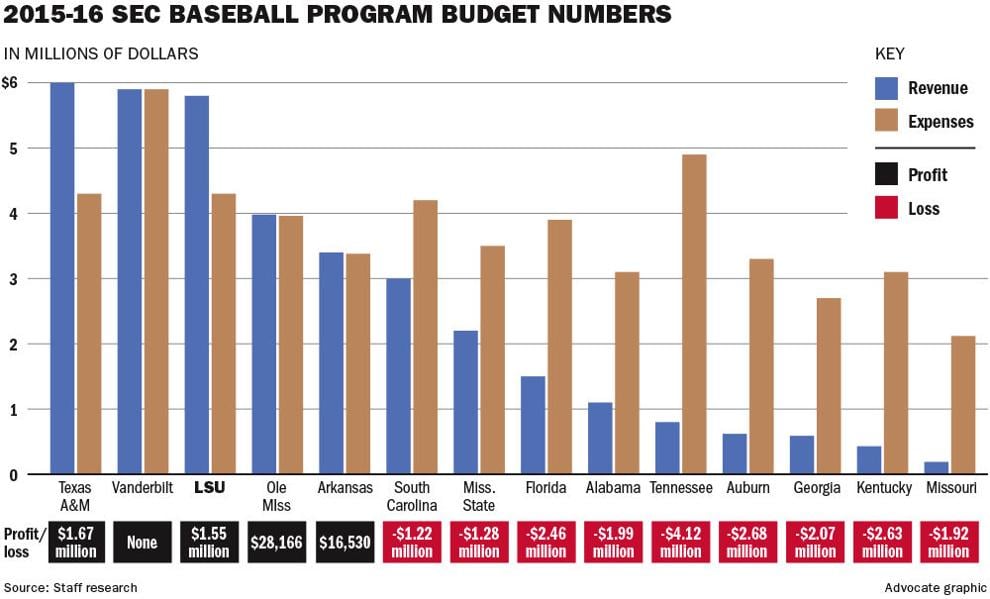 This is a good time to be a college baseball fan.
The NCAA postseason is here. Sixty-four teams battle one another at 16 regional sites in the first step to reaching the hallowed grounds of Omaha, Nebraska.
Fans will fill cozy stadiums, cramming into outfield bleachers while guzzling sodas and downing hot dogs. They'll spend gobs of money, filtering in and out of gift shops and forming lengthy lines at concession stands. And if their teams advance, they'll buy pricey tickets for the next day or the next week.
All of that, though, doesn't necessarily turn into profit.
College baseball is a losing sport, even in the part of the country where it thrives. In fact, just four Southeastern Conference baseball teams turned a profit last season, according to documents obtained by The Advocate from league schools.
The figures are much gloomier beyond the Southeast.
The NCAA estimates that less than 10 percent of baseball programs nationally turn a profit, said Ron Prettyman, managing director of championships and alliances who oversees baseball. The number is probably closer to 5 percent, Prettyman said.
"Even in the NCAA, we run 90 championships and only five make money," he said.
In Baton Rouge, things are different.
The site of this weekend's NCAA Baton Rouge regional — Alex Box Stadium — is also the site of college baseball's richest baseball program.
The reminder has been there staring at Kramer Robertson's face every time he's opened his ph…
LSU regularly turns a profit in the sport. Last season, the Tigers made $5.8 million and spent $4.3 million for a $1.5 million profit. The numbers dwarf most of LSU's SEC brethren outside of Texas A&M.
The Aggies turned a $1.6 million profit last year, but that was an anomaly, said Jeff Toole, Texas A&M's chief financial officer for athletics. Included in A&M's 2015-16 SEC-leading baseball revenue ($6.01 million) is millions in donations to the school for a stadium renovation project.
"Ordinarily it would not show (those numbers)," Toole said. "I would be surprised if LSU is not the most profitable baseball program."
Year in and year out, the Tigers are. They made profits of $1.6 million in 2015 and $1.8 million in 2014, records show.
How good are those figures? Outside of A&M, just two SEC baseball teams made money last year. Ole Miss turned a profit of $28,166, and Arkansas made $16,530.
In the nation's most prestigious baseball conference, the losses are astronomical — a somewhat shocking revelation since six SEC teams were among the top seven in average attendance as recently as 2015.
Tennessee lost more than $4 million on baseball in 2016. Florida, Auburn, Georgia and Kentucky all lost at least $2 million.
The gap between profit numbers in the league are narrow rivers compared to the giant seas separating programs in overall revenue.
For instance, Missouri was last in revenue among SEC baseball teams, pulling in just $193,172 in 2016. That's less than half of the revenue of the next team, Kentucky ($426,908). Florida's revenue ($1.4 million) is three times larger than Kentucky's figure, and LSU made four times more in revenue ($5.8 million) than Florida.
"I'm not surprised that we're self sufficient and that we even put money into the coffers to help pay for other sports," LSU coach Paul Mainieri said. "When I came here, I knew that was part of the deal here. Skip Bertman had developed a baseball program here that attracted a lot of fans."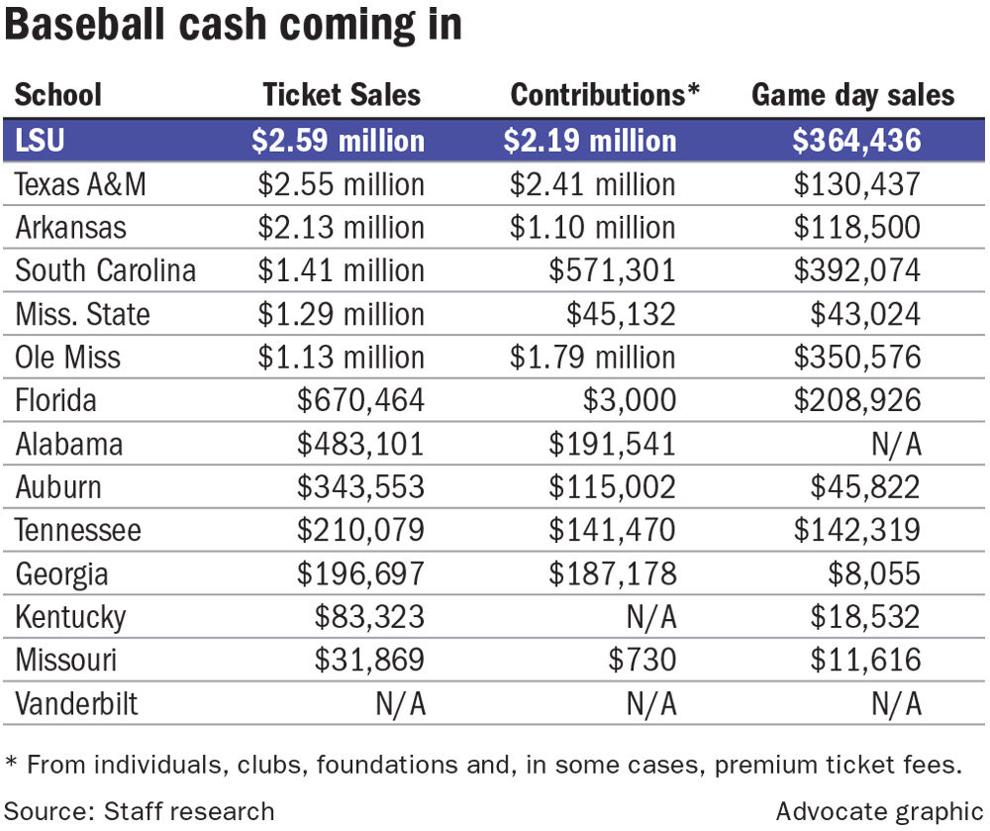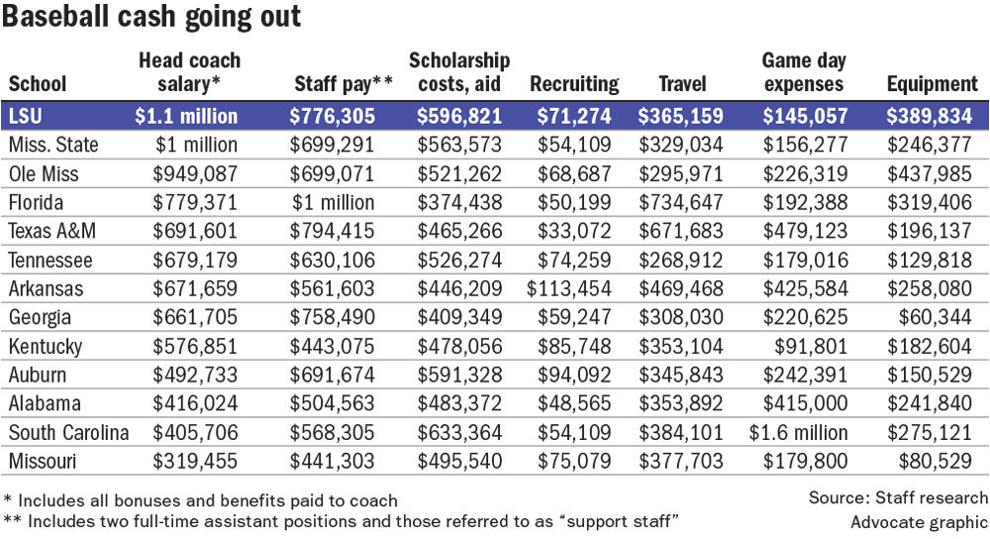 On the field, Florida and LSU have shared similar success over the past several years. In fact, the two were co-SEC regular season champions this year, and they're both top four national seeds in the NCAA tournament. So why is the gap so wide among them?
Mainieri supplied the answer in his comment: Fans and donors are the difference.
The gap in ticket sale revenue among SEC teams is striking. Florida made $670,464 in ticket sales last year, documents show, putting it seventh in the SEC. LSU made a league-leading $2.59 million. That excludes another $1.5 million in donations made from premium seating.
That's what separates the LSUs, Texas A&Ms, Arkansas and South Carolinas from others: premium seating ticket sales. They include club level seating and suites, areas where a hefty donation must be made to a school's booster foundation to purchase the tickets.
Arkansas has an SEC-leading 30 suites priced from $11,000-$23,000 in cost per year. Twenty-eight of the 30 suites have been added after Baum's completion in 1996.
"That's one of the keys to revenue production, keeping Baum Stadium as one of the best college parks in the country," said Kevin Trainor, an associate athletic director at Arkansas. "We haven't stopped adding to it and enhancing it. The suites are one of those elements. Nowhere else in the SEC are you going to see suites all the way down both foul lines."
This is a common theme at ballparks around the SEC: Programs are expanding to add premium seating.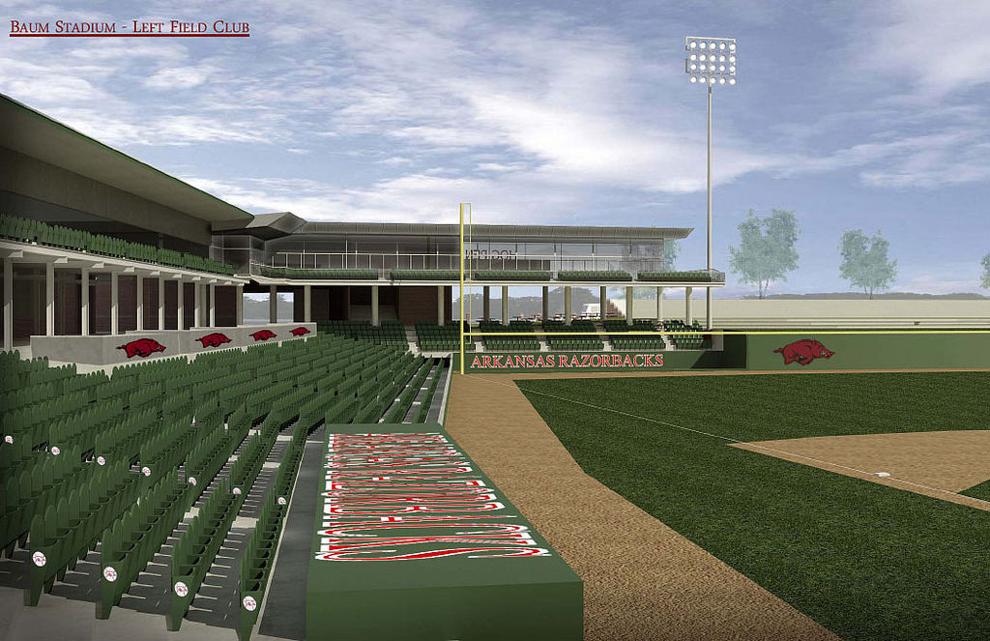 Texas A&M opened a newly renovated park in 2012 with 10 suites at $25,000 a season, along with 300 club seats ranging from $600-$1,000 each. South Carolina's Founders Park, opened in 2009, sells five suites for $37,000 each and has 275 club seats at $1,250-$1,500. Even Arkansas hopes to add more suites and club level seating in long-term plans released by the university last year.
In $55 million renovations to Dudy Noble Field, Mississippi State is adding 400 club seats ($1,100 per year) and 116 loge seats ($1,500 per year). The stadium is seeing its 17 suites expanded to 20 and heavily renovated. The cost for a suite at Dudy Noble this year was $14,000. The new suites will go for $30,000-$45,000.
Alex Box Stadium, built in 2009, sells its 25 suites for $35,000 each, and its 550 club seats go for $1,500-$2,000 per season.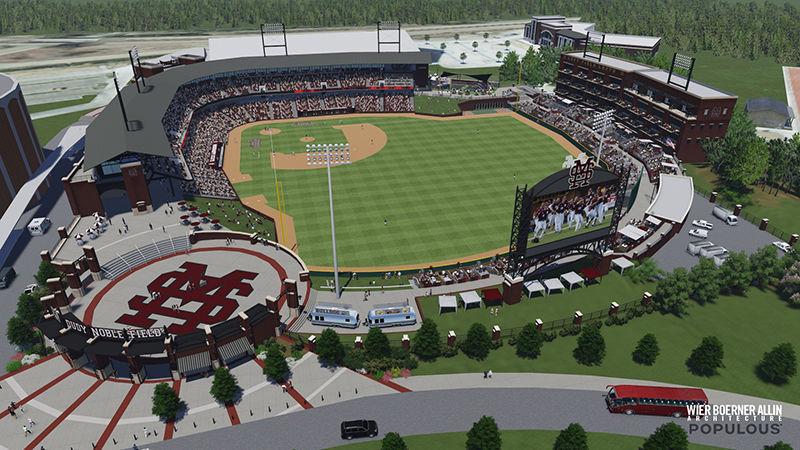 "This job was the first time for me to feel that pressure to win so the fans will still come so that we can still pay for our own program through the revenue that's produced," said Mainieri, who's led the Tigers to a sixth straight national seed this year. "I knew that was part of it. It's a double-edged sword. It's an awesome thing to have overflow crowds and so many passionate people. The flip side is, you've got to win. I love that feeling that it matters so much."
Not every program with plush premium seating or lofty attendance numbers turns a profit.
South Carolina was fourth in the SEC in ticket sales last year ($1.4 million), but the Gamecocks lost $1.2 million overall. Clemson and Virginia hover in the top 10 nationally in attendance. Those baseball programs lost $1 million and $2 million, according to documents released by the U.S. Department of Education.
Even Texas lost money in baseball last year, records show.
Turning a profit in a college sport is no easy task. Most Power 5 conference schools make money in only two sports: football and men's basketball. 
LSU leans on a third, baseball, but its football revenue ($85 million) trumps all others. The LSU football team turned a profit of $55 million in 2016. Every other sport lost a combined $18 million. 
"Even at a break-even mark in baseball, that's a great benefit to a program," Trainor said.
Baseball expenses can run deep. The average SEC baseball team spends about $400,000 on travel, $225,000 on equipment and $1.3 million on its coaching and support staff.
LSU leads the SEC (and potentially the nation) in the latter, paying Mainieri and staff a combined $1.84 million in the 2015-16 academic year. That number will only rise this year. LSU increased Mainieri's base salary of $750,000 to $1.125 million. Documents show the coach actually made $1.067 million last year, with bonuses and other benefits included.
Expenses go beyond travel, staff pay and equipment. Hosting more than 30 home games a year cost some SEC schools as much as $400,000. Recruiting budgets range from $33,000 at A&M to $113,000 at Arkansas, and scholarship costs for players can soar to as high as $600,000.
For many of these reasons, more than 20 Division I schools have shut down their baseball programs since 1990. At least four Power 5 conference programs don't sanction baseball: Wisconsin, Colorado, Iowa State and Syracuse.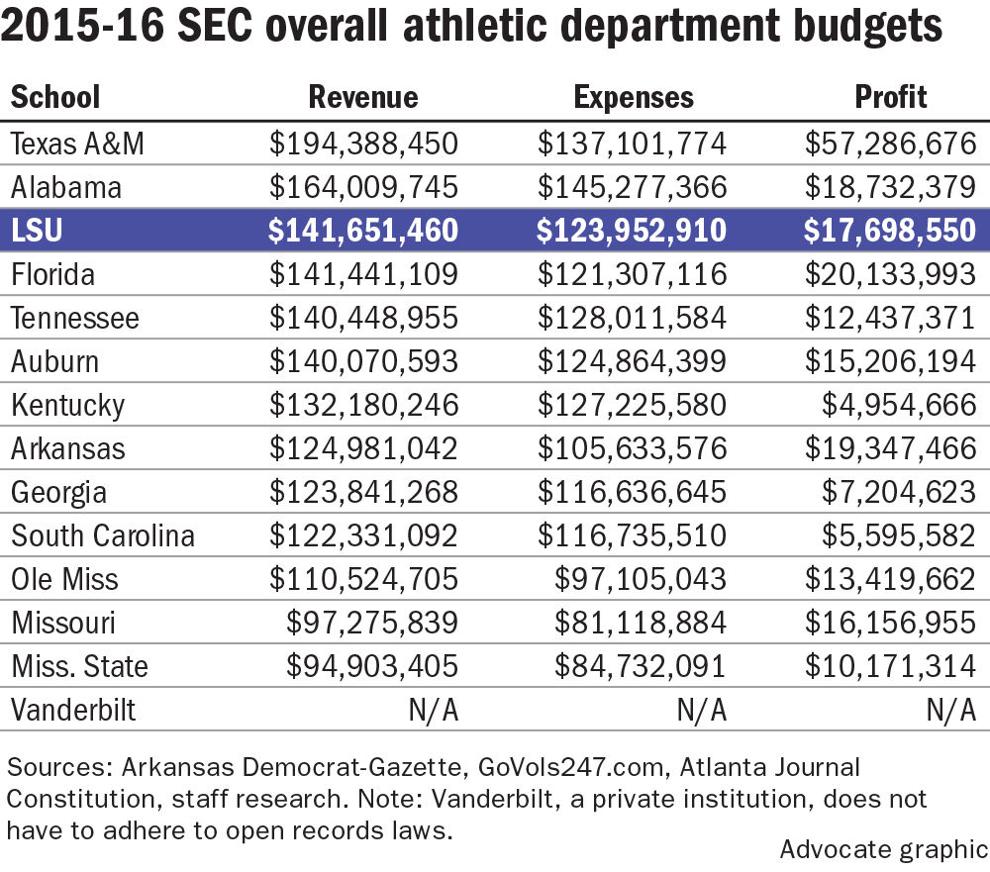 Most recently, Buffalo cut its baseball program in April, and Akron did away with baseball in 2015.
"We're in a day and age where tough decisions have to be made from a financial perspective," Prettyman said. "Power 5s have resources others might not have."
All that said, college baseball isn't going anywhere. In fact, the overall number of sanctioned NCAA baseball teams (295) has risen by 11 over the last decade, NCAA documents show.
The sport takes center stage this weekend. It gets a spotlight that'll shine on it through the College World Series in late June — despite those red figures financially. 
"I will tell you the fan base for baseball is so ardent and so strong," Prettyman said. "We continue to see that with growth in Omaha. It may be a niche, but it seems to be important to our society and culture.
"We serve 400,000 student athletes. Millions of fans care about those other sports. It's more than just about the money."