A giant map of Louisiana permanently hangs on the wall in the recruiting staff room at LSU's football operations building.
It is a constant reminder that defending home turf is the program's top recruiting priority.
Houston, of course, does not appear on that Louisiana state map. But as far as LSU is concerned, it's there in spirit. Because of the university's and state's connections to Houston — plus Texas' status as one of the nation's most fertile recruiting territories — Ed Orgeron's staff views it as an adopted city, just a short distance from the Louisiana border.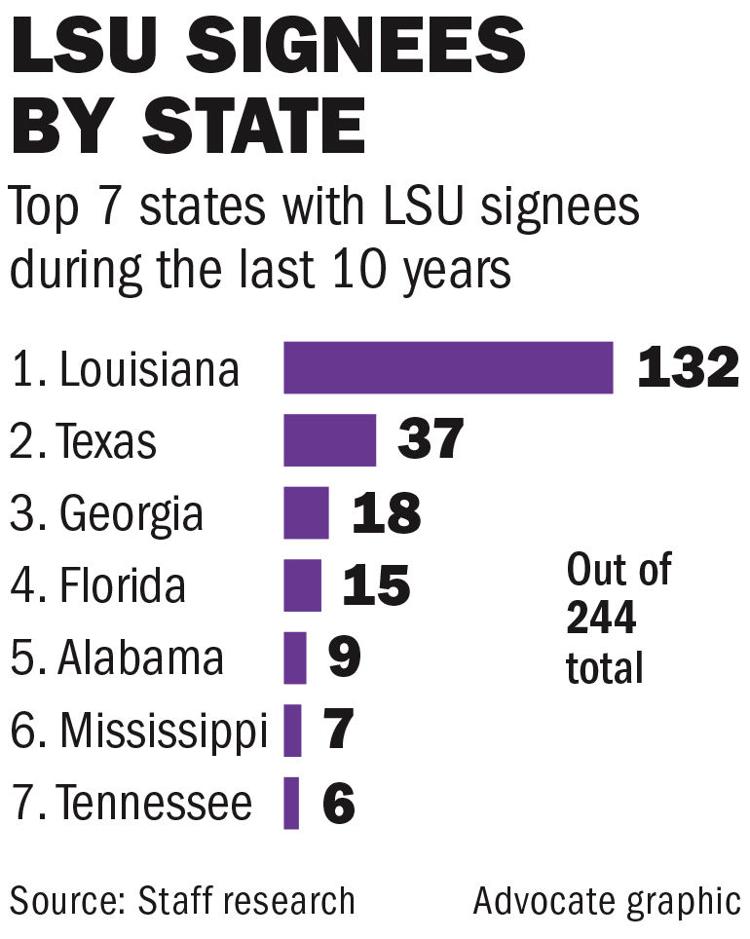 "The Houston area — we consider that in-state for us, actually. It's vital to what we're doing," said former LSU football general manager Austin Thomas, who left the program earlier this month.
"Houston is a very fertile area for us, because it has an absolutely massive alumni base for LSU. So there's a lot of LSU people over there, and then I still think you see the effects of Hurricane Katrina over there.
"So you look at guys on our team like (safety) Grant Delpit, who is actually from New Orleans and went to Houston because of the hurricane. I think that still has an effect. A lot of people left New Orleans and migrated that way, so there's just a lot of LSU flavor over there."
In turn, LSU's roster typically has a lot of Houston flavor. Among LSU's Houston-area signees from the past decade are four players (Michael Brockers, Danielle Hunter, Craig Loston and Russell Shepard) who made an NFL roster, plus multiple contributors (including Toby Weathersby, K'Lavon Chaisson, Corey Thompson, Eric Monroe and Austin Deculus) on the current squad.
Houston- and Dallas-area players make up the majority of the Tigers' recruiting haul from Texas, by far LSU's most important state outside Louisiana.
This is part of a series on recruiting in college football. It is based on a compilation of figures from Power 5 signing classes over the past…
Between 2008 and 2017, Louisiana players accounted for more than 54 percent of LSU's signees (132 of 244). Texas (37 signees, 15.2 percent) produced more than twice as many signees as out-of-state runners-up Georgia (18 signees, 7.4 percent) and Florida (15 signees, 6.1 percent).
Of the 37 Texans, 14 hailed from the greater Houston area. Another 14 signees came from the talent-rich Dallas/Fort Worth metroplex — including defensive backs Jamal Adams and Jalen Mills, who moved on to the NFL.
Of course, it helps significantly that both metro areas are within driving distance of the LSU campus.
Houston is barely more than 100 miles away from the Louisiana border and 270 miles from Baton Rouge, making for a manageable four- to five-hour drive between cities.
Dallas is a longer trip at 430 miles away, but it's still within a day's drive.
"I think 'drivability' is far and away the biggest thing," said Shea Dixon, a staff writer at 247Sports' LSU recruiting affiliate, Geaux247. "I think people think of states' borders as being walls. For instance, a lot of kids in south Mississippi or east Texas live closer to LSU than whatever other schools they might consider in their state, whether it's Ole Miss or Mississippi State or Baylor or whoever. So I think the fact that LSU is a four-hour drive from Houston, a seven-hour drive from Dallas, and sort of everything in that east Texas range fits into there, I think it's the biggest thing."
Proximity to Texas has obviously benefited LSU. But Texas is also prime recruiting area for dozens of other college football programs.
In the past 10 years, nearly 14 percent of all Power 5 signees (2,036 out of 14,793 players) came from of Texas, where the locals' investment in high school football is unrivaled.
Texas players accounted for huge chunks of the rosters at neighboring state schools — Oklahoma, Oklahoma State and LSU, to name a few — plus the majority of rosters at all five of the Power 5 programs in Texas.
Programs in Texas dominate the list of Power 5 schools that signed most of their prospects from in state. Baylor tops the national list, with 87 percent of its signees from Texas between 2008-17. Texas is second at 83 percent, Texas A&M third at 77 percent and TCU fourth at 73 percent and Texas Tech eighth at 65 percent.
Quarterback might be the marquee position for Texas because of the high-profile QBs who have come from the state, but the gigantic, football-crazy state is a proven talent incubator regardless of position.
Over the past decade, Texas produced more Power 5 signees than any other state at quarterback, running back, wide receiver, offensive line, defensive line, defensive back and kicker. Texas also ranked no lower than third in producing linebackers, tight ends and multi-talented prospects (designated as "athletes").
The state's massive size and resources devoted to football are leading reasons. On a per-capita basis, though, Southern states like Louisiana, Alabama and Georgia are comparable — if not superior — talent generators.
In fact, while the sheer number of signees and premium prospects might be greater from Texas, talent evaluators warn that the overall quality of Texas talent is no more concentrated than what's available in other fertile recruiting territories.
"Roughly on average, it works out to about 370 kids in the state of Texas alone, in every class, signing a letter of intent. That could be Group of Five, Power 5, could be FCS," said Tom Luginbill, ESPN's national recruiting director.
"But 370 kids in a single state? Consider how many kids that is and then the quote-unquote 'best players.' Let's just say there's 370 guys that signed in last year's class, hypothetically. You're probably only talking about 30 or 40 of those guys being the high-profile ones. Everybody else is some other kid."
That has created something of an issue in recent years for the Texas programs that are so dependent on in-state talent.
While traditional powers Texas and Texas A&M have been up and down for the past decade, underdogs like TCU and Baylor — for several years, anyway, before Art Briles' departure and the program's downfall — rose to prominence.
The increase in parity may have decreased the top-to-bottom quality of football being played by Texas programs, opening the door for outsiders like LSU to steal some of the state's blue-chip prospects.
"If you look at the current climate, where Texas and Texas A&M have not been that good in recent years, and certainly not at any level above where LSU's been at ... that's allowed LSU to get in there," Dixon said. "No dominant school in Texas is in there grabbing all the best players, and LSU and (Alabama) and some other schools have gone in and gotten some really good players."
Texas A&M's 2012 entry to the Southeastern Conference had an effect on the other 13 member programs. It has helped SEC teams gain more exposure within Texas, although it's still unclear what kind of long-term effect that will have on recruiting.
However, Billy Liucci, executive editor and co-owner of TexAgs.com, said many Texas prospects are intrigued by the SEC's reputation as the best, most physical conference in the nation.
That has already helped A&M — and it should continue to help other SEC programs, including LSU.
"Being around it day to day, I can tell you the majority of Texas kids are really enamored with the idea of playing football in the SEC — particularly defensive players, when the Big 12 puts so few into the NFL," Liucci said.
"If you look at LSU, you look at Alabama, you look around the conference, there's so many defensive players — especially in the (SEC) West — from the state of Texas. There is that draw in this state to play in the SEC. LSU's always benefited from it, and now A&M is absolutely on the right side of that. And on top of that, (the Aggies) get to offer that they're the only school in the state of Texas playing in that league."
The recent addition of former Florida State coach Jimbo Fisher could also accelerate A&M's recruiting efforts. The same goes for Texas, where Tom Herman's staff is assembling a monster signing class in his second recruiting cycle with the Longhorns.
Fisher's familiarity with southeastern recruiting strongholds — particularly in Louisiana, where he once served as LSU's offensive coordinator — might help the Aggies reach outside the Texas border with more frequency and effectiveness.
"I think their ability to go in and recruit the Deep South a little better, riding on the strength of being in the SEC, would be a turning point for this program," Liucci said. "That's why being able to go out and get a guy like Jimbo Fisher is such an incredible opportunity for them to be able to do that."
In fact, just as LSU has swiped top-tier prospects out of Texas, Orgeron's staff will have to guard against Fisher and the Aggies doing the same in Louisiana.
"If he comes in and gets one, two or three, and (Alabama coach Nick) Saban in a year like 2019 gets one, two or three, it's just chip, chip, chip, chip. You're chipping away at LSU's future success," said Mike Scarborough, publisher and recruiting analyst at TigerBait.com, the Rivals.com LSU affiliate.
"(Fisher) gets two, Saban gets two and LSU's getting just three or four of the top 10 players in the state. You can't have that, and that to me is a worry."
That's where the LSU staff's ability to identify and pursue Louisiana's top players will be put to the test. There is a direct correlation between the Tigers' all-time winning percentage and their rate of success at signing home-state premium talent.
Just behind Louisiana in terms of importance, however, are the other prime spots within the LSU footprint — as far east as the Florida panhandle, west through coastal Alabama and Mississippi, across Louisiana and into east and central Texas.
The landscape in Texas might change as new coaches at the power programs gain a foothold. But the state will remain a key recruiting territory for LSU's coaches.
If the Tigers can maintain their home-state-like relationship with the Houston area, in particular, that will continue to benefit LSU for years to come.
"A lot of people there follow LSU and are still involved in keeping up with LSU, particularly the football program. So that's kind of how we got to treating it as in-state, because the connection to the people there is just so strong," Thomas said.
"Really, there's nothing different that we do. We just want to continue to be thorough there and work that area and work the connections that we have in order to identify the top players that we want to come be part of our program."
LSU SIGNEES BY STATE BETWEEN 2008-2017
1. Louisiana 132 signees out of 244 total (54.1 percent)
2. Texas 37 signees (15.2 percent)
3. Georgia 18 signees (7.4 percent)
4. Florida 15 signees (6.1 percent)
5. Alabama 9 signees (3.7 percent)
6. Mississippi 7 signees (2.9 percent)
7. Tennessee 6 signees (2.5 percent)
TOP PERCENTAGES OF IN-STATE SIGNEES AMONG POWER FIVE PROGRAMS
2008-2017
(Power Five average 2008-17: 34.25 percent)
1. Baylor 86.89
2. Texas 82.97
3. Texas A&M 76.92
4. TCU 73.15
5. UCLA 67.42
6. USC 66.67
7. Miami 65.83
8. Texas Tech 64.63
9. Georgia 63.14
10. Cal 58.69
11. Florida 59.74
12. FSU 58.26
13. Mississippi State 57.38
14. Georgia Tech 55.67
15. LSU 54.10
DRIVING DISTANCES FROM HOUSTON
To Austin (Texas): 165 miles
To Baton Rouge (LSU): 272 miles
To College Station (Texas A&M): 96 miles
To Fayetteville (Arkansas): 535 miles
To Fort Worth (TCU): 262 miles
To Lubbock (Texas Tech): 526 miles
To Norman (Oklahoma): 428 miles
To Starkville (Mississippi State): 568 miles
To Stillwater (Oklahoma State): 495 miles
To Tuscaloosa (Alabama): 615 miles
To Waco (Baylor): 186 miles
-- Source: Google Maps