VENTRESS — The doctor handed Dwayne Queen his newborn child, and the father raised up his only son.
"Louisiana State University Tigers is your destination," Queen said in that room in Baton Rouge Woman's hospital 20 years ago, and he had faith his pronouncement would come to pass.
Faith is where Dwayne and Mary Sue Queen turned during their three-year struggle for pregnancy, and it faltered when their efforts stopped short of expensive medical procedures.
Mary Sue pooh-poohed a doctor's diagnosis that she was pregnant, and she didn't believe it until her body indeed started showing.
They named their son Patrick — after Dwayne's lifelong friend who died of leukemia. He was their "miracle baby," Mary Sue said. So why wouldn't they believe their football prayer would also be granted, although so many similar proclamations across Louisiana birthing centers are sure to have gone unanswered?
They had further basis for the lofty hope: Dwayne himself had been a star cornerback at Port Allen High, and he'd played a few seasons at Nicholls State in the early 1980s.
Mary Sue knew soon enough that her son was destined for something.
Once, when she was cooking, she noticed a glare of light going back and forth out of the corner of her eye. She walked into the dining room of their Ventress home, looked up, and saw 4-year-old Patrick hugging the chandelier.
A year later, Patrick figured out how to work his father's four-wheeler on the first try, and Mary Sue stood in the driveway hollering down the street: "Really? Slow! Down!"
A decade more, and neighbors began approaching Mary Sue at the grocery store: I saw Patrick pulling that sled. Y'all are gonna kill that kid.
Dwayne had been working out Patrick along the Mississippi River levee, having his teenage son lug a sled and a 25-pound weight up and down the grass embankment three times a week.
"That's too much," she told Dwayne.
But Patrick was on an almost inevitable path to Baton Rouge, using the same workouts that set Dwayne apart in his younger years. The sled pulling helped cut Patrick's 40-yard dash time to 4.4 seconds by his junior year at Livonia High, and it bound him with enough muscle to make him one of the most gifted athletes Pointe Coupee Parish had ever seen.
LSU defensive coordinator Dave Aranda visited the Queen home on a recruiting visit, Mary Sue said, and Patrick joked that "my traps (trapezius muscles) are getting so big, y'all are not gonna have a jersey to fit 'em."
Aranda laughed heartily.
A Queen prayer had met an LSU need.
The defensive guru was on the hunt for linebackers (LSU had more scholarship kickers than inside linebackers at the time), and he'd found one at a high school 30 miles away from Tiger Stadium that had never before had a football player offered a scholarship by LSU.
Those lean linebacker days at LSU are over: Former All-American Devin White won the program's first Butkus Award for nation's top linebacker last season, and the Tigers entered the 2019 season with four players named to the award's preseason watch list.
The 6-foot-1, 227-pound Queen was among them, and as No. 4 LSU (3-0) plays at Vanderbilt (0-2) at 11 a.m. Saturday, the 20-year-old junior continues to push for more playing time.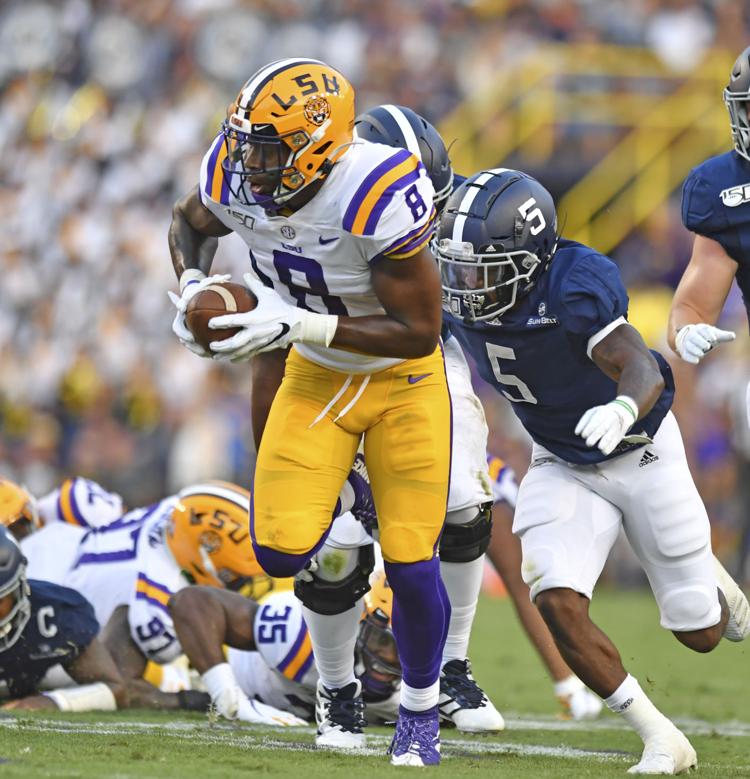 He's the middle linebacker in LSU's "Green Team" pass rush package, the player who forced a fumble in the season-opener against Georgia Southern and led a crucial goal line stand in the 45-38 win over then-No. 9 Texas.
"He's one of our best players on the team," Orgeron said.
'You knew he was gonna be big time'
Behind a diner counter inside an LA Express, where a steam table was stocked full of gravy-smothered pork chops, okra and sweet yams, a cook smiled wide when she heard the name "Patrick Queen."
"Oh, Pat?" she said, wearing a rhinestone cap that said "BOSS." "Of course I know Pat."
It's not more than a 10-minute walk from Livonia High to this truck stop on La. 190, and the two-sport high school star used to come in with his friends nearly every day for lunch and order fried chicken sandwiches or a greasy colossus called the "Bad Boy Burger."
This was one of the few public places that you'd see the guy people around here called "Pat" emerge from his shy shell. 
No, to most people, Pat wasn't much of a talker. The youngest of three sisters by at least nine years (his sisters were from his parents' previous marriages), he spent most of his time playing sports with older kids due to his advanced skill.
And it wasn't just football. Pat started playing varsity baseball in the eighth grade.
"He's a helluva baseball player," said Jude Lacombe, 19, who played in the outfield with Pat at Livonia. "He was just about as good as he was playing football."
Former Wildcats baseball coach Jason Lemoine remembered noticing Pat's speed and strength in his eighth grade P.E. class. The talent was apparent. But when Pat told Lemoine that he played baseball, Lemoine wanted to test Pat's knowledge of the game.
Lemoine grabbed a wiffle ball, handed Pat a plastic bat, and he started throwing pitches to the young athlete, testing his swing while the rest of the class watched.
After a few hits, Lemoine presented a baseball riddle: All right, we got a runner on third base with less than two outs. What do you do?
Lemoine wound up to throw, and Pat squared around to bunt.
"Aw, we got us a baseball player," Lemoine said.
Pat had been knocking base hits to outfield gaps since he was 8 — so much to the point where his parents had to carry his birth certificate to out-of-town tournaments.
He was Livonia's courtesy runner for catchers and pitchers as an eighth grader, and he developed into a leadoff hitter and left fielder for the Wildcats as a senior, when he batted about .380.
South Florida and Central Florida called to inquire whether Pat was interested in playing college baseball, Lemoine said, but once LSU offered him a scholarship in football, there was little talk of going anywhere else.
Pat once talked about perhaps trying to walk on to the Tigers baseball team, Lemoine said, but as football consumed his time, the idea faded. When two-sport star Maurice Hampton arrived with LSU's 2019 recruiting class, Pat said he told Hampton he'd toss with him if he ever needed someone.
That game of catch hasn't happened yet, Pat said, but "it's a big possibility it could happen."
No, Pat was groomed to be the next star football player at Livonia — first as a special teams player under former Wildcats coach David Brewerton as a freshman in 2013, then as the team's H-back under Brewerton's successor Guy Mistretta in 2014.
The H-back was the stepping stone to running back in Livonia's spread offense, a waiting game that future Division I players Malcolm Dedrick (Southeastern Louisiana) and Russell Farris (Louisiana Tech) also played.
Essentially, the H-back (a tight end/fullback hybrid) opened up the offense by drawing attention from the defense by blocking or catching and running the football.
Marc Brown, Livonia's offensive coordinator in 2014, said Pat got more attention as an H-back than ever before — a key piece in an offense that helped the Wildcats win their first Class 3A state championship 43-14 over Amite.
"You knew that he was gonna be big time," said Brown, now Livonia's head coach. "We knew that he was a college football player. From Day 1, he always looked the part."
The only question that remained was what part would Pat play?
Even when he'd go on summer football camp trips with his father, most colleges didn't know where they'd play him.
Tennessee recruited Pat as a running back, Ole Miss as a linebacker and LSU considered him a defensive back until he grew into his full frame his junior year.
Indeed, running back was an option: Pat was an all-state selection after rushing for 1,487 yards and 10 touchdowns as a senior.
Dwayne was concerned about the wear and tear on high-level running backs and the lack of respect their contracts get in the NFL.
But when former LSU coach Les Miles offered Pat a scholarship in February 2016, the specific position hardly mattered.
Remember the Queen family's prayer? He was on his way to Baton Rouge.
"It's really like a dream come true for us, too," Lacombe said. "Just to see somebody from my hometown out there."
'I'm going to fight'
When Devin White left early for the NFL draft, Queen assumed he would become LSU's next starting Rover linebacker.
Queen was White's backup in 2018. When controversy burned surrounding White's first-half suspension against Alabama due to a targeting penalty, it was Queen who had to step into the spotlight.
Queen recorded a career-high nine tackles in that game, which Alabama led 16-0 when White returned for the second half, and the performance was enough to convince Aranda to start Queen at outside linebacker in the final three games of the season.
Spring football began, and Orgeron called Queen into his office.
Orgeron said they were moving Michael Divinity to inside linebacker and there'd be a position battle between Queen, returning starter Jacob Phillips and sophomore Damone Clark for the remaining spot.
In the era of the NCAA transfer portal, Orgeron said, it was a juncture where several college players now choose to seek playing time at another school.
"This guy came into my office and said, 'What can I do to get better?' " Orgeron said Monday. "'I'm going to play. I'm going to fight this thing out.' "
Queen confirmed Orgeron's story later that day.
"You're still upset because you feel like that should be for you," Queen said. "But at the end of the day, it's all a competitive thing and a brotherly thing."
How could Queen get better?
Playing the run, Orgeron told him.
So Queen spent his summer studying offensive tendencies on film and attacking blocking dummies for 15 minutes on Mondays and Thursdays, like those sled pulls on the Mississippi River levee back home.
Three games into the 2019 season, Queen feels he is better, and although he has yet to start in a game, he's LSU's fifth-leading tackler with 12 total tackles.
One of those tackles came on what Lacombe said is the biggest play of Queen's life so far.
Texas went for it on fourth-and-goal at the LSU 1 in a top 10 matchup that would eventually be decided by a single score.
Longhorns quarterback Sam Ehlinger, who had 18 rushing touchdowns in 2018, took a direct snap sweep to the right side. Queen saw the Texas center Zach Shackelford crash down on LSU nose tackle Tyler Shelvin, and Queen rushed into the backfield before Shackelford could reach him.
Queen plowed into Ehlinger at the LSU 2 to force the turnover on downs, and he leaped into the air and pounded his chest.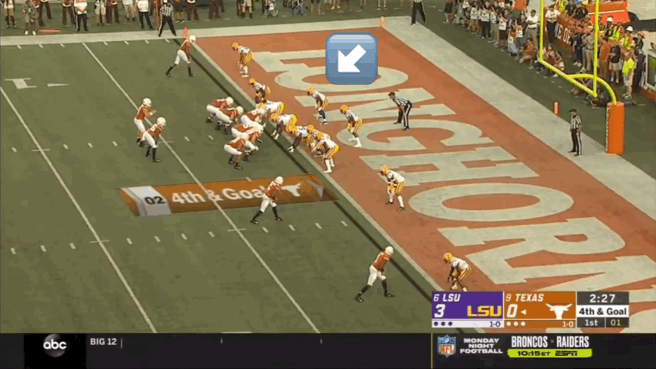 "It's too fulfilling," Queen said. "You dream of making plays like that."
Perhaps Queen will have the opportunity to make even more.
Thursday evening, Orgeron said that Divinity will move back outside to fill in for injured pass rusher K'Lavon Chaisson — a move that "could be a permanent deal" considering LSU's struggles in the pass rush.
There's plenty of depth behind Divinity, including the player who was dedicated to the Tigers on the day he was born.
"I feel like I could be that guy," Queen said.