LSU's depth problem on the offensive side of the ball has sparked a position move.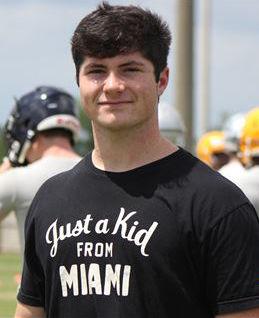 Freshman Aaron Moffitt, the former Catholic High School standout who signed with the Tigers as a defensive end, is now a tight end, coach Ed Orgeron revealed Wednesday.
Moffitt, a 6-foot-2, 266-pounder, is expected to help shore up depth issues on an LSU offensive front that took another hit recently. Donavaughn Campbell, a sophomore competing for the starting right guard position, has missed several days of camp after what Orgeron says was a "big collision" with defensive line transfer Breiden Fehoko last week in practice.
The coach expects Campbell to return in the "next couple of days," but his temporary loss drops LSU's number of healthy scholarship offensive linemen to eight.
Center Will Clapp and right tackle Toby Weathersby remain out with what Orgeron called "regular camp injuries." They've at least missed the past three practices and part of Saturday's first camp scrimmage.
"I think they should be back very soon," Orgeron said of the two projected starters.
Moffitt, the son of LSU strength coach Tommy Moffitt, played both tight end and defensive end at Catholic, but his specialty was on the defensive line. He was ranked as high as the fourth-best defensive end in Louisiana's 2017 class.
"He's tough, good blocker," Orgeron said. "We originally thought he could play defensive end or fullback for us. That's what he was originally recruited here. We're deep on the D-line and thin on offense. Wanted to get some blockers over there."
The offensive line is certainly thin. During Wednesday's practice, the starting group included two true freshmen: right guard Ed Ingram and right tackle Austin Deculus. In positive news, senior K.J. Malone, who missed Saturday's scrimmage with an unknown injury, returned to drills Wednesday at left tackle.
"We are fine," running back Derrius Guice tweeted Wednesday night. "No worries."
Not seeing the video below? Click here.
August in south Louisiana is supposed to be thick with football practices and humidity and a…
Davis leading at returner
Sophomore receiver Drake Davis, who's originally from Baton Rouge, is receiving the majority of the snaps at kick and punt return, but a host of others are competing, Orgeron said.
Redshirt sophomore receiver Derrick Dillon, junior cornerback Donte Jackson and, eventually, freshman running back Clyde Edwards-Helaire have all seen time returning kicks. Edwards-Helaire, was held out of practice the past three days after suffering what Orgeron termed a "hard hit" in Saturday's scrimmage.
"Drake Davis has been doing a lot of it," Orgeron said about the return game. "Derrick Dillon is doing some. Donte Jackson is doing some. Those guys are doing a good job. When Clyde Edwards-Helaire is healthy, we're going to put them back there. He had several great kickoff returns against our first unit (last week). He busted one to the 40-yard line. We're going to give him a good shot."
The kickoff duties aren't solidified either. Walk-on Jack Gonsoulin and redshirt freshman Connor Culp are "neck-and-neck" for the field goal duties, and Gonsoulin, Culp and senior Cameron Gamble are competing to be the kickoff specialist.
Secondary watch
Two freshmen are seeing first-string snaps in the secondary.
Freshman Grant Delpit is receiving starting snaps as senior Ed Paris misses time with a leg injury, Orgeron said, and Kary Vincent is the Tigers' potential No. 1 at nickelback.
Paris was "kicked in the leg" at practice and is temporarily out, thrusting in Delpit, who many expect to see starting time anyhow. Vincent is battling Xavier Lewis at the nickel position.
Abraham Wallace, a walk-on junior from Dunham School, is no longer competing at the nickel position. Wallace announced Wednesday that he was leaving the team.
In other injury news, LSU running back Lanard Fournette has not practiced "for a while," Orgeron said, because of a leg injury.
New WR signee 'showed out'
Justin Jefferson, LSU's newly signed receiver from Destrehan, is already making waves in practice, Orgeron said.
"Very smooth, great route runner," he said. "Catching the ball well. He's a good athlete. It doesn't take long in camp to see the new guy who can really play because they're going against elite talent. He's showed out already."
Jefferson joined the team over the past few days as a late signee, giving LSU is allotment of 85 scholarship players.