Take a look at the spacing of Mike Leach's offensive linemen, and you'll know part of why the Mississippi State coach's offenses are so successful.
Normally, there may be a foot or two of space between each lineman.
In Leach's pass-happy "Air Raid" offense, that space extends to two or three feet.
Why is that important?
Ask one of his former linemen, Louis Vasquez, an All-Big 12 selection at left guard when he played for Leach at Texas Tech from 2005-08.
If linemen space widely, so do defenders. The more space, the farther away defenders are from disrupting the quarterback.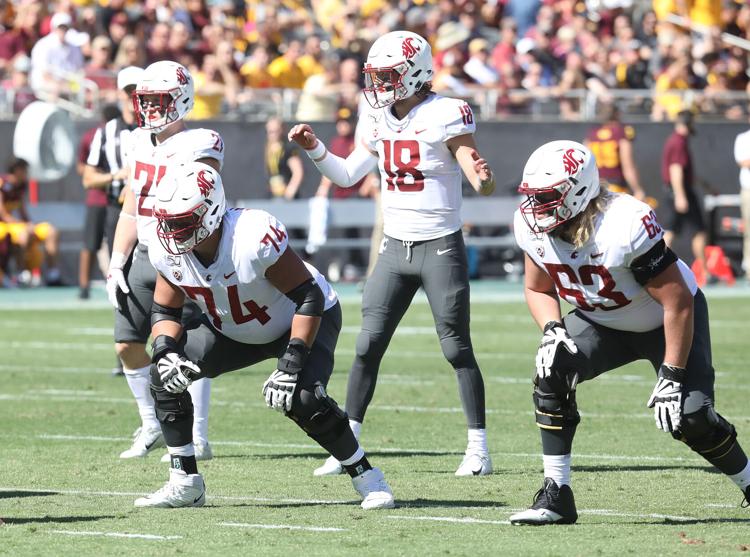 The numbers validate the philosophy: In Leach's final two seasons at Washington State, the Cougars ranked within the top 30 in fewest sacks allowed despite leading the nation in pass attempts in both years.
Such a trend could spoil LSU's season opener Saturday, if it continues.
LSU coach Ed Orgeron has said all summer long that defensive coordinator Bo Pelini's 4-3 defense is more built to attack, more equipped to disrupt than in years past. The plan for Saturday's game places the pass rush at center stage.
"In order for us to beat Mississippi State," Orgeron said Monday, "we're going to have to put some pressure on the quarterback and find ways to do that."
Leach's innovative offense changed college football when he and his mentor, Hal Mumme, introduced the Air Raid to the Southeastern Conference when Mumme became Kentucky's head coach in 1997.
Leach helped build the offense as Mumme's offensive coordinator at Iowa Wesleyan and Valdosta State, and their record-breaking Kentucky offenses confounded SEC defenses and vaulted former quarterback Tim Couch to the NFL's No. 1 pick in the 1999 draft.
The system remains largely unchanged, and Leach has returned to the SEC after building a once-floundering Washington State program into a consistent winner in eight seasons.
You know of Leach's former quarterbacks: Couch, Josh Heupel, Kliff Kingsbury, Graham Harrell, Gardner Minshew — dazzling passers who either made a run in the NFL, are coaching today, or both.
But 18 offensive linemen also were named either first- or second-team all-conference in Leach's tenures at Texas Tech and Washington State. Simply put: if a quarterback is going to throw for 5,000 yards in a given season, his jersey's got to be clean.
Which brings us back to spacing.
Yes, Vasquez lined up as a left guard when he played for Leach. But when he dropped back in pass protection, he was essentially another offensive tackle. So were the other four linemen.
Imagine a play: Snap the ball, and you're looking at five offensive linemen spread out almost hash mark to hash mark, taking on defenders in wide open space.
"Everyone's on an island," said Vasquez, a Super Bowl 50 champion with the Denver Broncos who now lives in San Antonio.
Defensive minds have pondered the same questions over the years: Where's the best point of attack? Is it from the outside? The inside? How many extra blitzers do I need to send?
Orgeron's stockpile of analysts have been studying tape of Leach's offenses since the coronavirus pandemic canceled spring football. Orgeron told reporters Monday that Leach's wide offensive line splits make it harder to get to the passer from the outside.
"It could open up the inside a little bit," Orgeron said, "but the quarterback gets rid of the ball so fast."
When heavy blitzes are sent, a well-timed screen can be devastating. Then the run game, Orgeron said, keeps the defense honest. He said he's gained respect for Mississippi State running back Kylin Hill, a first-team preseason All-SEC selection who ranked third in the SEC in yards rushing (1,350) in 2019.
Pelini, in his first year back as LSU's defensive play-caller, is all too familiar with what problems a Leach-run offense can cause. The two met as head coaches twice in the Big 12. Leach's 2008 Texas Tech team, arguably his best in Lubbock, beat Pelini's Nebraska 37-31 in overtime, and the Cornhuskers were upset 31-10 in Lincoln the following season.
Pelini's pass rush had contrasting success: no sacks in 2008, five in 2009.
Vasquez, who played in the 2008 game, remembers Nebraska mostly rushing with its front four, including star defensive tackle Ndamukong Suh. Nebraska, like most opponents, chose to play with more defensive backs in nickel and dime packages in an attempt to neutralize the passing game.
Ole Miss provoked the most trouble that season, Vasquez said, when Texas Tech lost to the Rebels 47-34 in the 2009 Cotton Bowl. Ole Miss forced two sacks and two interceptions and blitzed "from all over the field." Nickel safeties off the edge. Linebackers up the middle.
"Any which way they could bring it, they brought it," Vasquez said.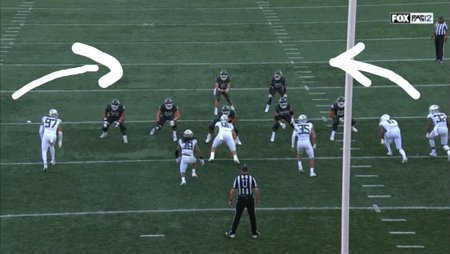 At such points, wide offensive line splits can become a disadvantage. By widening the field, an offensive lineman must also widen his vision. If the linemen can't keep track of who is blitzing or where defenders are coming from, they can become overwhelmed.
"You can't let the game speed up on you," Vasquez said. "You start letting the game speed up on you as an offensive lineman, you're as good as dead in the water."
Another diverse array of blitz packages may await Leach in Baton Rouge.
Pelini's personnel at LSU gives him more speed and quickness to blitz a Leach offense than he had at his disposal in Nebraska, though the Tigers pass rush is mostly young and unproven.
Five of LSU's top eight sack leaders in 2019 are in the NFL. Senior safety JaCoby Stevens (five sacks) and junior linebacker Damone Clark (3½) are Pelini's most experienced pass rushers, and former defensive end Glen Logan (1½) is now one of two starting defensive tackles.
Most of LSU's pass rush on the defensive line will be supplied at weak-side defensive end, where former outside linebacker Andre Anthony (one sack in 2019) will start against Mississippi State. Orgeron said that backup BJ Ojulari, a true freshman, will get plenty of snaps and is "probably our best pass rusher right now."
Jabril Cox, an FCS All-American transfer who had 14 career sacks at North Dakota State, also will be among the new pieces that can be sent careening into offensive backfields.
Combined, they'll likely be tasked with pressuring Mississippi State quarterback K.J. Costello — a Stanford transfer whom Leach said Monday he expects to start.
"Obviously coach Leach has done a great job wherever he's at," Orgeron said. "He presents a challenge. I think our guys have a pretty good handle of what they're going to do on offense."