TJ Finley signed his scholarship paperwork and received the phone call that showed LSU's newest quarterback his day was just beginning.
The call, made on the first day of December's early signing period, was from LSU football operations staff member Sam Nader. 
"I'm very excited that everything is done and final," Nader told the Finley family. "I want to let you know we've got an appointment set up for TJ to do his physical to be ready for practice this afternoon."
Finley's mother, Shannon, looked quizzically at her son: Practice this afternoon?
She'd known it was her son's intention to enroll in college a semester early. He started taking high school classes in junior high so he could eventually practice with his college team in the spring, just like the quarterbacks he'd watched growing up.
But Finley intended to move even quicker than that.
"OK," she told Nader. "We're on our way."
Finley signed at 8:30 a.m. at Ponchatoula High School, and the family arrived at the LSU football operations building at 11:15 a.m.
LSU staffers conducted his physical exam. Assigned him a locker. Even put together a brand-new helmet for Finley in front of his family.
When practice began at 5:25 p.m., Finley was fully dressed out and ran through drills with the rest of the Tigers quarterbacks.
And so, TJ Finley became the first player to sign with LSU and practice with the Tigers in the same day.
"How about that?" LSU coach Ed Orgeron said.
Sign with #LSU in the morning, practice in the afternoon.TJ Finley (11) dresses out with the quarterbacks. pic.twitter.com/l3MY5JUxaO

— Brooks Kubena (@BKubena) December 18, 2019
Welcome to what's called the "mid-year enrollee," the newest trend that's sweeping across college football, which has recruits bolting high school even earlier to practice with their new programs during the bowl season.
Georgia offensive lineman Cade Mays practiced with the Bulldogs ahead of the 2018 Rose Bowl. LSU cornerback Derek Stingley practiced before the 2019 Fiesta Bowl. Michigan will have six mid-year enrollees practice ahead of this year's Citrus Bowl.
In addition to Finley, Orgeron said he expects up to five more signees to join the program's practices if No. 1 LSU (13-0) extends its season with a win over No. 4 Oklahoma (12-1) in Saturday's Peach Bowl semifinal.
Hardly a decade ago, high school players enrolling early at all was rare. That changed by 2016, when all but four teams in Power Five conferences had at least one incoming freshman enrolled and practicing in the spring, according to the Associated Press, a total of more than 250 players.
Now college programs and recruits are moving even quicker to get an even further head start.
"This is the new early enrollee," said Barton Simmons, 247Sports' national recruiting reporter.
How is this legal?
Schools and players are taking advantage of NCAA bylaw 14.2.1.1, which states "a student-athlete may practice during the official vacation period immediately preceding initial enrollment," if the player has been accepted by the university and meets the NCAA's standard eligibility requirements.
No, that doesn't mean the mid-year enrollee can play in his team's bowl game. LSU defensive coordinator Dave Aranda joked last year that having Stingley available for the Fiesta Bowl would have been a nice Christmas gift, since there were several injuries in the secondary.
Mid-year enrollees can only practice with their teams on campus, Orgeron said, and they cannot travel with the team to their bowl sites.
But every practice is invaluable in a college career, Simmons said. It's another opportunity to get exposed to complicated systems, receive expert coaching and advance at a quicker rate.
"As many times as you can get in our meeting," Orgeron said, "as many times as you can get an installation, learning the plays and seeing the speed of practice, it's important."
LSU coaches and players have often said Stingley's mid-year enrollment was vital in his development, a head start that helped the cornerback become a first-team AP All-American as a true freshman.
"It would have helped me a lot," LSU quarterback Joe Burrow said. "I think it's big. You just get the freshman jitters out a lot earlier and it took me a long time to get those out, and I think we'll be able to get some reps in the spring, get some reps in fall camp and get those out really early."
Burrow said he didn't enroll mid-year because he played basketball at Athens High in Ohio — a decision that's relatable to past eras.
ESPN analyst Todd Blackledge, a Penn State quarterback from 1980-1983, said high school players leaving for college early at all "was unheard of" in his time.
"A guy who joins even before spring practice and practices during the bowl time?" Blackledge said. "That's wild to me."
Who was the first mid-year enrollee?
It's difficult to determine.
Oklahoma quarterback Jalen Hurts claims he started the trend when he enrolled and practiced early with Alabama in January 2016. He was the scout team quarterback, emulating Clemson's Deshaun Watson before the Crimson Tide's 45-40 victory in the national championship game.
He remembered sharpening his skills against Alabama defenders like linebackers Reuben Foster and Reggie Ragland and defensive backs Eddie Jackson and Cyrus Jones.
"That's how I earned my keep," Hurts said Tuesday at a Peach Bowl media availability. "I earned their respect and that's probably half the reason why I started as a freshman (the following year)."
Finley practiced with LSU three times before the team left for Atlanta, and he'll have the opportunity to make a similar impression if the Tigers' season does indeed continue.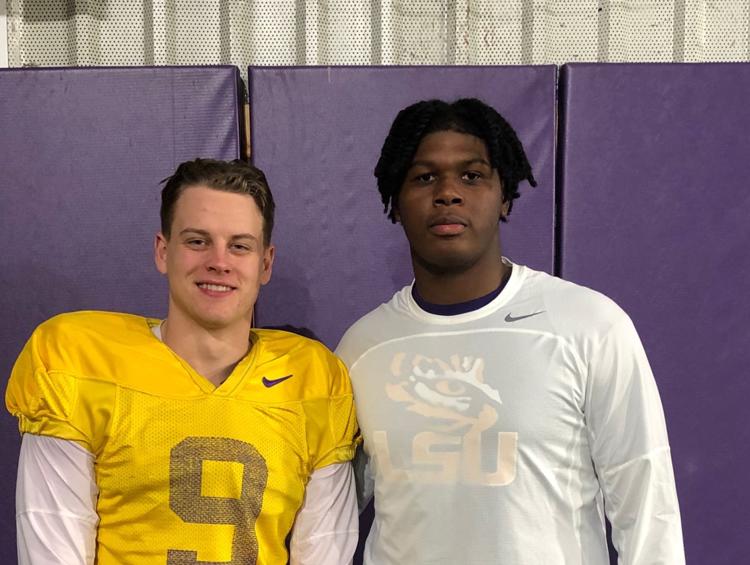 For now, Finley waits at his family's Ponchatoula home, unable yet to study game film or LSU playbooks. Instead, he spends his time watching recordings of LSU's past games.
The Finleys are throwing him a graduation party Saturday night, celebrating both LSU's first College Football Playoff appearance and the quarterback who has already gotten his first taste of what it's like to play for the Tigers.
Finley is eager for his next practice, his mother said.
And thanks to a new trend, he won't wait long.