Travonte Valentine is supposed to be manning the center of LSU's defense right now, a 350-pound seasoned veteran who can shove back offensive linemen and gobble up running backs.
He's supposed to be here — not completely out of football in what would have been his senior season.
Trey Lealaimatafao should be here, too, wreaking havoc as a rotational defensive end. Instead, he's serving a six-year jail sentence for robbery and carjacking.
Coaches counted on Clifton Garrett to be here, a five-star linebacker signee from Illinois who was expected to join the lineage of All-American middle linebackers from LSU. He's now living back home, not a part of any football team.
The list goes on.
Turns out LSU running back Derrius Guice will play against Syracuse.
Offensive linemen Maea Teuhema and George Brown, receivers Trey Quinn and Tyron Johnson — they're all LSU signees who, for various reasons, are no longer with the program.
Their absence is felt in numbers, a battle Ed Orgeron is fighting during his maiden season as LSU's head football coach.
A theme in spring practice was the lack of receivers (seven) and inside linebackers (two). The overarching buzz during preseason camp centered on the offensive line's depth (at one point, eight healthy scholarship big boys).
And, now, heading into 25th-ranked LSU's home game against Syracuse, a new depth issue has emerged: defensive line. At one point during the 37-7 loss against Mississippi State, the Tigers were down to four healthy and eligible defensive linemen for their three line positions.
Starters Christian LaCouture and Greg Gilmore played all but one series.
"We're thin," LaCouture said earlier this week. "Can't make an excuse for it. It's there. Right now, we don't have a lot of guys, and we understand that. It's the predicament we're in. We've got to roll with it."
But why is LSU in such a predicament?
An in-depth dive into the program's recruiting past produces three themes: inadequate roster management (a lack of signees at key positions, sometimes because prospects chose other schools), poor development or misevaluations (highly rated players who never panned out and some who still reside on the team in reserve roles) and attrition (players transferring or dismissals).
All three reasons combine to create LSU's current situation: an upper-echelon Southeastern Conference team with serious depth problems at defensive line, offensive line, inside linebacker and receiver.

A starting point for the issues is the 2014 and 2015 signing classes. The numbers are stunning.
LSU signed a combined 27 players in those two classes who play offensive line, defensive line, inside linebacker and receiver. Eleven of them remain on the team.
No position has seen more attrition than the lines. The Tigers signed a combined 15 defensive and offensive linemen in the 2014-15 classes, including nose tackle Valentine and defensive tackle Lealaimatafao. Six of them remain on the team.
"We need to get more linemen on this football team. We need to get bigger, stronger, faster, and we need to have more depth," Orgeron said earlier this week. "That's why we're going to have to go into the junior college ranks, get a couple offensive linemen, a couple defensive linemen."
Can't see video below below? Click here.
Those numbers tell only part of the story. They do not necessarily explain the roster management problems, but this does: LSU did not sign a defensive tackle, nose tackle or inside linebacker in the 2015 class — a complete abandonment of what many believe separates SEC programs from all others across the nation: the defensive front seven.
"Not signing a defensive tackle at all in 2015 when you play in the SEC, that's going to come back to bite you," said Sonny Shipp, recruiting reporter for Geaux247, the 247Sports site covering LSU.
All of it has resulted in an absence of quality depth at each of those four positions.
At many of those spots, true freshmen sit immediately behind starters, a reason for a few jaw-dropping notes this year: a nation-leading 20 freshmen have played; a record four rookies started in Game 1; and the school had its first true freshman start a season opener on the offensive line.
Each position has its own issues.
Orgeron laments that he cannot play four receivers at one time because the depth isn't there to allow it. The depth, at least, is not seasoned enough. Sophomore backup receivers Stephen Sullivan and Drake Davis, for instance, have said they know only one of the three receiver positions.
Three other wideouts are true freshmen and a fourth is a rookie who was moved from safety this camp.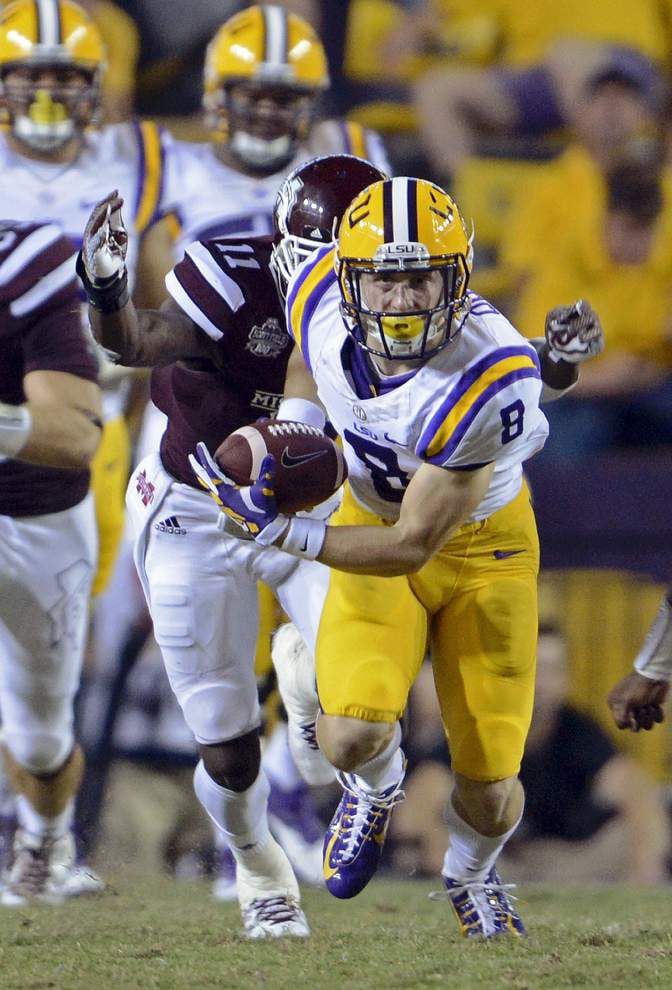 Meanwhile, six receivers of the nine who signed with LSU in 2014 and 2015 are no longer with the program. Two of the transfers, Johnson and Quinn, are excelling elsewhere. Quinn leads SMU with 265 yards receiving, and Johnson has five catches and a score for Oklahoma State.
"You weren't getting them the ball," Shipp said about the departures.
The offensive line is in a similar position.
Five linemen transferred over the offseason, including projected starting right guard Teuhema. That list excludes George Brown, a 2015 signee who left before last season and now plays at Miami.
At some practices, LSU offensive line coach Jeff Grimes had so few scholarship bodies that he could not create two full five-man lines. In all, LSU has 11 scholarship linemen. That's about four or five fewer than what most programs like to keep, said Mike Scarborough, publisher of TigerBait.com, the Rivals.com site covering LSU.
Scarborough described the situation as LSU being down one or, even, two offensive line classes. Making it up is not easy, Shipp said. In 2014, the school signed just two offensive linemen, before picking up a late junior college signee who never contributed.
"You only have so many spots. By signing three in 2014, it's hard to sign seven in 2015," he said. "It's hard to convince seven to sign. They're worried about playing time."
The numbers have forced the Tigers to start two true freshmen at right guard, Ed Ingram in Games 2 and 3 and Saahdiq Charles in Game 1. The second-string line includes two true freshmen and two redshirt freshmen.
The first time Danny Etling threw a football after his back surgery, he knew something wasn'…
Toby Weathersby is fine with running.
Attrition is the primary issue for the line, but some question development and misevaluation on the recruiting trail.
"What does it say about the others who have been in the program that Ingram and Charles blow past them for starting jobs?" Scarborough asked.
The woes on the front seven are less about attrition and more about recruiting misses that, potentially, led to low signing numbers.
From those 2014 and 2015 signing classes, the school signed only a combined nine defensive linemen and inside linebackers (only four of which remain), striking out with several highly touted prospects, many of them from outside of the state, including DT Daylon Mack (Texas A&M) and LB Leo Lewis (Mississippi State).
The defensive tackle class in Louisiana in 2015 is described by Shipp as "very, very thin," and the state is historically poor in producing linebackers. In fact, in 2015 and 2016 combined, LSU offered one in-state inside linebacker a scholarship: Michael Divinity, who now plays outside linebacker.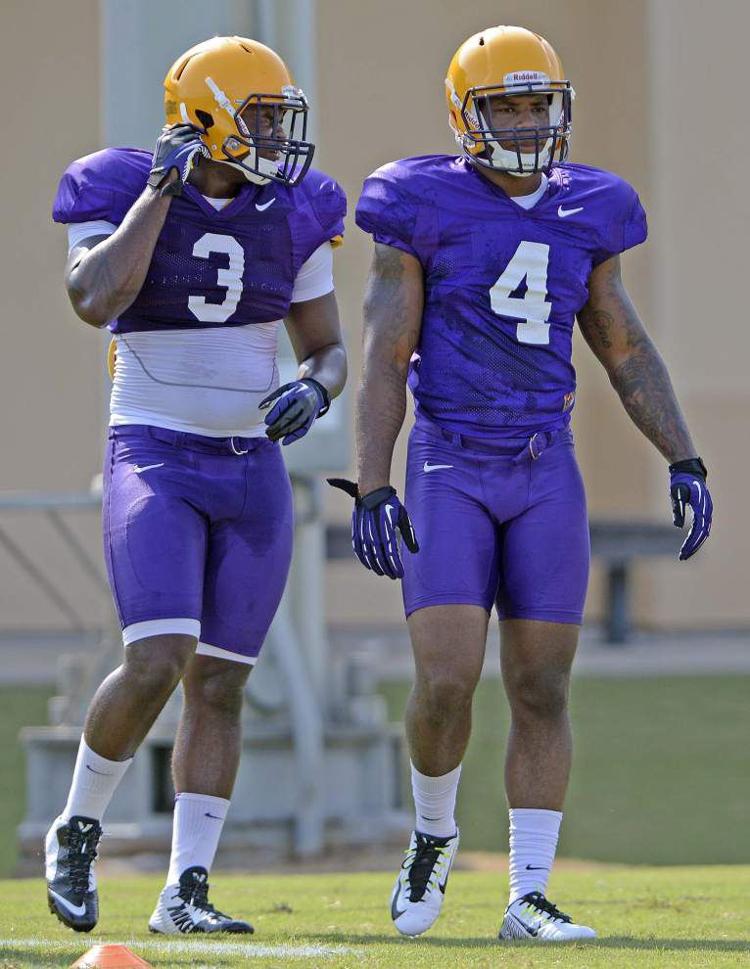 From 2013-2016, LSU offered scholarships to 53 linebackers who live outside of Louisiana. Only one, Garrett in 2014, signed with the program. He transferred to Arizona Western College, a junior college, after spending one year in Baton Rouge and then failed to qualify academically at the next level.
His bust was a blow.
"They kind of banked on, 'Hey, we got this five-star. Maybe we don't necessarily have to worry about the numbers at that position,'" Shipp said.
"LSU's only been able to recruit the state of Louisiana real well, and if the state isn't producing those positions for multiple years, that hurts LSU," Scarborough said. "The DBU thing is great, and it's feeding itself and Corey Raymond does a good job with it, but is there anybody on the staff that can go to Missouri and recruit a Rivals 100 nose guard? If Ohio State, Michigan and Alabama are trying to recruit the kid as feverishly as LSU, can they get him?"
LSU's two rotational players at inside linebacker are freshmen: Tyler Taylor and Jacob Phillips — a pair of top-10 prospects Shipp said is a giant step forward in mending the depth there.
LSU is the fifth most valuable college football team in the country, according to a report b…
Many recruiting experts in the state still point to the coaching turnover on the defensive side of the ball after the 2014 season for the front seven recruiting struggles. Defensive coordinator John Chavis, to Texas A&M, and defensive line coach Brick Haley, to Texas, left five weeks before the 2015 signing day. Orgeron joined the program around that time in January 2015, replacing Haley as the D-line coach.
He now has the task of restocking this team, something he began to do upon his arrival two years ago. He signed edge rusher Arden Key, for instance, but he failed to land some Louisiana guys this past year, players who could have bolstered the defensive front. One stands out, said Scarborough: junior college end Isaiah Buggs, now a rotational player at Alabama.
Fighting off Nick Saban and the Crimson Tide is essential to fixing LSU's depth problems, specifically on the lines.
Where is that fix?
LSU has six offensive and defensive linemen committed in the 2018 class, but Orgeron said he'll turn to the junior college ranks for a potential plug-and-play player at both lines for next season. He'll lose, at least, senior left tackle KJ Malone. Center Will Clapp and right tackle Toby Weathersby are draft-eligible players.
Recruiting experts say the top junior college offensive tackle on LSU's radar is Badara Traore, a 6-foot-8, 315-pounder originally from the Bahamas who attends ASA College in New York City.
On defense, Orgeron has turned to college football's quasi-waiver wire, landing Texas Tech transfer Breiden Fehoko, a potential starter at end or nose tackle next season. The Tigers lose three of their top five defensive linemen: fifth-year seniors Greg Gilmore, LaCouture and Frank Herron.
"We've got to make sure to get the right guys to come in here, make sure that we get the guys to come in who can play ball," LaCouture said. "Coach O touched on it, going to JUCO ranks and get a guy who can play immediately and get some young studs who can play some ball."
The Advocate's experts have made their picks for LSU vs. Syracuse on Saturday night in Tiger…
---
WHY SO THIN?
LSU is most thin at four positions: defensive and offensive lines, inside linebackers and receiver. Why? Attrition and development are behind the woes. The results of the 2014 and 2015 signing classes — signees would be seniors and juniors or redshirt juniors and redshirt sophomore now — explain some of the issues. 
After a brutal, 37-7 defeat at the hands of Mississippi State, here is where experts from ar…
DEFENSIVE LINEMEN
Signees in bold are those still on the team
 Class 

 Signee

Position rank

 Reason left

 What's he doing now

 2014

 Davon Godchaux

 10th

 NFL

 Rotational player with Dolphins

 Travonte Valentine

 3rd

 Dismissed

 Uncertain but not with a team

 Sione Teuhema

 19th

 Transferred

 An All-conference player at SLU

 Trey Lealaimatafao

 34th

 Dismissed

 Serving a 6-year prison sentence

 Deondre Clark

 11th

 ---

 Reserve who's played sparingly

 2015 

 Isaiah Washington

 22nd

 Transferred

 Starting for Miss. Gulf Coast CC

 Arden Key

 4th

 ---

 Starter, sack record-holder
INSIDE LINEBACKERS
 2014

 Clifton Garrett

 2nd

 Transferred

 Signed with UAB but didn't qualify

 Donnie Alexander

 37th

 ---

 First-time starter as senior

 2015

 No inside linebackers signed

 2016

 Devin White

 6th*

 ---

 First-time starter as sophomore
*signed/ranked as a running back
OFFENSIVE LINEMEN
 2014

 Garrett Brumfield

 6th

 ---

 First-time starter as RS junior

 Will Clapp

 15th

 ---

 Third-year starter as RS junior

 Jevonte Domond

 7th*

 Transferred

 Played final year at UTSA

 2015 

 Maea Teuhema

 2nd

 Transferred

 Starting for SLU

 Chidi Okeke

 5th

 Transferred

 Starting at TennesseeState

 Adrian Magee

 43rd

 ---

 Reserve lineman

 George Brown

 52nd

 Transferred

 Backup lineman at Miami

 Toby Weathersby

 6th

 ---

 Two-year starter at right tackle
*signed/ranked as a junior college player
WIDE RECEIVER
 2014

 Malachi Dupre

 2nd

 NFL

 7th round pick on Bills practice squad

 Trey Quinn

 10th

 Transferred

 Leads SMU in receiving yards

 Tony Upchurch

 46th

 Transferred

 Has 6 catches in 16-17 for TX South.

 DJ Chark

 61st

 ---

 Leads LSU with 10 catches

 Russell Gage

 74th

 ---

 Starting receiver

 2015

 Tyron Johnson

 6th

 Transferred

 Has 5 catches this year for OK State

 Derrick Dillon

 21st

 ---

 Starting receiver

 Jazz Ferguson

 37th

 Transferred

 Has not played in a game at NW State

 Brandon Martin

 46th

 Did not qualify

 Has 0 catches this year at Arkansas
---
UNAVAILABLE
LSU currently has six defensive linemen on its roster who are unavailable for this weekend/year.
| | | | | |
| --- | --- | --- | --- | --- |
|  Year |  Player |  Position |  Reason |  Role if available |
|  Senior |  Frank Herron |  DE |  Presumably suspended |  Named a co-starter in camp |
|  Sophomore |  Ed Alexander |  NT |  Injured (hand) |  Starter/rotational player |
|  RS Freshman |  Andre Anthony |  B-OLB |  Inured (ankle) |  Rotational player |
|  Freshman  |  Tyler Shelvin |  NT |  Academically ineligible |  Rotational player |
|  Sophomore |  Sci Martin |  B-OLB |  Presumably suspended |  Reserve |
|  Junior |  Breiden Fehoko |  DE/NT |  Ineligible after FBS transfer |  Starter/rotational player |