Welcome to Highlights, where we'll break down significant plays from LSU's last football game.
(Click to enlarge photos)
Florida 27, LSU 19
How It Happened
Trouble in the trenches: When comparing the statistics, Florida's advantage was blatant: the Gators had five sacks, 11 tackles for loss, and the Tigers had no sacks and two tackles for loss. Ed Orgeron said simply after LSU's first loss of the season: "We didn't win the line of scrimmage." Here's a closer look at what went wrong.
Florida's first sack of the day altered the course of the game. LSU led 7-0 in the first quarter, and it was first-and-10 at the Florida 28 when Gators Buck linebacker Jachai Polite forced a sack fumble from Joe Burrow's blind side. Florida recovered the fumble, and LSU would not score another touchdown until the fourth quarter.
Here, LSU wide receiver Stephen Sullivan motions from left to right in the backfield, which brings Florida cornerback CJ Henderson (No. 5, top of the screen) closer to the line of scrimmage.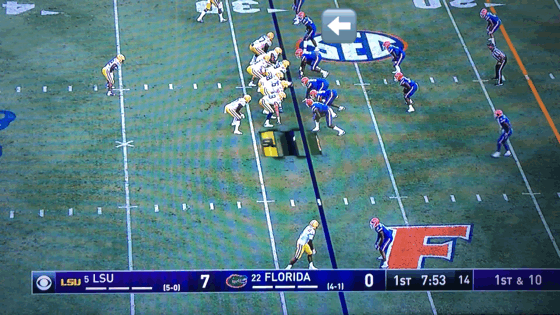 It appears the LSU offensive line is prepared to pick up Henderson; perhaps they figured Henderson would rush, and perhaps wanted they wanted him to, which would eliminate another defensive back on this pass play. Left tackle Saahdiq Charles immediately shifts to engage Henderson, which left the responsibility of blocking Polite to left guard Adrian Magee.
This was Magee's first start at guard this season. Magee was recruited as both an interior and exterior lineman out of Franklinton High, and he provided depth in 2016 and in 2017 as both a guard and tackle. He started at right tackle against Miami this season, before he suffered a short-term injury.
Magee forcefully shoves Polite outward; but the 6-foot-2, 242 pounder recovers and chases down Burrow for the momentum-shifting sack. 
It appears Magee is a part of a communication error that leads to a three-and-out on the following drive.
It's third-and-2 at the LSU 21, and Nick Brossette is dragged down for a loss of five yards by Florida defensive end Jabari Zuniga (No. 92), who finished with 1½ tackles for loss in the game.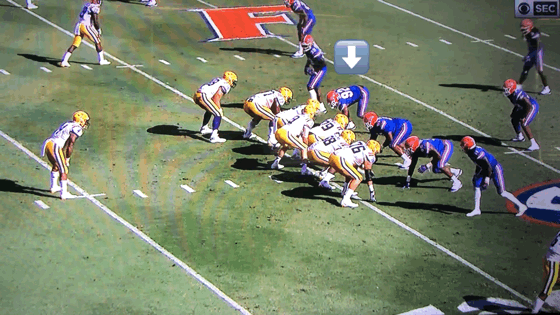 It appears to be a zone run. Right guard Damien Lewis and right tackle Austin Deculus cut off the back side of the defense, and the left side of the offensive line engages specific blockers to free up a lane for Brossette. Tight end Foster Moreau (far left, No. 18) engages Polite, and Zuniga goes unblocked between Charles and Magee to make the punt-forcing tackle.
It's unclear where the breakdown occurs. Charles appears to hand off Zuniga to Magee, while he himself blocks downfield and engages Florida safety Shawn Davis. Magee also ignores Zuniga and seeks to block downfield. The error leaves Brossette helpless as soon as he receives the handoff.
Brossette is a shifty running back, which he demonstrated in a short-yardage situation in the second quarter, when he sidestepped a blitzing linebacker to pick up a first down.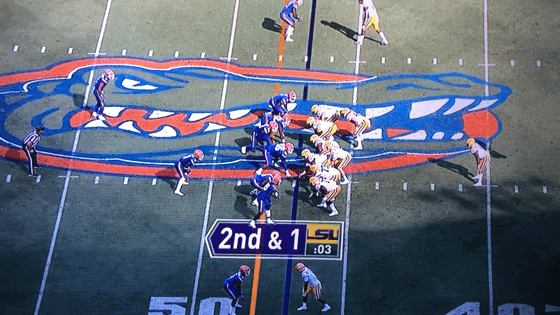 LSU could not count on such a play every time, and the Gators recorded a tackle for loss and a sack on the two plays following Brossette's run, forcing another punt.
The Florida pressure was so disruptive, Orgeron said LSU couldn't take the offensive shots it wanted because it "couldn't drop back and throw the football."
"Our guys were getting beat one-on-one," he said. "You can chip (with running backs); but you can only chip one or two guys. You can't chip all five. We need to get better pass protection."
LSU tried to chip with running back Clyde Edwards-Helaire at the end of the first quarter.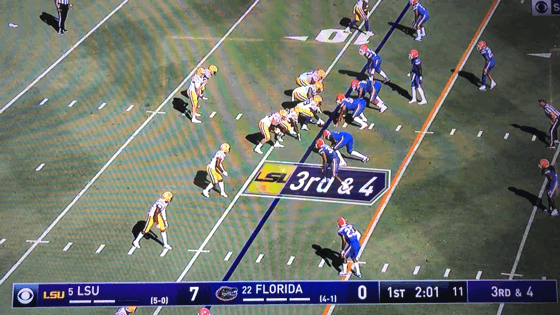 On third-and-4 at the LSU 11, Florida blitzes middle linebacker Vosean Joseph (No. 11) off the left side of the offensive line. It doesn't appear that Joseph is accounted for in the blocking scheme; he even creeps to the left edge just before the snap.
Edwards-Helaire is already keen on chipping Polite, and he does with a cut block on the edge. Joseph runs around Polite and sacks Burrow from his blindside. It's possible that if Joseph's blitz were noticed, Edwards-Helaire would have chipped him, and Charles would have picked up Polite, and so on. But the disguised blitz forces an LSU punt that produced Florida's first touchdown drive of the game.
"As a quarterback, you depend on your protection," CBS analyst Gary Danielson said. "And when your running back misses the outside linebacker, you don't know it." "That had to be a busted assignment by the LSU offensive line, because two guys can't come clean like that."
Success at the end: It cannot be forgotten that despite the struggles the LSU offensive line had against Florida's aggressive front, the Tigers line nearly helped lead the team back by paving the way for two big runs by Brossette in the fourth quarter, which led to LSU taking a 19-14 lead with 11:14 left in the game.
Within three plays, Brossette rushed for 31 yards and then for 47 yards to the Florida 2.
Here, on the second run, Deculus seals off the middle linebacker, Moreau walls off the defensive end, and Brossette breaks away to the second level.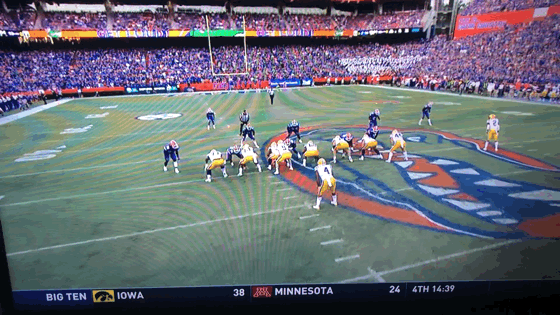 One play later, Brossette rushed for a 1-yard touchdown to give LSU its last lead of the game.