The alarm sounded and Terrace Marshall rose in the early morning, prepared to jog once again alone.
His mother met him in the hall of the family's Shreveport home. Shoes on. Smile fixed: "I'm gonna go with you," she said. They began together on a run through the neighborhood. It wasn't long before the son was out of sight. 
"He was at home an hour before I even got back," said Meoshia Brazzle, the mother of LSU's star wide receiver, who, like most defensive backs in college football, has had a hard time keeping up with Marshall this year.
She hardly saw Marshall this offseason, even though he spent most of the pandemic period at home.
He was always training. There'd be an early morning run, a quick nap, and then another run. Two to three times a day, Marshall drove his car to the CenturyLink Center, where he'd dash up and down the arena's steep outdoor stairs. The receiver regularly did footwork drills in nearby fields, and, even then, his longtime personal coach, Lawann Latson, would see Marshall's car parked at CenturyLink after their workouts.
It got to the point where Brazzle felt she had to express her concern.
"Son," she told Marshall one day, "we need to chill out."
"Mom, I can't take a break," he replied. "Because while I'm resting, the next man is working."
The awareness of opposition, however invisible, is somewhat unusual for Marshall, Latson says. Mostly, he's a loner, a quiet athlete whose motivations are built on inward reflection and the desire to fulfill all he can.
But this year was different. Latson could sense his pupil bristling, growing irritated with the lack of attention he was receiving. Attention wasn't important. It was the missing respect that comes with attention.
There was the perception among peers that Marshall wasn't among college football's elite receivers; that he was just the "red-zone guy" whose 13 touchdowns on LSU's national championship team last year were the byproduct of a brilliant offensive scheme; that he was the third option behind Justin Jefferson, a future first-round NFL draft pick, and Ja'Marr Chase, the 2019 Biletnikoff Award winner.
The reserved wide receiver who had stayed off social media for nearly four years suddenly began tweeting not-so-subtle messages like "take ya lick and keep elevating" and "working in silence."
"That lit a fire under him," Latson said. "He was wanting to come back and really prove himself this year. He worked his butt off to make sure he was ready."
Any lack of attention has since withered in the wake of Marshall's whirlwind pace toward breaking the school records of his contemporaries, even within the Southeastern Conference's shortened 10-game, league-only season.
The 6-foot-3, 200-pound junior already has 512 yards receiving and nine touchdown catches in just four games. It's unlikely Marshall surpasses Chase's 1,780-yard, SEC single-season record in this abridged season; but Chase's SEC single-season touchdown record (20) is certainly within reach.
Marshall needs four more touchdowns to tie former LSU receiver Dwayne Bowe's 26 career total, and, if Marshall catches another score Saturday, when LSU (2-2) plays Auburn (3-2) at Jordan-Hare Stadium at 2:30 p.m., he will have set the school record with eight consecutive games with a touchdown reception.
He has held the streak through quarterback changes: the Heisman-winning Joe Burrow, the successor Myles Brennan, and now the true freshman, TJ Finley, who will fill in for the second straight game in place of the injured Brennan.
Marshall has upheld LSU's explosive offense in Year 2. Without Chase, who opted out this season to prepare for the NFL draft, Marshall has become the feature receiver in offensive coordinator Steve Ensminger's scheme, the versatile chess piece that can play on the outside, inside and the slot.
LSU coach Ed Orgeron said Marshall has mastered the playbook so well, "he probably could play quarterback."  
"He's been an absolute game-changer for us," center Liam Shanahan said. "Having a guy like that who's capable of scoring a touchdown on any play from anywhere on the field — he's a matchup nightmare for other teams."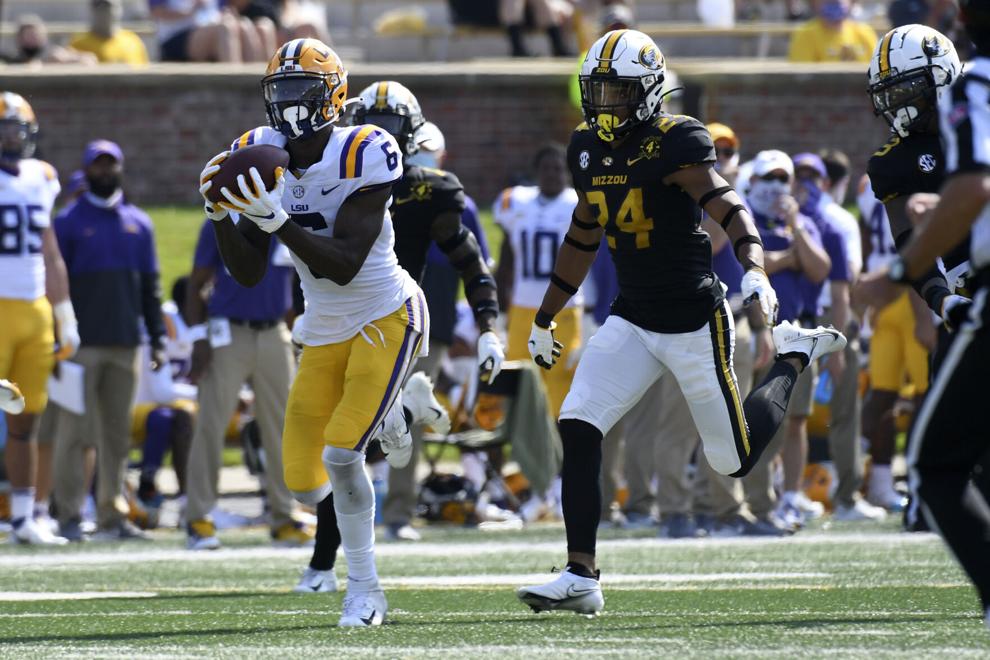 Marshall knew he'd be used more often in the slot this season, a role Jefferson played last year. Even at Marshall's height, he's an athlete who prides himself on being a big receiver who can play small. So in the offseason, he and Latson focused on specific drills to improve his short-space quickness.
The slot receiver is closer to the line of scrimmage, so he needs create separation sooner. Routes can sometimes last only 5 to 8 yards, and defensive backs often guard tightly in press man. Getting open is almost like a crossover in basketball, Latson said.
Stutter-step! Use your hands! Open his hips up! Get gone!
And how often have you seen it this year? Marshall sprinting into space toward the end zone? A 51-yard post at Vanderbilt. A 75-yard vertical against Missouri. A 51-yard catch and run on a slant against South Carolina. 
Suddenly Marshall is again in the open, like those jogs in Shreveport.
Running free.
Alone.
•••
Jake Dement, the owner of a Bossier City boxing club, walked into his gym one day and recognized the long, tall athlete hitting pads with one of the coaches.
Jordan Lewis, a coach and fighter at the gym, had once introduced Dement to his cousin, Terrace Marshall, and there the college star was, just like anybody else, sweating and swinging his arms in rhythmic breaths.
Marshall added boxing training to his rigorous regimen in the 2019 offseason. No, he never sparred. He's way too valuable for that, Dement said. But for about 90 minutes per session, Marshall was subjected to grueling cardio in three-minute intervals — a mix of jumping rope, shadow boxing and bag work that aided hand-eye coordination.
Boxing training is also another solitary activity. Marshall could somewhat disappear in this gym, unrecognized by the younger boxers and left alone by the older ones.
"He can move in and out of that place without anyone really knowing who he is," Dement said.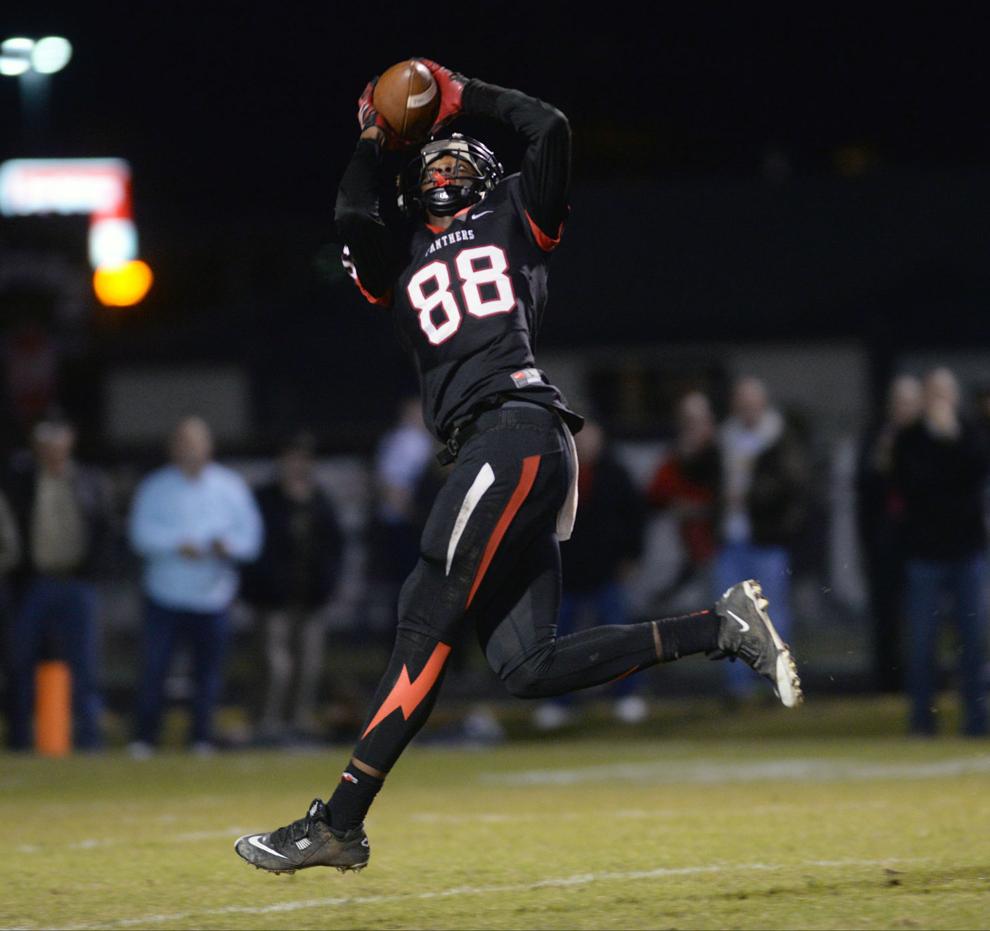 There aren't many places like that for Marshall around the Shreveport-Bossier City region. He's the former five-star recruit, the state's top prospect from Parkway High, who attracted college coaches from around the country despite suffering a broken fibula two games into his senior season.
Marshall was the focus of an intense recruiting battle between LSU and Texas A&M, and Aggies coach Jimbo Fisher visited Brazzle's work office and ate fried chicken from the floor of the barber shop Marshall's father, Terrace Sr., owns.
"From the time he walked in the door at Parkway, obviously we knew he was different," said Neil May, Parkway's head coach during Marshall's senior season.
Pair a high-profile prep career with a national championship ring, and there's not going to be much privacy in a city that feels like a small town.
Many times when Marshall was working on his routes in a community field, Latson said one local kid would walk by, spot Marshall, and the next thing you'd know there'd be 10 more kids working out with them.
"He has a very humble spirit and his character is very welcoming," Latson said. "He doesn't make you feel like he's not approachable. That's why people draw to him."
Before the pandemic began, Marshall's family threw a surprise gathering at a local seafood restaurant. Marshall thought his girlfriend was just taking him there to eat. The family started planning it as a little gathering, but word spread, and by the time Marshall walked through the door, the entire restaurant was filled with people there to greet him.
Recently the family had a reunion at Lake Bistineau State Park. A young girl began talking about Marshall with some other distant relatives when a woman asked if she'd like to meet him.
"Really?" the young girl beamed.
"Sweetheart," the woman said, "Terrace is my great-nephew."
Alma Delaney Warner called for her great-nephew. Seconds after he got a hug and a "hello, Auntie!" in, the young girl jumped up and latched onto the tall receiver.
Marshall looked at his great-aunt in confusion, Warner said, like he wanted to run but didn't know which way to go.
"Baby, your time is not your own from this point on," Warner told Marshall. "You're community property."
These are the same words Warner used to tell her late brother, Joe Delaney, and she feels Marshall's life so nearly parallels the one her brother left behind.
Delaney, a Haughton native, was a star running back at Northwestern State, the 1981 AFC Rookie of the Year for the Kansas City Chiefs, and he died tragically in Monroe on June 29, 1983, when he drowned in a pond while trying to save three boys from drowning.
One of the boys survived. Delaney's legacy remains.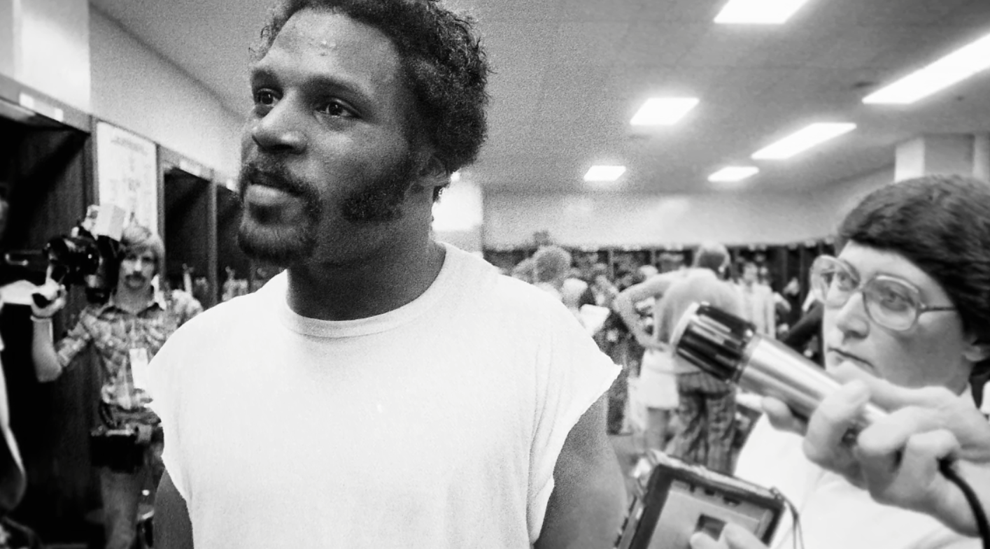 Delaney is a member of both the College Football Hall of Fame and the Louisiana Sports Hall of Fame. He was posthumously awarded the Presidential Citizen's Medal. His name is included in the Chiefs' ring of honor at Arrowhead Stadium. Northwestern State calls its annual spring football game the "Delaney Bowl," and the Joe Delaney Memorial Leadership Award is given to the program's permanent team captains.
The first winner of the award, in 1983: Ed Orgeron.
This summer, a monument was unveiled at Monroe's Chennault Park in Delaney's memory. Because of the pandemic, Warner and most of her family were unable to attend — but there were enough people gathered for Marvin Dearman, the rescue diver for the Monroe Police Department that day, to say a few words.
Delaney himself spoke in front of similar gatherings, and no matter how small they were, Warner said, he was always almost too nervous to speak.
When a local church would ask for Delaney to speak before the youth, Warner always handed him a sheet of paper for him to hold. She'd watch in support from the front pew as Delaney gripped the paper and looked over for reassuring glances.
Delaney never wanted fanfare, Warner said. He didn't need a crowd to feel complete. His former Northwestern State teammates describe him as a "country boy" who had no desire for publicity. Major schools like Oklahoma and Texas recruited Delaney after he ran a 9.4-second 100-meter dash for Haughton High; but, in a move that seems unheard of today, he chose to stay near home and play for the Demons.
With publicity comes expectation, Delaney knew, and an expectation within yourself to live up to the publicity. He wanted no part of it. But his sister knew this was unavoidable.
"Once you get out there and you make a name for yourself," Warner told him, "I'm sorry, but you're no longer your own person. You belong to the community, to the world, whoever knows who you are. You just have to suck it up."
What am I? What is my place in the world? What will I leave behind? These are the questions of legacy, the echoing thoughts star athletes like Delaney and Marshall face.
Publicity and criticism have a way of complicating the answers. They can seize hold of a player's narrative, make him rethink his footing, throw him off course.
Marshall's father knew his son needed a sturdy base, a model to live by. He sat his son down as a kid and told him the story of Delaney's life, how he sacrificed his life to give three young boys a chance to live. Marshall Sr. tied it together by creating a family motto: "M2B."
Meant To Be.
Marshall still wears the acronym on a chain necklace.
"Everything I do every day is built up on character," Marshall told reporters Tuesday, the necklace sparkling in the light. "Just setting a good example for the people who are watching me and the kids that's coming up."
•••
Marshall visited his great-aunt Alma near Thanksgiving last year.
She had a picture she wanted to give him, an autographed photo of Joe Delaney that she held onto for almost 40 years.
Why?
"They're identical," Brazzle said. "They're twins."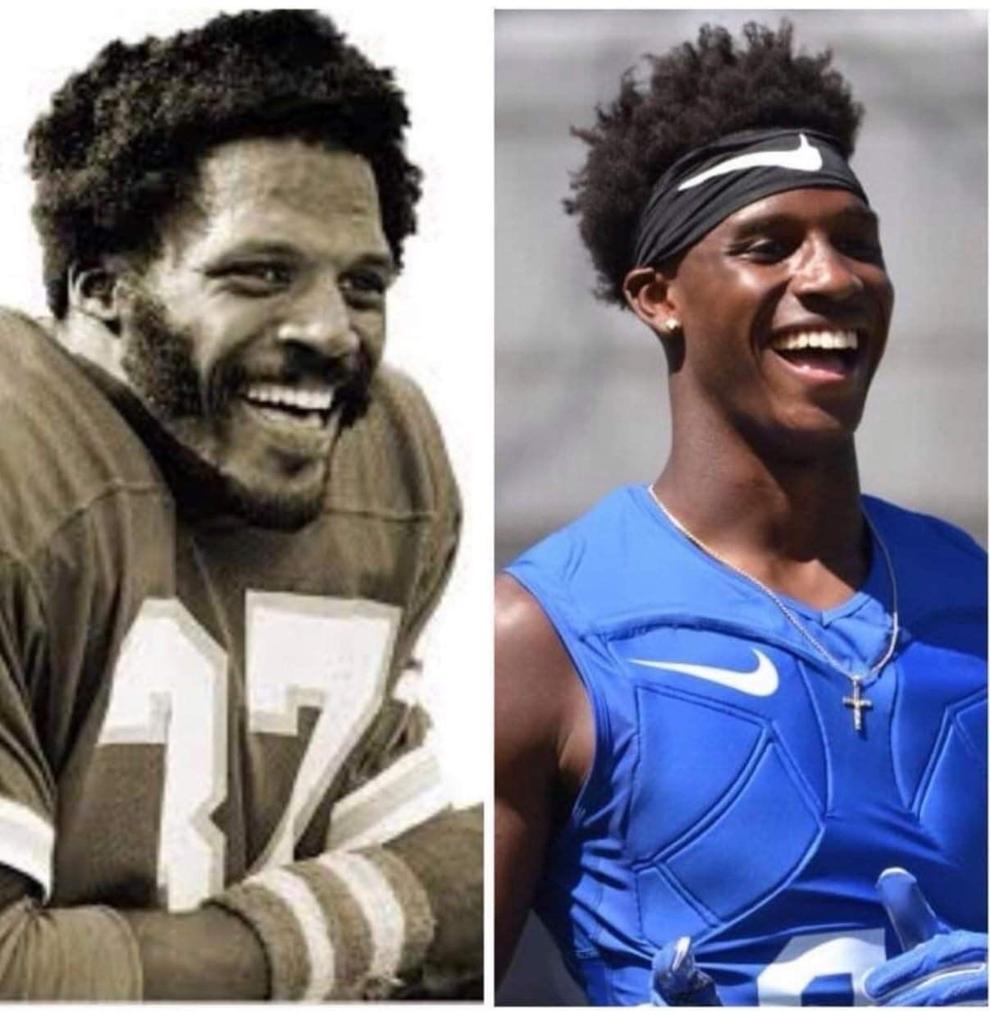 Delaney's mother and Marshall's grandmother were twins. Although Delaney was 5-foot-10 and Marshall is 6-foot-3, the family believes that is the root of the shared gene pool. 
But it's in the face where the similarities are most striking, Warner said. It's in the eyes. The shape of the smile. The patchy facial hair. 
"Joe, for me, is reincarnated," Warner said, "because a lot of actions I see from Terrace, even as a little kid, I can go back in my mind and see that same vision of Joe."
Latson, a Northwestern State running back from 1991-92, says Delaney and Marshall have the same running form. It's where the same long-striding, make-it-look-easy speed comes from that made Delaney a national champion in the 4x100-meter at Northwestern State and Marshall a breakaway receiver at LSU.
"The genes going down to Terrace ought to be pretty good if they're like they were," said Jack 'Britt' Brittain, a former Northwestern wide receiver and teammate of Delaney's.
Orgeron was a true freshman in 1980, when Delaney rushed for 1,153 yards and 10 touchdowns in his final season in Natchitoches. This year, he has spoken often of how Marshall reminds him of his former teammate.
"When I'm looking in a meeting and I turn to the right and I see Terrace's face," Orgeron said. "It reminds me."
Marshall's leadership also resembles Delaney, Orgeron said. When Myles Brennan was ruled out for the South Carolina game with an abdominal injury, Orgeron said Marshall came into his office and wanted to know who'd be starting in Brennan's place.
Orgeron said Marshall gave him his opinion, Orgeron gave his receiver his own and asked for him to keep talking about it with him throughout the week.
Marshall said Tuesday that the decision for Finley to start last Saturday was "strictly on Coach O."
"I'm still just a player," Marshall said. "Whatever decision he makes, I trust that he'll make the right decision."
Marshall has his input. But he knows whatever the future holds, it's meant to be.
"Terrace is almost a replica of Joe D," Orgeron said, "and that is about one of the biggest compliments I can ever give anybody."