Outside linebacker/defensive end Travez Moore, a 6-foot-6, 250-pound former Bastrop standout, gave a verbal pledge to LSU coach Ed Orgeron on Thursday. Moore, a Copiah-Lincoln Community College standout, will play next season for Co-Lin before enrolling at LSU in January.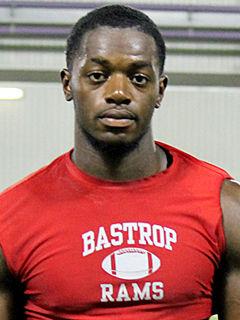 Moore left Bastrop as the 34th-ranked weak-side defensive end in the 2016 class. He's expected to play a hybrid position with the Tigers at the F-linebacker or the Buck-linebacker, defensive coordinator Dave Aranda's two versatile outside linebacker spots.
He committed to outside linebackers coach Dennis Johnson on Thursday morning while walking to class.
Plaquemine High defensive lineman Nelson Jenkins had known for two days that he was invited …
"I am shutting things down and I'm an LSU Tiger," Moore told 247Sports.com. "I was walking to class and was chatting with (Dennis Johnson) and he let me talk with (Ed Orgeron), and Coach O asked me if I wanted to commit. It was really an awesome moment. I wanted to commit to LSU back in high school. I just wanted to be a Tiger, nothing else. So having this happen, it was amazing."
Moore had narrowed his finalists in high school to LSU or TCU before he took the junior college route.
Moore is one of two commitments LSU received Thursday, joining Plaquemine defensive lineman Nelson Jenkins. The Tigers now have seven commits in the class. They all gave non-binding verbal pledges to the program and can make their commitment binding on national signing day next February or by enrolling in class in January. 
LSU edge rusher Arden Key is leaving the football team temporarily for "personal reasons," t…
Etling named vice chair of leadership council
LSU's Danny Etling has been elected vice chair of the Southeastern Conference Football Leadership Council, the league announced Thursday.
Kentucky's Greg Hart is the chair of the council. Hart and Etling were selected by a vote of their peers at a meeting of the Council at SEC headquarters in Birmingham. The pair will attend a portion of the meeting of the SEC's athletics directors in March and the conference's spring meetings in May and June.
SEC Commissioner Greg Sankey introduced new student-athlete leadership councils in 2016 for the sports of football and men's and women's basketball, providing players with opportunities to engage with campus leaders and conference office staff.