Welcome to Film Room, our weekly analysis of LSU's last football game.
Have a seat. No talking. No tweeting. No texting. Pay attention.
How They Happened (big-play analysis)
Guice's big dash: On second-and-4, Derrius Guice runs 42 yards for a touchdown to open the scoring for LSU in the first quarter.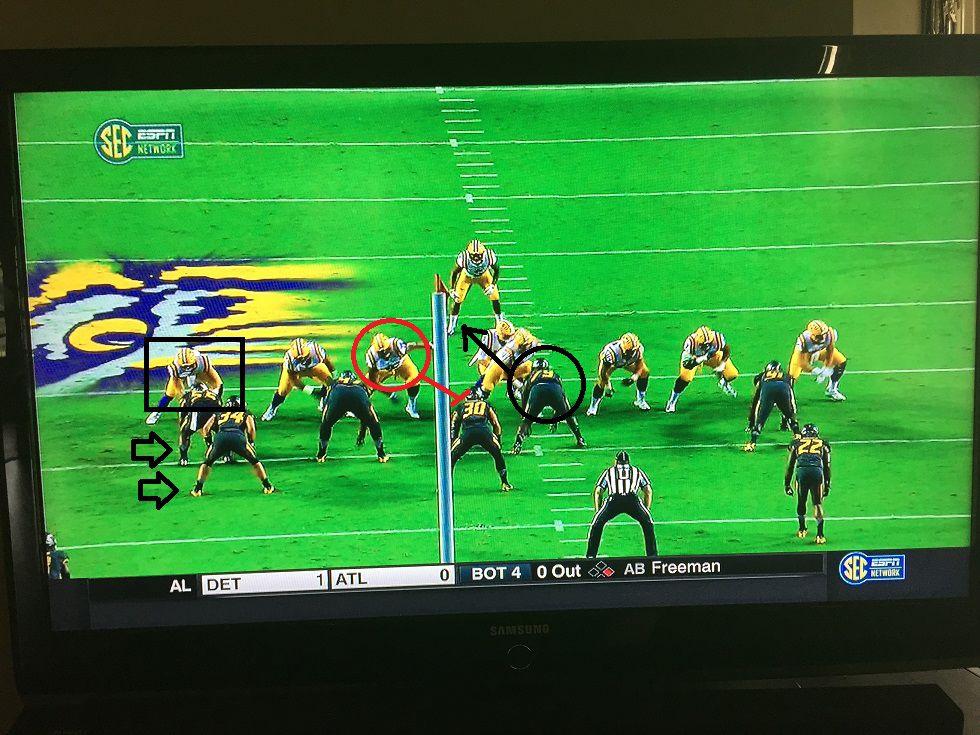 This play doesn't work without two things. First, great blocking by LSU's offensive line creates a massive cutback lane. Second, Guice sees the lane, hits it and then puts on a show of open-field cutting. 
Three key blocks seem to spring this play. They come from C Ethan Pocic, RG Josh Boutte and TE Colin Jeter. The black circle is Missouri DT Terry Beckner, Jr. His initial move is key on the play. Beckner darts through the center-right guard gap, creating a seam for Guice through the center-left guard gap.
Jeter (black square) actually takes out two guys (black arrows) with his one block. Missouri LB Joey Burkett gets caught in Jeter's initial block of DL Jordan Herald (top black arrow). Boutte (red circle) blocks MU LB Michael Scherer, pushing him well out of the play. 
Another shot of Guice's long TD run. #LSU OL gets huge push, opening up cutback. pic.twitter.com/KIvrGEnuk2

— Ross Dellenger (@RossDellenger) October 2, 2016
Send 6: On third-and-9, DC Dave Aranda calls a blitz, and Frank Herron gets enough pressure to force an incompletion and punt.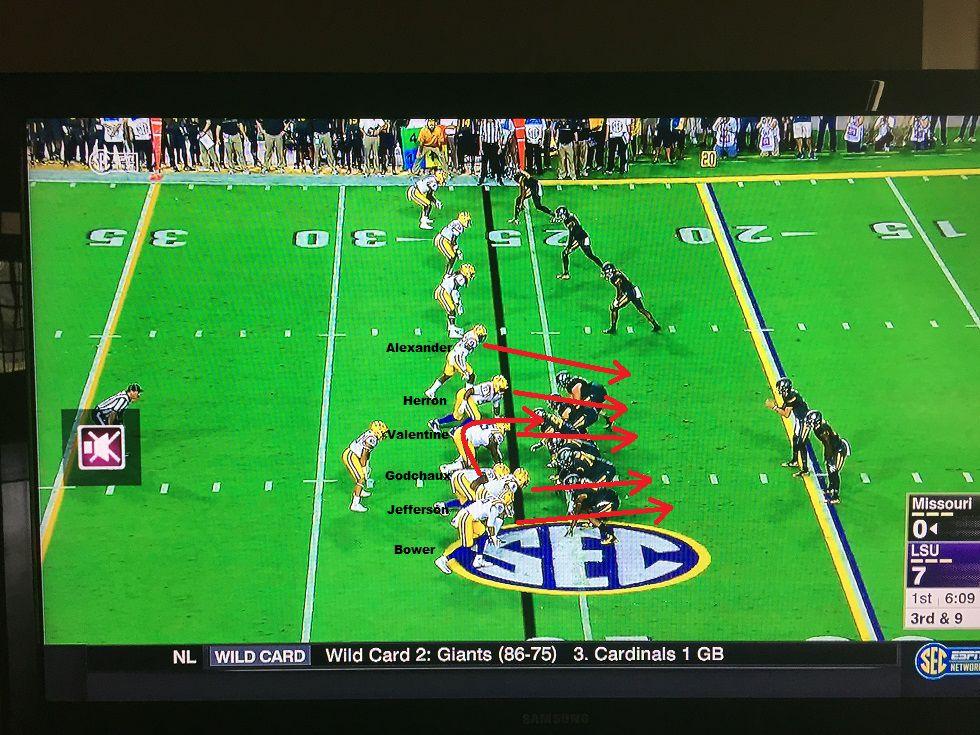 Through the first four games, Aranda did not blitz often. We're not exactly sure why. Maybe he's waiting for players to have a better grasp of his new defense. But he does it here.
Six players - three linemen, two linebackers and a safety - come on a full-out blitz. It's six against seven Missouri blockers, and Herron gets enough pressure to force a short throw from MU QB Drew Lock. 
You see the red arrows? Five of the six blitzers bull rush into the backfield, but Davon Godchaux executes a stunt move, swinging around Valentine. It's something to watch as the season progresses. That's the same stunt move that Arden Key executed so well against Mississippi State for that game-securing sack.
1-2-3 Progressions: On second-and-9 at the Missouri 32, QB Danny Etling hits Travin Dural, his third option on the play, for a 4-yard gain to set up a manageable third down in the second quarter.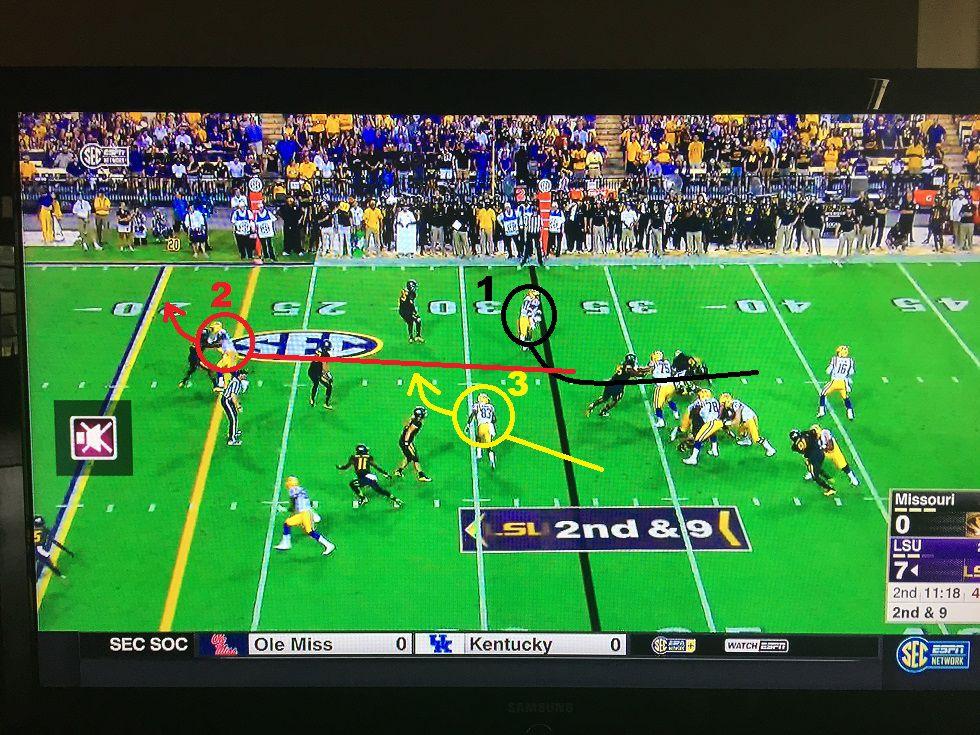 This isn't a huge play, but it's a good example of one of Etling's best qualities: reading through his progressions. ESPN color analyst and former Florida QB Jesse Palmer commends Etling for his reads here. By the way, OC Steve Ensminger spent much of the week simplifying reads for his quarterbacks. Maybe this is an example.
Etling's first read, Palmer says, is FB Bry'Kiethon Mouton (black circle) in the flat. His second read is TE Colin Jeter (red circle) on a corner route. Both of those men are covered, especially Jeter. 
Etling looks short and to the middle, where Dural (yellow circle) is sitting amid Missouri's zone coverage. He's wide open. It's a nice example of Etling "taking what's there," as he likes to say, and not forcing the long ball into coverage.
Jesse Palmer commends Etling for progression reads here.
1st and 2nd reads (Mouton flat, Jeter corner) covered & Dural open on cross. #LSU pic.twitter.com/bRbLAReDN8

— Ross Dellenger (@RossDellenger) October 2, 2016
POSITION ANALYSIS (these numbers are through the first three quarters only, before the game became a blowout and reserves were used)
Big Ugly Blips and Booms (O-line analysis)
This group had one of its better games of the season, pass blocking and run blocking alike. The only real struggle spot on the line Saturday came from an unlikely place: center. Missouri's defensive tackle beat Ethan Pocic into the backfield on at least two rushing plays and on a passing play. He wasn't quick enough on those three instances. Is Pocic hurt? Possibly. Remember, he did not practice Monday or Tuesday last week. His exact injury and its severity is not known.
Josh Boutte missed a series, and freshman Donavaughn Campbell replaced him. Boutte returned pretty quickly, re-entering the next series. Boutte suffered a minor knee injury when RB Derrius Guice barreled into the big guy's knee. Boutte played well, including springing Guice's 37-yard touchdown run in the second quarter.
Big Josh Boutte pulls and gets the springing block for Guice on his third TD. #LSU pic.twitter.com/a46hNJcU6S

— Ross Dellenger (@RossDellenger) October 2, 2016
Sophomore Garrett Brumfield filled in for an injured Will Clapp, playing the entire second half. Clapp, the starter at left guard, injured his right upper arm/shoulder on Guice's touchdown run in the second quarter. Brumfield played good enough to catch the eye of color analyst Jesse Palmer a few times. You can see Clapp injure the arm on the play above.
Monday Morning Quarterback (QB analysis)
We'll spend most of this section on LSU's changed offense, which we wrote about at length here. But, quickly, let's get to Danny Etling specifically. He misfired six passes. Three of them were long passes and each of those were overthrown. Three of them were short/intermediate passes. Accuracy on the downfield throws from Etling continues to pose a problem. 
Etling's strength continues to be his pocket poise, reading progressions and playmaking ability. What do we mean by playmaking ability? 
Etling missed on the deep ball a good bit, but he can make these plays. #LSU pic.twitter.com/FCwNq1NGSS

— Ross Dellenger (@RossDellenger) October 2, 2016
He seems to thrive under pressure, hitting his safety valves several times in this game with defenders either draped on him or in his face. It's probably the best part of his game, avoiding the big loss and hitting what sometimes turns into a big play with a short pass. 


Ah, the offense. It changed, indeed. Remember after the game Orgeron and players referring to LSU "spreading out" Missouri? Here's what they were talking about. Formations through the first three quarters:
3/4-receiver set: 26
I-formation (mostly 2 WR): 20
Ace formation (2 WR): 19
So, on 40 percent of its plays, LSU used three or more receivers - a pretty significant increase in its normal use of multi-receiver formations. Also, LSU used the Ace formation more than it has in years. What's the Ace? It's a fullback-less set with the running back 7 yards deep. Normally, LSU used two tight ends and two receivers, like this: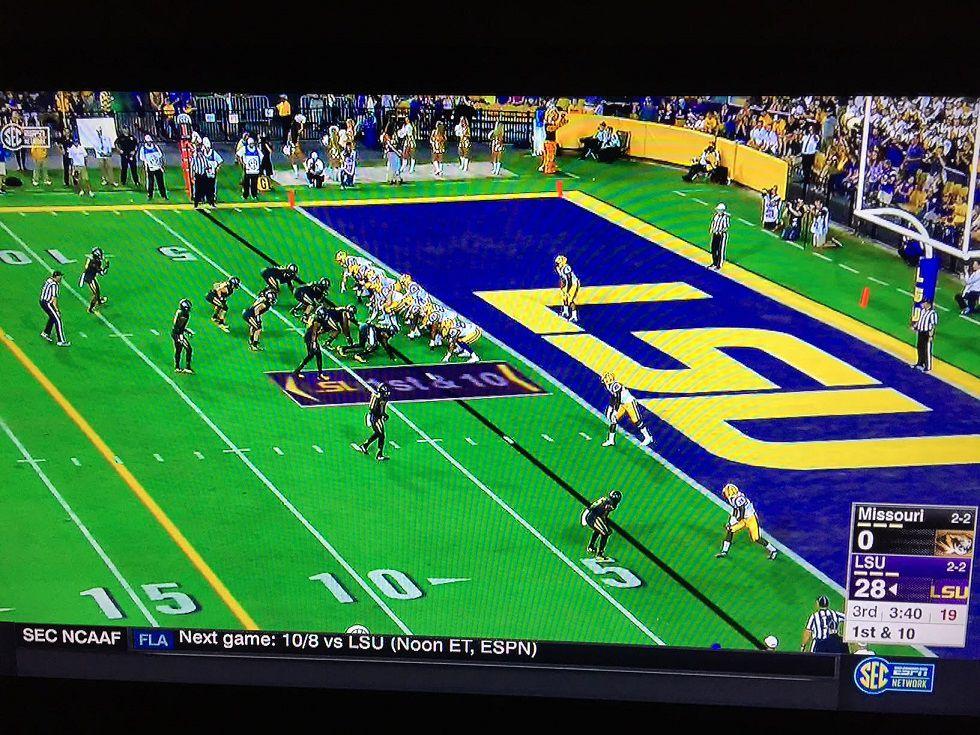 Also, LSU incorporated a run-pass option (RPO) play to its repertoire. Now, the Tigers could have used this previously, but they certainly didn't use it as successfully nor as often as they did Saturday. They used this RPO play twice in the first 16 minutes of the game, each time Etling deciding to pull the ball and throw a quick slant to Malachi Dupre.
RPO (run-pass option) for Etling. #LSU ran this twice in the first 16 minutes. pic.twitter.com/44lGywq0R6

— Ross Dellenger (@RossDellenger) October 2, 2016
Backing It Up (RB/FB analysis)
First off, FB J.D. Moore produced one of his strongest games to date. He served as a lead blocker plenty of times, clearing the holes for a trio of LSU backs. 
Derrius Guice broke 12 tackles on his 17 carries. The shifty sophomore proved again how electric he can be. Check out this touchdown run.
Guice. Then O chest bump. #LSU pic.twitter.com/IM5UZiqLbE

— Ross Dellenger (@RossDellenger) October 2, 2016
Thing is, Guice did more than just run and dodge tacklers. He bowled over defenders, even without the ball, something that coaches surely like to see. Here, Travin Dural catches a pass short, and Guice clears his path with a brutal block.
A good display of Guice's blocking skills after Dural's catch. #LSU pic.twitter.com/tBiyTz2ch8

— Ross Dellenger (@RossDellenger) October 2, 2016
Five-yard Out (WR analysis)
We only counted one drop by the group. Malachi Dupre dropped a slant pass in the second quarter. 
Etling continues to spread around the ball. In his first 10 attempts, he targeted seven different players. Through the first three quarters, Etling targeted Travin Dural more than any other receiver (5 times). He caught four passes.
LSU clearly made an effort to get Dural into open space, feeding him the ball short and allowing him to create extra yards with his quickness and athleticism. He did that, too. He had 34 receiving yards, many of them coming after the catch. 
Dee Anderson didn't see much significant action at receiver, a change from the first month of the season. Gage appears to have replaced him in the Tigers' two-receiver sets with Jazz Ferguson. Dupre remained in the slot position much of the time, and Chark continues to play outside opposite Dural.
On The End (TE analysis)
Hey, look, a new category for a position group that's emerged in a big way since Etling took over as the starting quarterback. Etling targeted the tight ends on about five passes. Jeter hauled in one catch and Foster Moreau caught two. Palmer lauded the senior for his route running. Etling throws a perfect ball after Jeter breaks free of his defender.
Etling'd accuracy. Jeter's cut to the outside. The fans' phone lights in the back. #LSU pic.twitter.com/0wpkX3ntX2

— Ross Dellenger (@RossDellenger) October 2, 2016
Foster Moreau limped to the sideline in pain in the second half. It's unclear what happened to him or what his status is. We'll check on him during practice Monday. 
The tight ends aren't only getting passes thrown their way. The staff split them - and the fullbacks - out wide at receiver on multiple plays in the game.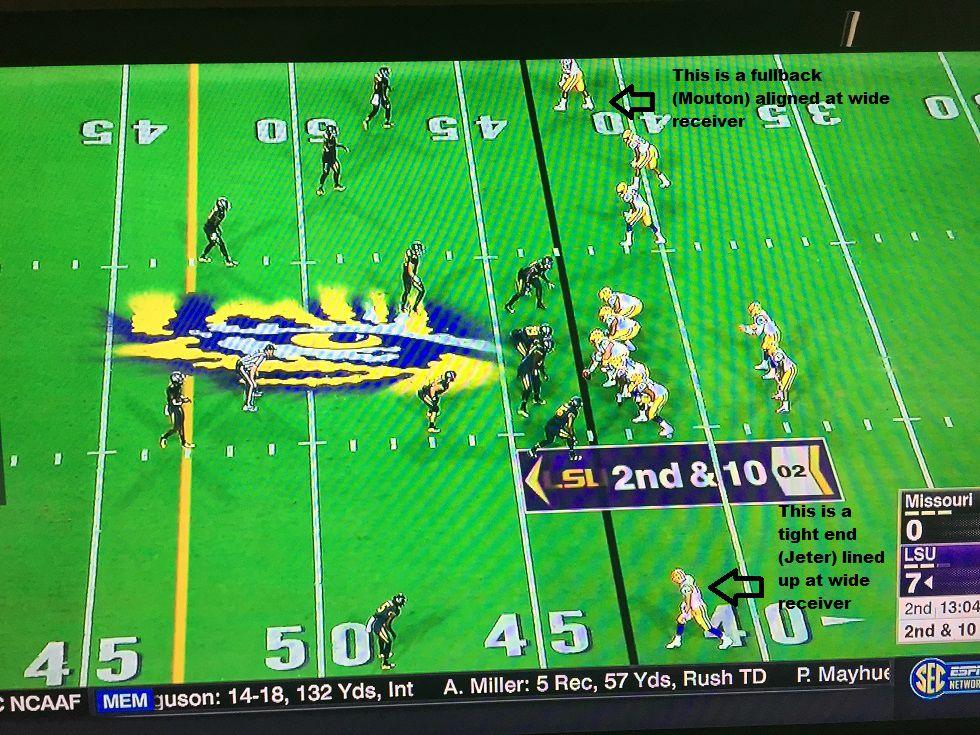 Why the hell would LSU do this? To create mismatches on the outside, players said. FB J.D. Moore spent several plays out wide and said Missouri, at first, was unsure how to cover him. MU basically had to use base personnel to cover LSU's normal I-formation personnel split out wide. "If we get the right mismatch, I have a high chance to get the ball," Jeter said of playing outside. Moore called it a "wrinkle" forcing the opponent "to cover us out of the regular personnel."
Front Seven (D-line/LB analysis)
Missouri QB Drew Lock got the ball out really quick. That hurt LSU's chances to get pressure (the Tigers had just 5 pressures in 29 attempts through the first three quarters). The quick passes, though, allowed LSU's smothering man-to-man coverage to strive (we'll get to that later).
Below you'll find a couple of clips of some disruptive plays that make DE Lewis Neal and MLB Kendell Beckwith so highly touted.
#LSU Film Room in session. Lewis Neal. pic.twitter.com/Dk8P9eqNEw

— Ross Dellenger (@RossDellenger) October 2, 2016
#LSU LB Kendell Beckwith reads screen, slips block, makes tackle. pic.twitter.com/Vr2H7VJ651

— Ross Dellenger (@RossDellenger) October 2, 2016
If you were wondering how much LSU played four down linemen - as opposed to three as is customary in the 3-4 - we have that answer. The Tigers were in a four down lineman set in about 18 of 46 defensive snaps in the first three quarters. 
Break It Up (DB analysis)
The secondary followed one of their worst games in recent memory, at Auburn, with one of their bests. They swarmed receivers with sticky man-to-man coverage. Exhibit A (back to back plays):
#LSU DBs followed one of their roughest games at Auburn with one of their bests. pic.twitter.com/SfDoImvNQW

— Ross Dellenger (@RossDellenger) October 2, 2016
Through the first three quarters, Missouri really picked on Donte Jackson. And he picked on MU right back. His man caught 1 pass on 7 attempts, and Jackson broke up one of those for a PBU. MU targeted Tre White's guy 5 times through the frist three quarters. His man caught 2 passes for a total of 8 yards. Missouri's two big completions (20 and 12 yards) came against linebackers, Beckwith on a screen and Riley on an out route.