Cornerback Donte Jackson began watching more film and took practice more serious.
Linebacker Devin White started speaking up, and running back Darrel Williams, usually quiet, chastised the team during a players-only meeting.
The "giggling and laughing" — one player's description — coming from this young LSU team stopped, as veterans took charge during an "intense" players-only meeting. Leaders emerged, too, from a slew of "come to Jesus" get-togethers, as another player describes. Specifically, defensive players began to do their "homework," another player said, analyzing film of the next opponent and such.
The source for all of this, of course, was that home loss to Troy on Sept. 30.
"It woke us up," defensive end Rashard Lawrence said.
Said Christian LaCouture: "We've been rolling ever since."
A recap of said rolling: LSU won two Southeastern Conference road games and mounted the largest comeback against an SEC team in Tiger Stadium history, reeling off three straight victories to return to the top 25 and jump, for now at least, toward the top of the league standings.
The past three weeks have made the previous three inexplicable.
A team that lost to Mississippi State by more points than any other LSU squad, a team that had snapped the program's 49-game home nonconference win streak, it won at Florida, stormed back to beat then-No. 10 Auburn and routed Ole Miss?
Yes. But how?
The sweeping changes started this surge, all of it unfolding two days after the 24-21 loss to Troy.
"I'm not going to say it was a regular Monday," guard Garrett Brumfield said.
Just a month ago, when Troy left a smoking crater in LSU's football schedule, it looked like…
Brumfield arrived at the facility that Monday, Oct. 1, at about 1:30 p.m., around the time 12 team leaders — one or two from each position group — were meeting with coach Ed Orgeron in his office.
A regular team meeting then bled into a players-only meeting in LSU's main team room. Those who spoke included receiver DJ Chark, defensive end Christian LaCouture, quarterback Danny Etling, safety John Battle, tackle KJ Malone and Williams, one of the quietest players on the team.
"Darrel spoke and got a few things off his chest from what he's observed," Brumfield said.
Many of the issues stemmed form the youth of this team, players and Orgeron suggested during interviews over the past few days. Over the offseason, LSU lost one of the biggest senior classes in the program in years. A nation-leading 20 true freshmen have played, with as many as five of them starting in a game.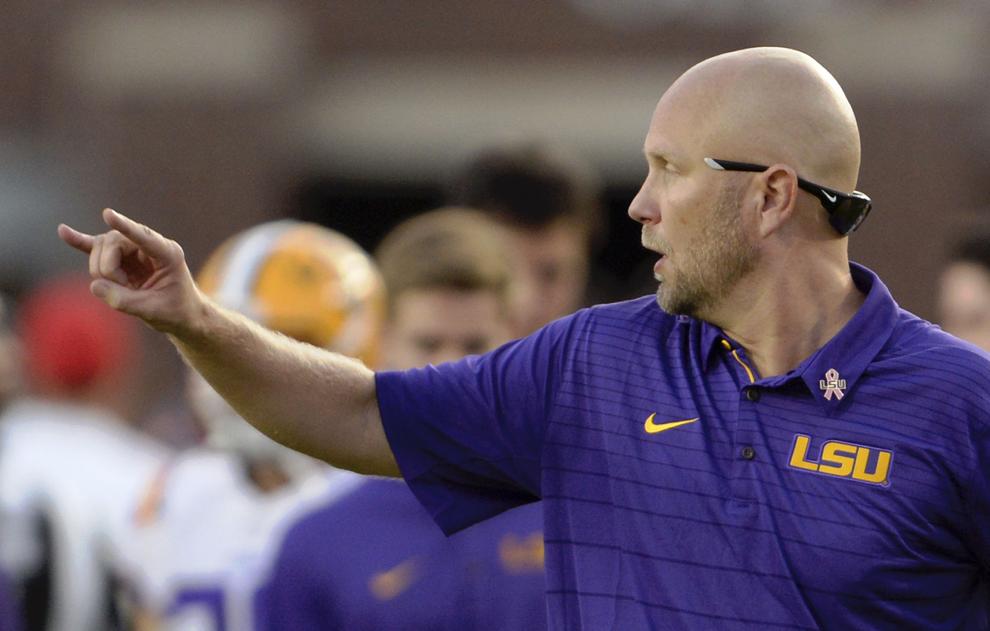 "These younger guys, when we leave, are going to (say), 'What did the older guys do so I can be like that?' " LaCouture said. "For us, we had to step up. We had to come in there and tell them the little things going on that they needed to cut it out.
"People were kind of laughing and stuff. I don't want to say immature, but giggling and laughing. We had to cut that stuff out. They looked at it and said, 'You know what? OK, they're right.' "
"We had a lot of 'Come to Jesus' meetings," Lawrence said. "We talked about it as a team, talked without the coaches in here. It never was the coaching. It was us."
But it wasn't only players.
Coaches — specifically, Orgeron and offensive coordinator Matt Canada — met Sunday night and then again Monday with athletic director Joe Alleva, ironing out their issues. The head coach pledged to remove himself from tinkering with Canada's offense.
More than anything, though, the players were "too comfortable," receiver DJ Chark said. During his radio show earlier this week, Orgeron suggested as much: This team acted like the veteran, experienced and talented one from last year.
"Everything is different," Orgeron said. "Last year's team was quiet, quiet before the game. They go out and we get the ball to Leonard (Fournette), and we win football games. That's the way it happens. This year, it's not so much like that. (We've) got some young guys.
"We understand and know who we are now," he said later during a news conference with reporters. "(We've) got to play with passion and energy to get the things we want. It just doesn't happen."
And now, the real test awaits this supposed changed team.
No. 23 LSU (6-2, 3-1 SEC) travels to play top-ranked Alabama (8-0, 5-0) at 7 p.m. Saturday as a three-touchdown underdog. The Tide, more than any other, will test just how changed this squad is.
The changes started in each position room, White said, and in the film room. Watching and studying tape of the opponent is oh-so important. White, a sophomore and the league's leading tackler, lamented the lack of film study from some defensive players after the loss to Troy.
The film studying has increased. Jackson admits that.
"I really picked up my practice habits, film habits," he said.
"The more time you see something, the better you're going to be at it when it comes on the field," White said.
Lawrence calls the film studying "homework."
"The way practices are set up here, it's, like, we go hard for a short period of time," he said. "You have to go home and do your homework."
If someone isn't doing their homework, now there are repercussions — not from coaches, White said, from players.
"Every room took it upon themselves to hold their room accountable," White said. "People listen. At first, probably had people scared to talk. They didn't really want to say much. After that, it was demanded that if you're a leader in your room, we're going to hold you accountable. If you're not controlling it, another person from another room is going to."
When J.D. Moore stood up, he had no idea what was happening.