Welcome to Film Room, our weekly analysis of LSU's last football game.
Have a seat. No talking. No tweeting. No texting. Pay attention.
(Editor's note: Click the images to enlarge)
OXFORD, Miss. — Fire up the deep fryer at the Oxford Chevron, Phyllis Smith, you dear you.
How They Happened (big-play analysis)
Swing pass: On second-and-1, Danny Etling completes a 1-yard route to RB Darrel Williams, who runs 62 yards to set up LSU's game-opening field goal.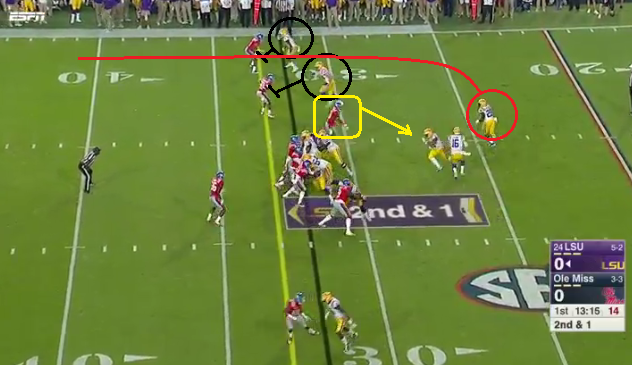 The Tigers ran this exact play multiple times Saturday, something the staff saw on film because of Ole Miss' man-to-man coverage on the edge, coach Ed Orgeron suggested after the game. There are two real keys to this play and the first is that tight man defense, resulting in convenient blocking for TE Foster Moreau, split out wide, and WR DJ Chark (black circles).
The other key on this play is the immediate action of DE Marquis Haynes (yellow box). Haynes is fooled by the play-action to RB Derrius Guice. It's all a set up by OC Matt Canada. Guice got the first two carries of the game for a combined 22 yards. Haynes takes one step toward Guice, more than enough for Williams to get open in the flat.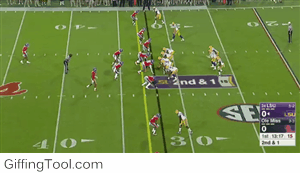 The third point we'll make on this play is the timing from Etling. He makes it seem easier than it really is, firing a quick dart to an in-motion Williams. The play is clearly something the Tigers practiced all week. They executed it, multiple times, to perfection on Saturday. 
The long one: Derrius Guice rips off his longest run of the game in the first quarter, a 59-yard jaunt down the left side of the field.
The blocking here is exceptional and it springs Guice in a way that the running back does not get touched until 55 yards down the field. A key in this play is the edge blocking from Toby Weathersby (blue). The Tigers are in an unbalanced look, with two tackles on the left side.
The other two blocks come from RG Ed Ingram at the second level (yellow square). You see Ingram here on the ground after he executes a cut block on an Ole Miss linebacker, removing the linebacker from making a tackle downfield. The black circle is LT Saahdiq Charles, walling off his man to create the hole with Weathersby. 
Trick blitz: On third-and-11 late in the first quarter, LSU DE Christian LaCouture sacks OM QB Shea Patterson after a pressure from edge rusher Arden Key.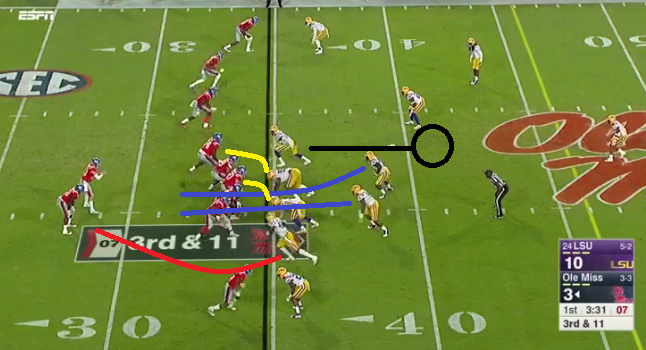 This is a crafty blitz from Aranda early in the game. The coordinator always talks about disguising his pass rushers. This is a great example. He drops Corey Thompson (black line) into a zone coverage and sends both inside linebackers Devin White and Jacob Phillips (blue lines). Meanwhile, the only down linemen, Greg Gilmore and LaCouture (yellow), loop to the right side.
Arden Key (red line) is left all alone in a one-on-one with Ole Miss right tackle Rod Taylor. Key feigns a bull rush and then loops around Taylor for the pressure and eventual sack.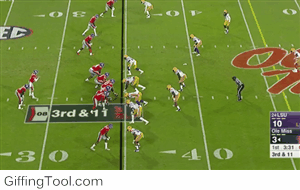 Shoveling: On first-and-10 from the Ole Miss 11, QB Danny Etling connects with F-back JD Moore on a shovel pass for a score.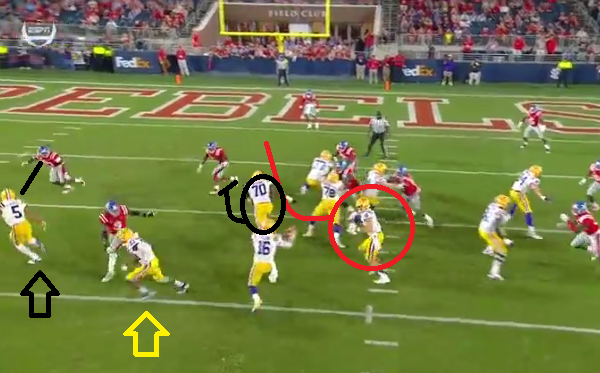 We always talk about how Matt Canada's offense is similar to a triple option attack. Here's a great example. There are three options on this play: RB Derrius Guice (black arrow), WR Russell Gage (yellow arrow) and FB JD Moore (red circle). 
The fake to Gage on the jet sweep really creates the opening for Moore, and pulling RG Ed Ingram (black circle) finishes off the play, blocking Ole Miss LB DeMarquis Gates. Moore makes one man miss at the line of scrimmage and bolts into the end zone for his first career touchdown. 
It wasn't much but LSU saw a rise in both the Associated Press and Coaches polls on Sunday.
---
POSITION ANALYSIS
Big Ugly Booms (OL analysis) 
You don't need me to tell you that the offensive line got an exceptional push against Ole Miss' front. The Tigers didn't run for nearly 400 yards on accident. The pass blocking, however, remained an issue, and it was part of the reason why LSU did not complete a pass to a wide receiver. Ole Miss brought pressure and got to Etling on nearly each downfield attempt. In fact, in the first half, there were six pass-pro pressures allowed, including two from the tight end position. In the second half, there were none, as OC Matt Canada stuck to the short and quick stuff.
The run-blocking is where LSU's line really dominated. Just check out Derrius Guice's yardage before contact: 147 of his 276 yards came before a defender laid a hand on him. Here's a further breakdown of the 22 carries
First contacted in the backfield: 2
First contacted 3 or more yards downfield: 12
Monday Morning Quarterback (QB analysis)
Danny Etling continues to be as good of a game manager as you'll ever see. What's that mean? He's not making big mistakes (interceptions) and avoiding large negative plays (sacks and such). But will a game manager beat the next opponent, Alabama? 
Etling did not complete a pass to a wide receiver, as mentioned above. LSU is playing to its strengths, giving Etling short, quick passes to backs and tight ends because of a young, sometimes unstable offensive line. To beat better teams (namely, Alabama), you've to push the ball down field. Etling targeted four receivers. Here's how that went
Stephen Sullivan dropped a touchdown pass
Russell Gage dropped a first-down pass
DJ Chark was interfered with
Russell Gage fell down on a second target to him
Three Yards And A Cloud (RB/F analysis)
On about 25 of LSU's 68 plays, Darrel Williams and Derrius Guice were on the field at the same time. The two backs finally appear to be close to full strength, and thus OC Matt Canada is using them at the same time. Expect this to continue.
Canada is using them in different places, too. For example, Guice lined up at receiver 6 times and aligned at F twice. Williams was at receiver at least once and F at least three times. 
We learned a lot more about Guice's injury from the television broadcast. As they often do, coaches divulged more information to the broadcast team than they do to local reporters. Guice injured his knee, presumably the left, during preseason camp. You remember that he missed about a week of camp with an undisclosed injury. He then re-injured the knee in the loss to Mississippi State. Coaches told the broadcast team that Guice did things in practice last week that he hadn't done all season, as he rounds into full strength.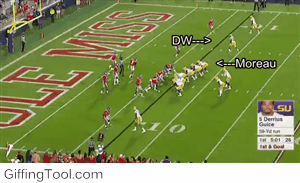 The versatility Guice displayed speaks to his health. He had 129 yards after contact, gaining large chunks as he left would-be tacklers in his wake. On at least six of his carries, Guice gained 5 or more yards after contact. Check out his vision and the two cuts he makes on this play.
TE Foster Moreau and Williams were key in blocking during this game, and so was WR DJ Chark. There's a great example of Moreau and Williams' blocking in the above GIF.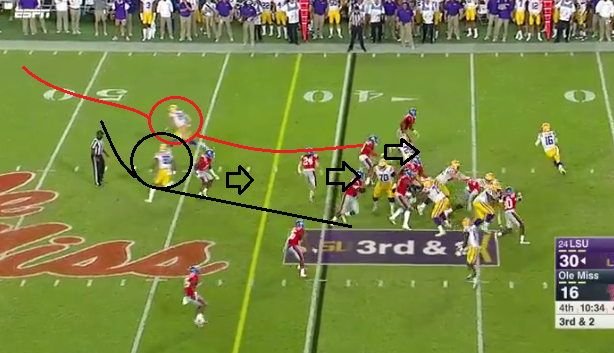 Moreau did more than block, of course. He caught a 60-yard touchdown pass, the final dagger for the Tigers. He got wide open doing it. Really, really wide open. You see the play to the left. On a third-and-2, Ole Miss defensive backs thought run. All of them - every single one - stepped up to play the run, leaving tight ends Moreau (red circle) and Jamal Pettigrew (black circle) both open down field.
Front 7 (DL/LB analysis)
The Tigers almost exclusively played Ole Miss from their Base Nickel (3 DL, 1 OLB, 2 ILB, 5 DB), using that defense on about 40 snaps. The only other formation they used was the 2-defensive lineman nickel package, where they insert an extra outside linebacker. 
LSU worked in freshman Jacob Phillips more in this game than it has all year. Phillips started four drives along side starter Devin White. Tyler Taylor started seven drives. The Tigers were without Donnie Alexander for undisclosed reasons. He dressed, but did not play. He was in a gold injury jersey during practice last week. 
The Tigers rotated Frank Herron more in this one than during his first game back last week (15 snaps). He played in about 23 snaps against the Rebels, spelling either Christian LaCouture or Rashard Lawrence. 
Arden Key had 7 QB pressures, according to our count. That's his most this season and one more than last week. How'd he get them? We charted that.
| | | | | |
| --- | --- | --- | --- | --- |
| Down | Defense | Rushers | How he got pressure | Alignment |
| 3rd-11 | 2-DL nickel | 5 | Beat RT one on one with outside rush | Standing on edge |
| 1st-10 | Base nickel | 4 | Beat LT one on one with outside rush | Standing on edge |
| 2nd-5 | Base nickel | 4 | Beat LT with inside rush | Standing on edge |
| 3rd-5 | Base nickel | 5 | Beat LT with inside rush | Standing on edge |
| 1st-10 | Base nickel | 5 | Unblocked | Standing on edge |
| 2nd-18 | Base nickel | 4 | Beat RT with inside rush | Standing on edge |
| 2nd-7 | 2-DL nickel | 4 | Twist inside to beat LG | Standing on edge |
As you see, Key was back to his old self in harassing tackles - whether left or right. LSU moved him around. Freshman K'Lavon Chaisson's playing time continues to slip as Key grows more and more healthy. Chaisson played in about 10 snaps.
OXFORD, Miss. — Backed up in its own territory is where the LSU defense thrived Saturday nig…
Break it up (DB analysis)
Last week it was Donte Jackson and Kevin Toliver, but this week, Greedy Williams had the most impressive outing based on numbers alone. His one pass breakup was in the end zone, and he allowed just one completion on seven targets. And the completion went for 8 yards. Here's the targets-catches rundown for the DBs
Greedy Williams: 1 for 7 (8 yards)
Donte Jackson: 3 for 8 (32 yards)
Kevin Toliver: 1 for 5 (15 yards; 2 pass interference)
Grant Delpit: 6 for 7 (87 yards)
Ole Miss used its tight end a good bit, and Delpit was on coverage there. Orgeron mentioned that in the postgame news conference, expressing disappointment in the coverage of Rebels tight end Dawson Knox.
Photos courtesy of ESPN.
---
LSU coach Ed Orgeron noticed a difference about his team during Tuesday's practice.