An hour before LSU football coach Ed Orgeron's trademark "Hold That Tiger!" recruiting tweet, a high school star defensive end scrambled to find an artist.
"Who can do edits???" Alec Bryant posted on Twitter at 5:06 p.m. Monday.
Time was ticking.
Sports reporters, athletes and fans were starting to catch on that Bryant, a junior at Shadow Creek High in Pearland, Texas, was going to announce his commitment to the LSU Tigers' 2020 recruiting class.
Bryant wanted to join the trend that has swept up nearly every major modern athlete in college football: He wanted a graphic to post along with his announcement — an artistic picture with swagger and flash and flare, the type that's become standard in the social media age.
Perhaps you've seen similar graphics flood your social media timelines. The hundreds of photos with their digitized logos and footballs have probably only just started to fade away, now that national signing day has been over for nearly two weeks. 
But where do they come from?
Luckily for Bryant, his social media following allowed him to crowd-source:
"@GeauxEdits The Best!!" one person replied
"@GeauxEdits best in the business," another wrote.
An Oklahoma fan even took his shot to flip Bryant to the Sooners by suggesting: "These are the 2 guys most #Sooners fans recommend cos they do great graphics work... @DefDesigns_ @JasonSwanny."
And just like that, Bryant was sucked into the underground world of graphic design — a thriving community of hundreds of professionals, freelancers and hobbyists whose desire to create art has met a ravenous market of athletes looking to boost their profiles.
Athletic departments across the nation have also caught on, and schools like LSU have hired entire teams of creative artists to illustrate graphics.
The pictures Bryant eventually posted were produced by the LSU athletic department.
But the recruit also commissioned a graphic with lightning, smoke and glowing eyes, created by Daniel Vlosky — a 32-year-old Baton Rouge native who quit his software development job nearly two months ago to pursue a career in graphic design.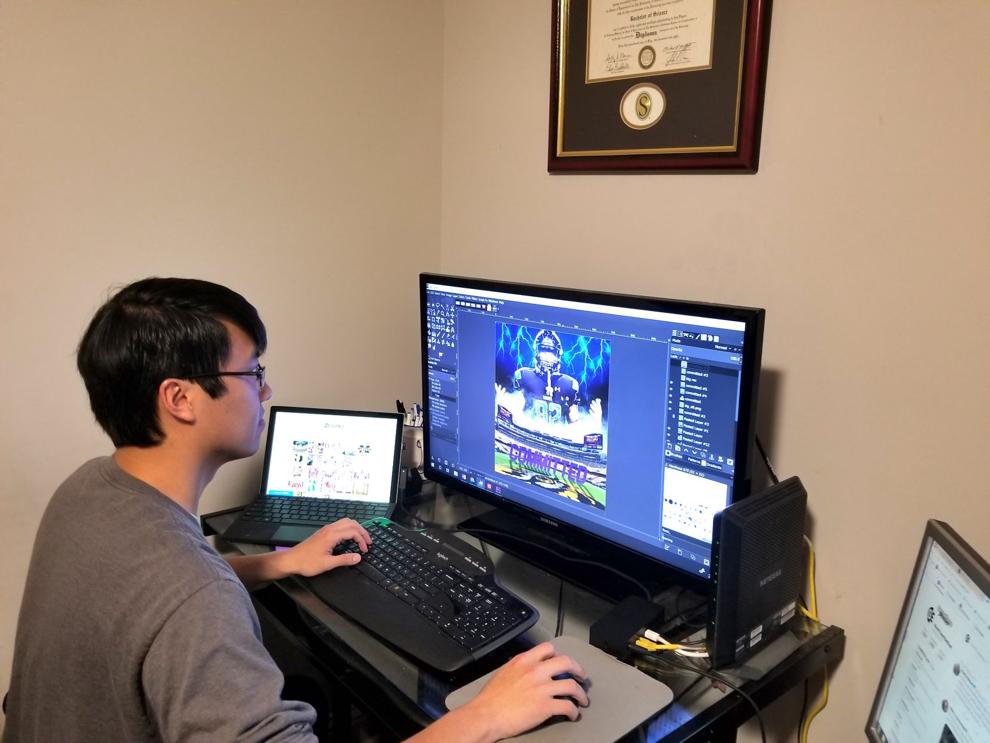 In a flooded national market of designers, Vlosky has become one of the most frequently used freelancers by athletes in the Louisiana region.
His graphics have been used to announce LSU commitments by prospects like 2019 defensive tackle Siaki Ika and 2020 offensive tackle Courtland Ford.
Vlosky estimates he has created 400 to 500 graphics for athletes within the past two years (more than 75 this past signing day) — a high enough rate for Vlosky and his fiancé to believe his dream can help professionally support their three children.
"It's so corny to say this, but you only live once," said Vlosky, a 2004 graduate of University High. "I'm 32, and it's a good time for me to try this, and if it doesn't work out, it's OK."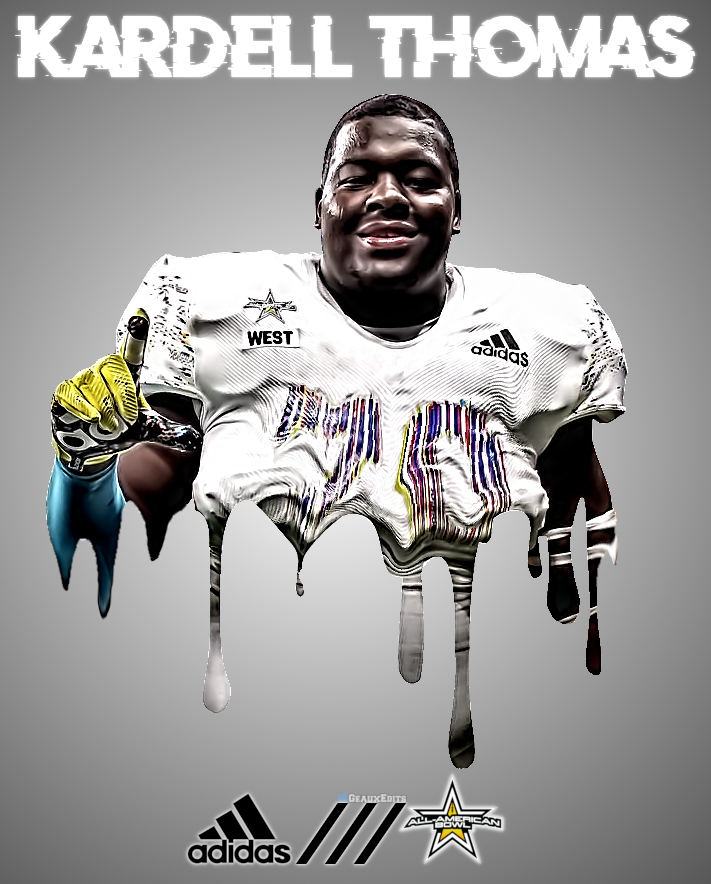 The recruiting graphics are more of a launching pad for Vlosky; he hardly makes any money off the requests he receives from players like Bryant.
"I try not to charge these kids," said Vlosky, who sometimes asks for $5 or $10 in tips if his schedule gets backlogged. "A lot of these kids don't come from anything, and I just want to celebrate that they went from a zero to five-star (rating). I want to celebrate them furthering their college careers, because some of them are the first people in their families to go to a university."
Vlosky's goal is to establish a legitimate sports management and marketing business, and his growing platform has led him to land partnerships with organizations like the Under Armour All-American Bowl and Arkansas Elite, a 7-on-7 team based in Little Rock. 
The relationships Vlosky builds with players generally lead to networking opportunities. 
"I'm not bringing in the same amount of income I left yet," said Vlosky, who received a master's degree in business at Southeastern Louisiana. "But I hope that's coming down the road soon."
The recruiting graphic design world is incredibly vast. It's difficult to know exactly just how many designers are out there creating photos for recruits.
Andy Meyer, a 38-year-old designer in Dallas, said he first noticed the recruiting graphic boom about two years ago. An Oklahoma Sooners fan, he started scrolling through message boards and saw a post that included some recruiting graphics.
"I said, 'I used to know how to do that,' " said Meyer, a freelancer under the name Def Designs. "So I started there and started messing with it."
Vlosky also noticed the trend, and he saw it as an opportunity. As a kid, he'd cut his teeth by designing his own covers of EA Sports' NCAA Football video game, using the Paint and CORAL programs on his family's computer.
"I just did (recruiting graphics) because I love sports," he said. "I wanted to celebrate that these kids are getting scholarships, furthering their education career. I started getting better and better, put some time and effort into it."
Vlosky doesn't remember the first player for whom he designed a graphic. But after posting a few designs of local LSU players, word of mouth gained him a following from prospective Tigers football players.
Some days, Vlosky said, he'll receive 25 to 30 requests from players on Twitter. Other days, he'll get 100.
"My message requests are out of control," Vlosky said. "I do try to get back to everyone. I feel so bad."
Mostly, his requests are made in advance. It takes anywhere from an hour to a day or two to complete projects, which means players entrust Vlosky with decision secrets just about any fan or reporter would be interested to know.
And that includes when a player changes his mind, which Vlosky said happened frequently before signing day.
"That's a fun one," said Vlosky, who said he can switch out a logo in 15-20 minutes. "It just shows me the volatility of recruiting. I don't ask them why they did it. But it does suck."
When defensive tackle Siaki Ika committed in December, he told Vlosky the night before.
"I didn't even realize he hadn't even told Coach O at that point," Vlosky said. "I don't pressure them at all. I tell them, 'Tell me all the details when you're ready, and just try to give me at least a day or two to prepare for it.' "
The trust, Vlosky said, is essential, and it's helped him grow his following that might eventually help him succeed in a crowded industry.
"It's pretty hard to make it," said Meyer, who works full-time in commercial refrigeration. "You have to have patience."