B.J. Ojulari is the grandson of a Nigerian prince, the descendant of a powerful war chief and king.
Really.
LSU's newest defensive end, the 18-year-old who hardly left his home in Marietta, Georgia, the true freshman whom coach Ed Orgeron said is "probably our best pass rusher right now," is genuine royalty.
Ojulari's mother, Bolanle, grew up in a palace, although the multi-house compound is more humble than you'd expect.
Bolanle's late father, Olaniyi Osuntoki, was a world-famous painter and musician who toured the globe. He changed his name to Prince Twins Seven-Seven, a name that recognized he was the only surviving child of his parents' seven sets of twins.
The son of a Christian mother and Muslim father, Twins Seven-Seven dedicated his artwork to bringing back the Orisha deities of his Yoruba ancestors. His great-grandfather, Osuntoki, worshipped Osun, the goddess of purity and fertility and love.
Osuntoki was the king of Ibadan in the 1890s. Refugees founded the city-state earlier that century, and their military leaders fought off invasions from other tribes seeking to sell them into slavery. Civil wars sprung within Ibadan, and Osuntoki was bestowed his royal title — Olubadan of Ibadan — for his valor on the battlefield.
Twins Seven-Seven may have been king if he had not died at 67 following a stroke in 2011. Instead, the title was eventually passed on to Oba Saliu Adetunji, 92, who remains Ibadan's sitting monarch today.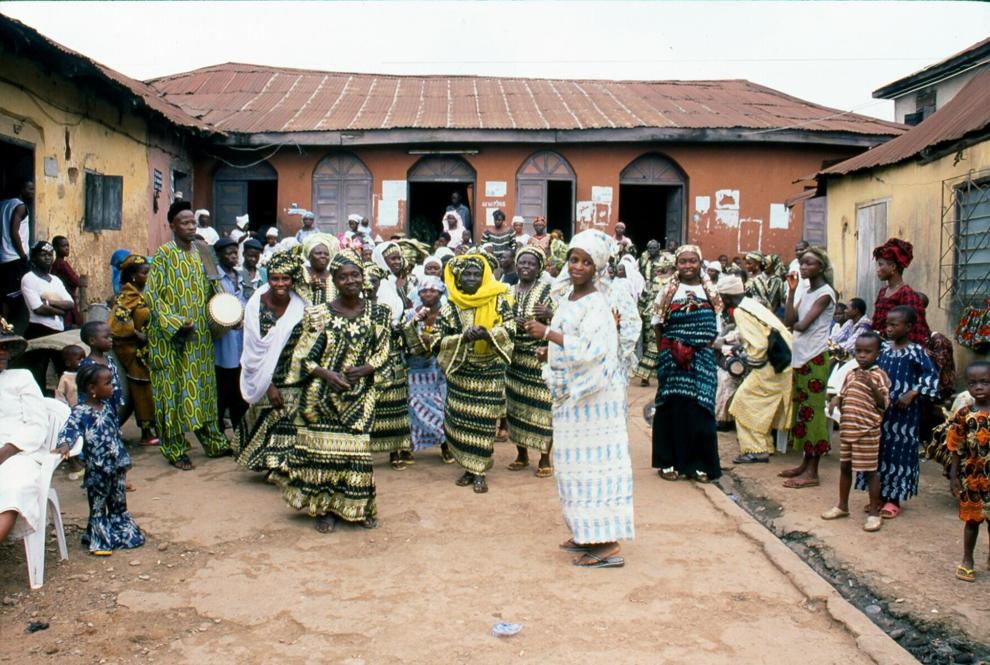 An oracle helps the royal family choose the next king when the Olubadan of Ibadan dies.
Bolanle said it is unlikely her son — whose full name is Jamiu Bolaji Ojulari — will ever be chosen. Twins Seven-Seven had 16 wives and 35 children, and the crown is normally passed down through male lineage.
Royalty is more than a crown in Ibadan. The honor represents social respect and wisdom in judgment. They are traits any person can earn in any life.
Twins Seven-Seven once visited Bolanle's family for several months in the Atlanta region. He sat B.J. down and reminded his grandson who exactly he was.
"You are a prince," Twins Seven-Seven said. "Whatever you want to achieve, go and get it. Whatever you want to be, go be."
A lot of damage, little time
"It's an unbelievable story, isn't it?" Richard Morgan said, a few hours after Marietta High finished a football practice.
It's not a story many people know.
Morgan, the head coach of the Blue Devils, found out his star football player was a Nigerian prince a couple years after they first met.
The characteristics fit: Ojulari was a leader, a team captain. He was always positive. He respected others while commanding respect. Teachers loved him, Morgan said. So did the young kids in the city, when Ojulari and the Marietta football team visited elementary schools.
"You'll probably walk away saying this is one of the greatest human beings I ever met in my life," Morgan said. "He was a positive impact and a positive effect on anyone he met."
The descendant of a war chief? That also made sense. He was powerful. Ojulari tormented opposing backfields and broke the school record with 36 career sacks. He set Marietta's single-season record with 19 sacks in 2019, when the Blue Devils won the Class 7A state championship.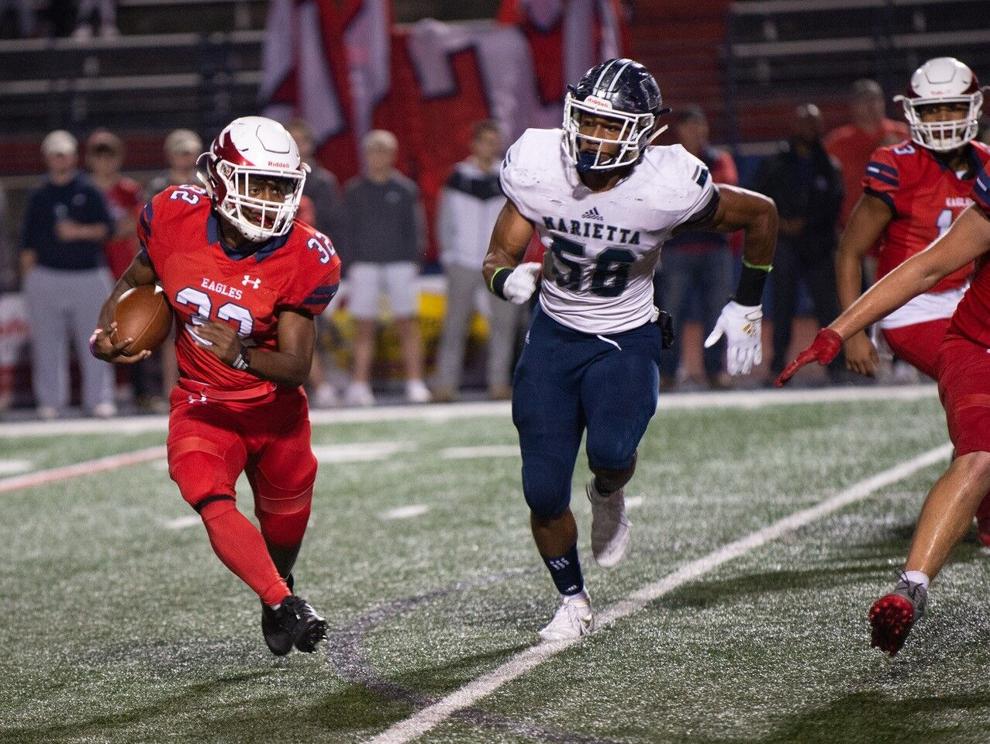 Morgan's coaching staff designed multiple defensive packages around Ojulari. They lined him up at defensive end. At linebacker. They moved him around, creating different angles, disguising his presence so opposing offenses wouldn't know where he was headed.
Even if they did, the results were usually the same.
"A lot of damage happens in a very short amount of time," Morgan said.
Marietta was 23-21 in the four years before Ojulari's arrival, and Morgan credited program's rise to last year's graduating class, which included another projected LSU star: Arik Gilbert, the first tight end to win National Gatorade Player of the Year.
Ojulari was a two-way player, a fixture at right tackle who started in every game since he was a freshman. He had remarkable hip flexibility and explosiveness, and he set the school's power-clean record at 335 pounds.
He was physically exhausted after every game, Morgan said. He played every snap on offense. Every snap on defense.
"All you got was his best effort," Morgan said.
Orgeron snatched Ojulari away from Georgia, where his older brother, Azeez, is a star linebacker, and the LSU coaching staff and players have been raving about Ojulari since he came to campus.
Orgeron told reporters Ojulari is still "going to see a lot of snaps" in LSU's season opener against Mississippi State at 2:30 p.m. Saturday in Tiger Stadium. An effective LSU pass rush will be critical against Bulldogs coach Mike Leach's "Air Raid" offense.
And just how did the descendant of a Nigerian king end up in Baton Rouge?
"Oh," Bolanle laughed, "that's a long story."
'Open your eyes and see'
Mutiat Oladejo stepped out of her car and into the untarred road.
This spot, in a residential neighborhood, was the spot where the professor of history at the University of Ibadan knew she could get reliable enough signal to have a video call with an American reporter.
The sun was shining. Children, let out from school, walked down the street, which was bordered by walls topped with barbed wire. House after house peeked above the walls, each one reminiscent of any middle-class home in the United States.
Ibadan is the third-largest city in Nigeria, with 6 million people. The Yoruba people once took refuge in the hills of this West African region, about 80 miles from the coast of the Gulf of Guinea. Now, the city is as packed as New York.
Modern malls are popping up, Oladejo said. Botanical gardens. Event centers. Capacity buildings for culture, education and national conferences.
Ojulari's parents, Bolanle and Monsuru, both were born here. Monsuru grew up in a middle-class family. His first American dream was visiting Oklahoma, the state he was assigned to study in a high school geography class. He'd meet his wife later, when he moved to Philadelphia to attend college.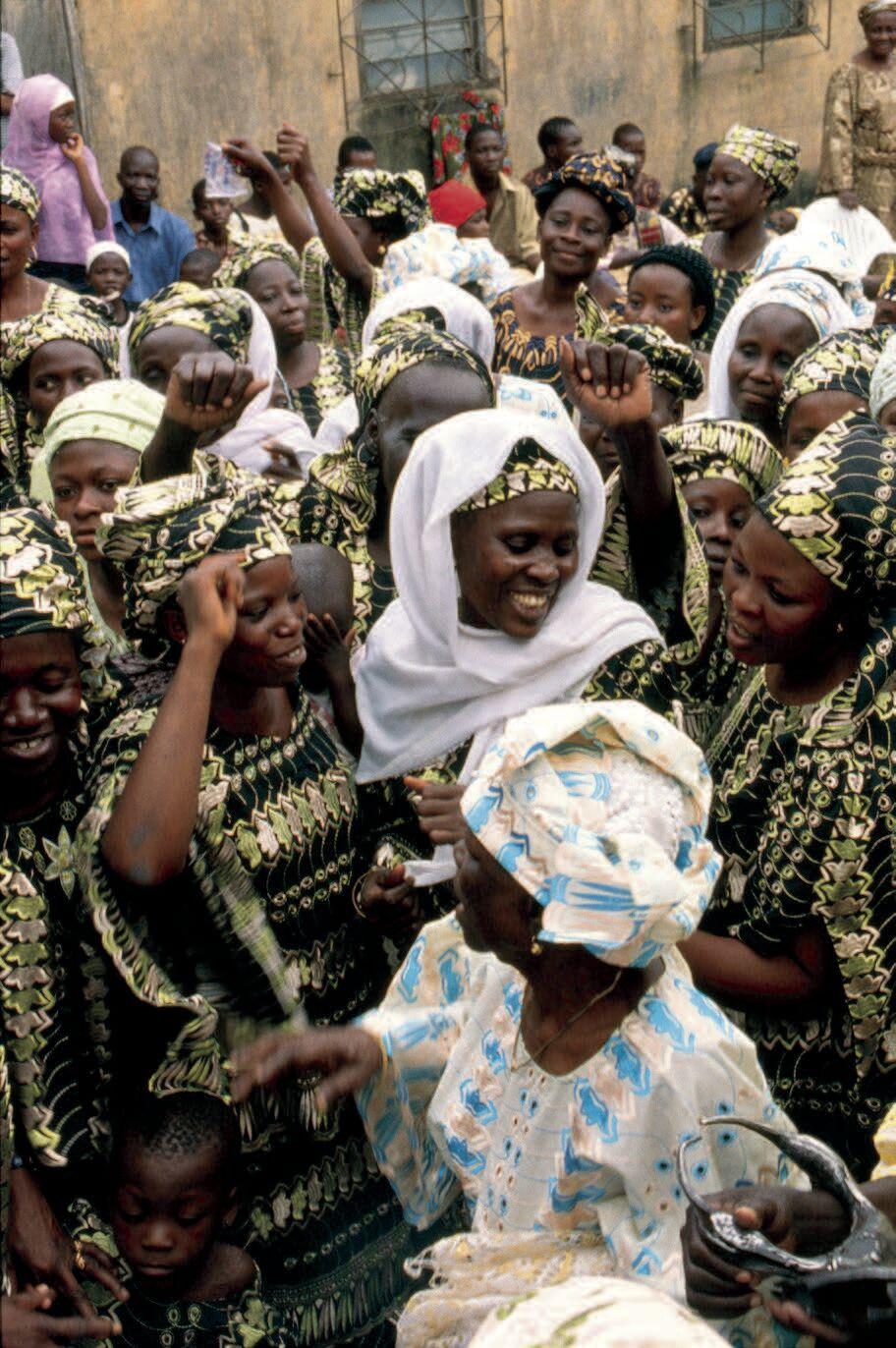 Bolanle grew up in the palace, a humble compound of clay-wall houses with almost 20 total rooms. The houses are connected by courtyards. A large courtyard in the front is designated for music and dances and acrobatic performances on celebratory days.
Within the central building, above-ground tombs honor the family members of the past.
This is not the glamorous scene of some fantasy movie, where kings sit on golden thrones and run their hands through chests of gold. Wealth in Ibadan is more feudal: It's more about land ownership, access to agriculture.
Royal life in the palace isn't really about wealth anyway.
"Respect is a great deal more important in a tight society than wealth," said Henry Glassie, author of "Prince Twins Seven-Seven: His Art, His Life in Nigeria, His Exile in America."
"The palace doesn't represent wealth. It represents respect. It's not wealth and glory."
Foreigners visited the palace frequently, Bolanle said. They came to see her father's art, to hear his music, to learn about her traditional culture. Twins Seven-Seven toured the world because of his fame — to Japan, to France, to America — and he took Bolanle with him. He believed travel was part of her education.
"Just open your eyes and see what is going on," he'd say.
Bolanle finished art school in Nigeria, and in 1996, she brought some of her work to Philadelphia at an exhibition her father was holding. She decided to stay, against Twins Seven-Seven's wishes.
At 27, Bolanle began her new life. Family still lived nearby. One day, she was preparing food in her uncle's house when one of his friends, Monsuru, arrived at the door.
"Who's the beautiful girl in the kitchen?" Monsuru asked her uncle quietly.
They proceeded to have a friendly argument — the protective uncle vs. the bashfully interested suitor — without a clue that Bolanle could hear the whole thing.
They married, and Monsuru's job as a network analyst relocated the family to Atlanta, where they raised two boys and two girls: Mariam, Azeez, B.J. and Olabisi.
The children all took after their famous grandfather in one way or another. Many times, Bolanle would find her children sketching, drawing, designing. 
She's now a lab technician, but, when she feels the urge herself, she'll pull out a sheet of paper and draw.
Bolanle and Monsuru both have wanted to take their children back to Ibadan, to show them where they came from. The trip has always been in the plans, but it hasn't happened yet.
The parents have held onto so much of their culture within their own home in Marietta. They've upheld it in their meals. They still speak the Yoruba language, and, although the children don't speak it fluently, they understand words when they hear them.
Even if the trip never happens, perhaps the most inspiring familial message has still made it through.
As her youngest son, B.J., began his own path to Baton Rouge toward a journey that could lead to the glory of the NFL, she has passed on a familiar message.
"Whatever you want to do, just believe you can do it," Bolanle told him. "And by the grace of God, you will do it."