This isn't the way Leonard Fournette wanted it to end.
His team, LSU, is mathematically eliminated from winning the Southeastern Conference championship, let alone that national title he's always craved.
His coach, Les Miles, the guy who recruited and signed him, is gone, fired four games into Fournette's junior season.
Trouble seeing video? Click here. 
His ankle, sprained during preseason camp, has cost him to miss three games this season and ruined his hope of being LSU's all-time leading rusher.
His college career, one that began with a yardage-mark goal against Alabama and that notorious Heisman Trophy pose, will end without a win over the Tide or a trip to New York.
During a 10-minute interview with reporters Tuesday, Fournette smiled through the negatives.
"Throughout my whole experience at LSU, from my freshman year until I first stepped foot on campus, it's been exciting," he said. "The good and the bad, I enjoyed every bit of it."
Fournette, a New Orleans native and draft-eligible junior, declined Tuesday to reveal what many believe is the inevitable: He will leave after this year for the NFL draft.
"He'd be dumb to come back," center Ethan Pocic said.
Fournette, a 6-1, 230-pounder who led the nation in yards per game last season, is projected by nearly every major outlet to be picked in the top 10 of the 2017 NFL draft. The former No. 1-ranked recruit in the nation is a top-3 projection according to some. In six months, he could sign a contract for as much as $25 million and receive an immediate signing bonus of more than $10 million.
He called his decision Tuesday "tough" and "hard." Really?
"It really is, thinking about everything you're leaving behind. But also, I know you're going to have new things when you go," Fournette said. "I love college. I love everything it comes with."
Saturday won't be Leonard Fournette's final game in Tiger Stadium -- at least he's not admit…
Fournette and the other draft-eligible juniors will meet with interim coach Ed Orgeron at some point soon to discuss their decisions, he said. They'll make decisions "with the team as a whole," Fournette said.
On Tuesday, Fournette questioned his ability to advance to the next level, a humble move by a person who rarely if ever gloats about his skills, attributing everything to God.
"At the end of the day, man, nobody wants to leave college," he said. "Nobody is ready for the real world. I know I'm not, to be honest. We've got to wait and see when we talk to Coach O."
What concerns him about the NFL?
"There's men," he said. "Playing against 36-year old (players) ... 32. Mentally, you've got to be ready."
Ahead of LSU's meeting at noon Saturday with Florida (7-2, 5-2 Southeastern Conference), so many signs point to his departure — aside from those high-ranking projections and big dollar figures.
"It's the last ... last last home game," he said at one point Tuesday, when asked about sitting out against the Gators because of his injury. "I want to be there to experience it with my brothers."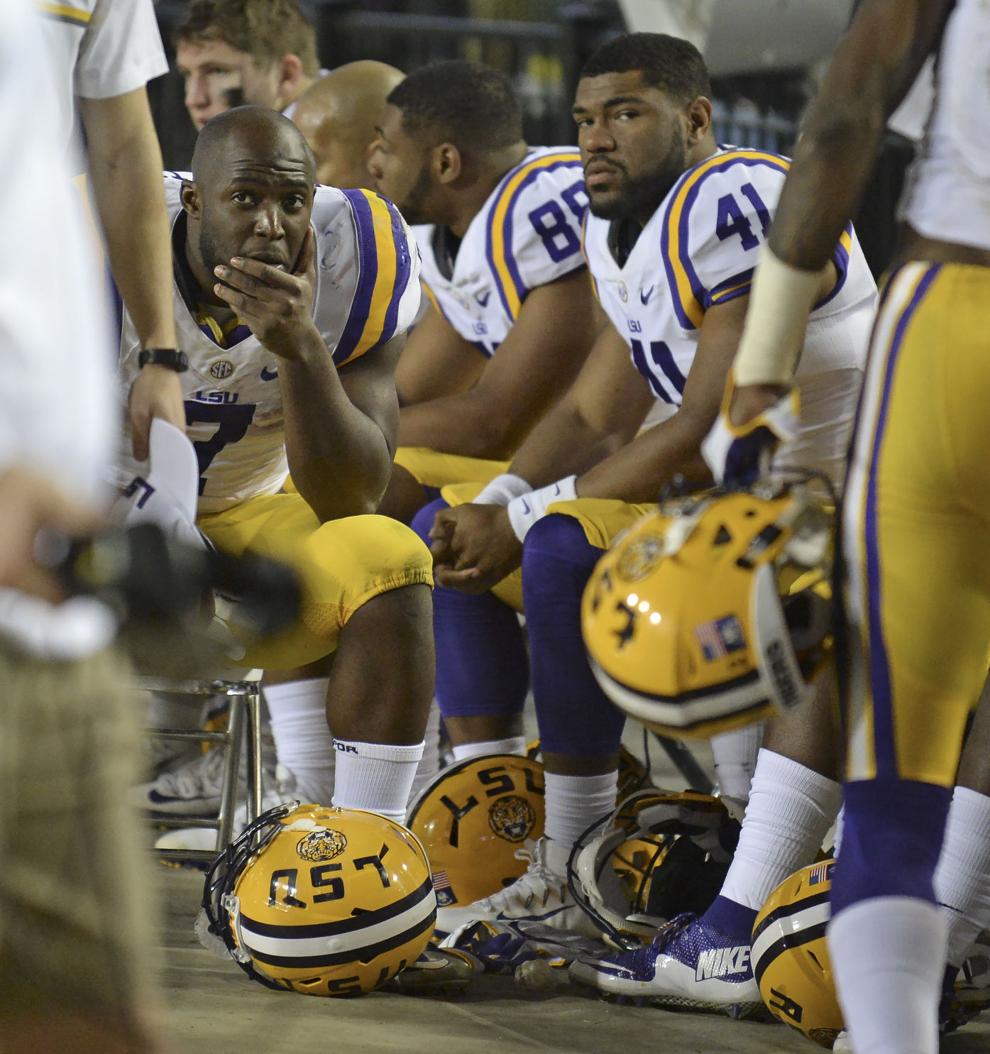 Fournette's family this spring took out two $10 million insurance policies, protecting him from losing draft stock if he were seriously injured. Lately, he's gradually turned the attention to his heir apparent, electric sophomore Derrius Guice.
Fournette admitted earlier this season that he was encouraged by some to sit out the rest of the season after he re-injured his ankle against Wisconsin in the season opener and then again in a loss at Auburn on Sept. 24.
"I could have sat out, but that's not me," he said Tuesday. "At the end of the day, I believe any athlete, any competitor, loves to compete. I would never jump ship on them, on those guys in there."
He's still playing on a bum left ankle and could lead the 16th-ranked Tigers (6-3, 4-2) to the Sugar Bowl is they were to win their next two games.
"To end it where I'm from," Fournette said, "for all of our fans to be there, man, it would be a tremendous feeling."
He suffered high and low ankle sprains during practice in preseason camp. The sprains were compounded by a bone bruise. The bone bruise has healed, he said, but he doesn't expect the two sprains to heal until after the season.
Fournette spends time each day in the team training room rehabbing the nagging injury. He's openly expressed this year his "frustration" with what he refers to as the first major injury of his career.
He's proclaimed this season to be the most difficult of his football-playing days, too.
"Usually someone with his potential, if they have a bad ankle, they're probably going to chill out, not get a lot of reps," tackle K.J. Malone said. "But he's been getting reps and reps."
He got plenty Tuesday during the 45-minute portion of practice open to reporters. Fournette participated in drills at full speed, shuffling his feet and barreling through dummies.
Fournette's banged-up season will likely result in some missed school records. He's more than 700 yards from Kevin Faulk's school-record 4,557 rushing yards and six rushing scores from Faulk's touchdown mark (46). He'll fall at least one shy of cracking Faulk's record for 100-yard rushing games of 22. Fournette is at 19 with no more than three games left.
He's likely, though, to shatter Faulk's yards-per-game mark of 111.2. Fournette averages 122.25 yards a game. And he'll soar past Charles Scott's yards-per-carry mark. Fournette is nearly a full yard (6.25) ahead of him.
Tales of Fournette will go down in LSU lore, too.
"I came in and I'd heard about he's the No. 1 recruit and all that," tight end Colin Jeter said. "Playing (junior college), I didn't have a grasp for how good of a player he'd be. I've said this to everybody, but that first scrimmage we had — when he busted off that long touchdown and broke three or four tackles on the starting defense — I knew he was going to be good."
Fournette still watches replays of his 228-yard performance against Auburn last fall in Tiger Stadium, an outing, to him, that ranks above any other.
He hurdled multiple defenders, ran through others and out-raced guys 30 pounds lighter than him.
"Still to this day when I watch that," he said, "sometimes I can't believe I did that."
---
CHASING HISTORY
Leonard Fournette has missed three of LSU's nine games this season, but he's still got a chance to break a few career rushing marks, including yards per game and yards per carry and, with a furious finish, the touchdown mark.
Record

type

Current mark

Current holder

Year

Fournette currently

 Rushing yards

 4,557

 Kevin Faulk

 1995-98

 3,790

 Yards per carry

 5.46

 Charles Scott

 2006-09

 6.25

 Yards per game

 111.2

 Kevin Faulk

 1995-98

 122.25

 Rushing TDs

 46

 Kevin Faulk

 1995-98

 40

 100-yard games

 22

 Kevin Faulk

 1995-98

 19