LSU's search for a head football coach revved up this past weekend, as a group of university leaders took the next step in the hunt for Les Miles' replacement.
A group of five to six decision-makers, during a meeting, narrowed a list of candidates to as few as four and formulated multiple plans that could be executed next weekend.
A person with knowledge of the search spoke to The Advocate on a condition of anonymity.
The university has spent the past eight weeks using backchannel methods to gauge the interest of multiple college head coaches and vet them, while also evaluating interim coach Ed Orgeron's job with regards to his serious candidacy for the full-time position. It was the first step in a process that took a turn over the weekend, when two-touchdown favorite LSU lost to Florida 16-10 in the home finale at Tiger Stadium.
The loss opens the door to a pool of candidates — led by Florida State coach Jimbo Fisher — and ends a potential plan to quickly name Orgeron the school's new leader, the source confirmed. Orgeron, a 55-year-old who's 10-4 in interim roles at Southern Cal and LSU, remains a viable candidate for the full-time position, the source confirmed.
He's expected to meet with LSU athletic director Joe Alleva on Friday after the Tigers' regular-season finale on Thanksgiving night at Texas A&M, where he'll lay out a long-term plan that likely includes hiring a proven guru as offensive coordinator. Orgeron and Alabama offensive coordinator Lane Kiffin remain close friends.
Ed Orgeron stood way out on the apron of the football field, signaling for his final timeout…
Meanwhile, university leaders have kept "the lines of communication open with Jimbo Fisher's people," and they feel strongly that he's "very interested" in returning to Baton Rouge. 
Fisher has been a candidate for a year now. The Advocate reported on Dec. 4 of last year that representatives from LSU and representatives for Fisher were in discussions days before the school beat Texas A&M in what many believed to be Miles' final game as coach. Alleva admitted then only that he "looked at options" and made "inquiries" regarding a potential new football coach.
Fisher burst onto the scene as LSU's offensive coordinator and quarterbacks coach under Nick Saban (2000-04) and then Miles (2005-06). School officials have vetted multiple candidates for the job, but leaders don't feel as strongly about any of them as they do Fisher, a 51-year-old who's led the Seminoles to a national championship and three conference titles.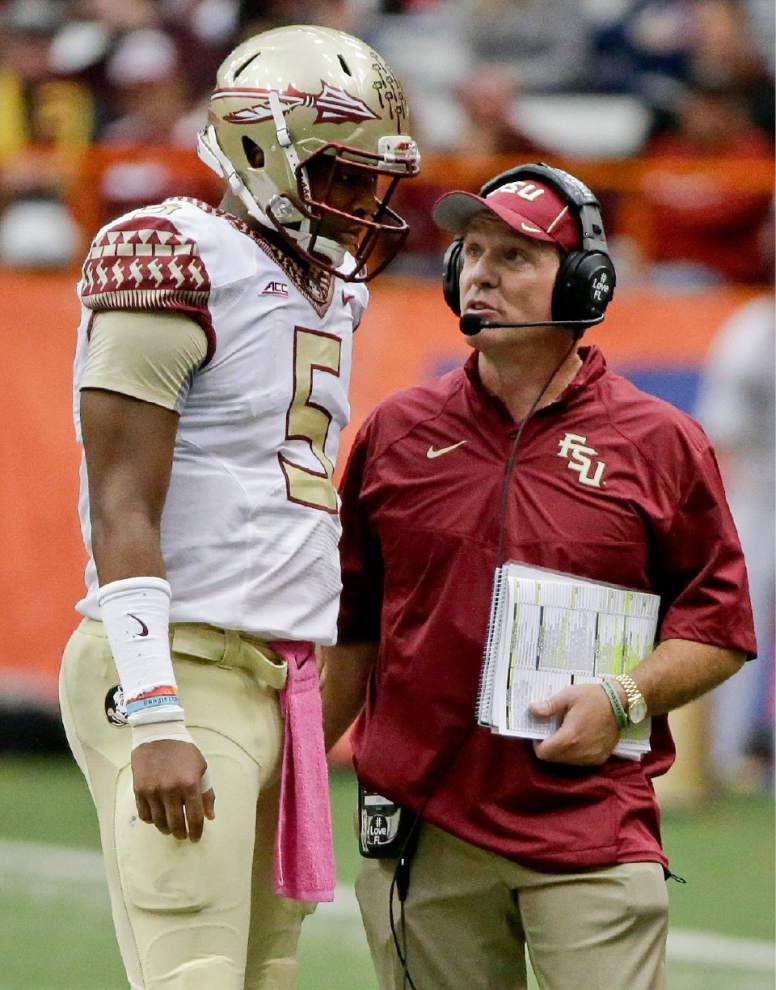 Florida State has won double-digit games in five of his six full seasons, and he has this year's team 8-3 and at No. 15 in the most-recent Associated Press Top 25.
LSU's search is not expected to resemble the last one. In the hunt to replace Nick Saban in December of 2004, a committee of six university leaders took more than a dozen flights and visited at least five cities during a five-day search that included six face-to-face interviews.
Leaders don't expect this to be an extended process, as the university makes an aggressive run, starting Saturday night, at who's considered the leader, Fisher. Florida State hosts Florida in a game that kicks off at 7 p.m. CT.
Money is not expected to be a significant issue for LSU. The school is paying Miles $9.6 million over the next six years. Fisher is set to make $5.1 million this year and has a buyout of $5 million. His contract, signed in January 2015, runs through the 2022 season.
LSU has competition on the coaching search trail. Texas decided Sunday to fire coach Charlie Strong, The Austin American-Statesman reported. Jobs at Notre Dame and Oregon could also come open.
The University of Texas is set to fire coach Charlie Strong, according to the Austin America…
The university has vetted several other candidates outside of Fisher, as leaders are seeking an up-and-coming offensive-minded sitting head coach. One of the leaders of that group appears to be Houston's Tom Herman, who many expect to be Texas' top choice. Others who fit that category are North Carolina's Larry Fedora, Virginia Tech's Justin Fuente, more veteran coaches in Oklahoma State's Mike Gundy and West Virginia's Dana Holgorsen, and even a defensive-sided coach in Colorado's Mike MacIntyre.
Orgeron is squarely in that mix, too, and players stumped for their interim leader after Saturday's loss.
"They need to hire Coach O," center Ethan Pocic said.
"I think he's the flashiest name out there," defensive back Tre'Davious White said when asked why Orgeron should be hired over a more flashy coach. "I feel like we've got the best coach here. I feel like the way he cares about us and the way that we prepare and juice we have at practice, I feel like he's the best man for the job."
One thing is certain: Leadership at the university is expected to go to great lengths to keep defensive coordinator Dave Aranda on staff. Aranda signed a three-year contract worth $1.2 million per year in the spring.
His defense has allowed the fewest touchdowns in college football, giving up just 11 touchdowns in 10 games. The Tigers are 11th in total defense nationally (308.1 yards a game) and are sixth in scoring (14.1).
In its four losses, LSU has given up a combined three touchdowns. The unit has held every opponent to less than 21 points, something that only three Southeastern Conference programs have accomplished since 1990.
During a halftime interview with the LSU Sports Radio Network on Saturday, Alleva offered no real insight on LSU's search except to suggest it could be speedy.
"I want to get it right," he said. "Getting it right may be sooner rather than later to make sure we get it right.
"Because of the timetable we've had, we've had a lot of time to do due diligence, do a lot of research and look into all the character and demeanor and all the integrity issues that go into looking at a new head coach," he continued during the interview. "It's a critical position as far as leadership. Our whole athletic department revolves a lot around football, and it's critical that we get the right man in place. I'm very confident that we will. We have a lot of great people interested in it, so we'll see where it goes."