LSU linebacker Michael Divinity has left the team for "personal reasons," coach Ed Orgeron said Monday, which means the Tigers will be without its sack leader going into its No. 1-vs.-No. 2 game against Alabama on Saturday.
The details of Divinity's departure weren't addressed publicly. Orgeron did not delve deeper during his weekly news conference, nor did Divinity in a post on his Instagram page later Monday afternoon.
Orgeron added only that he was not "going to close the door" on Divinity's possible return to the team, and the senior pass rusher wrote he was "taking some time off to focus on a personal matter" and that he was "sorry I can't be on the field for you guys."
"My goal is to get myself back 100% in time to graduate in December and be back on the field fighting with my brothers soon," Divinity wrote. "This is an incredibly difficult time for me, and it means so much to me that so many people have reached out — knowing you all have my back will make the next short while a lot easier. Thank you all."
Divinity missed two of LSU's first three games this season due to what Orgeron called "coach's decisions," and several players were still stunned by Divinity's sudden withdrawal although he had not been at practice last Wednesday during the team's open week.
"That's my brother," inside linebacker Jacob Phillips said Monday evening. "Lose your brother, that's somebody that you put in a lot of work with to get to this point, be 8-0, and then to not have him on the team anymore. I mean, it kind of sucks."
The loss is both a blow to a Tigers' pass rush that has struggled when depth is lacking and a hit to No. 1 LSU's player-led leadership going into the home stretch of the team's push for the College Football Playoff.
Star pass rusher K'Lavon Chaisson remains a threat on the edge, but LSU now has two outside linebackers with game experience remaining on its official roster: Andre Anthony (nine tackles, one tackle for loss, one sack) and Ray Thornton (three tackles).
Freshmen Desmond Little, Ray Parker and junior college transfer Soni Fonua have yet to play.
Orgeron named both Anthony and Thornton as possible replacements and said "we should be fine."
But in Divinity, LSU had a unique athlete, a 6-foot-2, 241-pound player with experience both as an inside and outside linebacker — skill sets that made him a valuable pass rusher in defensive coordinator Dave Aranda's third-down blitz packages.
In the spring, Aranda had moved Divinity from outside to inside in an effort to replace former All-American Devin White's dominant presence and leadership at the heart of the defense.
The move was short-lived, lasting just three games in 2019. Divinity returned to outside linebacker against Vanderbilt to bolster a stagnant pass rush while Chaisson was out two games with an injury.
At the time, Orgeron was confident with shifting Divinity back outside because inside linebackers Phillips and Patrick Queen were "playing well," and sophomores Damone Clark and Micah Baskerville had become reliable in the rotation.
Divinity was injured against Vanderbilt, and he sat out LSU's next game against Utah State before returning for LSU's 42-28 win over Florida.
Since Divinity's return to the edge, LSU has recorded at least two sacks in every game and the Tigers are now tied 47th nationally with 20 total sacks.
Divinity recorded 23 tackles, four tackles for loss and three sacks in 2019, and he became an effective piece in Aranda's pass-rush schemes. Divinity recorded a crucial sack against Auburn out of LSU's "Cheetah" package, a platoon of pass rushers that subs extra linebackers in for defensive linemen.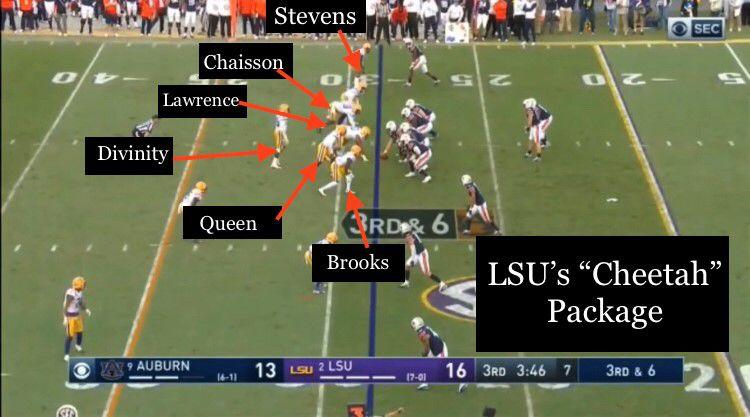 LSU led Auburn 16-13 in the third quarter when Divinity sacked opposing quarterback Bo Nix on a third-and-8 at the Auburn 29. The sack forced a punt, and LSU scored a touchdown on the following drive to pull away for good in its 23-20 victory.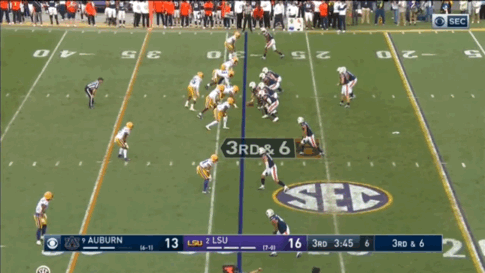 That particular "Cheetah" package used an assemblage of defensive end Rashard Lawrence, safety JaCoby Stevens and linebackers Divinity, Chaisson, Patrick Queen and Marcel Brooks.
The answer to who will replace Divinity in such schemes will be answered later this week. Phillips said LSU doesn't install its third-down defensive packages until Wednesdays and Thursdays, and Chaisson said whoever it is has "big shoes to fill and I think everyone knows that."
Establishing a pass rush against Alabama's Heisman-contending quarterback Tua Tagovailoa will be paramount, and the Crimson Tide ranks 10th nationally with just nine sacks allowed this season.
Alabama also ranks second nationally with a 55.21% third-down conversion rate.
"It will find its way," Chaisson said. "We don't know yet until we actually have to do it. But, I mean, we'll find out throughout the week in practice and see how it comes along."
Off the field, Chaisson said Divinity is "always family."
"What happened here, obviously, is not what we all wanted," Chaisson said, "but it's something that's out of everyone's control here. What he had to do was what he had to do for himself. And we're all here for him regardless."