The NCAA's leading doctors once thought it would be safe to play fall sports by now.
Back in March — before coronavirus surged in America, forcing spring sports to cancel — the governing body of college athletics formed a COVID-19 advisory panel of eight health experts, including former U.S. Surgeon General Vivek Murthy.
The rising curve of national coronavirus cases flattened in April, gradually dipped in May, and, by June, the numbers were low enough that the NCAA's advisory panel cleared colleges for on-campus training.
Enough schools will not play sports this fall that NCAA championships in every fall sport have been canceled, NCAA president Mark Emmert said Thursday, with the exception of FBS football.
Other national policies relaxed, too. State stay-at-home orders loosened. Bars, businesses, restaurants and recreational facilities re-opened — many only to close down again when virus cases spiked to all-time highs in July.
Today, the nation's increased testing efforts have revealed an underlying issue: the likelihood of an American contracting the virus is one of the highest of any country in the world. According to New York Times data, the U.S. ranks 13th globally in cases per 100,000 population.
Most of college's fall sports have canceled or postponed play in the wake of the most recent surge. Every NCAA-sponsored fall championship has folded, leaving the Football Bowl Subdivision on its own, trying to keep its independently run bowl games and College Football Playoff alive.
The FBS is divided in its path forward. Four of its 10 leagues postponed football upon reviewing medical advice, including two of the five major conferences: the Big Ten and Pac-12.
The Southland Conference has postponed its fall sports, the league announced Thursday, joining other college leagues that have postponed athle…
Among the top medical concerns was myocarditis, a deadly heart condition that was reportedly found in five Big Ten athletes and can possibly be triggered by COVID-19, though there is limited data with a virus that is less than a year old.
NCAA chief medical officer Dr. Brian Hainline said that 1-2% of college athletes are testing positive, and there are 12 known cases of myocarditis.
Hainline leads the NCAA's COVID-19 advisory panel, and he appeared with two of its infectious disease experts on a Thursday webinar hosted by the Infectious Diseases Society of America.
The group warned the risks extend to all conferences and that the spread of coronavirus is still a major hurdle for the remaining fall sports to overcome.
"We have a serious problem," said Dr. Carlos del Rio, the executive associate dean at Emory University's School of Medicine. "I feel like the Titanic. We have hit the iceberg, and we're trying to make decisions of what time should we have the band play."
LSU landed a commitment from four-star defensive tackle Shone Washington, a Warren Easton prospect who announced his decision Wednesday afternoon.
Presidents from the remaining Power Five conferences — the Atlantic Coast, Big 12 and SEC — met multiple times in the past week, and each league has made clear its intention to continue pursuing playing football in the fall.
The remaining Group of Five leagues — the American Athletic, Conference USA and the Sun Belt — have demonstrated they're following the Power Five's lead and are also moving forward.
The SEC presidents met twice this week, and the league's officials have expressed confidence in the league's mask and social-distancing protocols, their plans for at least twice-weekly testing and their Sept. 26 start date for a 10-game, league-only schedule.
Still, the public health trends in the ACC, Big 12 and SEC regions are not yet in line with the NCAA's rules to safely proceed with competition.
In July, the NCAA listed five circumstances for when athletic activities need to be paused or discontinued. When first released, the list was part of a guideline. Last week, the NCAA's Board of Governors voted for them to become mandates.
Two circumstances will be particularly difficult for the remaining Power Five regions to avoid:
Campus-wide or local community test rates that are considered unsafe by local public health officials.

Local public health officials stating that there is an inability for the hospital infrastructure to accommodate a surge in hospitalizations related to COVID-19.
The first major college football conferences fell to the coronavirus pandemic on Tuesday, when the Big Ten and Pac-12 announced they won't pla…
Del Rio said communities should have fewer than 10 new daily cases per 100,000 population and a testing positivity rate of less than 10%, although those specifics aren't part of the NCAA mandates. Such rates would show that there is a low enough virus transmission in the community to safely proceed with multiple activities, including contact sports.
No SEC state meets both recommendations, according to Covid Act Now, a data resource dedicated to the coronavirus pandemic.
Seven of the ACC's 10 states don't meet the metrics. Four of the Big 12's five states don't. More than half of the states in the Big Ten and Pac-12 have numbers that are also too high.
"We simply are not there now," Del Rio said.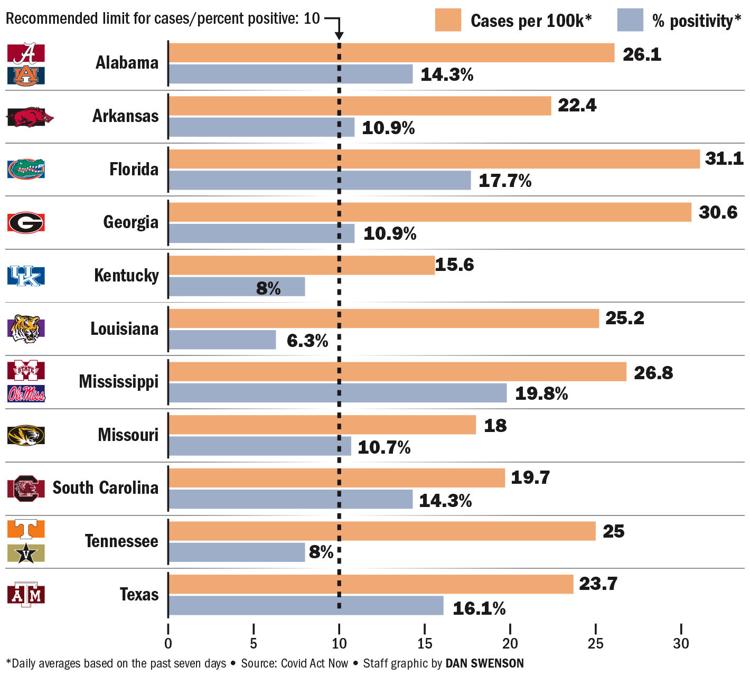 LSU coach Ed Orgeron said he can't ignore the looming reports of college football conferences postponing their football seasons. The list offi…
The communities in the traditional South have the highest rates in both categories.
Clarke County, where the University of Georgia is located, had a seven-day average of 30.3 cases per 100,000 as of Friday. The counties and parishes for Vanderbilt (27.7) and LSU (27.6) each have numbers nearly three times the recommended rate, while six other SEC counties are more than double.
Lee County, where Auburn is, has a 20.6% positivity rate, and the counties and parishes for LSU (13.9%), Arkansas (11.8%) and Florida (11.1%) all have rates that are too high.
Five SEC counties have also reached critical capacity with available ICU beds for sick patients. Three are using 100% of the beds in their community.
Miami-Dade County, home of the ACC's Miami, has the highest rates within Power Five conferences: 70 new daily cases per 100,000, a 23.7% positivity rate and 100% use of its local ICU beds.
Del Rio, who lives in Atlanta, said it could take 8-12 weeks for a state like Georgia (31.3 cases per 100,000) to dip below 10 new cases per 100,000.
Such a timeline extends well beyond the SEC's delayed start date. The ACC is scheduled to begin on Sept. 12, and the Big 12's new schedule begins Sept. 26.
The SEC essentially bought more time by moving its season openers three weeks after their original Sept. 5 date; but, unless its regions drastically and quickly improve, they still will not meet the NCAA's mandates.
"The decision doesn't necessarily have to be made today," Hainline said, "but when you say you're a go and you're ready to move completely forward... that has to be a checked box that the infrastructure can support that."
Louisiana-Lafayette and Iowa State have reached an agreement to play on Sept. 12, a source told The Advocate, which fills one of the two holes…
Many college football teams are about to begin preseason practice — LSU starts camp Monday — and their athletic administrators are poised to at least give playing out the season a shot.
"I believe our student-athletes want to play," LSU athletic director Scott Woodward said in a statement Monday. "We owe it to them to make every effort to do so safely."
Thousands of students also will start attending classes on campuses within two weeks. LSU begins classes on Aug. 24 in a hybrid model with reduced classroom sizes, alternating days of virtual attendance and a COVID-19 protocol that includes mask and social-distancing mandates.
Dr. Colleen Kraft, a member of the NCAA's COVID-19 advisory panel, said it is "very likely" that there will be a rise in coronavirus cases in schools unless the students and staff strictly adhere to protocol.
The Big Ten has voted to call off its football season for the fall, becoming the first major college conference that won't play football in th…
Student parties, fraternization and other unsafe gatherings can lead to a viral spread.
College athletes do not have the benefit of playing in a "bubble" environment like those in the NBA, which is playing out its season in a closed facility in Orlando, Florida, to reduce human contact for players and staff.
The MLB is less restrictive. The professional league is playing with no fans, but teams are still traveling to host cities. The MLB has postponed 30 games because of outbreaks on the St. Louis Cardinals and Miami Marlins.
The remaining college football leagues are still planning to travel for games, and many schools are still planning on hosting fans at reduced capacity in their stadiums. 
Outbreaks within college football would nearly be inevitable. Additionally, when players test positive for the virus, they must isolate for 10 days. Those with high risk contact must quarantine for 14 days, and they cannot test out of quarantine.
The protocols could eliminate large groups of players if an outbreak occurs.
"We have already been seeing it in those that are being very diligent," said Kraft, associate chief medical officer at Emory University Hospital. "But there will be transmission, and they will have to stop their games."
Kraft and Del Rio both commended the college leagues that have decided to postpone playing fall sports until the spring, and Del Rio said he was "very confident" that a COVID-19 vaccine will be available by March or April of next year.
"My advice is we hold off and we control this virus," Del Rio said. "That should be our priority No. 1 as a nation."
LSU defensive lineman Neil Farrell has decided to opt out of the 2020 football season because of health concerns with coronavirus, a source co…
At 10:30 p.m. ET Sunday, more than a dozen of the most prominent players in college football joined a Zoom call. Organized by two Clemson play…
The spin-cycle quality to 2020, from the coronavirus pandemic and protests for social justice to the stop-and-start nature of sports, was seem…