Family members of the ailing man revived by two LSU baseball dads at the College World Series have a message for all who helped: "Thank you from the bottom of our hearts."
Dr. Jerry Poché, father of LSU pitcher Jared Poche, and Jimmy Roy, father of LSU's strength and conditioning coach Travis Roy, revived the elderly Florida fan during Monday's game between LSU and Florida.
OMAHA, Neb. — Dr. Jerry Poché and Jimmy Roy, whose sons are part of the LSU baseball program…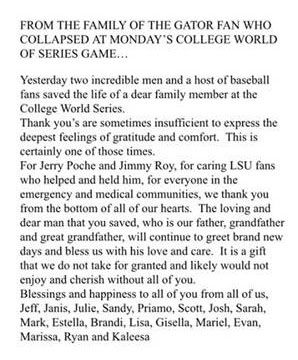 The man, identified as Bob Harvey of Brandon, S.D., was taken to an Omaha hospital, where his condition was upgraded to good the day after his apparent heart attack.
Earlier this week, Harvey's family issued a letter of thanks, listing 18 family members:
"The loving and dear man that you saved, who is our father, grandfather and great grandfather, will continue to greet brand new days and bless us with his love and care," the letter says.
The letter calls Poche and Roy "two incredible men" and also acknowledges other baseball fans who were on hand to help, as well as emergency and medical workers who aided Harvey.
"Thank you's are sometimes insufficient to express the deepest feelings of gratitude and comfort. This is certainly one of those times," the letter says.
---
Not seeing the video below? Click here.
---
It was the sixth inning between the Tigers and Florida Gators, when player Cole Freeman's mother Kellie rushed to see Poché.
"Doc," she said, "we've got somebody in trouble."
Poché and Roy hurried up to the main concourse, where they saw Harvey, whose family members were trying to hold him up. Poché quickly checked Harvey's vital signs. He found no pulse. Harvey's breathing was irregular.
"We quickly put him down and started chest compressions," Poché said. Roy gave Harvey mouth-to-mouth resuscitation while another LSU fan cradled Harvey's head.
"Next thing you know," Poché said, "he started breathing on his own and he got his pulse back."
Paramedics soon arrived and transported Harvey to the hospital.
OMAHA, Neb. — After 25 years as a family doctor in Lutcher, Dr. Jerry Poché was looking to g…