Derek Stingley Jr. waited for a punt as LSU held bowl practices last year. On the opposite side of the field, punter Zach Von Rosenberg caught a snap and kicked a ball high into the air.
Stingley caught the ball and began his return, looking like a college player as he weaved down the field. Set to enroll a few weeks later, LSU invited Stingley, from Dunham in Baton Rouge, to practice with the team. He impressed with everything he did, including punt returns.
"Man," Von Rosenberg said, "this dude's going to be special."
Even in the superheated environment that is Southeastern Conference football, it would be out of place to call LSU and Vanderbilt rivals.
Nine months later, Stingley has continued to show his ability on punt returns while also starting at cornerback. He has remarkable hands, vision, instincts and speed, a blend of attributes that make him capable of scoring every time he touches the football.
Entering LSU's fourth game this Saturday against Vanderbilt, the Tigers' first Southeastern Conference opponent, Stingley has returned eight punts for 117 yards. Last year, LSU gained 99 yards on 17 punt returns.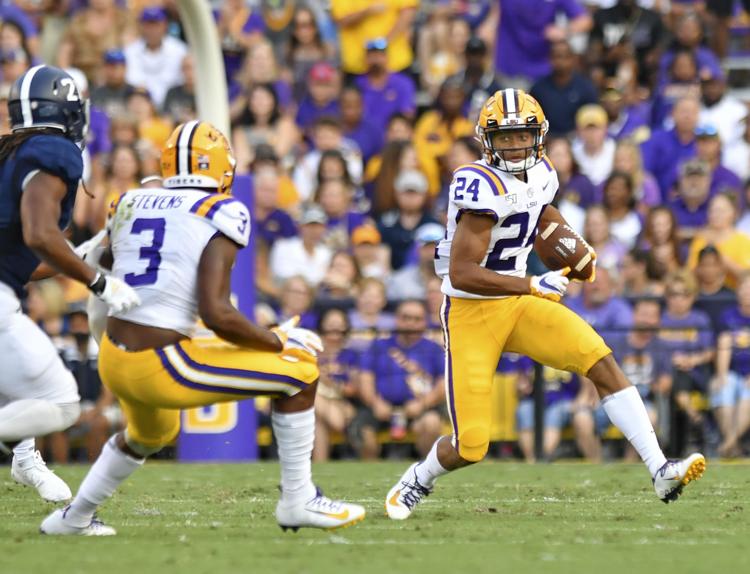 "He wants to make the play," junior safety JaCoby Stevens said. "I think that's the difference from last year and this year. Derek wants to make the play."
Stingley's returns begin with his hands. They're strong enough to snatch a football out of the air and secure it in one hand. Punting to him last winter, that's what Von Rosenberg noticed. Punts sometimes spin out of the sky in wacky rotations, and some returners use their chest to catch the ball. Stingley did not. He used only his hands, avoiding the possibility of the ball ricocheting off his shoulder pads.
During a practice recently, running back Clyde Edwards-Helaire giggled when a punt took an unpredictable bounce and shot into the air. Stingley jumped, leaned back and grabbed the ball. He spun when he landed. 
After being listed as "doubtful" earlier in the day by LSU coach Ed Orgeron for Saturday's game with Vanderbilt, outside linebacker K'Lavon Ch…
LSU will be wearing purple uniforms again when the No. 4 Tigers (3-0) play at Vanderbilt (0-2) Saturday at 11 a.m. because the Commodores are …
"The way he catches the ball, it's like a no-pressure situation," Von Rosenberg said. "It's a huge play in the game and he's just casually doing it. He makes it look so easy, and those are the guys that are really good. That's how (former LSU All-American) Patrick Peterson caught the ball. It was like he was having fun."
Once Stingley has secured the football, his vision lets him see the entire field as blocks develop. Not wanting to limit his ability, LSU does not aim its return in one direction or tell Stingley where to run.
When Stingley returns punts, the Tigers block by holding their leverage. Sometimes they block on the move. Stevens called the approach "organized chaos," adding one second of blocking creates 10 extra yards of space.
"Derek," coach Ed Orgeron has told Stingley, "wherever you see green grass, go." 
Stingley picks his direction as he analyzes his blocks. It's instinct, deciding where to run and when to cut. Through three games, he has juked tacklers and weaved through crowds, giving LSU's offense better field position with an average of 14.63 yards per return. He ranks No. 12 in the nation for yards per return.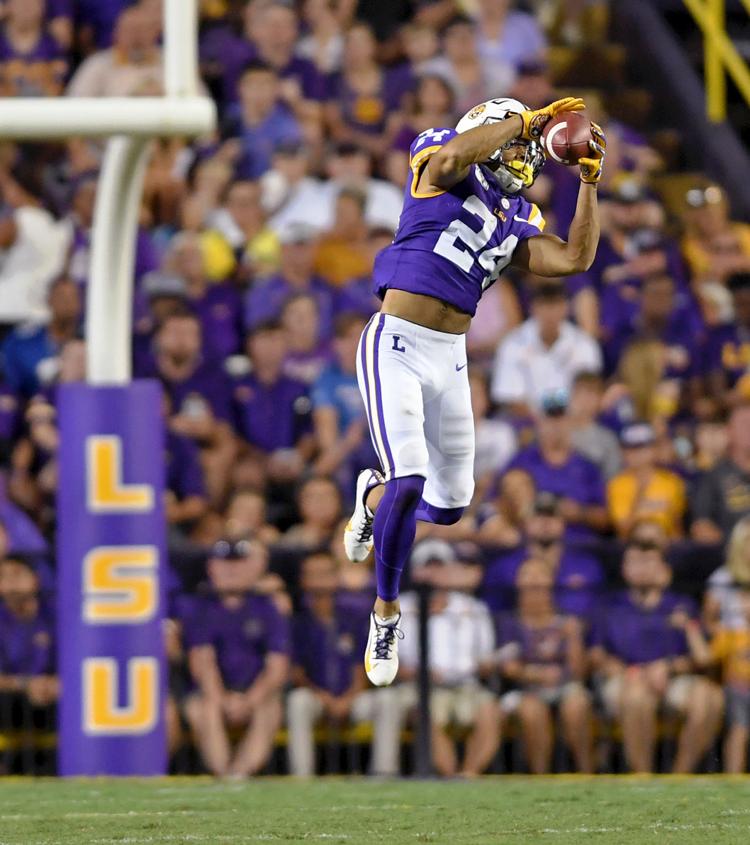 As Stingley improves, Orgeron wants him to protect the ball. Sometimes, Orgeron said, Stingley doesn't hold it close enough to his body, leaving the ball exposed.
Little surprise that LSU's bowl projections remained basically unchanged after a 65-14 rout Saturday of FCS member Northwestern State. The vas…
And though Stingley has returned punts for touchdowns at LSU's practices, he has yet to score in a college game. He has gotten close.
Last week, in the third quarter against Northwestern State, the Tigers forced a punt. Stingley caught the ball at LSU's 42-yard line. He instantly juked one defender, then another, cutting his way to the sideline. He had open space to the end zone, but after a 26-yard gain, the punter tackled him.
"He decided to get caught by the punter," Stevens said, laughing. "I've been messing with him about that. You can't get caught by a punter."
Two days later, as Stingley walked through the indoor practice facility, someone threw a ball toward him. He swiped one hand over the ball, catching it in one, continuos motion. Stevens shook his head and chuckled.
Said Stevens: "He's definitely lightyears ahead of where he's supposed to be."
One of Ed Orgeron's most talked about players of the offseason didn't have a catch through the first two games of LSU's 2019 football season, …