Amy Ensminger waited outside.
This was a father-and-son talk. It was a kid, Steven Ensminger Jr., trying to convince a dad, Steve Ensminger, to take the leap, accept the challenge, embrace the unknown.
That leap: be a permanent, full-time offensive coordinator for the first time in 20 years.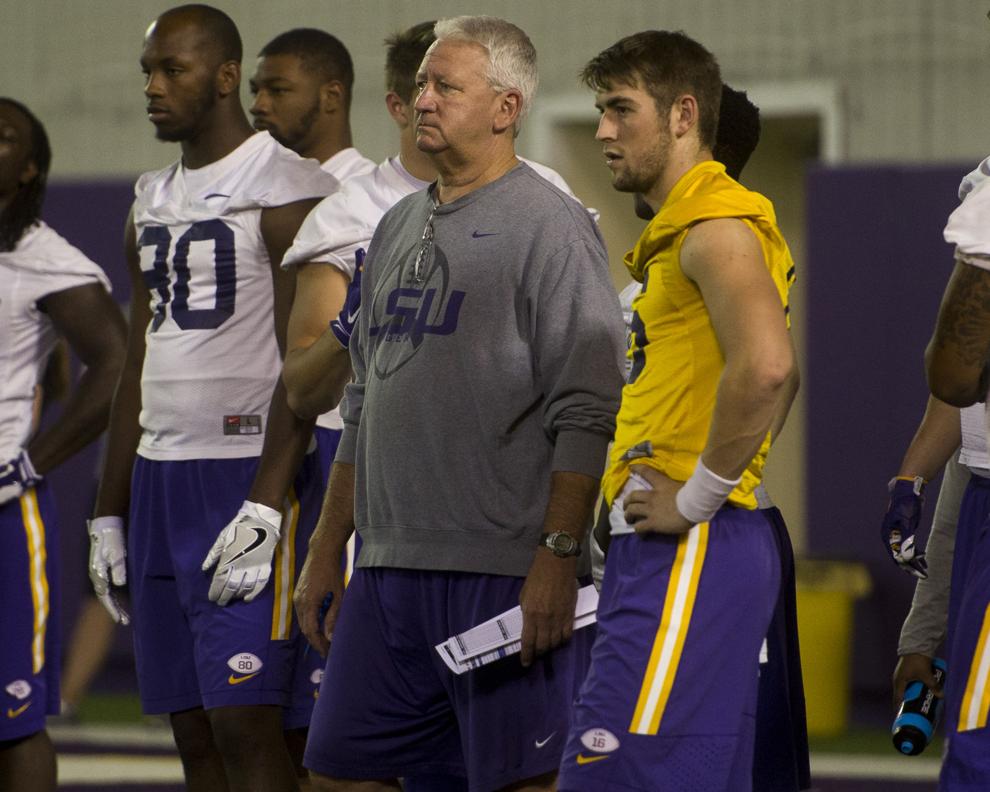 That challenge: overhaul an LSU offense, a lightning rod for criticism the past decade, to thrive in the nation's toughest division.
The unknown: the consequence of this on his family, if it backfires.
"He came to the house and we talked," Steven Ensminger Jr. said. "I told him, 'Go for it.'
"Taking that position is a huge opportunity, but all the other stuff comes along with being offensive coordinator, hearing the negativity. He was more concerned with our family and having us hear all that," Steve's son continued. "I told him, 'Dad, this is a once-in-a-lifetime opportunity and something you know you can do. You always say you want to do more for this school — here's your chance.' "
Touching as it is, why Steve Ensminger accepted the job as LSU's offensive coordinator and quarterbacks coach isn't as important as what he'll do with it — the formations he plans to use, the personnel he'll employ and the schemes he will design.
Ensminger's hire was met with fan backlash that Steven Ensminger Jr. admits was "tough" on the family, but this 59-year-old Baton Rouge native is lauded nationally by his peers and former players.
Those who operated his offense or coached alongside Ensminger use words like "brilliant," "creative," "mastermind" and "innovative."
Even the man who fired him, R.C. Slocum, admits to handcuffing Ensminger while he served as offensive coordinator at Texas A&M in the mid 1990s. Why? Because Ensminger passed the ball too much.
But what — oh what — will Ensminger do with LSU's offense?
Greg Gilmore lay in his bed Thursday recovering from a grinding morning leg workout when his phone rang.
He gave clues in his introductory news conference, describing a pass-leaning unit that will rely on play-action, a talented pocket-passing quarterback (or a dual-threat play-caller) and a bevy of former five-star receivers — a group he referred to as LSU's "strength."
But don't only look there. Look to what he did in his heyday as a major conference coordinator. Specifically, talk to those who played in his most potent unit: former Georgia quarterback Eric Zeier and running back Garrison Hearst.
Can't see video below? Click here.
Speak to his son about the binders his father keeps tucked away, some filled with schemes from former NFL coach Dick Vermeil. Learn about Steve Ensminger's recliner, where he watches endless football film and draws plays into the air with his index finger.
And talk to those close to Myles Brennan, whom many believe is LSU's future at quarterback, someone this program has been craving since Zach Mettenberger left in 2013.
Through it all, a picture begins to emerge of what is in store for the LSU offense.
"I think coach Ensminger is going to open the offense up and play to our players' strengths," said Owen Brennan, Myles' father who met last week with the new offensive coaching staff, pass game coordinator Jerry Sullivan included. "We have some incredible athletes at quarterback, receiver and running back. We're going to create a wide-open passing game."
Ensminger is tasked with turning a run-centric unit that historically has struggled in the passing game and transforming it.
This is nothing new for him.
In fact, his mission was the same in 1991, when Georgia coach Ray Goff hired him away from Louisiana Tech. Goff named Ensminger quarterbacks coach/pass game coordinator and Wayne McDuffie as offensive coordinator/offensive line coach, hoping to transition Georgia from "Running Back U into a wide-open passing school." That's how South Florida's Sun Sentinel described the hires in a story published in November 1991.
Before the Ensminger/McDuffie hire, UGA's passing woes were such that the same newspaper wrote then that the Bulldogs "viewed the forward pass as a plot to overthrow the American Way of Football."
Sound familiar?
LSU's passing game has been a laughingstock nationally recently. The unit finished no better than 101st nationally for three straight years, 2014-16, and only marginally improved to 84th this season with a fifth-year starting quarterback.
In 1990, how behind was Georgia's passing offense?
"We were running the same offense as Herschel Walker did," said Garrison Hearst, a Heisman Trophy finalist in 1992 while playing in Ensminger's Georgia offense.
Ensminger called many of the plays during that three-year stint in Athens, Hearst said, but he's mostly known for his work with Zeier. The quarterback set every SEC passing record before he left the school, and Ensminger and McDuffie revamped Georgia's run-heavy scheme to one that led the SEC in passing.
Goff won 46 games as UGA's head coach in seven seasons, and 19 of them came in 1991 and 1992 — Ensminger's first two years on staff.
"I had a great privilege of working with a number of really good coaches throughout my playing career. I'd put Steve at the top of the list," said Zeier, now a mortgage banker who lives in Atlanta and serves as the color commentator on Georgia radio broadcasts.
Zeier and Hearst describe a system most similar to the West Coast offense, a scheme Bill Walsh popularized in the 1980s with the San Francisco 49ers. Zeier's passing progression was short to deep, he said. Formations evolved from an I-formation look into a three- and four-receiver set, with one back. Georgia heavily used the shotgun, too, and the run game was built on zone blocking.
"It was creative at the time and one of the first offenses to begin to spread it out and get into the four-wide sets and be aggressive throwing," Zeier said.
"I got to Frisco and realized I was running a pro scheme in college," said Hearst, who spent five seasons with the 49ers.
LSU is bringing back a big name — possibly.
Ensminger's role in transforming Georgia's ground-and-pound offense into a more balanced attack did not go unnoticed. Slocum, then in the middle of a 14-year tenure in College Station, hired him to do the same for a Texas A&M offense that the now-retired coach admitted earlier this week was behind in the passing game.
"We were a run-oriented, I-formation, two-back team. I wanted to get a little better when we threw the ball," Slocum said. "Georgia, at the time, they were throwing it a bunch. Part of the thing was ... I didn't make clear (to Steve) exactly what I was looking for. I was looking to get better at throwing the ball. Not throwing it more."
In one game against Texas Tech, A&M attempted what Slocum remembers as "60 passes."
Said the coach: "I stepped in."
Ensminger improved A&M's passing offense marginally, but the Aggies showed promise. The unit went from 61st nationally in total offense after his first season to 34th after his third in 1996. The improvement did not result in wins. A 6-6 record led to Slocum firing several assistants, including his offensive coordinator.
"As you go through coaching and you're in the middle of the fire, in hindsight looking back, I had no problems with Steve," Slocum said. "He did a good job for me. He probably would have liked to have thrown the ball a lot more than I was willing to throw it.
"There ain't many people around that have more experience in coaching QBs and offensive football than Steve Ensminger. That guy halfway across the country always seems more attractive, but that guy loves LSU and understands Louisiana."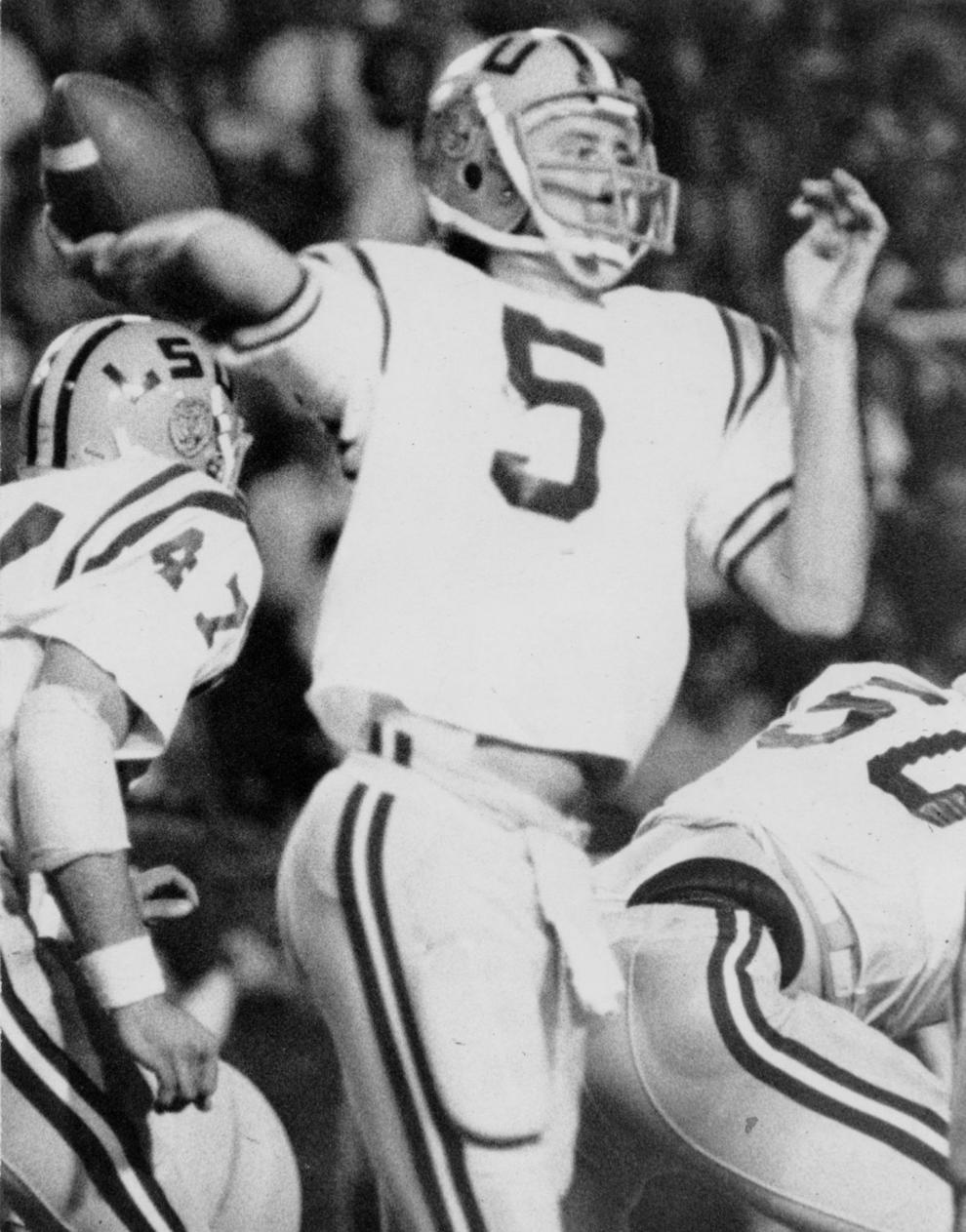 Slocum watched Ensminger direct LSU's offense for eight games as interim coordinator in 2016. It averaged 464 yards a game — 211 passing and 253 rushing — and scored 32 points an outing.
That's when Slocum realized that his former assistant had learned something.
"Balance," he said. "He was doing exactly what I would have wanted him to do at A&M. They were running the heck out of the football and throwing it down the field."
His evolution from a pass-heavy coordinator to a more balanced play-caller was seen by others during his six-season stint at Auburn. Former Auburn offensive line coach Hugh Nall calls Ensminger an "offensive lineman in a quarterback's body" in the way he calls plays.
"The thing about Steve is a lot of QBs who are offensive coordinator ... being a head coach, you have to watch them trying to light up the scoreboard passing. Steve likes to run the football," said Tommy Tuberville, Ensminger's boss on the Plains.
Ensminger's penchant for the pass dates to his playing days under longtime LSU coach Charlie McClendon. He went 11-6 as a starter, possessing what former Tigers running back Charles Alexander says was "a rifle of an arm."
His love for the aerial aspect of the game grew in the early 1980s, when a 20-something kid coached receivers for Nicholls State under then-offensive coordinator Joe Clark, an innovator in college football who went on to coach in the NFL.
"We were doing things back then that others were not," said Sonny Jackson, then the head coach at Nicholls State and a man who coached Ensminger while at Central High. "Joe was so far ahead of the game, it was unbelievable. That's when we set the woods on fire throwing the football."
Could Ensminger's career end like it started? Will he resurrect a passing game that's been dormant for so long? Can he develop a five-star quarterback into one of the nation's best?
Myles Brennan's father believes so. The family is on board with the hire, especially after a lengthy meeting last week with Orgeron, Ensminger and Sullivan to discuss the future and direction of the program's offense.
His son is on board, too.
"He had a feeling of excitement, feeling of the opportunity to be part of a new offense and a new era at LSU," Owen Brennan said.
The work begins next week, more than six weeks before the team's tentative spring practice opening date of March 10. Myles and his former high school coach at St. Stanislaus, Bill Conides, now at Denham Springs, are scheduled to meet twice a week. The workouts will mostly iron out kinks in Brennan's footwork and prepare the quarterback for, potentially, a more West Coast-style of offense.
"From me looking form outside in, a pro-style attack to what the Rams are doing is beneficial for LSU and a guy like Myles," Conides said in an interview this week.
With quarterback Jared Goff at the helm, the Los Angeles Rams led the NFL this season in scoring under 31-year-old head coach Sean McVay's revamped West Coast system.
The offense is a pro-style attack, but one of its strongest elements is a hurry-up, multi-receiver package where the quarterback reads just one person — maybe an inside linebacker or deep safety — before the "ball's out immediately," Conides said.
Play-action off of inside zone rushing is another key element, and deep balls from bootlegs are a significant piece of the scheme, he said.
"I could see something like what the Rams are doing. When they needed to get into the shotgun and spread the field, they could do that and go into a 2-minute scenario," Conides said. "(LSU) does have the receivers. A lot of the jet sweeps, I could see them doing that, too. And getting under center.
"When you're playing at LSU in the SEC West, what are you going to do to separate yourself?" he said. "I don't know if getting Brennan in the gun and throwing it every down is the best solution."
The figurative dust in LSU's football operations building is mostly settled.
Is LSU's future offense any clearer now? Are you starting to understand how it might look?
No one can be too certain. Even Ensminger himself revealed last week that his scheme is in the making. It will be a mystery to many LSU fans until September, at least, but one thing is now known — why he finally took the job.
Ensminger suggested during his introductory news conference last week that he'd been offered LSU's offensive coordinator job in the past. A few days later, while speaking with Matt Moscona on WNXX-FM, 104.5, former coach Les Miles revealed something: Ensminger shot down Miles' interest in him replacing Gary Crowton after the 2010 season.
Steven Ensminger Jr.'s father picked now to do this?
"I know," Steven said. "They have such a tough schedule and a new quarterback and new running back and your first season as offensive coordinator. That's pretty tough."
His son's heart-to-heart helped in his decision, sure, but Steven sent a quote to his father from former Apple CEO Steve Jobs that son believes finally convinced dad to take the leap.
That quote: " 'Remember that I'll be dead soon' is the most important tool I've ever encountered to help me make the big choices in life. Because almost everything — all external expectations, all pride, all fear — these things just fall away in the face of death, leaving only what is truly important."
Tommie Robinson, who just completed his first season as LSU's running backs coach and recruiting coordinator, interviewed for a similar job wi…
---
THE ENSMINGER TRACK
Steve Ensminger has been an FBS offensive coordinator, play-caller or pass game coordinator for a combined 10 seasons at four different schools.
Here's a breakdown of those stops.
(does not include his interim roles at Auburn in 2008 and LSU in 2016)
Louisiana Tech (offensive coordinator/QBs coach)
Season

Offense rank

Run/pass rank

Run-pass split

1988

NA

NA

45-55

1989

63rd

56th/48th

55-45

1990

11th

20th/NA

57-43

The scoop: Ensminger became a sought-after coordinator by his final year, leaving to be UGA's pass game coordinator. He produced consecutive 1,000-yard rushers for the first time in 40 years at Tech. In 1990, QB Gene Johnson and the Bulldogs eclipsed the 30-point mark in eight of 11 games to finish 8-3-1.
Georgia (pass game coordinator/QBs coach)
Season

Offense rank

Run/pass rank

Run-pass split

1991

34th

51st/32nd

55-45

1992

9th

11th/34th

63-37

1993

19th

93rd/8th

44-56

The scoop: Ensminger's QB, Eric Zeier, led the SEC in passing in 1992 and in offense in 1993. The Bulldogs won 10 games in 1992 and improved on an offense ranked 101st in 1990 with Ensminger's addition, something he used to jump to a full-time coordinator job at Texas A&M in 1994.
Texas A&M (offensive coordinator/QBs coach)
Season

Offense rank

Run/pass rank

Run-pass split

1994

61st

50th/63rd

62-38

1995

51st

46th/61st

58-42

1996

34th

NA

63-37

The scoop: Ensminger's run-heavy attack in College Station ended in 1996 despite his best offensive performance. The Aggies finished 6-6 in '96, and head coach R.C. Slocum fired him for a "difference of opinions," as one newspaper described it.  
Clemson (offensive coordinator/QBs coach)
Season

Offense rank

Run/pass rank

Run-pass split

1997

61st

46th/63rd

63-37

1998

93rd

90th/76th

58-42

The scoop: Ensminger was the third offensive coordinator under head coach Tommy West, and he was brought in to transform a one-dimensional unit and help save West's job. It didn't pan out. West and his entire staff were fired two years later.
Auburn (play-caller)
Season

Offense rank

Run/pass rank

Run-pass split

2003

61st

29th/83rd

63-37

The scoop: Ensminger was part of a heavily criticized and unusual offensive setup, serving as play-caller while O-line coach Hugh Nall coordinated the offense. The staff attempted to run the same pass-happy offense that ex-coordinator Bobby Petrino employed.