Welcome to Film Room, our weekly analysis of LSU's last football game.
Have a seat. No talking. No tweeting. No texting. Pay attention.
How They Happened (big-play analysis)
Goal line stand: On fourth-and-goal from the 1-yard line, Alabama QB Jalen Hurts keeps the ball on a zone-read play and is dropped for a 5-yard loss.
First off, as CBS color analyst Gary Danielson points out, Alabama went hurry-up on a significant play. The Tide rushed this fourth-down attempt, and the Tigers - specifically LB Kendell Beckwith - guessed the snap count. You see Beckwith (red circle) come on a run blitz, blasting into the guard to stuff the center of the line as the ball is snapped. That's the first thing that makes this defensive play work.
Three players to Beckwith's right (from left: Jamal Adams, Tashawn Bower and Davon Godchaux) all crash down and penetrate the backfield, disrupting a potential middle run. This forces Hurts to keep the ball around left end, where a first-year starting LSU linebacker makes a solid play.
Duke Riley (black circle) scrapes along the line as he's taught to do, reading Hurts' movement in the backfield. Adams slows Hurts with his penetration into the backfield, and Riley is there on the end to drop him for a loss. This was the third consecutive tackle made by Riley, as he continues to shine in his role as LSU's Rover linebacker.
The goal line stand in motion. #LSU pic.twitter.com/5qcWz3rcuV

— Ross Dellenger (@RossDellenger) November 6, 2016
Lone TD: On third-and-9, QB Jalen Hurts runs for 21 yards for the game's only touchdown, scoring with 13 minutes, 8 seconds remaining in the fourth quarter.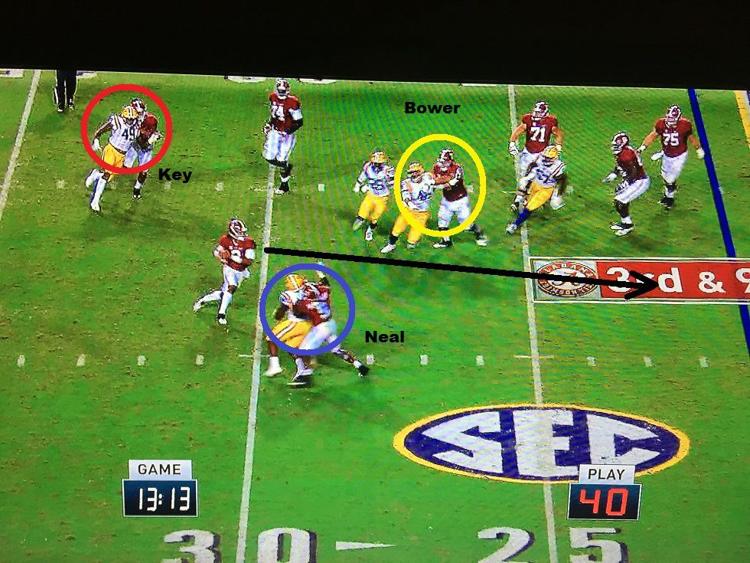 In his postgame news conference, interim coach Ed Orgeron was told that fans were upset with several officiating calls. He was asked if he was upset with any. "I was upset, too," he said curtly. This is a play that the coach will likely send in to the Southeastern Conference office. Why? We explain below.
It's tough to find one play in any football game that's completely devoid of holding. It's nearly impossible. However, officials ignore many of those that either do not impact the play or aren't significant enough. On Hurts' touchdown, you can see here that Arden Key (red), Tashawn Bower (yellow) and Lewis Neal (blue) are being, at least briefly, held.
You can argue that the holds on Key and Bower are insignificant to the play, but Neal, who has outside containment on Hurts, is integral to the play and is within reach of Hurts while his right shoulder is tugged. 
Here's Hurts' TD run and then in slow mo. This is a play #LSU will likely send to the SEC office, if it hasn't already done so. pic.twitter.com/PSQ3Ohtb7k

— Ross Dellenger (@RossDellenger) November 7, 2016
Delay: On a third-and-3 from the Bama 35-yard line, LSU is called for a delay of game and then QB Danny Etling, on third-and-8, is flagged for intentional grounding late in the third quarter of a scoreless game. The Tigers were forced to punt.
This is a disaster scenario and a perfect example of LSU's offense squandering opportunities presented to it by a swarming defense. LSU DE Frank Herron stripped Bama QB Jalen Hurts to force the second turnover of the game and hand the Tigers offense the ball at the UA 43-yard line. What happens next is a nightmare for Ed Orgeron and LSU.
The shot you see above is LSU's offense breaking the huddle for that third-and-3 play. Check out the bottom right of the screen. There are 4 seconds on the play clock. What you don't see is that QB Danny Etling received the play call from the sideline with about 10 seconds left on the play clock. He frantically gestured toward the sideline for the play call.
Meanwhile, Orgeron is on the sideline standing next to the line judge. The coach signaled for a timeout, but it was too late. Also, if he were to have taken a timeout there, the Tigers would have been left with none for the rest of the 25 minutes that were left in the game. 
Third and 2 from the #Bama 35 late in the 3Q. Disaster ensues for #LSU. Delay followed by intentional grounding. pic.twitter.com/NH9sGI6f1M

— Ross Dellenger (@RossDellenger) November 6, 2016
POSITION ANALYSIS 
Big Ugly Blips And Booms (OL analysis) 
There's a lot to get to here. Just like last year's game against the Tide, LSU's offensive line struggled to block Alabama's defensive front in both the run-blocking and pass-blocking aspects.
It was obvious early on that LSU would struggle with protecting Etling, something interim coach Ed Orgeron admitted this week was the "key" to the game.
Let's get to some numbers that really show those struggles:
Etling dropbacks: 29
Etling pressures: 14
And now for the run-blocking issues. We focused strictly on Leonard Fournette here. Fournette ran for 35 yards on 17 carries, but he was hit behind or at the line of scrimmage on 10 of those carries, a similar result to his outing at Bama last year (more on that later).
Bama's first contact on Fournette:
Behind the line: 3 times
At the line: 7
1 yard: 3
2 yards: 3
3 or more: 1 
LSU's line continued what's been an issue all season - cohesion. The Tigers juggled players at both tackle position, because of injury and performance. Maea Teuhema started at RT, and K.J. Malone started at LT. Coaches replaced Teuhema with Toby Weathersby at some point in the second quarter. But Teuhema returned to the game at LT in replacement for Malone, who missed about two to three series with what LSU's radio broadcast called a biceps injury. LSU finished the game with Malone at LT, and Weathersby at RT - no Teuhema, an obvious sign about his performance. 
Something became very obvious early in the game: Teuhema and TE Colin Jeter were having issues blocking the edge rushers, whether it was LB Ryan Anderson or DL Jonathan Allen. There was some obvious miscommunication and missed blocks, but, because we do not know protection calls, it's tough to say who was at fault. That said, Teuhema, Weathersby and Jeter lost the most "one on one" battles at the line, as Orgeron called them after the game.
We captured the six first-half pressures on Etling in his 16 dropbacks. It's not pretty.
A few shots of #LSU pass pro problems. These are all in the first half. Six pressures on Etling on 16 dropbacks in 1H. pic.twitter.com/4pOTKoHOqX

— Ross Dellenger (@RossDellenger) November 6, 2016
Monday Morning Quarterback (QB analysis)
Entering the game, one of the big questions was QB Danny Etling's ability on third downs. LSU and Etling struggled on those downs
The Tigers converted 4 of 15 third downs, and we charted all 11 of their failed attempts:
| | | | |
| --- | --- | --- | --- |
| Yards needed |  Yard line |  What happened? |  Why did it happen? |
|  7 |  Bama 30 |  Etling sack for loss of 2  yards |  Malone and Jeter missed blocks |
|  17 |  50 |  Etling sack for loss of 1  yard |  This sack appears to be on Etling  and not his line |
|  8 |  LSU 49 |  Etling incomplete screen  pass to Fournette |  Etling threw slightly behind him, but  the screen never had a shot because  of blocking (Etling felt pressure  after a man beat Clapp) |
|  7 |  Bama 42 |  Etling completed a 2-yard  pass to Chark |  This is a crossing route, and Bama  had a man on tight coverage who  immediately made the tackle |
|  6 |  LSU 39 |  Etling incomplete pass to  Dupre |  Etling throws well behind an open  Dupre, who would have picked up  the first down |
|  8 |  Bama 45 |  Etling completed a 3-yard  pass to Dural |  This is another crossing route that  LSU's receiver catches but Bama's  defender make an immediate tackle |
|  12 |  LSU 23 |  Etling incomplete to Dural |  This was Etling's worst pass of the  game, a one-hopping 10-yard  attempt to an open Dural at the  first down stick |
|  9 |  LSU 7 |  Etling completed to  Fournette for an 8-yard  gain |  This is a dump-off to Fournette and  is the same play in which the  umpire accidently impedes him |
|  3 |  LSU 10 |  Etling incomplete to Dural |  After a timeout, LSU coaches elect  to throw deep when the need 3, and  Etling overthrows a covered Dural |
|  8 |  Bama 40 |  Etling sacked for a loss of  11 yards |  This came after a delay-of-game  before third-and-3. Maea Teuhema,  playing LT, was beat on the edge to  force Etling from the pocket |
|  8 |  LSU 35 |  Etling incomplete to  DeSean Smith |  Etling threw it low of Smith |
So, Etling was sacked on three of those third down tries, and he completed 3 of 8 attempts, with all three completions thrown behind the line to gain.
Etling missed several easy throws, according to Danielson. At one point, Danielson asks rhetorically, "Can Danny Etling make the simple throw?" Etling didn't have the same pocket poise as we've seen in the past, mostly because of the offensive line's inability to protect him, but Etling missed at least one opportunity to get rid of the ball before one of those five sacks. He was also late on a long incompletion to Chark, Danielson said. Chark's foot was barely out of bounds on a second-quarter attempt. The play was significant as the Tigers went from a first down inside the Bama 15 to, eventually, a third down they did not convert.
Here's a compiled video of a few of Etling's incomplete passes:
Some Etling misfires compiled. #LSU pic.twitter.com/iGCcXSHFwS

— Ross Dellenger (@RossDellenger) November 7, 2016
Back It Up (RB analysis)
We already mentioned Bama's first contact of Fournette. When you compare those numbers to Fournette's rushes against Alabama last season, you arrive at a truly startling result. Check it out:
Bama's first contact on Fournette in last two meetings (34 carries)
Behind the line: 9 times
At line: 14
1 yard: 6
2 yards: 5
3 or more: 2
You've read that correctly. On just two of 34 carries did Fournette reach 3 yards beyond the line of scrimmage without being touched. And on 23 of the 34, the running back was contacted at or behind the line of scrimmage.
A news nugget here: Despite the off week, Fournette is still suffering from that lingering left ankle bone bruise/sprain. Danielson said that the running back told CBS' broadcasting crew before the game that he was not fully healthy and he didn't expect to be fully healthy until after the season. 
Fournette, we do not think, ever reached Alabama's third level of defense. He was closest on this play:
In 17 carries, I don't think Fournette ever got to the third level. This was the closest. #LSU pic.twitter.com/bU8Z35dgSd

— Ross Dellenger (@RossDellenger) November 6, 2016
LSU attempted to get Fournette into space, splitting him out wide on at least four occasions. Fournette started the play lined up in the backfield and then motioned outside, leaving an empty backfield.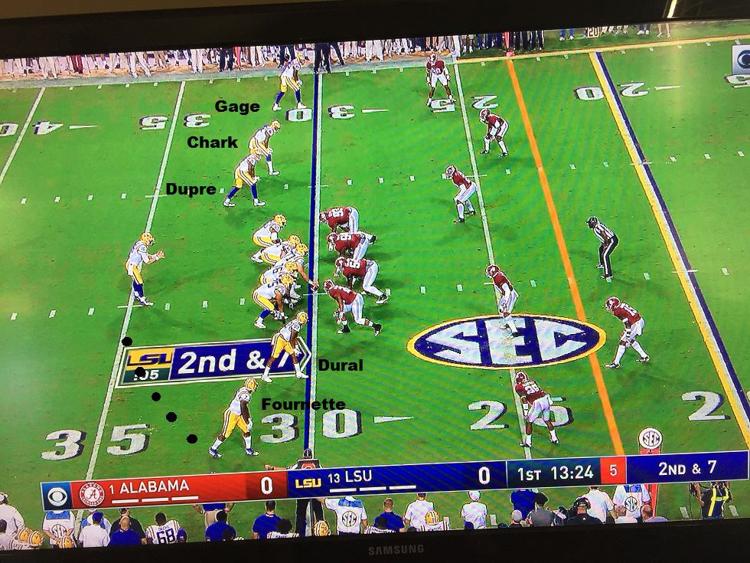 Fournette dodged more than Bama tacklers Saturday...
Hooo, boy.#LSU pic.twitter.com/N3cvN670Bh

— Ross Dellenger (@RossDellenger) November 6, 2016
Backer Bites (LB analysis)
Duke Riley had, arguably, the best game of his LSU career. And Danielson wouldn't argue with that. "Duke Riley is having the game of his life," he said at one point. LSU's priority was clear from the start: smother, swarm, stuff freshman dual-threat QB Jalen Hurts. Riley scrapped down the line, as he's taught, on countless plays, gunning through a gap to tackle Hurts. Check out these two (the first begins with a Kendell Beckwith play):
#LSU LBs played well again. First is Beckwith. Last three are Duke Riley on back to back to back plays. pic.twitter.com/LtUScdvJjC

— Ross Dellenger (@RossDellenger) November 6, 2016
At one point, Gary Danielson says this: "Duke Riley is having the game of his life." #LSU pic.twitter.com/WWXt7LqBoQ

— Ross Dellenger (@RossDellenger) November 7, 2016
It wasn't just Riley, of course. Beckwith performed at a high level and so, even, did Devin White, the burly rookie who backs up Riley. White played at least two series in the game, making this play near the goal line:
Good example of why #LSU moved Devin White from RB to LB. pic.twitter.com/6D6HCaVZyd

— Ross Dellenger (@RossDellenger) November 6, 2016
Get this: Both Riley and Beckwith made touchdown-saving tackles at the 1-yard line in the second half, single-handedly keeping LSU around.
Break It Up (DB analysis) 
Dwayne Thomas swarmed and swatted. The senior defensive back who claimed last week that LSU would "dominate" Alabama played what many would describe as the best game of his career. He can, partially, thank defensive coordinator Dave Aranda, who chose Thomas to be his star in this game. Aranda blitzed Thomas 11 times in 30 defensive snaps in the first half, a game plan that worked to perfection most of the time. Thomas played the nickel position throughout the game, as Tre White slid outside to cornerback opposite Donte Jackson (Kevin Toliver did not play a defensive snap, we don't think; He was suspended for the first half of the game against Southern Miss, and he appears to be in the doghouse).
Let's check out how Aranda blitzed Thomas from his nickel position. First, though, you should know that former DC John Chavis used to do this with Thomas in his Mustang package. You see the red circle? That's Thomas. He'll rush into the backfield at the snap, and safety Jamal Adams (yellow) will take his man, leaving John Battle (black) as the one-high safety. 
In motion:
Thomas' nickel blitz in motion. #LSU pic.twitter.com/omYT4vJtYL

— Ross Dellenger (@RossDellenger) November 6, 2016
Photos and video courtesy of CBS.