STARKVILLE, Miss. — The hero of Mississippi State's regional championship victory Monday was no real surprise.
First baseman Brent Rooker, after all, is the Southeastern Conference Player of the Year, an All-American who's projected as a second-round draft pick after a sizzling junior season. He's batting .395 and leads the nation with 82 RBIs.
Naturally, it's Rooker who led the Bulldogs to that 8-6 winner-take-all, rain-delayed duel with Southern Miss deep into Monday night. How he did it is the surprise.
It wasn't one of his conference-leading 23 home runs or his nation-leading 30 doubles. He didn't hit a screamer into the outfield or a chopper through the left side.
He hit a pop fly to shallow right field.
"Man, it doesn't matter what it looks like," Mississippi State coach and former LSU assistant Andy Cannizaro said. "In the box score, it looks like a missile to right field, where he stayed on a changeup and drove it the other way. It was the biggest hit of the season so far and the biggest hit of his year, and the thing went about 115 feet down the right-field line."
The fly ball dropped amid three scrambling Southern Miss players, bringing home the tying and go-ahead runs in the eighth inning and eventually sending the Bulldogs (40-25) to a super regional against LSU (46-17).
Oh, yes, Rooker can do it all — smack extra-base hits (56), steal bases (he's 18 of 23), consistently reach base (.498) and hit game-winning pop flys.
It's been that kind of year for this fourth-year junior from Tennessee.
Rooker is on pace to become the first player to lead the SEC in average, RBIs and home runs — the illustrious triple crown — since 1984, when another former State star, Rafael Palmeiro, did it. His slugging percentage (.827) is 50 points higher than the next closest player.
Rooker became the first SEC player every to have 21 home runs, 30 doubles and at least 77 RBIs. 
"You look at what he's done this year ... it's remarkable," said LSU pitching coach Alan Dunn, the man partly responsible for trying to hold down Rooker this weekend at Alex Box Stadium.
"He's a good mistake hitter," Dunn continued. "That means he makes pitchers pay when they make mistakes."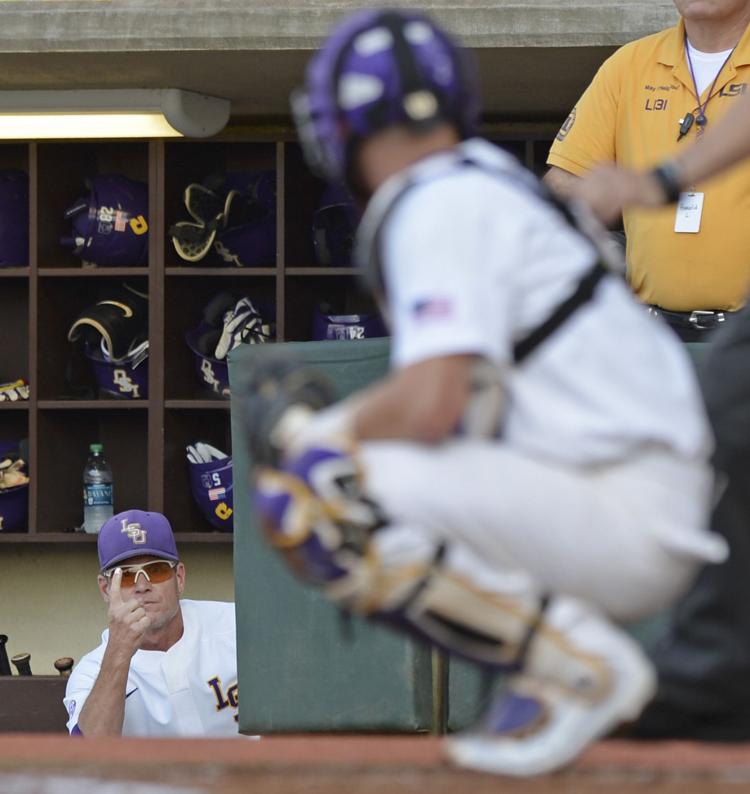 LSU pitchers kept Rooker inside the park when they met last month in a series sweep in Starkville, Mississippi, but the 6-foot-4, 220-pounder still finished 7-for-13 on the weekend, driving in a pair of runs and smacking two doubles.
Rooker's fourth-year surge is somewhat inexplicable. He's batting nearly 70 points higher than he did last season, has 35 percent more RBIs and has clubbed twice as many home runs.
And just a few years ago, Rooker was a little known dual-threat athlete (he quarterbacked the football team) at Evangelical Christian School in Germantown, Tennessee. His high school coach's connection to the State staff led to a scholarship offer. Rooker was so raw as a rookie that coaches redshirted him.
He's raw no more.
"He just graduated from Mississippi State with two degrees," Cannizaro said. "He's a very cerebral hitter. He processes information and pitches really quickly. He's able to make pitch-to-pitch adjustments, and that's ultimately what you want to get your guys to get to. He's working at a pretty advanced level right now for a college hitter."
Everyone has a different explanation for Rooker's explosive numbers this year.
Cannizaro points to an adjustment Rooker made with his posture, standing more upright to limit head movement, thus helping him see pitches quicker and easier. State sophomore left-hander Konnor Pilkington claims Rooker has laid off the slider in the dirt, a bugaboo from a year ago.
"Last year, every slider in the dirt you threw him, he'd swing over the top of it every single time," Pilkington said. "Now, he's laying off that. If they throw him a get-me-over slider for a strike, he's — boom! — hitting it 400 feet."
Rooker has his own explanations.
His physical adjustment went beyond posture. He began shifting the place in which he stores his power — his weight — moving it from his thighs and knees to his "rear hip," he said. He made this adjustment more than a year ago. Results are finally starting to show.
It's something he picked up from watching video of his swing and watching video of two others: Blue Jays third baseman Josh Donaldson and Barry Bonds, the former Giants slugger whom Rooker calls "the best hitter of all time."
"They're what I want to be. They're the kind of hitter I want to be," said Rooker, who played summer ball with LSU's Beau and Bryce Jordan and knows Greg Deichmann and Cole Freeman well. "If I watch three or four of the best in the world do one thing, and they all do it the same, then I should probably try to copy that and do it in the same manner."
His biggest adjustment might not be physical at all.
He enters each at-bat with a plan, he says, something new this season.
"I have a plan for every pitch, not just every at-bat," he said. "When I've had times where I haven't been good this season, it's because I've been conflicted in my plan."
---
ROCKETING ROOKER
Brent Rooker is in the top 5 in the nation in all but one major hitting category. He's 6th in that one.
(national rank/SEC rank)
| | | | | | | |
| --- | --- | --- | --- | --- | --- | --- |
|   |  Average |  Hits |  Home runs |  On Base % |  RBIs |  Slugging |
|  2017 |  .395 (5th/1st) |  96 (2nd/1st) |  23 (5th/1st) |  .498 (6th/1st) |  82 (t1st/1st) |  .827 (1st/1st) |
|  vs. LSU* |  .538 |  7 |  0 |  .600 |  2 |  .692 |
*three-game series May 18-20