Kevin Toliver's father sums up his son's sophomore season with one word: "Dang," he said, letting out a sigh.
"It took a toll on him," Kevin Sr. continued Thursday during a phone interview. "It wore on him a lot."
So what happened?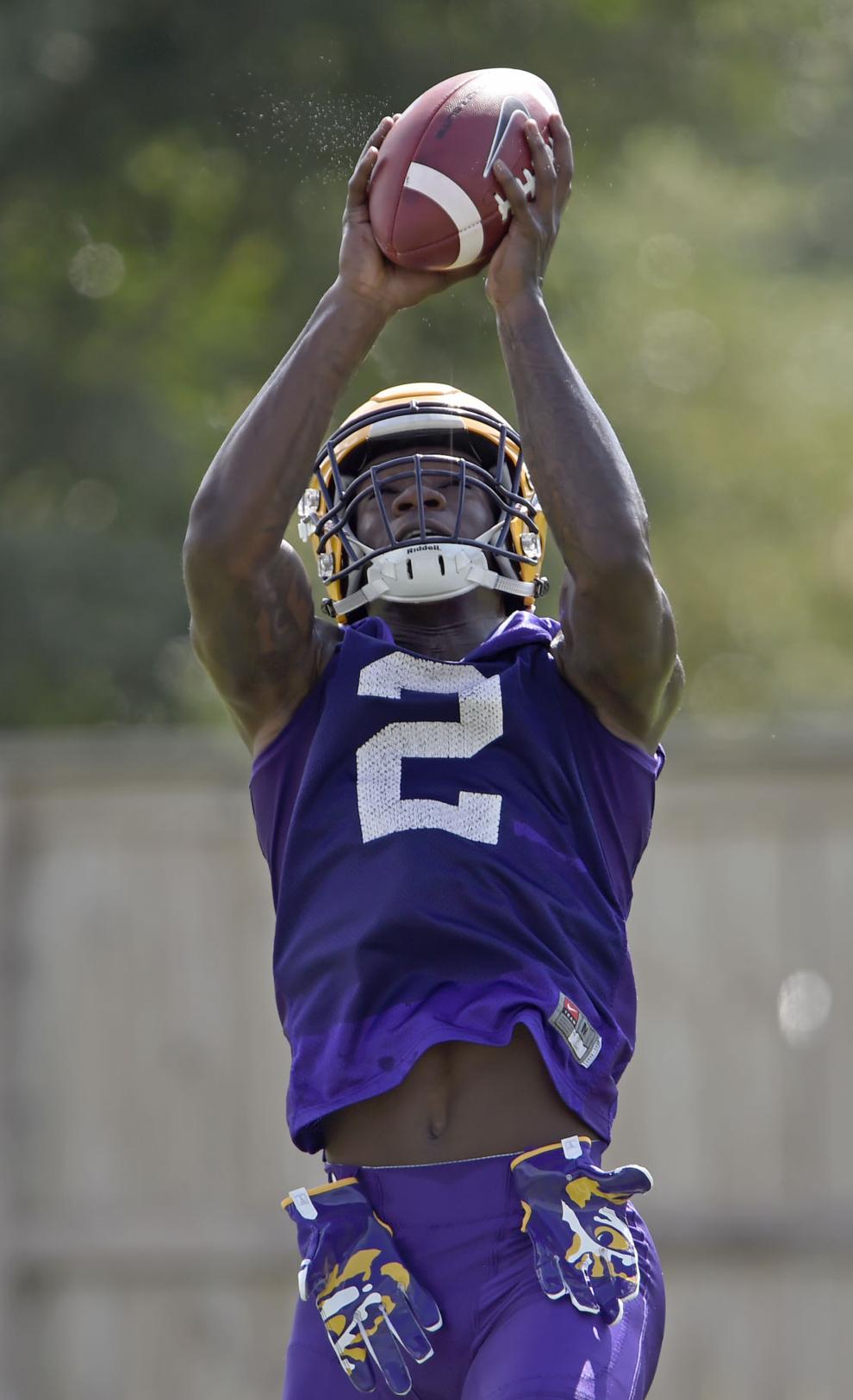 A little bit of everything: two injuries — one to the shoulder and another to the knee — inconsistent play and, even, a suspension for missing team meetings.
All of it helped ruin a sophomore season filled with such high expectations for Toliver, a player who started eight games as a freshman in 2015 and was, at one point in high school, the top football prospect in America.
All of it put him into a nasty "slump," his father said, one from which he's finally crawled. He's a new man, Kevin Sr. says, back to being his old self, fully healthy and running with the starters as LSU winds down Week 1 of spring practice.
"That joker is like he was when he first got there," Kevin Sr. said. "He's wired up, man."
He participated in LSU's third practice of the spring Thursday. He's the leader at one of the team's five most hotly competitive open starting jobs — the cornerback position opposite Donte Jackson. Trailing him is another highly touted Florida defensive back, Saivion Smith, a sophomore who usurped an injured Toliver during his rocky season in 2016.
Smith is pushing Toliver, mentally and physically, showing off skills that made him Scout.com's No. 1-ranked cornerback in the 2016 signing class.
Smith is a talker, a smiling Toliver says. He claims that he does not talk back.
"He's saying, 'I bet I get a pick today!'" Toliver said Thursday in his first meeting with reporters since August. "I don't do a whole lot of talking. I do my talking on the field."
That was tough to do in 2016. Toliver played in seven games, five fewer than he played in as a rookie in 2015. He got five starts, three short of his freshman season.
He didn't play in the last four games of the season, missing them after the final injury blow — a shot against Alabama to his surgically repaired shoulder. Toliver played with a torn rotator cuff in his right shoulder during his entire freshman season. He had it repaired last January and missed last year's spring practice recovering.
The blow against Alabama re-injured the shoulder, re-ignited pain and had him experiencing excruciating pain at times. He couldn't raise his arm over his head, his father said. He had no rotation in it and very little motion.
"He was done after that," Kevin Sr. said.
He was partially done even before that.
He hyper-extended his knee in LSU's third game against Mississippi State and missed the next game at Auburn. Les Miles was fired and then Toliver saw some time in Ed Orgeron's first game as interim coach against Missouri.
He struggled at times in the game, hampered by the injury and what Orgeron called consistency issues.
Things came to a head the next week leading into a game against Southern Miss. He missed team meetings, so annoyed by his lackluster play and injury that he chose not to attend. Coaches suspended him for the first half of the win over the Golden Eagles.
"He lost some points," Kevin Sr. said, referring to Orgeron's new points system for keeping players in line academically and athletically. "He was like, 'Why am I going to go? I can't play.'
"That was a growing pain for him," his father continued.
Donte Jackson has turned to the clock application on his iPhone to prevent the organizationa…
Jackson is Toliver's roommate. He called 2016 "very difficult" for his fellow cornerback.
"We talked about it a whole lot. It aggravated him," Jackson said. "He's a fierce competitor. Not being out there really hurt him a lot."
When he was out there, Toliver struggled in coverage more than he did as a freshman. Injuries were a big piece of that, but so was overall inconsistent play, Orgeron said last week. Toliver, for instance, was beat on man-to-man coverage on a 50-yard completion early in the game against Ole Miss —  something he never did as a rookie.
Over the offseason, Orgeron instituted a new method to gauge his players' performances. Each position coach created a 30-play reel of each of their players. Ten of the plays were good. Ten of them were bad.
Toliver, defensive backs coach Corey Raymond and Orgeron together watched his 30-play video during a meeting.
"It was different," Toliver said. "We didn't do that with Miles. It was different. It helps us learn from my mistakes, knowing what we need to work on the field."
"I learned a lot about Kevin Toliver," Orgeron said. "Kevin Toliver can be an excellent football player. He just needs to remain more consistent."
Consistency is coming, his father said. His son is a much different guy than that inconsistent, injury-riddled kid who slipped into that sophomore slump last season.
The two held a phone conversation recently. Kevin Sr. could tell his son is in a different place.
"I said, 'Boy, you must be feeling good,'" Kevin Sr. said. "He said, 'Dad, you don't even know. I'm ready to go. I'm focused. I'm giving it my all.'
"I said, 'Stay healthy.'"
---
This is the first of a five-part series running this spring about LSU's five most hotly competitive starting positions.
CORNERBACK
Kevin Toliver, junior
Saivion Smith, sophomore
Kristian Fulton, sophomore
(position opposite Donte Jackson)