LSU has self-imposed penalties on its football team for rules violations in the hopes its actions will satisfy NCAA enforcement.
The school will cut eight scholarships over the next two years, reduce recruiting visits and ban Odell Beckham Jr. from its facility for two years after the former LSU wide receiver handed out $2,000 in cash on the field after the 2020 College Football Playoff National Championship, Sports Illustrated first reported Wednesday.
News of the self-imposed penalties comes almost a month after a series of LSU infraction cases were taken up by an independent enforcement panel, which will ultimately decide what final sanctions will be levied in an investigation that has stretched over two years.
A postseason ban was part of the conversation between the NCAA and LSU, a source confirmed with The Advocate, but the university moved away from such a severe penalty.
When reached for comment Wednesday, LSU officials sent a written statement.
"LSU has worked proactively and in cooperation with the NCAA to identify and self-report any violations that occurred within our football program," LSU senior associate athletic director Robert Munson said. "We believe these self-imposed penalties are appropriate and we will continue to coordinate and cooperate with the NCAA on this matter."
The NCAA has investigated LSU's football program for three separate potential rules violations while its enforcement staff looks into claims of impermissible payments given to recruits by men's basketball coach Will Wade, an ongoing investigation that entered the Independent Accountability Resolution Process in late September. No notice of allegations has been sent to LSU.
LSU didn't object to its basketball case being referred to the IARP as long as the NCAA investigation into the football program weren't lumped into the same case. LSU believed its football cases were closer to resolution, and, if combined with basketball, the process could take an unnecessarily longer period of time to conclude.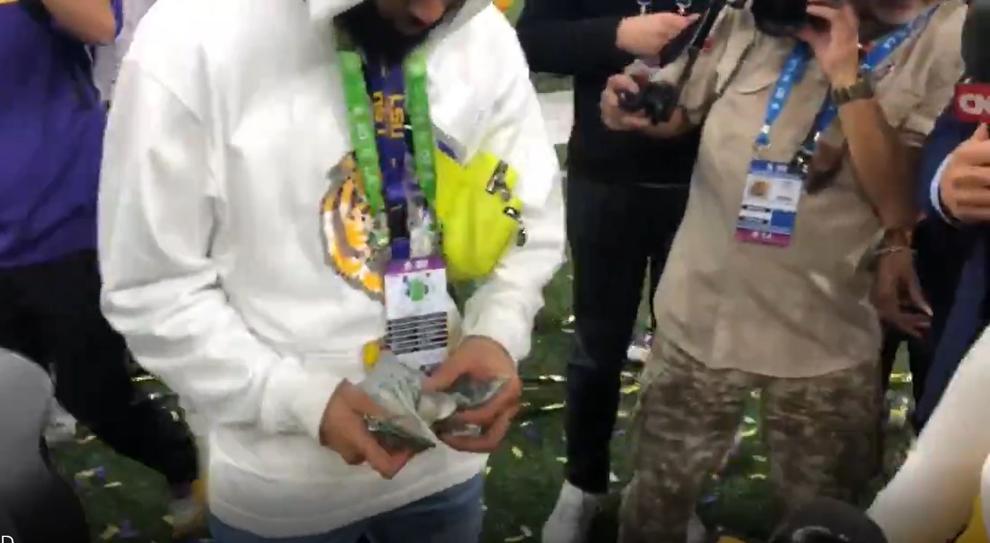 According to documents obtained by The Advocate through a public records request, the NCAA enforcement staff confirmed John Paul Funes, former chief fundraiser for Our Lady of the Lake Hospitals, arranged employment beginning in 2012 for the parents of former offensive lineman Vadal Alexander and paid his father $180,000 between 2012-17 for a "no-show" job.
LSU's attorneys wrote in their response letter that the Franciscan Missionaries of Our Lady Health System met with LSU counsel on Nov. 6, 2018, and that it "was LSU's first notice of the potential violation." Former president F. King Alexander and former athletic director Joe Alleva notified the NCAA "that same day and proceeded with investigations."
The NCAA also looked into when Beckham was recorded on video handing out money to LSU players after the national championship game Jan. 13. LSU "worked quickly to recover the money," according to NCAA documents, and helped investigate.
LSU submitted its summary of violations June 1 and said Beckham provided four football players with a total of $2,000 in cash, which NCAA documents said LSU believed to be a Level 3 violation.
The NCAA also investigated a potential recruiting violation in January 2019 involving coach Ed Orgeron. 
According to NCAA documents, LSU's attorneys wrote Orgeron was interviewed by the university's outside counsel and compliance staff. He admitted to "inadvertent but impermissible contact with the prospect," documents said.
The compliance staff reported the violation to the NCAA on July 31, 2019. LSU self-imposed penalties, which included 30 days off the road during the next recruiting period for Orgeron, plus a reduction in the total number of permissible off-campus contacts with the involved prospect.
According to the documents, LSU disagreed that its football cases needed to be resolved in the IARP. The school argued they were "similar to countless cases" with other schools that, in previous years, were resolved by the NCAA's enforcement staff and the Division I Committee on Infractions.
Pertaining to the Funes case, LSU noted that Alexander, Alleva and former LSU football coach Les Miles are no longer on staff and that no player on the current football roster ever competed with the player whose father was paid.
At the time, LSU's attorneys wrote that since the school and the NCAA enforcement staff "agree that the football investigation is complete," the football investigations should not be combined with the basketball investigation within a possible IARP review that could take "6 to 12 months" to conclude.
The basketball investigation has become strung out, an NCAA official wrote in a July 15 letter, because of Wade's repetitive refusal to cooperate with the investigation and LSU's inability to secure his cooperation.
"His tactics during the investigation have delayed resolution dramatically," wrote Jonathan Duncan, the NCAA's vice president of enforcement.
Wade missed several deadlines to supply his records, according to Duncan's letter. 
LSU wrote in response that it "should not lose the guidance of the COI process and precedent in the football inquiry simply because the enforcement staff believes (Wade) has been delinquent in providing telephone records to the staff."