Instead of notes on a golf scorecard, this week let's dip into ye olde mailbag.
Actually, there is no mailbag. Just questions I figure you are likely to have about this game, this matchup and all the hype surrounding it.
Is it still the Game of the Century, Part Deux, if LSU is No. 2 in the first CFP rankings and Alabama is No. 3?
However you slice it, whether you go with the No. 1 versus No. 2 from The Associated Press poll so many of you like to disparage, or No. 2 versus No. 3, it's a really big game. Arguably the biggest regular season collision since No. 1 LSU beat No. 2 Alabama in 2011.
Considering the history of college football, when mythical national champions have been crowned forever, this is par for the course. Even in the CFP era, it is still the opinion of 13 committee members on who are the best four teams to get in the playoff. It isn't an actual NCAA championship. If you want to see the Division I NCAA football champion, don't go to the Mercedes-Benz Superdome on Jan. 13 but Frisco, Texas, on Jan. 5, when the FCS championship game will be played.
But as for LSU and Alabama, it's enormous, whether it's this year's according to Hoyle "Game of the Century" or not.
Doesn't the president attending the game make it a bigger deal?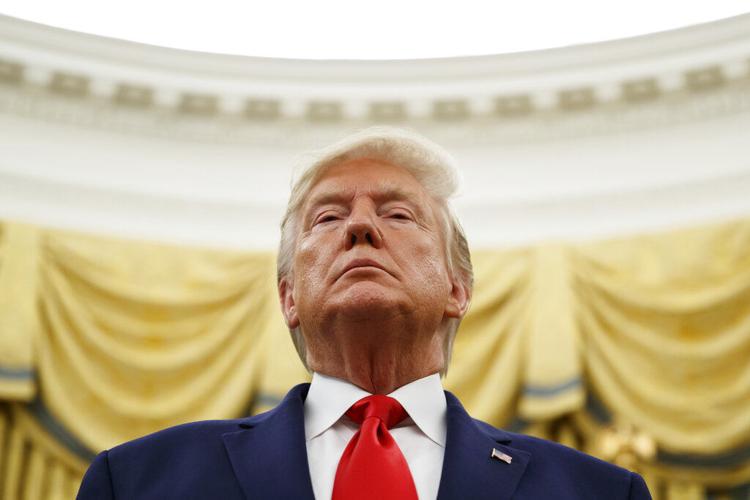 It certainly puts it on another level. On Dec. 6 1969, President Richard Nixon attended the 20th century's Game of the Century between No. 1 Texas and No. 2 Arkansas. Texas won 15-14, after which Nixon declared the Longhorns the national champion before the bowl games were played.
I don't expect President Donald Trump to cheer for one team over the other because he carried both Louisiana and Alabama so convincingly in 2016 and is expected do so again in 2020. LSU coach Ed Orgeron, reaching on both sides of the LSU-Alabama aisle, said the same.
"I just hope he sits right there in the middle and cheers for both sides," Orgeron said on Wednesday's Southeastern Conference teleconference.
You wouldn't want him to cheer for LSU?
"Well, I think a president needs to be neutral," Orgeron said. "If he wants to cheer for LSU, I welcome his cheering. But, obviously, I don't think the president should be cheering for either team. I think he should be right down the middle."
Fans are encouraged to arrive early Saturday at Bryant-Denny Stadium, where gates will open three hours before the 2:30 p.m. kickoff because of extra security measures because of the president's visit.
Being around the president might be a new experience for the players and many of the fans, but not the coaches. Orgeron was on the staff at Southern California when the Trojans visited the White House after the 2003 season. USC was the AP national champion (love that poll, don't you?) while LSU was also there as the BCS national champion.
With both teams present, President George W. Bush playfully suggested the teams decide the matter right there on the South Lawn. The split title still rankles LSU fans, but Orgeron remembers a cordial experience.
"I thought we might have a scrimmage in the courtyard or something," Orgeron said with a chuckle. "But it wasn't. Those (LSU) guys were nice. We were nice. I got to meet all the coaches. I remember seeing coach (Charlie) Baglio over there. It was just like a little reunion. It was good."
The event was the first time Orgeron ever met Nick Saban. Saban, with his six national titles, has made visiting the White House a regular, Forrest Gump-like recurrence (no Alabama fan Gump jokes, please).
"It's always a very, very flattering, unique experience," Saban said. "I think if you're in Bangkok, Thailand, and you told somebody you had the opportunity to go to the White House, they'd say, 'That's quite an honor.' So we've always looked at that as quite an honor to go to the White House.
"I do remember meeting Ed (in 2003). I don't remember a lot about it. But I've always had a lot of respect for Ed and what he's been able to accomplish now as a head coach, also when he was an assistant coach, so we have a lot of respect for him as well."
Will Tua Tagovailoa play?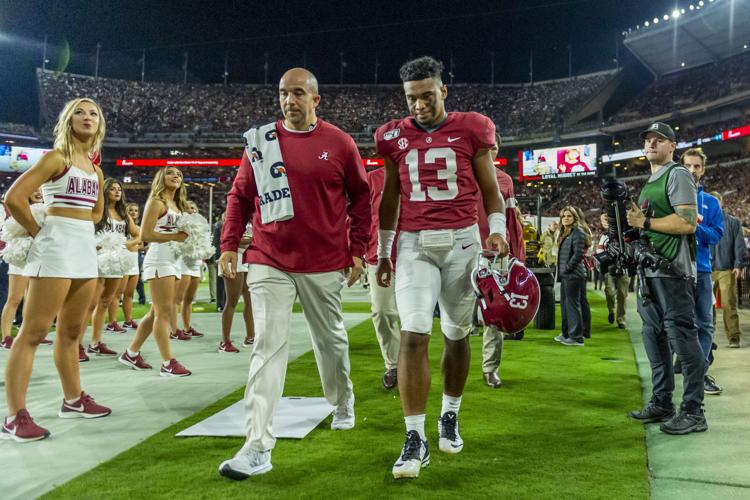 If Joe Burrow could play in last year's Alabama game with a separated throwing shoulder, Tua should be expected to start for this one despite that recent surgery to accelerate the healing process on his right ankle sprain. If it was struggling Arkansas instead of high-flying LSU, I'd say he'd sit out, but he's too much of a competitor not to play.
Saban cut reporters off at the drag pass route on Wednesday's SEC teleconference to say Tagovailoa continues to be a game-time decision. But he has also said he continues to improve daily. I still refuse to believe someone can be 100% healthy a mere 20 days after this so-called "tightrope" procedure on his ankle ("You'll call it a procedure, but it's a surgery"), but any Tua above say 60% is going to be good enough to take the chance.
That said, LSU has to get pressure on him. A much tougher task without the now-departed Michael Divinity, but the Tigers have to try to get him on the run.
Will Grant Delpit play?
Everything including the impeachment inquiry seems to be overshadowed by the Great Tua Tagovailoa Ankle Vigil, which means Delpit's absence from practice every day this week that the media has had viewing time has been lost in the glare as well. Orgeron said Wednesday night on his radio show that Delpit will play, but it's definitely a concern. I don't know how LSU holds down Alabama enough offensively without Delpit and Divinity. Orgeron is sure to be asked about Delpit again Thursday at his final pregame news conference.