Even amid the coronavirus pandemic, LSU is setting its sights on another Southeastern Conference championship. This week, the Tigers begin a one-of-a-kind preseason camp, with new stars in key roles, trying to make all the pieces fit.
QUARTERBACK
Myles Brennan, Jr.
TJ Finley, Fr.
Max Johnson, Fr.
How it enters camp: Brennan has taken over as the starter after three years of waiting for his turn. Once considered one of the top high school quarterbacks in the country, it's now his time.
How it could leave camp: Brennan will start, barring any unforeseen developments. The coaches trust him, and they believe in his ability to run the offense. Either Finley or Johnson will emerge as the backup.
WIDE RECEIVER
Ja'Marr Chase, Jr.
Terrace Marshall, Jr.
Racey McMath, Sr.
Jontre Kirklin, Sr.
Trey Palmer, So.
Jaray Jenkins, So.
Kayshon Boutte, Fr.
Koy Moore, Fr.
Alex Adams, Fr.
How it enters camp: The group is led by Chase, the reigning Biletnikoff Award winner and latest player to wear No. 7, and Marshall provides another threat. The underclassmen will push for playing time.
How it could leave camp: LSU has to find its third receiver for an offense predicated on multiple combinations. McMath is expected to earn the starting role, but LSU has a deep group behind him.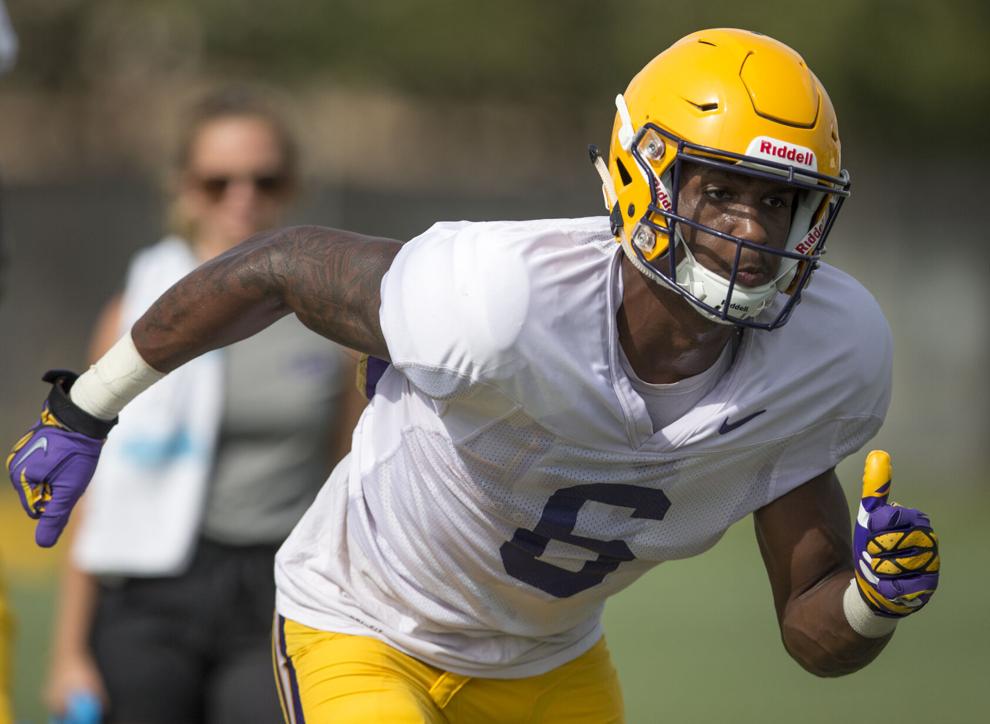 TIGHT END
Arik Gilbert, Fr.
Kole Taylor, Fr.
Tory Carter, Sr.
Nick Storz, Jr.
Aaron Moffitt, Jr.
Jansen Mayea, So.
How it enters camp: Coach Ed Orgeron thinks LSU is better at tight end than ever. Gilbert was the highest-rated tight end recruit in 247Sports history and became the first tight end to receive Gatorade High School Athlete of the Year.
How it could leave camp: Gilbert captures the spotlight, but he and Taylor could form an effective tandem. A four-star recruit, he was rated the nation's No. 10 tight end. Storz, a baseball player, and Carter are options.
TAILBACK
Chris Curry, So.
Tyrion Davis-Price, So.
John Emery, So.
Tre Bradford, Fr.
How it enters camp: LSU plans to use a committee approach with the position this season, leaving an opening for any of the running backs to take over as the starter. The position's wide open.
How it could leave camp: Curry proved himself by rushing for 89 yards in the Peach Bowl, but he didn't show a complete skill set. Emery may fill in as the pass-catcher while Davis-Price rotates in the offense.
CENTER
Liam Shanahan, Sr.
Joseph Evans, Fr.
Charles Turner, RFr.
How it enters camp: Shanahan has taken over as the starting center since transferring from Harvard earlier this year. Shanahan has 29 career starts. LSU wants to make sure he can block SEC-level nose tackles.
How it could leave camp: Evans flipped over from defensive tackle in the spring. Ideally, he will spend a year learning the position and take over for Shanahan next year.
GUARD
Ed Ingram, Jr.
Chasen Hines, Jr.
Kardell Thomas, So.
Anthony Bradford, Fr.
Marcus Dumervil, Fr.
Xavier Hill, Fr.
Marlon Martinez, Fr.
How it enters camp: Ingram is the established starter at left guard. He shared the position last year. Now he'll play it full-time. Right guard lacks a returning starter. Hines has a lead on the position.
How it could leave camp: Hines played in 10 games last season, recording a season-high 36 snaps against Vanderbilt. He's a natural fit at right guard, but the underclassmen will push for the spot.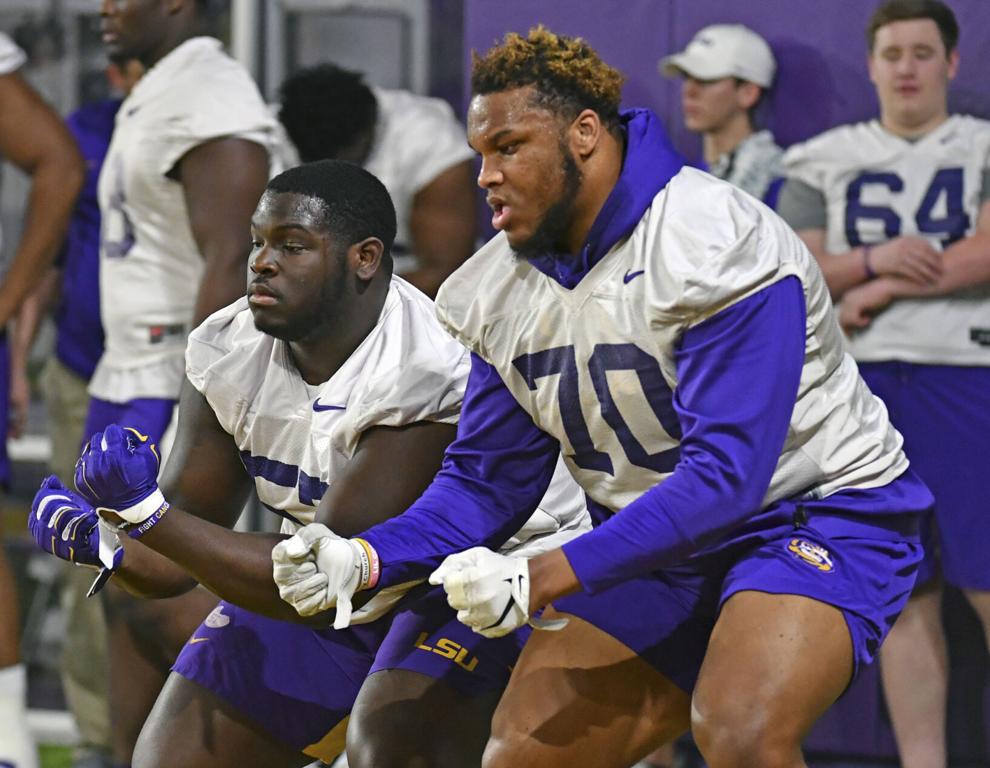 TACKLE
Austin Deculus, Sr.
Dare Rosenthal, So.
Cameron Wire, So.
How it enters camp: Deculus is the only returning starter on the offensive line, a senior with 24 career starts. He'll remain at right tackle. Left tackle is open, though Rosenthal has an edge.
How it could leave camp: Rosenthal played in five games with three starts last season, and Orgeron sees him as a future first-round pick. He had 229 snaps last year, third-most among returning offensive linemen.
DEFENSIVE TACKLE
Tyler Shelvin, Jr.
Siaki Ika, So.
Jacobian Guillory, Fr.
Jaquelin Roy, Fr.
Eric Taylor, Fr.
How it enters camp: LSU's new 4-3 base will showcase its defensive tackles, asking them to do more than fill space. Shelvin emerged as one of the best players on LSU's defense his sophomore year.
How it could leave camp: LSU has depth here with Ika and the three freshmen. They could all find a role as LSU rotates its linemen throughout games. Taylor reportedly stood out during summer workouts.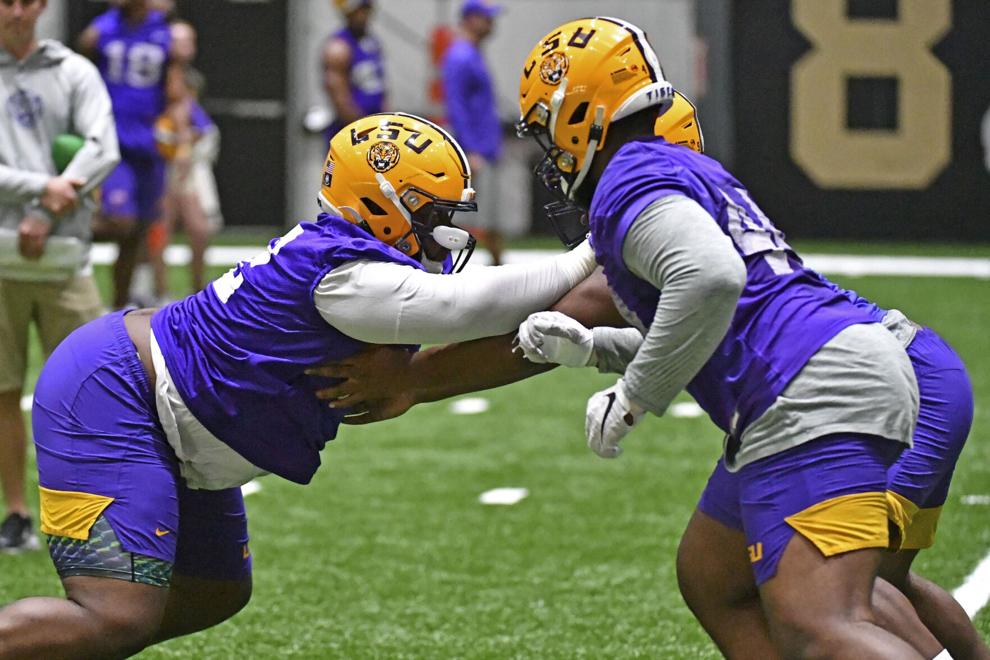 DEFENSIVE END
Glen Logan, Sr.
Travez Moore, Sr.
Andre Anthony, Sr.
Soni Fonua, Sr.
Justin Thomas, Jr.
TK McLendon, Jr.
Ali Gaye, Jr.
Jarell Cherry, So.
Nelson Jenkins, So.
BJ Ojulari, Fr.
Phillip Webb, Fr.
How it enters camp: The defensive ends will have more responsibility to create pass rush in the 4-3 defense. LSU wants them to attack. It has multiple options, including Logan, Thomas and Gaye.
How it could leave camp: Webb and Ojulari have impressed since they arrived on campus, though they haven't had a chance to prove themselves in live contact. They could play early at right end.
LINEBACKER
Jabril Cox, Sr.
Damone Clark, Jr.
Micah Baskerville, Jr.
Josh White, Fr.
Antoine Sampah, Fr.
Ray Thornton, Sr.
Devonta Lee, So.
Jared Small, Jr.
How it enters camp: The Tigers have a deep group to choose from as they replace their starting linebackers. Clark appears ready to step into an expanded role, as does Cox, a graduate transfer from North Dakota State.
How it could leave camp: Expect White and Sampah to compete for early playing time with a third spot available. Orgeron has touted their speed.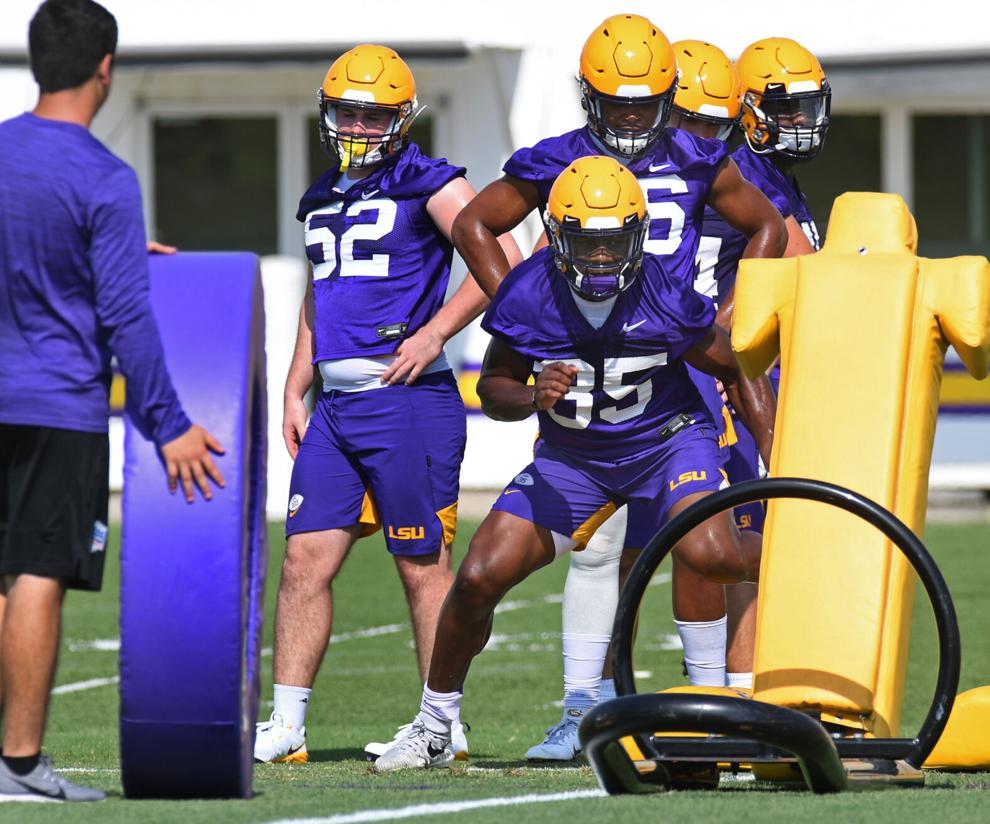 CORNERBACK
Derek Stingley, So.
Cordale Flott, So.
Eli Ricks, Fr.
Jay Ward, So.
Raydarious Jones, Fr.
Dwight McGlothern, Fr.
How it enters camp: Stingley is the best cornerback in the country, a freshman All-American who started every game his rookie season. He left the SEC and ranked No. 5 in the nation in interceptions with six.
How it could leave camp: LSU needs to find a starter at its second corner and nickel corner positions. Flott can play either one, and Ricks arrived early as a five-star recruit who could start from Day 1.
SAFETY
JaCoby Stevens, Sr.
Kary Vincent, Sr.
Todd Harris, Jr.
Maurice Hampton, So.
Jordan Toles, Fr.
Cameron Lewis, Sr.
How it enters camp: Stevens returned for his senior year and could receive No. 18. He recorded 85 tackles last season with 8½ for loss, five sacks and three picks. LSU wants to get him as close to the football as possible.
How it could leave camp: Hampton is considered a starter and Vincent can be used in multiple spots. Harris can't yet participate in every drill as he returns from a knee injury. Watch out for Toles.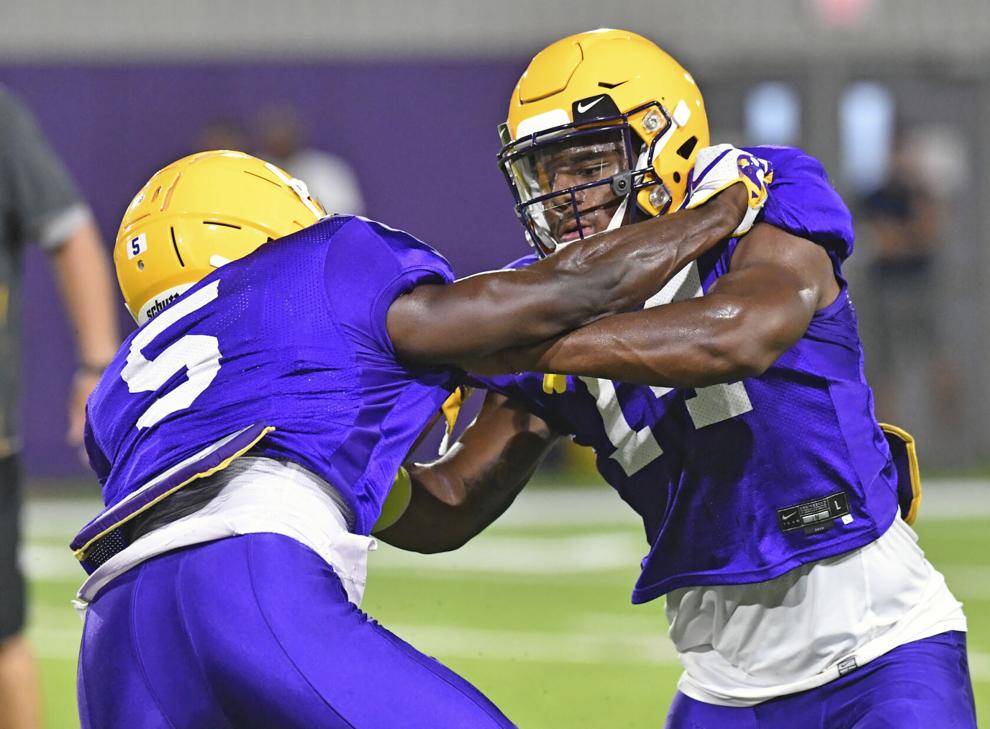 KICKER
Cade York, So.
Avery Atkins, Jr.
How it enters camp: York played well his freshman year. He converted 21 of 26 field goals, which made him the most productive freshman kicker in school history. He kicked four field goals over 50 yards.
How it could leave camp: York has the position locked up. Atkins returns as a kickoff specialist. He has recorded touchbacks 86% of the time through two seasons.
PUNTER
Zach Von Rosenberg, Sr.
How it enters camp: Von Rosenberg returns as the punter after he handled every punt last season. He averaged 42.5 yards. The 29-year-old senior placed 18 of his 40 punts inside the 20-yard line.
How it could leave camp: LSU doesn't have another punter listed on the roster. It would be in trouble if Von Rosenberg were to suffer an injury.
LONG SNAPPER
Quentin Skinner, Fr.
Max Peterson, Fr.
How it enters camp: Skinner takes over after one of the Ferguson brothers snapped for eight straight years. He attended the same high school, Buford (Ga.), and the nation's premier snapping service named him the best long snapper in the country coming out of high school.
How it could leave camp: If all goes well, Skinner will handle the position the next four seasons. Peterson provides depth.
RETURN SPECIALIST
John Emery, So.
Derek Stingley, So.
Trey Palmer, So.
How it enters camp: Orgeron recently mentioned Emery has the likely kick returner. He didn't play ther last season. Meanwhile, Stingley returned 17 punts for 163 yards.
How it could leave camp: Emery struggled to find a role his freshman year, but his skills are obvious. Orgeron called him "explosive." Chase, Palmer and Jontre Kirklin may also return kicks.