Sometimes TJ Finley forgets there's a wide receiver in the backfield.
The LSU quarterback will cycle through his share of plays during practice, look to his left, and he'll see Kayshon Boutte standing next to him.
Or Koy Moore. Or Trey Palmer.
Sure, injuries at running back limited depth in the Tigers' backfield during spring practice. But that's not the only reason why receivers lined up next to the quarterback instead.
That's part of the plan in LSU's offense under first-year offensive coordinator Jake Peetz — a spread system that rotates skill players around like chess pieces, searching for the best matchups against a defense to call checkmate.
"It's just so much," Finley said. "So many guys moving around. It's so many ways people can touch the ball."
Of course, this type of offense isn't entirely new.
This is the same innovative spread offense that a then-unknown lowly New Orleans Saints staffer named Joe Brady brought to LSU in 2019 as passing game coordinator. It's the "everybody eats" philosophy that rewrote the school record book, with a Heisman Trophy winning quarterback (Joe Burrow), a 1,400-yard rusher with 16 touchdowns (Clyde Edwards-Helaire), plus two 1,500-yard receivers (Ja'Marr Chase and Justin Jefferson) who combined for 38 touchdowns.
This is the offense LSU coach Ed Orgeron wanted to reclaim by hiring Peetz and new passing game coordinator DJ Mangas, who were both on Brady's staff in his first year as offensive coordinator for the Carolina Panthers. Peetz was Carolina's quarterbacks coach. Mangas was an offensive assistant — the same title Brady held in New Orleans — and also was an analyst who worked with Brady at LSU in 2019.
It isn't simple to fully define an offense that comes from a 31-year-old coach who's still so early in his career, which is why The Advocate and Times-Picayune recently watched, charted and categorized all 957 plays the Carolina Panthers ran in Brady's one and only season as a full-time offensive coordinator. With LSU debuting a small sample of Peetz's offense in Saturday's spring game, it seemed like the best way to organize the fullest understanding of how the Tigers offense will function in the upcoming season.
The similarities are already palpable. Peetz's LSU offense showed personnel groupings, pre-snap motions and route combinations that Brady used both in his first season in Carolina and in his one season on LSU's staff during its national championship run.
Will the offense be more than what LSU showed on Saturday? Of course. That "was just a taste of what the offense is," as left guard Ed Ingram said after the scrimmage. But the foundational structure has been built. So, here is a look at the connections between the offenses that are apparent so far.
Personnel
Max Johnson drew most of the attention on LSU's first snap of the spring game. Mostly, it was because the sophomore was the quarterback who received the first snap of the spring game amid the team's ongoing four-man quarterback battle.
But there was something perhaps more interesting going on, too. Running back Tyrion Davis-Price shifted from the backfield to slot receiver, and suddenly, the Tigers were deploying an empty, five-wide package for their very first play of 2021.
Already, LSU was using one of the main pillars of this particular spread philosophy: Players move around to different positions instead of substituting in and out to execute different plays.
In this case, a more traditional offense might substitute in five wide receivers to create an empty, five-wide package that would almost certainly be a passing play. But then, after that play is over, that traditional offense still has five wide receivers on the field, and it would have to substitute in other players (running backs, tight ends) to access the rest of its playbook.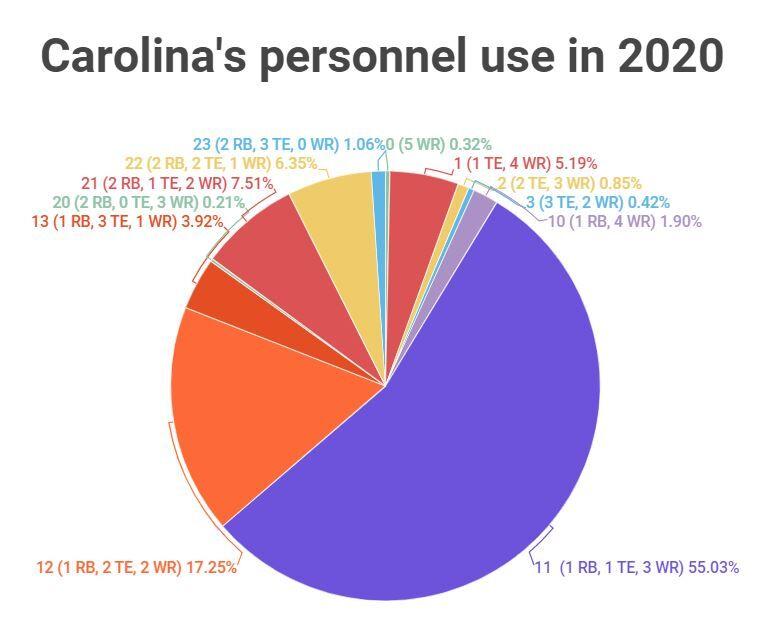 The Carolina Panthers ran "11" personnel (1 RB, 1 TE, 3 WR) more than half the time (55.26%) on any given play in 2020. The grouping was extremely versatile. The Panthers used it for standard run plays. They used it to throw the ball deep. They used it to convert third downs, fourth downs and 2-point conversions. Just about anything Carolina wanted to accomplish could be done out of 11 personnel. And — just as Davis-Price shifted from running back to receiver in the spring game — the Panthers rotated skill players to different positions to avoid becoming predictable.
Former LSU wide receiver Justin Jefferson recorded a school-record 111 catches in 2019 while rotating around positions both on the inside and outside. It appears Boutte will be just as versatile. He is LSU's top returning receiver, a 6-foot, 185-pound deep threat who broke the single-game school and Southeastern Conference record for yards receiving (308) against Ole Miss in last year's season finale.
Boutte told reporters this spring: "I find myself in many different places." He's lined up on the outside. The inside. Anywhere that could create an advantageous matchup for him or another LSU player on the field. Any spot that might surprise defenders in the same way Boutte said LSU's defense has reacted this spring: "It's kind of like, 'Oh, you're over here now?' "
And, yes, that means Boutte lining up in the backfield, too.
The Carolina Panthers often lined receivers at running back in 2020, even while still in 11 personnel. Against the Arizona Cardinals, running back Mike Davis lined up wide left while Robby Anderson ran a short route from the backfield for a 7-yard touchdown reception.
Sometimes the Panthers caught a defense off guard by handing the ball off to the receiver — just as former LSU receiver Ja'Marr Chase did against Oklahoma in the 2019 Peach Bowl, with a 5-yard run to pick up a first down on fourth-and-2.
Carolina receiver Curtis Samuel was such an effective runner — 41 carries, 200 yards, two touchdowns — that the Panthers would forgo a running back entirely by going "01" personnel (1 TE, 4 WR) and rotate Samuel into the backfield whenever they wanted to run the ball. Against the Saints, this gave Carolina the advantage of spreading out the defense by going five-wide and completing an 11-yard pass to tight end Ian Thomas on one play, then handing off the ball to Samuel for a 5-yard touchdown on the next.
Does this mean Boutte is going to run the ball 41 times for LSU in 2021? No. It just means Peetz can adapt LSU's offense around the skills of its players. The Tigers are particularly deep at running back, which means Peetz could get creative with personnel packages that use multiple running backs. The Panthers only used those sets 15.1% of the time in 2020, likely because star running back Christian McCaffrey was injured for the bulk of the season.
"That's something we've been spending a lot of time with our staff (this spring)," Peetz said. "What schemes fit our players? What's the best way for us to run the ball? What's the best way to attack? Because that's what we want to do: We want to aggressively attack the defense at all fronts."
Motion
Max Johnson crooked his finger and Koy Moore motioned from left slot receiver to the right. It wasn't a major adjustment on the second play of LSU's spring game — just a subtle realignment that shifted the defense over and cleared up a lane for Johnson on a zone read to the left.
Orgeron told reporters LSU wouldn't use many of its complicated motions and shifts during the scrimmage. Still, on the first drive, the Tigers used some form of minor motion or shift in all but three of the 11 plays.
The frequency wasn't all that surprising, considering the Carolina Panthers used pre-snap motion and shifts more than half the time (51.6%) on any given play in 2020.
Just like the philosophy behind personnel variability, pre-snap motions can create play flexibility and matchup advantages. They can clear up spacing for passing lanes and tip off the coverages and blitzes a defense is going to run. Often, a pre-snap motion can do all of those things at once.
Take the first official play Carolina ran with Joe Brady in the booth. McCaffrey motioned out of the backfield to left slot receiver. Las Vegas Raiders linebacker Nick Kwiatkoski followed, indicating the Raiders were in man coverage. The realignment also opened up the middle of the field, where quarterback Teddy Bridgewater completed a slant to Anderson for an 11-yard gain.
Motions can also amplify the advantages an offense has within its personnel grouping. Against Washington, the Panthers had their fullback, Alex Armah, lined up off the line as an F-back (where a tight end might normally be) on third-and-1. Then, Armah motioned into the backfield to create a traditional-looking offset I-formation, and he was the lead blocker on a 3-yard rush for a first down.
Again, the types of motions LSU might use depends on the skillsets of the players on the roster. Armah, who had only caught three passes in his two previous seasons in Carolina before Brady arrived, wasn't a major receiving threat. LSU could get creative with, for example, incoming freshman Jack Bech — a 6-foot-2, 215-pound athlete who is considered a tight end/wide receiver hybrid.
Carolina also used motions to exploit parts of a defense where the Panthers had a numbers advantage. On one play against Kansas City, most of the Chiefs defense occupied the left side of the field because the Panthers had three receivers there. Only one defender was lined up beyond Carolina's right tackle. Samuel motioned left to right and received a pitch from Bridgewater with plenty of room on the right side for a 14-yard touchdown.
LSU used the motion pitch in 2019, too, most notably on a 38-yard gain by Jefferson against Utah State. Boutte also ran the motion pitch in Saturday's spring game but got caught in the backfield for a loss of 2 yards. Most of the motions and shifts the Tigers used in the scrimmage were subtle, and players insisted there's still plenty more they haven't yet revealed.
"There is more to show in 2021, for sure," Boutte said. "Just look forward to it, is all I'm going to say."
Routes
Four plays into LSU's spring game, a Johnson pass hit Boutte in stride across the middle of the field. Boutte was wide open. He weaved for what would've been a 45-yard touchdown had the score not been called back on an illegal block in the back.
Those expecting LSU's leaky secondary to improve may have groaned, but Boutte had run the sort of lethal crossing route that tormented opposing defenses in 2019 with first downs, long touchdown scores and gains in big chunks with several yards after the catch.
Brady's two seasons in New Orleans under coach Sean Payton reinforced the young coach's growing football philosophy, which was already rooted in the West Coast passing game. In Brady's one season in Baton Rouge, the Tigers confounded defenses by sometimes running multiple crossing routes at different depth levels on the field, which more often than not left at least one receiver completely open with plenty of room to run.
The Carolina Panthers targeted crossing routes the most in 2020, and the route's production was both efficient (71% completion) and productive (811 yards, two touchdowns). Of course, Brady organized the offense with a full staff, including Peetz, whose roots in the West Coast offense include one season with the Washington Football Team under Jay Gruden in 2014.
That's not to say the Panthers didn't throw it deep. The team recorded the bulk of its passing yardage on seam/go routes (964 yards), and Bridgewater hurled both a 74-yard touchdown to D.J. Moore as well as a 75-yard score to Anderson. But the high-risk, high-reward route was also the team's least efficient (42% completion) and produced the most turnovers (five interceptions).
And it's not say LSU won't also throw it deep in 2021. The Tigers may not have the trio of first-round receivers as it did in 2019 — Jefferson and presumably Chase and Terrace Marshall — but a strong-armed quarterback in Myles Brennan and a matchup winner in Boutte could create more favorable opportunities against college opponents than an offense might see in the NFL.
But all the routes — the hitches, the ins, the outs, the screens — all thrive when there's a multitude of combinations and masterful spacing. The Panthers avoided being predictable on given downs and distances. On second-and-long (which we categorized as second-and-7 or farther), the route targets were fairly diverse: outs (19%), crossing routes (18%), seam/go (16%), quick outs (14%), screens (12%), hitches (11%), ins (10%).
Zach Strief, a 12-year center for the Saints who's now an assistant offensive line coach with the franchise, said there are no secret schemes within the New Orleans passing attack Brady learned. Anyone can turn on the film, write down every route, and they'd have Payton's playbook.
Understanding why to run a certain route combination is much more important. A short double-crossing pattern against the Tampa Bay Buccaneers drew the linebackers in and opened up a deep hitch to Samuel for a 10-yard gain. A deep in against the Cardinals created space toward the sideline for a 12-yard reception to Moore on a crossing route coming from the other way.
The combinations thrive when there are multiple receiving threats, and Finley insists LSU has the depth at receiver, although most of the players aside from Boutte are either young or unproven. 
"Our talent is crazy right now," Finley said. "I cannot wait until the fall to be able to show you guys how much better we have grown as a unit this offseason, this spring. ... It's going to be a sight to see."