The Major League Baseball scout couldn't believe his eyes.
Was this the same Alex Lange he saw in high school just a year ago? It couldn't be, he thought, sitting at the SEC tournament in May of 2015.
The chubby kid he scouted at the prep level in Missouri was now a lean, tall, strapping starting pitcher for LSU. And his two average breaking pitches — a slider and a curveball — had morphed, within a year's time, into a brutal 12-to-6 curve.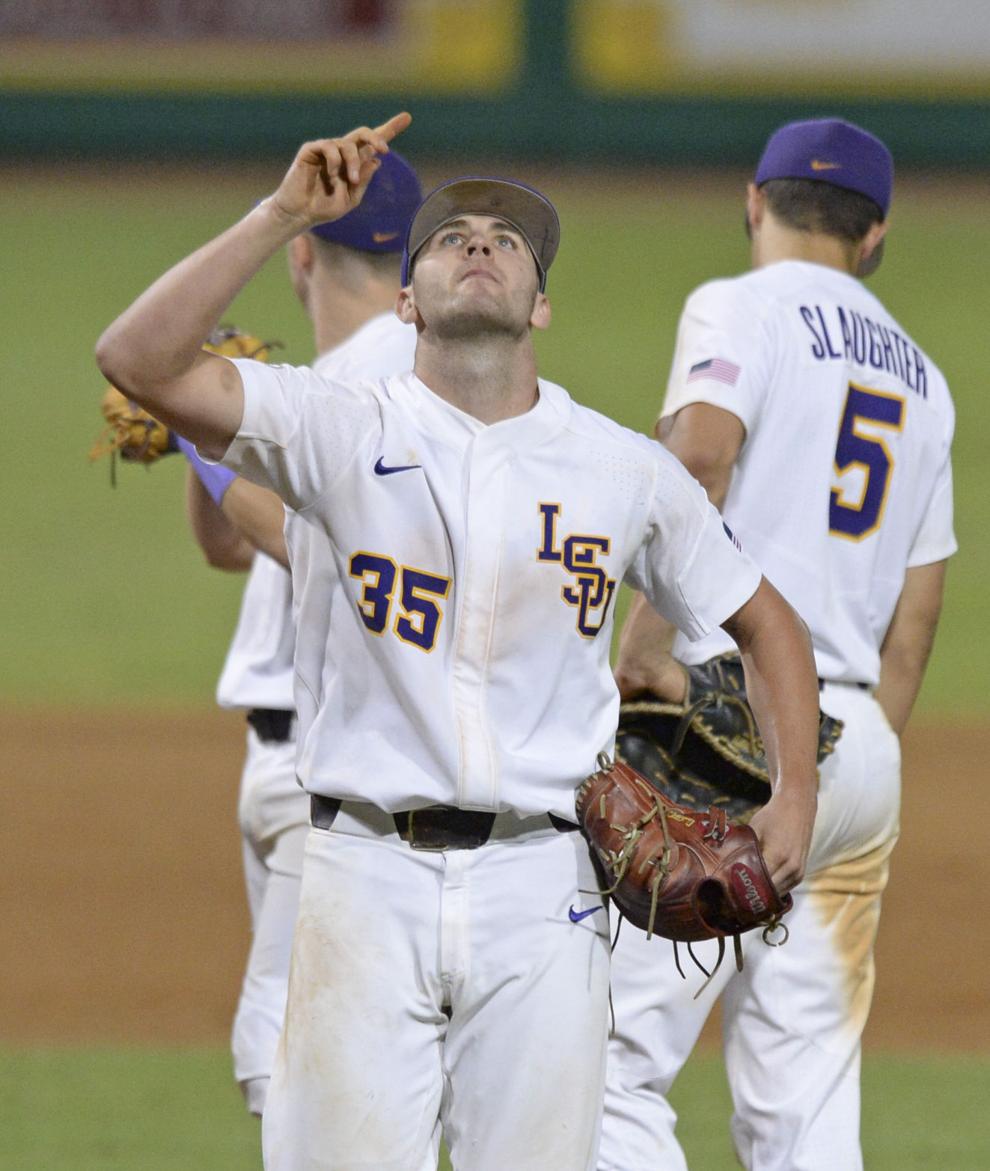 "I remember having this one scout introduce himself to me," LSU coach Paul Mainieri said recalling this story. "He scouted in the Midwest. He said, 'Man, what you guys have with Alex is amazing. Totally different pitcher than I saw in high school.' "
Even before Lange's banner freshman season in Baton Rouge, scouts told the LSU coaching staff that they wish they had drafted him in the first or second round out of high school.
A couple of years later, Lange is a first-rounder.
The Chicago Cubs chose the Tigers' right-handed ace with the 30th overall pick of Monday night's MLB draft, making the 6-foot-3, 200-pound strike-thrower the highest drafted LSU pitcher since Aaron Nola (sixth overall) in 2014 and the 16th first-rounder from LSU in 30 years.
Can't see the video below? Click here.
He's the fourth LSU pitcher selected in the first round since 2010. 
Many projected Lange as a late first-round or early second-round pick. The slotted bonus for the 30th pick is $2.18 million, according to figures released by Baseball America earlier this year.
Lange held a private watch party at a Baton Rouge residence Monday night. Mainieri attended. There were suspenseful moments. It was a goal of Lange to go in the first round. At 9:07 p.m., the suspense ended.
"There was a real sense of relief," Mainieri said during an interview Monday night. "I wanted Alex to go in the first round. I felt like he was a first rounder."
The 30th pick is the final selection in the first round, followed by six supplemental picks that are normally referred to as first-round selections.
"He had a little room to work with," Mainieri laughed.
Mainieri is close friends with Cubs assistant general manager Randy Bush. The two were college roommates. 
"I can't tell you that they didn't call me to get my impressions of Alex," Mainieri said. "The Cubs didn't draft him because Randy is my best friend. They drafted him because they're getting a really quality pitcher and great human being. They're going to count on him to help their major league team win."
The two most important chapters of Alex Lange's life are as distinct as his two primary pitches.
Lange turned down a near $1 million bonus coming out of high school. A club called him in the third round of the 2014 draft, and Lange admits that discussions went deep. He has never publicly revealed the team.
Lange calls his time at LSU "the best three years" of his life. He'll go down in history, Mainieri said, as one of the school's best pitchers, a strikeout pitcher with a 91-95 mph fastball and a 82-86 mph curveball that's described by most as big-league already.
"I believe he's going to make an organization happy," LSU pitching coach Alan Dunn said. "He's going to figure it out."
He figured plenty of things out in just a short time, from his high school days to that rookie season in Baton Rouge. He lost 25 pounds, and Dunn narrowed his focus from four pitches to three. Lange stopped throwing a slider, focusing on a curveball that only got better.
His weight loss was key, Dunn insists.
"That makes you more athletic," the sixth-year LSU pitching coach said. "so you can repeat your delivery. That's important."
One of the "knocks" on Lange in high school, Dunn said, was the effort he exerts and his "out-of-whack" mechanics. He honed in on both of those in college.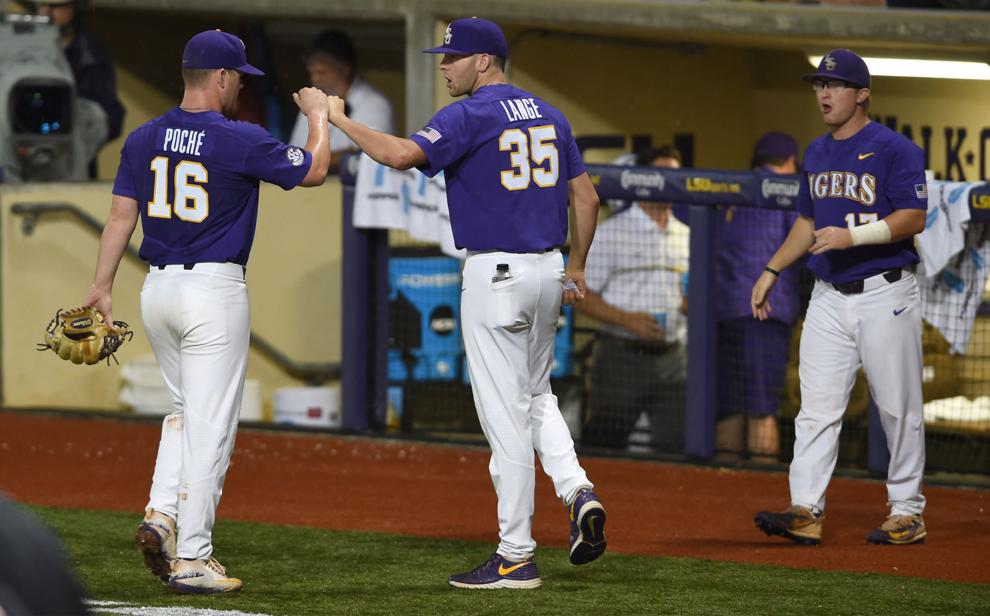 All the improvements resulted in an SEC Freshman of the Year honor in 2015. He had an ERA of 1.97, went 12-0 on the mound and struck out 131 to lead the Tigers to the College World Series. His ERA rocketed to 3.79 as a sophomore, as he battled some control issues with his fastball.
He's 9-5 with a 2.92 ERA this season, having again led the Tigers back to Omaha. LSU meets Florida State at 7 p.m. Saturday at the College World Series. 
Lange's role in professional baseball isn't quite clear. Is he a starter or a late-inning bullpen arm?
Lange needs to continue to develop his fastball and changeup, Mainieri said, specifically the command of the fastball.
"To pitch in the big leagues as a starting pitcher, you've got to have command of all three pitches," Mainieri said. "His fastball command has to be more consistent and continue to improve his changeup. He's got a plus-plus curveball. His curve from a 20-80 MLB scale, with 80 being the best, is probably a 70."
Another positive about Lange: He thrives with men on base. Opponents are 0-for-19 with the bases loaded against Lange this season.
"When his back is against the wall," Dunn said, "he makes the big, big pitch."
This was the worst road trip of Kramer Robertson's life.
---
LSU FIRST-ROUND PITCHERS
The Tigers have now had four pitchers selected in the first round of the draft since 2010.
| | | | |
| --- | --- | --- | --- |
|  Year |  Pitcher |  Overall selection |  Team |
|  2017 |  Alex Lange |  30th |  Cubs |
|  2014 |  Aaron Nola |  6th |  Phillies |
|  2012 |  Kevin Gausman |  4th |  Orioles |
|  2010 |  Anthony Ranaudo |  39th |  Red Sox |
---
ALEX LANGE YEAR BY YEAR
| | | | | | | | | |
| --- | --- | --- | --- | --- | --- | --- | --- | --- |
|  Year |  ERA |  W-L |  IP |  H |  ER |  BB |  SO |  XBH |
|  2015 |  1.97 |  12-0 |  114 |  87 |  25 |  46 |  131 |  18 |
|  2016 |  3.79 |  8-4 |  111.2 |  92 |  47 |  49 |  125 |  34 |
|  2017 |  2.92 |  9-5 |  111 |  97 |  36 |  40 |  134 |  27 |
|  Total |  2.89 |  29-9 |  336.2 |  276 |  108 |  135 |  390 |  79 |
---
IN THE RECORD BOOKS
Alex Lange is in the top 10 in three of LSU's main four career pitching records. He's got a chance to move up, still, with a start or two coming at the College World Series.
Wins (career)
1. 38 - Scott Schultz (1992-95)
2. 37 - Jared Poche (2014-17)
3. 36 - Lane Mestepey (2001-05)
4. 33 - Stan Loewer (1984-87)
5. 31 - Paul Byrd (1989-91)
6. 30 - Pat Moock (1972-75), Chad Ogea (1989-91), Mike Sirotka (1990-93), Aaron Nola (2012-14)
10. 29 - Alex Lange (2015-17), Ben McDonald (1987-89), Louis Coleman (2006-09)
Strikeouts (career)
1. 409 – Scott Schultz (1992-95)
2. 390 – Alex Lange (2015-17)
3. 345 – Aaron Nola (2012-14)
Strikeouts per 9 innings (career)
1. 11.88 - Eddie Yarnall (1994-96)
2. 11.18 - Russell Springer (1987-89)
3. 11.13 - Kurt Ainsworth (1998-99)
4. 11.00 - Barry Manuel (1985-87)
5. 10.87 - Ben McDonald (1987-89)
6. 10.82 - Anthony Ranaudo (2008-10)
7. 10.64 - Patrick Coogan (1995-97)
8. 10.42 - Alex Lange (2015-17)
9. 10.35 - Doug Thompson (1997-98)
10. 10.07 - Jake Tompkins (2002-03)