Scores of LSU fans converged on the university's campus Saturday morning waiting for a parade to kick off a celebration of the football team's new status as national champions.
Whether you're venturing out to the festivities or planning to follow from home, here are some important details:
WATCH REPLAY
Live video of the parade and PMAC celebration will be shown here, sponsored by Hancock-Whitney Bank.
Can't see video below? Click here.
---
PARADE ROUTE MAP AND INFO
Can't see map below? Click here.
After leaving the School of Music, the parade will make its way to the Maravich Center via Dalrymple Drive, Field House Drive and North Stadium Drive, via Victory Hill. 
There, coach Ed Orgeron, players, university officials and others are expected to address the crowd at noon.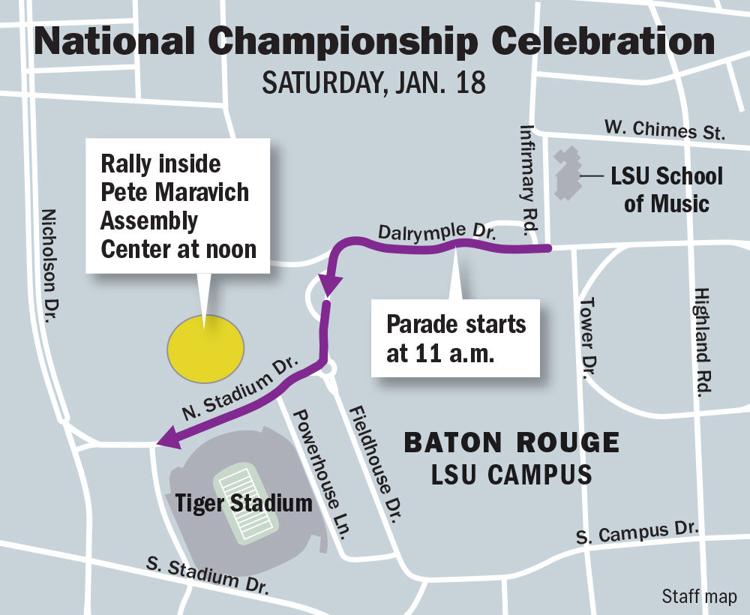 Saturday's parade will include the Golden Band from Tigerland, the LSU cheerleaders and former players and dignitaries, the university has revealed.
---
WHERE CAN I PARK?
Free parking on campus will be available in lots 107, 109 and 110 (at the Nicholson Gateway area), lot 401 (south stadium), 402 and 404 (Nicholson extension), lots 304, 305 and 309 (The Oaks at Patrick F. Taylor) as well as lots around the LSU Student Union. 
RV parking will be in lot 407 off Skip Bertman Drive.
Several parking lots along and near the parade route will close early Saturday and personal vehicles remaining could be towed. They are:
Lot 203 (Peabody)
Lot 204 (Thomas Boyd)
Lot 202 (Indian Mounds)
Huey P. Long Circle
Music & Dramatic Arts Circle
Street parking along Dalrymple Drive
Street parking along Donahue Drive
Street parking along Fieldhouse Drive
And other lots will be reserved for parade vehicles, and unauthorized vehicles could be towed Saturday morning from:
Lot 101 (West Stadium Lot)
Lot 104 (Bernie Moore Lot)
Lot 201 (PMAC Lot)
Lot 300 (Powerhouse Lane)
Lot 405 (Football Operations)
---
WHAT HAPPENS IF THE WEATHER IS BAD?
Forecasts earlier in the week called for rain, causing organizers to scale back plans for the parade and limit it to just a few floats filled with players and coaches.
Some fans came prepared wearing rain jackets and rubber boots, but the weather seemed to be cooperating Saturday morning, with no rain in sight.
---
THE PMAC PARTY
The arena's gates will open at 10:30 a.m.; seating is general admission, and floor seats will be reserved for guests of the team and university. 
It begins at noon.
If the crowd cannot fit into the PMAC, LSU will erect a screen outside, weather permitting, so fans can view the festivities, the school said Friday.
The university announced earlier this week the celebration in the PMAC will include the presentation of the national championship trophy, along with remarks from Gov. John Bel Edwards, Mayor-President Sharon Weston Broome and other noted officials.