Zach Von Rosenberg is the oldest player in college football, making him the source of many jokes around the LSU football program, and he's also one of the best punters in the country this season. These are 30 stories explaining Von Rosenberg, one for every year of his life:
1. Von Rosenberg sat inside LSU's equipment room, at the time a 28-year-old redshirt sophomore, trying to soften footballs. He wanted to use an oil made for baseball gloves, a method he learned from years as a pitcher.
Transfer kicker Cole Tracy walked into the room and assumed the man rambling about how to break-in leather worked for the equipment staff. A few days later, Tracy noticed him at practice.
"I was pretty confused why the equipment guy was there," Tracy said. "It turned out he was about to be one of my punters and become a really good friend."
2. Older than 23 starting punters in the NFL, Von Rosenberg sometimes wonders how much longer he'll play sports and how much longer he'll have the choice. Von Rosenberg held onto athletics when his professional baseball career ended. Five years have passed. He continues to play.
"I know I need to get my life in order," Von Rosenberg said, chuckling, "but right now, I'm living the dream here at LSU."
3. The jokes never end. Former LSU long snapper Blake Ferguson calls him "Grandpa" in text messages, and coach Ed Orgeron asks him, "When is your social security check coming in?" On his 30th birthday, Von Rosenberg received these texts:
Tracy: "Happy birthday. PS you're old as s---"
Former LSU quarterback Joe Burrow: "You're old"
4. One of his elementary school teachers warned Von Rosenberg about pursuing a career in sports. Few athletes receive a college scholarship. Even less reach the professional leagues. The advice bothered him for a long time. But age widened his perspective. He understands it now.
5. Last weekend against Arkansas, Von Rosenberg had one of his best games. He downed five punts inside the 10-yard line and averaged 48.9 yards per punt. His longest kick travelled 61 yards. Arkansas didn't return any of his seven punts, giving LSU an advantage. Von Rosenberg received the Ray Guy Award punter of the week for the second time this season.
"The difference in the game was the field position," Orgeron said.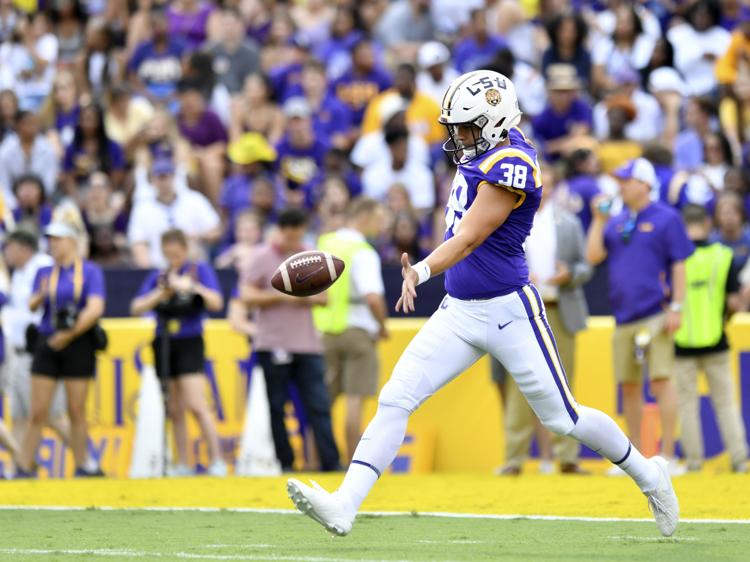 6. Von Rosenberg entered the 2020 season as the second-oldest player in college football. Then earlier this month, 33-year-old Colorado kicker James Stefanou retired after struggling in his season opener.
7. Von Rosenberg averages 47.48 yards per punt this season, fifth-best in the nation and second in the Southeastern Conference. He leads the league in punts downed inside the 20-yard line with 18. Approaching possibly his final games, he ranks first in LSU history in career average at 44.4 yards per punt.
8. Von Rosenberg was 10 years old when he asked his mom, Crystal Von Rosenberg, for a bag of footballs for Christmas. He spent hours between baseball practices kicking in their side yard in Lake Charles, using an oak tree as his target. The repeated force stripped away bark near the top of the tree.
9. During Von Rosenberg's junior year at Zachary High School, head football coach Bob Howell entered the copier room, dejected. Zachary had lost its starting punter. The team needed a replacement. Von Rosenberg's mother stood in the copier room.
"Zach can punt," she said.
Howell looked surprised. He had pressed Von Rosenberg's mother to let him play quarterback for years, but she'd said no to protect Von Rosenberg's arm. Punting presented less of a threat to his health.
Howell pulled Von Rosenberg out of class and took him to the football field. After a brief tryout, Howell named him the starting punter. Von Rosenberg received All-State recognition for two straight years.
10. LSU's specialists often played games at practice the last few years. They threw footballs against the goal post and competed at two-ball, a game with tennis balls designed to increase hand-eye coordination. Von Rosenberg usually won. Ferguson called him "weirdly skilled."
---
More from The Advocate
There was little secret that LSU defensive coordinator Bo Pelini favored man-to-man coverage from the beginning of what has become a disaster …
The Advocate's LSU beat team predicts the outcome of the matchup with Texas A&M on Saturday night in College Station.
There has been much criticism and derision heaped on this LSU football team, a lot of it about the defense, plenty of it deserved. The offense…
---
11. Last December before the Peach Bowl, Von Rosenberg entered LSU's team lounge. Burrow controlled the table tennis table, the ultra-competitive quarterback defeating anyone who challenged him. But Von Rosenberg spent years playing table tennis in minor league clubhouses and often controlled the table inside LSU's football operations building. He beat Burrow in their first game. Burrow spent the rest of the night trying to regain control.
"To this day," Ferguson said, "Zach will not let Joe live that down."
12. The back-to-back recipient of the LHSAA's Mr. Baseball award, Von Rosenberg committed to LSU to pitch. But after his senior year of high school, Von Rosenberg signed with the Pittsburgh Pirates. His signing bonus totaled $1.2 million. The Pirates agreed to pay for college.
13. Near the end of one season with the West Virginia Power, Von Rosenberg's manager arranged a home run derby, trying to promote camaraderie. The players placed small bets, $5 or $10, on the winner.
"Nobody bet on Zach," said Josh Corman, Von Rosenberg's half-brother.
Von Rosenberg, who hit 10 home runs his senior year, won the home run derby, Corman said. With his velocity dipping, the Pirates asked Von Rosenberg if he wanted to change positions. He said no.
14. Von Rosenberg called his mom one day after six injury-riddled years in the minor leagues. She knew her son felt crushed as he struggled to say, "I got cut." Eventually, she told him, "God has something else for you to do. You're just beginning in your life."
Von Rosenberg told his mom someone offered him a job in Houston. He wanted to take the position. Crystal Von Rosenberg objected. She reminded her son he promised to attend college whenever baseball ended.
Von Rosenberg called his mom the next day. He agreed to enroll at LSU, his dream school.
"What do you think about me trying out for football?" Von Rosenberg said.
15. Von Rosenberg bought a house in Baton Rouge years ago, using part of his signing bonus. During one of LSU's open dates last season, while his teammates went hunting or visited their parents, he spent the weekend staining his deck.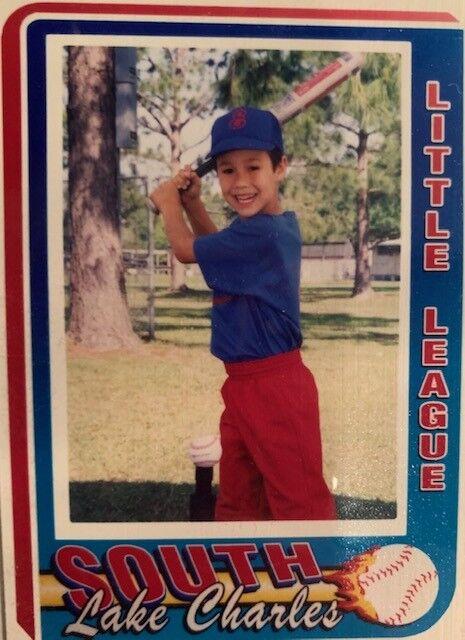 16. Von Rosenberg enrolled in classes part-time for a semester, knowing he could extend his eligibility before he walked onto the football team. He tried to play quarterback. LSU moved him to tight end. He gained 40 pounds and felt miserable blocking linebackers.
One day at practice, Von Rosenberg punted a football 65 yards. The next punt hit the roof of the indoor practice facility. LSU made him the second-team punter. He became the starter a year later.
17. About two weeks ago, when positive coronavirus tests and subsequent contact tracing left LSU with one scholarship quarterback at practice, the coaching staff asked Von Rosenberg to play second-team quarterback. He threw a touchdown pass.
"Beat our defense a little bit," Orgeron said.
18. During their one season together, Von Rosenberg and Tracy developed an idea for a restaurant in Baton Rouge. They envisioned a menu with hamburgers, Texas-style BBQ and Louisiana staples like crawfish étouffée. They never wrote a business plan, but they settled on the design of the entrance and the bathrooms.
"We can't disclose too much information in case the dream comes true," Tracy said.
19. More than a decade of financial independence and managing his money gave Von Rosenberg a different perspective on life than his college teammates. He has often discussed the stock market and taxes with them. He encouraged Tracy to invest.
After the Fiesta Bowl in 2018, Tracy took his last stipend check and bowl money, a combined $2,000. He invested the cash in Apple stock. Since then, the stock split into four and Tracy added to his portfolio. The investment is now worth about $10,000.
"That was my first dip into the stock market," Tracy said. "I would have to give credit to Zach for pushing me to get more involved."
20. Von Rosenberg's academic interests varied. His undergraduate major, interdisciplinary studies, combined minors in business, philosophy and geology. He wanted options whenever his athletic career ended. Geology taught him about the seafloor and oil fields. Business positioned him to take the GMAT. Philosophy satisfied his open mind.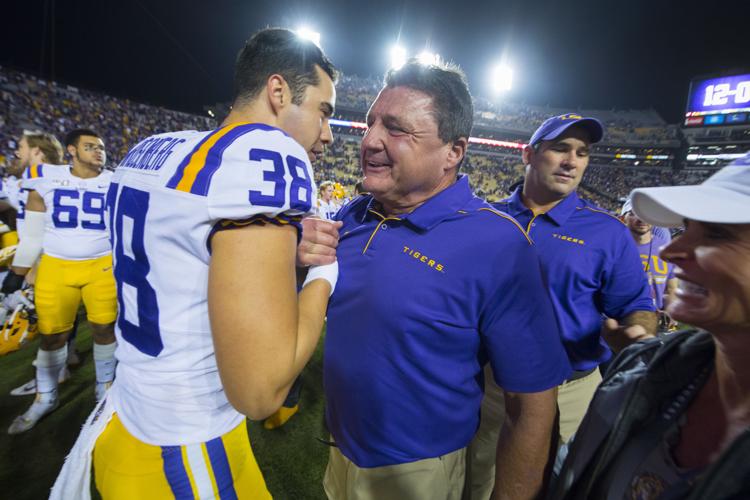 21. Unafraid to share his opinions on the performance of the team or voting data, Von Rosenberg enjoys discussions about conspiracy theories that arise around the football facility. Ferguson, who spent four years with Von Rosenberg, said "everyone called him the conspiracy theorist on the team."
"That was another one of the many running jokes guys had with Zach," Ferguson said, laughing. "He's the old man in the woods with the spaghetti strainer on his head because he thinks the sky's falling and the world is ending. That's what Zach is to us."
22. Crystal Von Rosenberg: "He can get out there a bit with the politics. He likes to be that person who looks into the background. He'll say, 'Mom, you don't know the whole story behind that.' And he'll tell me."
23. Before the recent presidential election, redshirt junior guard Ed Ingram approached Von Rosenberg, asking for his opinion. Ingram believed Von Rosenberg could help inform his vote. Von Rosenberg engages in political discussions on social media, often addressing a topic publicly ignored by younger teammates.
"Any time I have a question, I go to him," Ingram said. "He'll most likely have an answer. For us, he's a normal teammate, just a guy with more wisdom."
Said Corman: "Zach's always been real opinionated, and not in a bad way."
24. Last Monday morning, after USA Today released its investigation into LSU's handling of sexual assault complaints, Von Rosenberg defended Orgeron on Twitter.
He said, in part, "I don't know all the details, but what I do know is my coach would do the right thing. Fact." Many people interpreted the tweet as a dismissal of the women's claims. Von Rosenberg deleted the message, saying it was misinterpreted.
"In reflection of today, what I said was rushed and emotional for such a complex issue," Von Rosenberg wrote later that night on Twitter. "It was not intended to take away from victims. These young women need to be heard. And after conversations with a few victims I can see why what I said was taken differently from my intentions."
LSU didn't make Von Rosenberg available for this story.
Von Rosenberg's family believed his initial message stemmed from loyalty to Orgeron, the coach who made him the starting punter. Corman didn't talk to Von Rosenberg about the tweets, but he was glad Von Rosenberg later clarified his thoughts. Corman said their family doesn't tolerate abuse or sexual violence.
"None of us stand for that," Corman said.
25. The weekend of Von Rosenberg's birthday in late September, his family boiled crab and shrimp. Relatives had evacuated from Lake Charles because of Hurricane Laura, and without power or water back home, they spent six weeks living at his house. For his 30th birthday, they relaxed together in a moment of relief.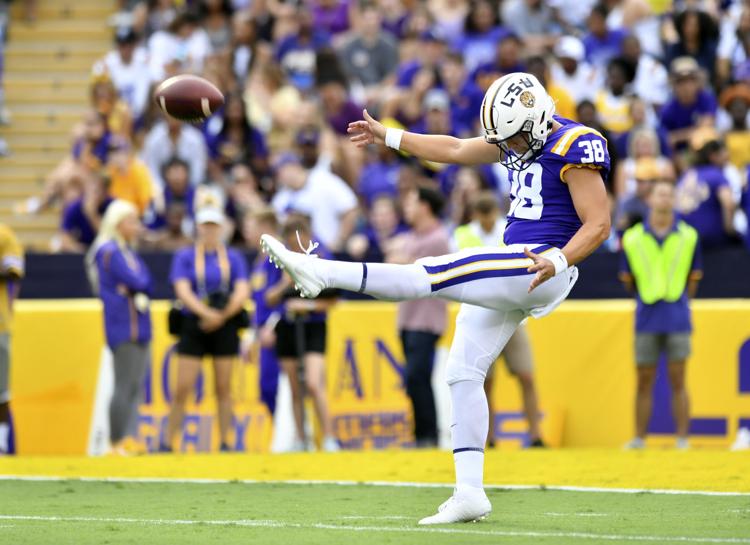 26. His teammates often discussed Von Rosenberg's 30th birthday. Tracy teased him, saying when Von Rosenberg finally reached the milestone, he will have graduated from college and started his professional career. Von Rosenberg poked back at him. He made fun of Tracy's size.
"He loves it," Tracy said. "He feeds right into it."
27. A few weeks after his birthday, Von Rosenberg's family asked Siri, "Who's the oldest player in college football?" The app replied, "Zach Von Rosenberg is 30 years old." The response still makes them laugh.
28. Von Rosenberg once bought two tickets for $1,200 each to watch LSU lose the 2011 BCS National Championship. He was a pitcher then, set on a baseball career with visions of the major leagues.
Nine years later, Von Rosenberg pinned Clemson inside the 20-yard line with three of his seven punts, helping LSU gain field position in the College Football Playoff National Championship. After LSU won, he wandered through the French Quarter with friends, enjoying the revelry of a title.
"How many guys say they get to win a national championship here?" Von Rosenberg said. "I've been a Tiger since I was a kid. That's a dream come true for me."
29. His mother teases him. She says he "can't be Peter Pan forever," but Von Rosenberg hasn't decided what comes next. He stretched athletics almost as far as he can. At some point, it won't sustain him.
When he stops punting, whether it's after an NFL stint or his final game at LSU, no one knows what he will do. His brother suggested politics. His father recommended color commentary. Tracy saw him as a lawyer.
"He's brilliant," Ferguson said. "He has such a broad variety of different areas that he could dip his toe into and find success."
30. The choice will arrive quickly, but for now, he enjoys punting for LSU, taking the jokes about his age that come along the way. His future can wait. He has at least four more games to play.
He might play more. The NCAA extended every fall athletes' eligibility because of the coronavirus pandemic. If he wants, Von Rosenberg can return next season and play college football at 31 years old.
"What's another year, right?" Von Rosenberg said last month, smiling. "I could be tenured here shortly."