This happened months ago, well before any quarterback change unfolded in Baton Rouge.
Butch Davis, the former Miami and North Carolina coach-turned-analyst, was preparing for his show on SiriusXM Radio. He was researching quarterback controversies across the nation that could unfold this season.
He was looking for schools where a backup could overtake a projected starter. Two situations stuck out: LSU with Danny Etling, and Florida with Austin Appleby.
Oddly enough, those projected backups are each former Purdue quarterbacks. In fact, one of them, Appleby, took the starting job from the other, Etling, while at Purdue in 2014. And, better yet, they both played under Davis' old assistant, former Purdue offensive coordinator John Shoop.
So, Davis called Shoop.
"I asked him," Davis said, " 'Do these guys have a chance?' "
"John's opinion … he felt like Etling would play in the National Football League," Davis said this week.
" 'This is a kid who can spin it. He would have started for us at North Carolina,' " Davis said Shoop told him. "That's how talented he thought he was. He said, 'Don't be shocked if he plays on the next level.' "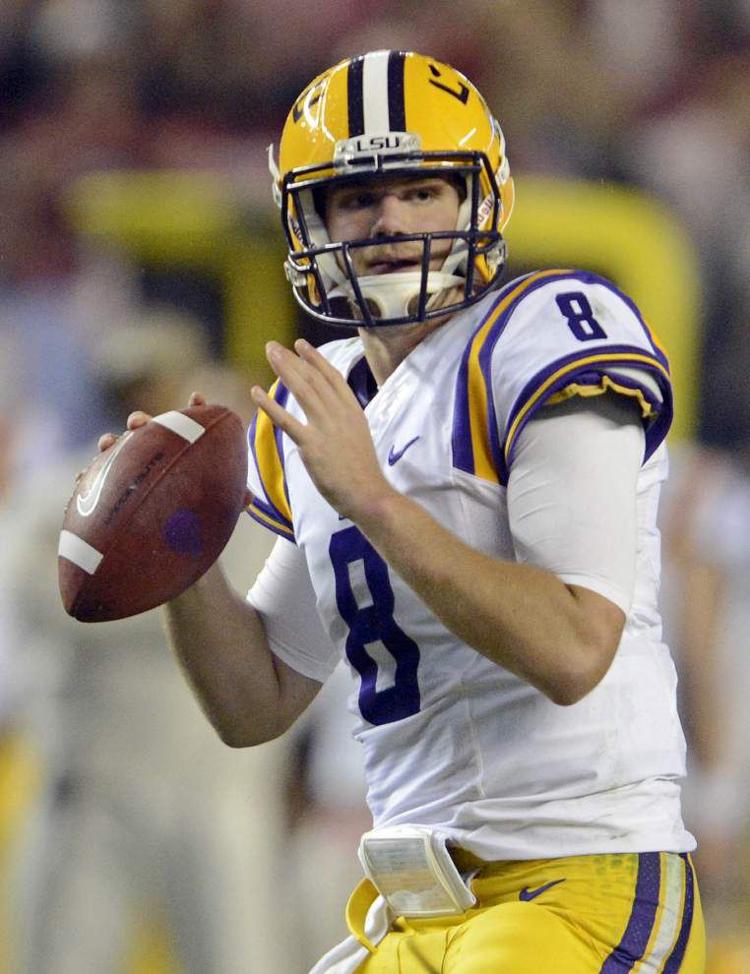 On Saturday, No. 20 LSU plans to start Etling against Mississippi State at 6 p.m. in Tiger Stadium, a significant game for a program already strapped with one loss in a pivotal year for coach Les Miles.
Etling is a pro-style, pocket quarterback who, within a year of transferring, worked his way into a starting role. If this sounds familiar, it is.
Think Zach Mettenberger: pro-style, pocket passer who transferred in, took the starting gig and later played in the NFL.
Etling has a long way to go to match Mettenberger, who led one of the most explosive offenses in program history in 2013 and was selected in the sixth round of the NFL draft. Etling has thrown 14 passes for the Tigers.
The point is, Etling, like Mettenberger in 2012, may save the day, similarly thrust into a starting role as a balm to solve a burn coaches could have avoided.
Like Mettenberger, he's a guy who arrived seasoned, a perfect fit for LSU's scheme. He could be the missing piece to the puzzle this program either can't seem to find while recruiting or can't seem to develop in its own backyard.
Etling will be LSU's seventh starting quarterback in the past eight-plus seasons. He's the third starter in the past 23 games, with none of those switches coming because of injury or disciplinary reasons.
At this point, he reflects the latest turn in a continuing trend: Etling replaces a highly touted, talented junior quarterback and incumbent starter, Brandon Harris, after Harris replaced a highly touted, talented junior quarterback and incumbent starter, Anthony Jennings.
"That's why people are so mad: They've regressed," said T-Bob Hebert, an LSU center from 2008-11 and now a radio personality in New Orleans. "Brandon Harris looked worse this year than he did last year. Anthony Jennings looked worse his second year.
"How is that possible?"
LSU has been held under 150 passing yards in 16 of its past 28 games, and the Tigers have averaged 163.3 passing yards per game over the past two seasons and the first two games of 2016. That's lower than all but two "Power Five" conference teams (Boston College and option-running Georgia Tech).
What's wrong with LSU's passing offense boils down to recruiting and development.
"The biggest head-scratcher, under (offensive coordinator) Cam Cameron, is a clear move to recruit athletic quarterbacks that have mobility, capable of operating QB runs," said Barton Simmons, national recruiting reporter for 247Sports.com. "Yet, when they arrive, the offense still looks like the pro-style, old-school, battering-ram system that we're used to under Les Miles. The lack of correlation between what they're recruiting and what they're running offensively has been puzzling. At times, it's just been odd."
'It's hard to find a good one'
Finding a quarterback is the toughest part of college football, said Norm Chow, the 70-year-old longtime offensive assistant who has coached at UCLA, Southern California and BYU.
"You need to find that guy," he said, "and it's hard to find a good one to do it all."
LSU has found it difficult for years.
Under Miles, LSU has signed 17 quarterbacks in 11 recruiting classes, excluding the most recent class and including walk-on turned scholarship QB Andrew Hatch. Of the 17, just three completed their careers at LSU as a quarterback.
Three remain: Etling, Harris and Justin McMillan. Eleven were dismissed, transferred or switched positions. Seven never played a down at LSU.
Just three of those 17 are from Louisiana, which has only produced 11 major college QBs in the previous 11 classes — an issue.
Quarterback attrition is a nationwide issue, too. The Tuscaloosa News this year published a study finding that 37.2 percent of the 121 quarterbacks who signed with Southeastern Conference teams in the previous 10 classes finished their career at the school where they signed. LSU's number is 21 percent (three of 14 players who have exhausted their eligibility).
"We never tried to recruit quarterbacks in back-to-back years — just because only one quarterback gets to play," Davis said. "If you stack up the locker room … look at what happened to Kevin Sumlin at Texas A&M: Two five-star quarterbacks transferred."
LSU has signed multiple quarterbacks in five of the past seven classes, after signing a combined three in Miles' first four classes. The issue goes beyond numbers, though.
The 2011 class — three quarterbacks signed that year — is an example of desperation. The signing of Mettenberger, Jerrard Randall and Stephen Rivers in 2011 followed three straight misses: Zach Lee in 2010 and Russell Shepard and Chris Garrett in 2009.
Mettenberger, who began playing for LSU (but did not start) in 2011 after arriving from a junior college, was there to save the day at a position left ragged by attrition, misevaluation and poor development. Etling and Mettenberger aren't the only two pro-style, pocket-passing transfers who evolved quickly into a starter at LSU.
In 2007, Andrew Hatch, a Harvard transfer, walked on, earned a scholarship and started three games in 2008. He didn't work out like Mettenberger. Hatch suffered a season-ending leg injury and transferred back to Harvard the next year.
Hatch's emergence is another sign of the Tigers' years-old QB woes.
"Andrew Hatch was the third-string QB at Harvard,' Hebert said, "and then he was starting at LSU."
Every school has misses at quarterback; LSU just has more than normal. Check out this group: Shepard, Garrett, Lee, Randall, Rivers, Jeremy Liggins, Rob Bolden and Hayden Rettig. Seven of those eight left the program or never arrived.
Combined, they spent nine years at the school (a 1.2-year average) and threw two passes. That group was signed in a five-year span from 2009-13 during which 10 total QBs joined the team.
During that stretch, LSU missed out on signing Teddy Bridgewater (Louisville), Dak Prescott (Mississippi State), Marquise Williams (North Carolina) and Gunner Kiel (Notre Dame, then Cincinnati).
For the 2014 class, Cameron zeroed in on three quarterbacks: DeShone Kizer, Mason Rudolph and Harris. Kizer committed to Notre Dame, Mason then committed to Oklahoma State and Harris signed with LSU. Kizer and Rudolph have combined for 7,025 yards and 55 touchdowns.
Last year, LSU lost the commitment of highly rated Florida quarterback Feleipe Franks. The Tigers had "no backup plan," Simmons said, and landed Zachary's Lindsey Scott Jr. late.
"There is some lack of preparation within the quarterback recruiting," he said. "That's all on Cam Cameron. That's his job."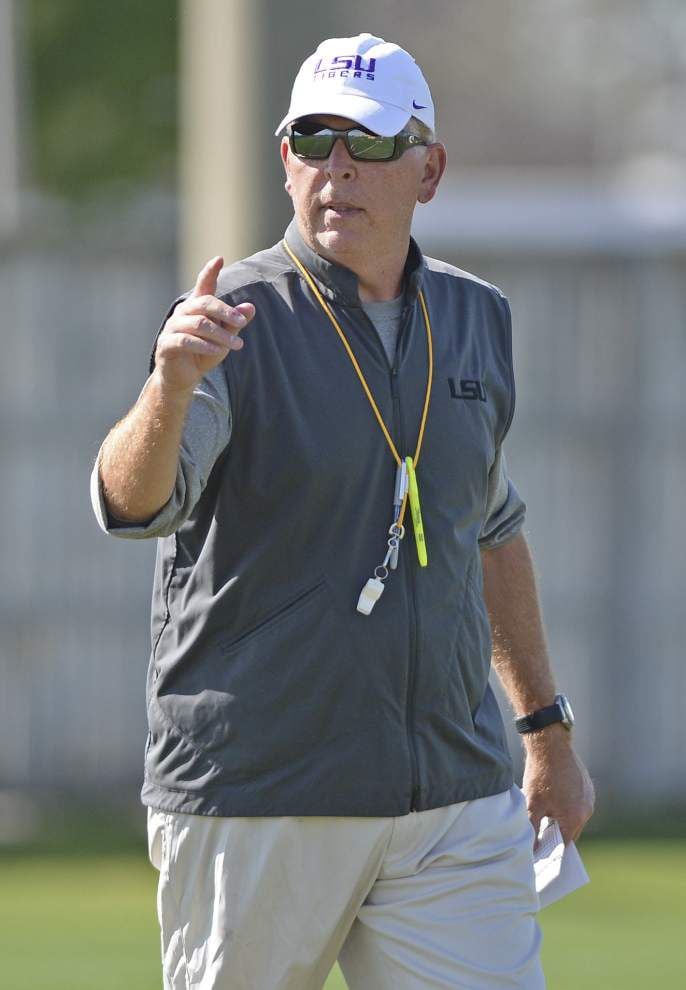 "No matter where you're at with quarterbacks, it's never real easy," said Gary Crowton, LSU's offensive coordinator from 2007-10, for a story published in 2014. "It's the hardest position to recruit. There's so much in the inner workings of the mind. There are some guys we passed up and ended up being pretty good players."
One of those included Darron Thomas, a Houston native committed to LSU until the staff told him he would not play quarterback if he signed with the Tigers in 2008. At that time, LSU had a commitment from Shepard, then a junior in high school. The staff did not want to scare away Shepard, one of the nation's top recruits.
Thomas signed with Oregon and started — at quarterback — for three seasons, throwing for more touchdowns (66) than any other player, at that time, in school history. Shepard signed with LSU — which pitched that he could play the position, something other schools would not commit to — but later was moved to receiver.
"We'd go through our list of names all the way through signing day," Crowton said. "You have to pick one. You only have so many scholarships."
'Take a damn side'
LSU "hedges bets" in recruiting quarterbacks, Simmons said.
Under Miles, the program has mostly run a pro-style system with an emphasis on having its quarterback work from under center and pass from the pocket. But LSU's recruitment is unfocused, signing pro-style players as well as dual-threat, athletic quarterbacks from shotgun-based spread systems.
"You've got to take a damn side," said a former LSU player, who spoke to The Advocate on condition of anonymity.
Since 2009, LSU has signed seven quarterbacks listed as "pro-style" by major recruiting outlets. It has signed six quarterbacks listed as "dual-threat."
Why would the Tigers do that?
"It's a good question," Simmons said. "I think there's a couple of theories. One is that LSU would like to do things that their offense isn't reflecting. Or maybe they just want a guy that can extend plays but still work within the pocket and still be that pro-style quarterback. There are quarterbacks out there that would be a better fit for what they do, and they don't seem to have interest in them."
They got unlucky with Kiel, a one-time commitment who surprisingly signed with Notre Dame in 2012, and Lee, who signed a pro baseball contract before his first preseason camp.
"As much as you want to blame the offense (this season), there's recruiting that should take some fault here," Simmons said. "Brandon Harris threw for 3,000 yards in high school and rushed for 1,000 as a spread quarterback, and you want him under center and expect it to be an easy transition?"
Cameron "develops" each type of quarterback "separately," the ex-player said, and Miles handcuffs quarterbacks when it comes to scampering out of the pocket — even in practice.
"Coach Miles is not a fan of making it up as you go," the player said. "If a QB wanted to make a play with his feet, even in practice, Miles is not happy. That goes back to the failure to adapt to the new way. Why is he bringing in the dual threat if he's not going to let them be 'dual threat?' "
Adapting a quarterback to a scheme or adapting a scheme to a quarterback is one of the most important things in coaching, said Mike White, former coach of the Oakland Raiders, Illinois and California. Every coach has a different opinion: Do you find a quarterback for your system, or do you find the best quarterback and adjust your system?
"The quarterback has to fit the scheme," Chow said. "The scheme can't fit the quarterback."
Said White: "If you're smart enough to know that the guy is so good, you change the system to fit the quarterback."
Jennings was listed as a "pro-style" quarterback out of high school, but he has mobility. He appeared more comfortable in the zone-read concept Cameron installed for a game against Texas A&M, when he ran for 119 yards. Jennings transferred to Louisiana-Lafayette over the summer. 
Harris' list of finalists were Auburn and Ohio State, both offenses built around a spread scheme with a running quarterback. What if he had gone elsewhere?
"It's impossible to say," Simmons said, "but I think he'd be in a better position to be successful. ... I don't think what Brandon Harris does compliments what LSU does offensively."
'Toxic environment'
The talent is there.
Rick Neuheisel, the former Washington and UCLA coach, saw Harris' talent on video. Dan Hawkins, ex-coach at Boise State and Colorado, saw Jennings' talent at a high school all-star camp.
"He's a major talent," Neuheisel said. "No question."
Said Hawkins: "I liked him a lot, really good player."
The Tigers have pulled in some highly touted quarterbacks. Six of the 16 Miles has landed have ranked in the top three at their position out of high school or junior college. That includes three top-ranked QBs: Ryan Perrilloux (2005), Shepard (2009) and Mettenberger (2011), who originally signed with Georgia before being dismissed.
Harris was the third-ranked dual-threat QB in his class, and Jennings was the 14th pro-style prospect in the 2013 class.
Even so, there remains a gap in the development to translate prospect status into college production.
"I think it's a toxic quarterback environment," Hebert said. "They don't have a lot of leash, they're very afraid to make mistakes and they're dealing with the baggage of a half-decade of subpar quarterback play."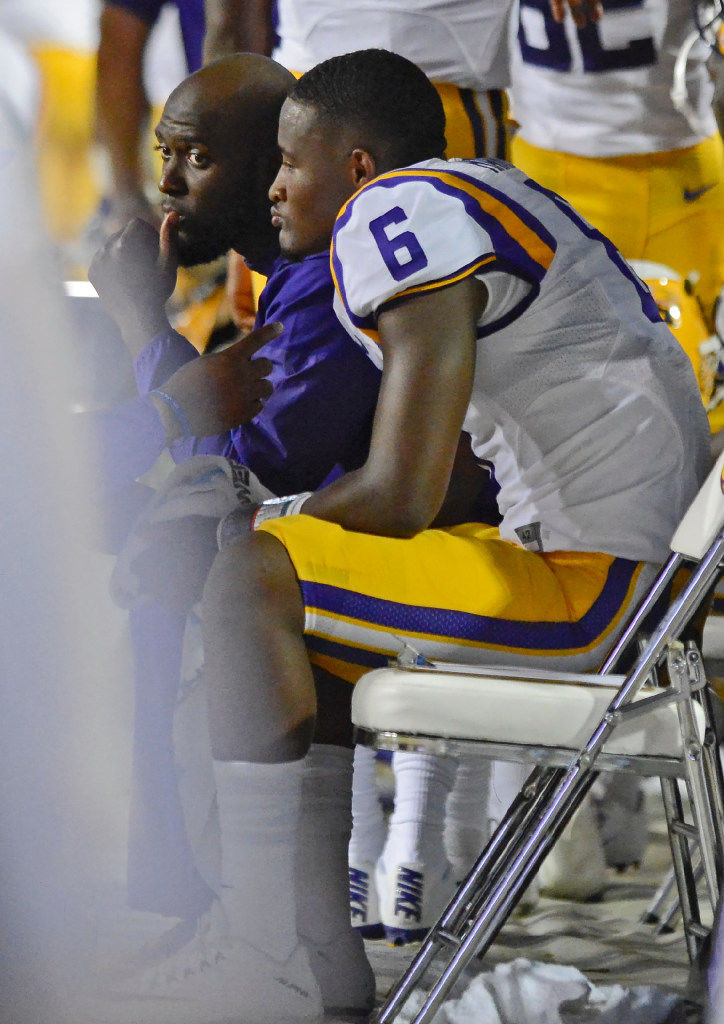 Another former player, who wished to remain anonymous, agreed: Miles puts intense pressure on his quarterbacks to avoid turnovers and mistakes. It's something that began, Hebert said, after the 2008 season, in which Jarrett Lee threw seven interceptions returned for touchdowns.
Said Hebert: "The premium was, 'Do not turn the ball over. If you don't, then you're going to play.' I had a short leash, and that led to me, at times, playing worse. You're more worried about making a mistake and getting pulled. It's even heightened at the quarterback position."
Jennings and Harris lacked confidence, Hawkins said. Harris consistently missing high is, potentially, a technical issue with his motion. 
Trevor Matich, a first-round NFL draft pick as an offensive lineman out of BYU in 1985 and now a color analyst for ESPN, said Harris' high misses and poorly timed throws are signs of confidence issues.
"Some of those high passes, he's trying to keep it away from defenders," Matich said. "Some of these open receivers that he throws the ball late to, he'll look at the receiver right away, wait and confirm everything looks OK, and then he'll throw it. That extra pause, makes everything not work. Even if it's a complete pass, he's tackled right now."
Many believe Cameron, a longtime NFL assistant, would be the answer to LSU's passing woes when hired in 2013. After Mettenberger's departure, however, the offense has slumped. The struggle to develop Jennings and Harris to LSU's system is evident.
"They don't look like they're able to teach quarterbacks at all," Hebert said. "Beside Zach, that's the biggest disappointment of the Cam era. He was supposed to be the Quarterback Whisper. It's the exact opposite — Quarterback Killer."
Bringing in more ready-made pocket passers is not easy. Many high school teams run the spread offense, grooming quarterbacks hoping to throw 40 times and score 60 points per game in college.
Matich contended that LSU's pro-style system should help in recruiting.
"There are enough scarcity of teams that run this system, that LSU, you'd think, would be able to attract some of the best high school pocket passers in the country to come play for them," he said. "Georgia does this. Stanford does it. Guys suited for the pro-style system don't have as many places to go at a high level that are suited for a high-speed, run-pass option system.
"It's been a mystery to me why they haven't been able to get guys on campus with that potential on game day."
In Etling, the Tigers may have someone to save the day, just like Mettenberger in 2012: a pro-style pocket-passing transfer who plugs into this scheme.
At least, that's what the coaches hope.
"If you build the offense around his skill sets, he can work for you," Davis said. "If you're going to put him in the fun and gun, he's not going to work for you."
Danny Etling has been the other guy.